Spring brings happiness and enjoyment. These April quotes will encourage and inspire you to make the most of this month. If you prefer getting out in the spring, then April is the month for you!
As per the Gregorian calendar, April is the fourth month of the year. It was originally named after Aphrodite, the Greek goddess.
Many poets and novelists, including F. Scott Fitzgerald, Pablo Neruda, T.S. Eliot, and Mark Twain, have written extensively on the lushness of April in their works. The month is so nice that most poets can't help but let it affect their writing. Anyone's spirits are lifted by the bright sun, pleasant wind, moderate atmosphere, and blooming flowers. April is a favorite month for many people, and while there is no official saying for April, the following statements capture the essence of the season. If you're searching for some April quotes to brighten your day, this collection is for you!
April hath put a spirit of youth in everything. – William Shakespeare.
But it is a sort of April-weather life that we lead in this world. A little sunshine is generally the prelude to a storm. – William Cowper.
Spring in the world! And all things are made new! -Richard Hovey.
Sweet April showers, do spring May flowers. – Thomas Tusser.
Oh to be in England now that April's there. – Robert Browning.
It is spring again. The earth is like a child that knows poems by heart. – Rainer Maria Rilke.
     Related: Top 80 + Famous March Quotes To End of Winter Season
The apple blossoms were just out, dancing like white froth in the April breezes. – Nancy McKenzie.
She was, indeed, only April with her showers and sunshine, her tearful, childish laughter, and again the frown, and the despair irremediable. – George MacDonald.
I would like best to be the robin just getting back to his old home; for it is brave and blithe and bonny that he is, and he is April to all of us in the far north. – Fannie Hardy Eckstorm.
In the first week of April, the weather turned suddenly, unseasonably, insistently lovely. The sky was blue, the air warm and windless, and the sun beamed on the muddy ground with all the sweet impatience of June. – Donna Tartt.
April Quotes Short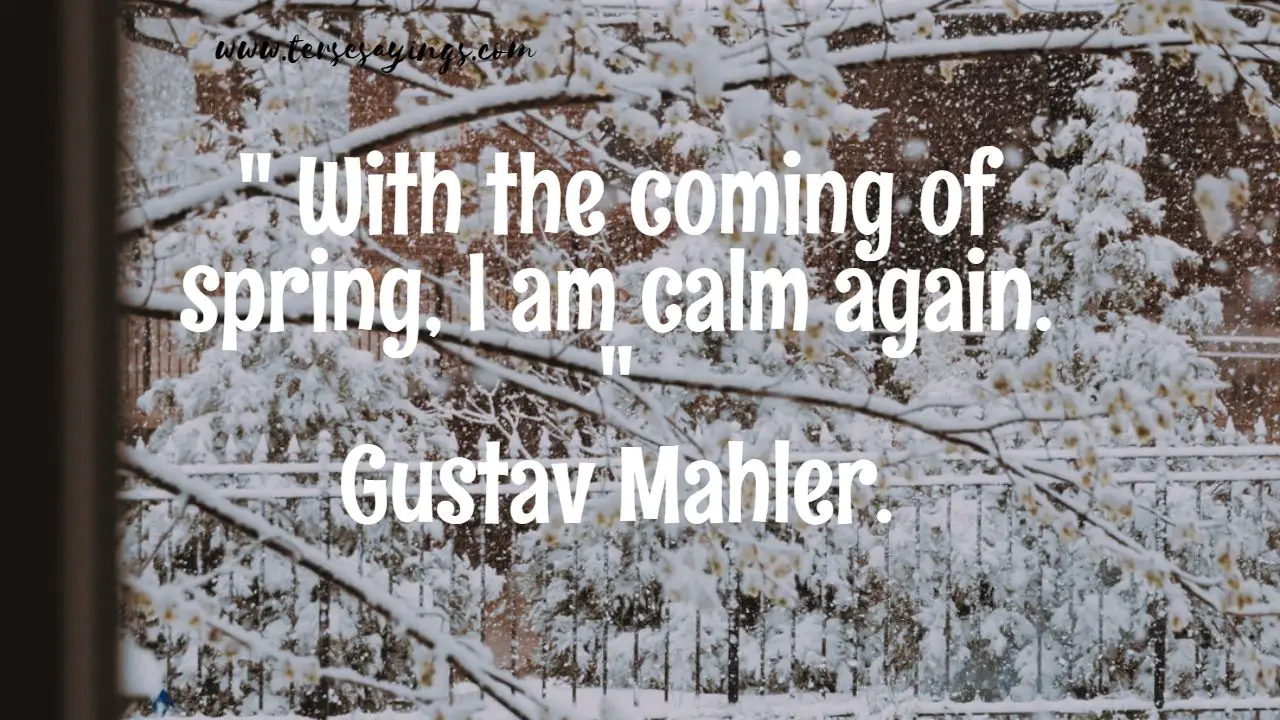 Spring is when you feel like whistling even with a shoe full of slush. – Doug Larson.
With the coming of spring, I am calm again. – Gustav Mahler.
Spring shows what God can do with a drab and dirty world. – Virgil A. Kraft.
Blossom by blossom the spring begins. – Algernon Charles Swinburne.
     Related: 100 + Famous February quotes about the best month february
Despite the forecast, live like it's spring. – Lilly Pulitzer.
Spring unlocks the flowers to paint the laughing soil. – Bishop Reginald Heber.
Spring is the fountain of thirsty winter. – Munia Khan.
She was like springtime distilled into a person. – Laini Taylor.
Spring is a season of the soul to regain its strength. – Lailah Gifty Akita.
April Quotes For Instagram
We embrace summer in April since spring is about to go, leaving us with another season to enjoy. April is the month when spring lovers bid farewell to their beloved season of blossoming, while summer day lovers are eager to make the most of the season.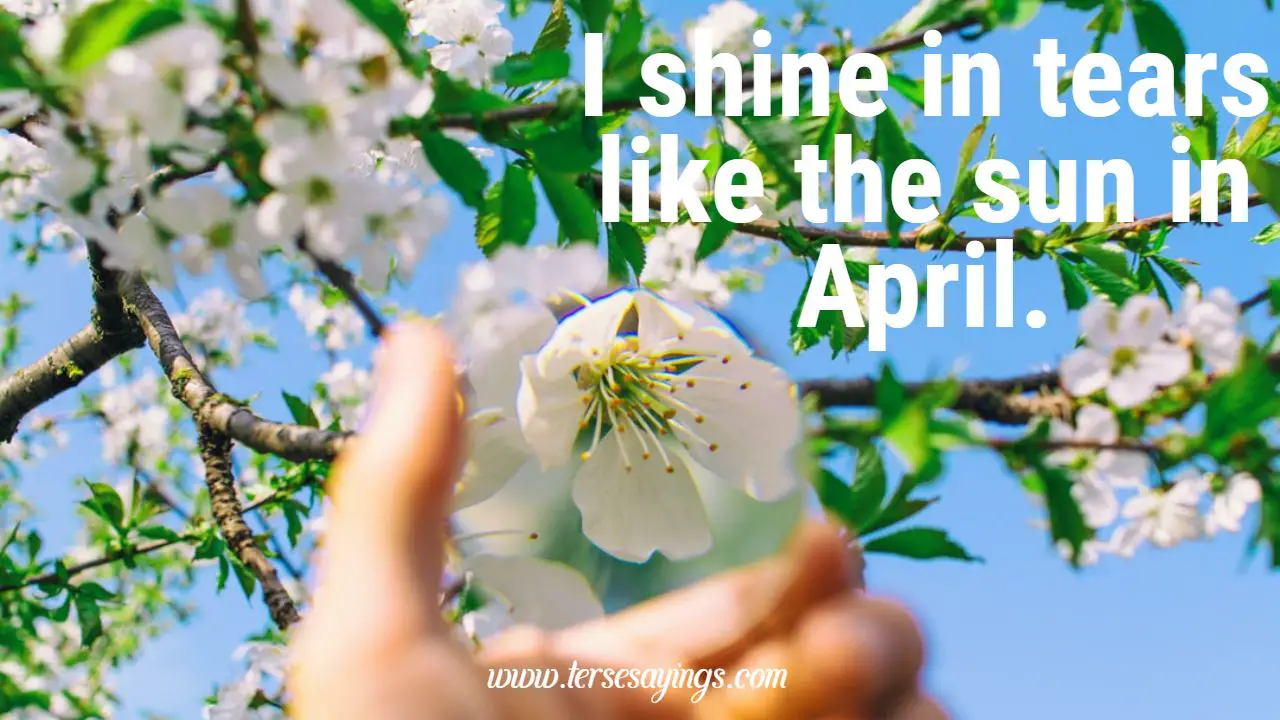 Do you prefer the springtime or the days when people shut themselves in an air-conditioned room? You may or may not enjoy both. However, April month captions allow you to express your affection for your favorite month. We can obtain beautiful April captions from here.
Snow in April is abominable… like a slap in the face when you expected a kiss.
Although I was born in April, I'm quite certain I was not fully awake until October.
April prepares for her green traffic light and the world thinks go.
It is spring again. The earth is like a child that knows poems by heart.
April fools gone past and you're the biggest fool at last.
    Related: Best 100+ November Quotes That Will Touch Your Thankful Emotions
The first of April is the day we remember what we are the other 364 days of the year.
To plant a garden is to believe in tomorrow.
Here cometh April again, and as far as I can see the world hath more fools in it than ever.
In April, the first soft, tender, delicate green of spring salutes the eye in the very direction.
In the spring, at the end of the day, you should smell like dirt.
I shine in tears like the sun in April.
Spring has come at last with the soft laughter of April suns and the shadow of April showers.
If April showers should come your way, they bring the flowers that bloom in May.
It's the hottest April in living and dead memory. So hot that the crows are flying with their tongues hanging out of their heads.
April prepares her green traffic light and the world thinks 'go.'
Sweet April showers do bring May flowers.
April Fool Quotes For Kids
Better a smart idiot than a stupid wit, Shakespeare famously observed. Use these quotations to show off your wit and humor on April Fools' Day. If you're a prankster, tease your buddies with a harmless joke. If you're not a prankster, stay away from them. On April Fools' Day, you'll need a lot of it.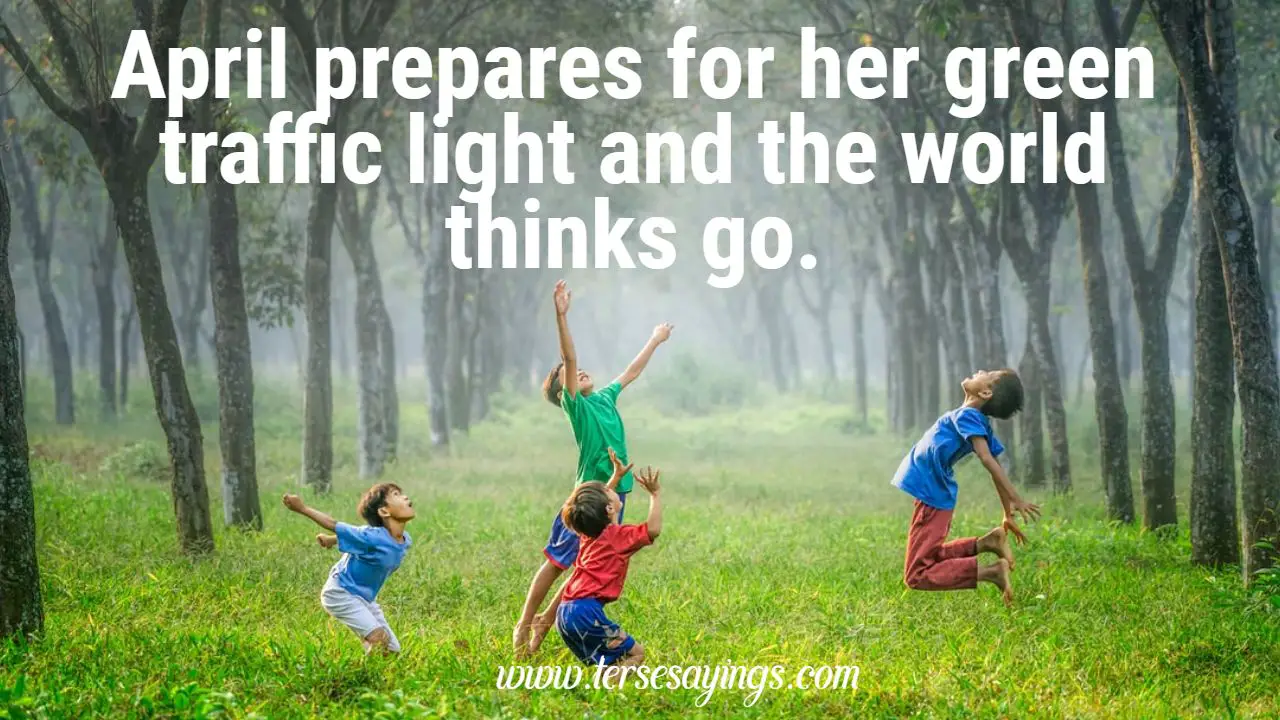 I sometimes wonder if the manufacturers of foolproof items keep a fool or two on their payroll to test things. ~ Alan Coren
Art is the proper task of life. ~ Friedrich Nietzsche
Fool me once, shame on you; fool me twice, shame on me. ~ Chinese Proverb
Art is magic delivered from the lie of being truth. ~ Theodor Adorno
A man always blames the woman who fools him. In the same way, he blames the door he walks into in the dark. ~ Henry Louis Mencken
Foolproof systems do not take into account the ingenuity of fools. ~ Gene Brown
Everything is funny as long as it is happening to somebody else. ~ Will Rogers
     Related: Best Inspirational quotes for the month of June
Art is the only way to run away without leaving home. ~ Twyla Tharp
Art enables us to find ourselves and lose ourselves at the same time. ~ Thomas Merton
Everything is funny as long as it is happening to somebody else. ~ Will Roger
If every fool wore a crown, we should all be kings. ~ Welsh Proverb
Art is not a study of positive reality, it is the seeking of ideal truth. ~ John Ruskin
Art is man's expression of his joy in labor. ~ Henry A. Kissinger
A word to the wise ain't necessary — it's the stupid ones that need the advice. ~ Anonymous
Even the gods love jokes. ~ Plato
You can fool all the people some of the time, and some of the people all the time, but you cannot fool all the people all the time. ~ Abraham Lincoln
I am so clever that sometimes I don't understand a single word of what I am saying. ~ Oscar Wilde
What a fool does in the end, the wise do in the beginning. ~ Spanish Proverb
It is the ability to take a joke, not make one that proves you have a sense of humor. ~ Max Eastman
So, rather than appear foolish afterward, I renounce seeming clever now. ~ Anonymous
Inspirational April Quotes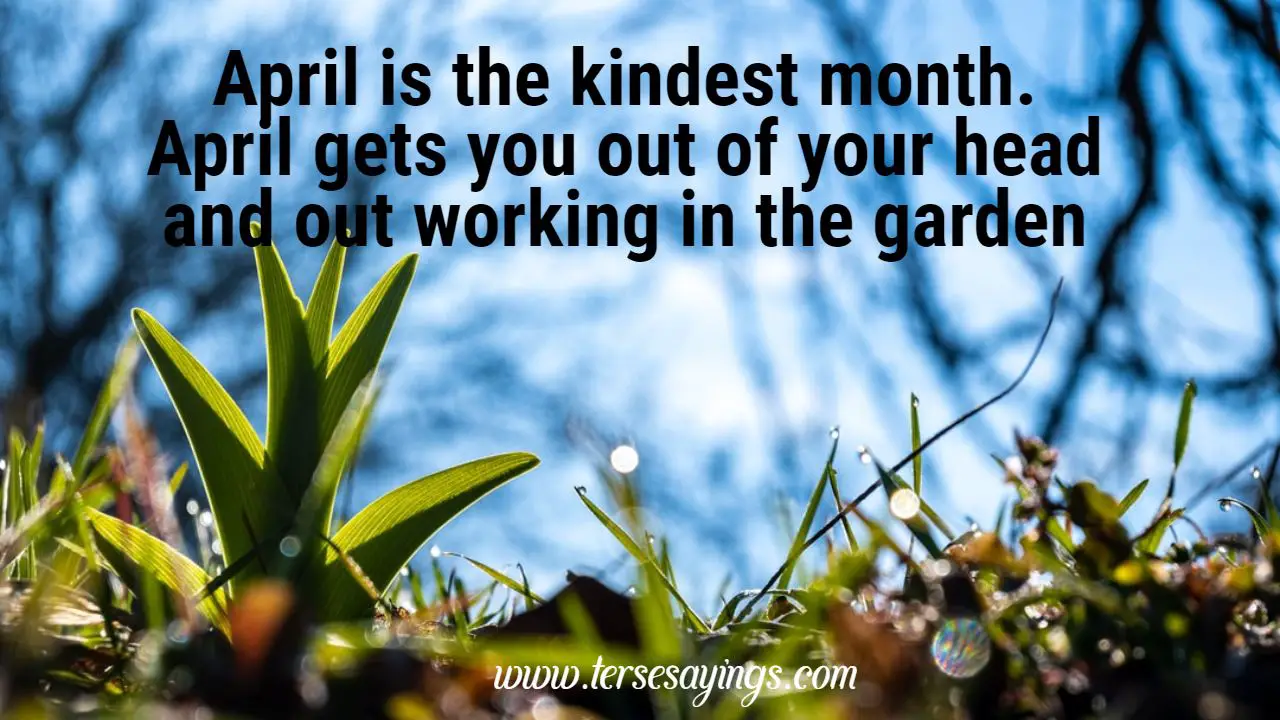 The most beautiful springs are those that come after the most horrible winters! – Mehmet Murat İldan.
Don't judge each day by the harvest you reap but by the seeds that you plant. – Robert Louis Stevenson.
You can cut all the flowers but you can't stop spring from coming. – Pablo Neruda.
Spring makes its statement, so loud and clear that the gardener seems to only be only of the instruments, not the composer. – Geoffrey B. Charlesworth.
If you've never been thrilled to the very edges of your soul by a flower in spring bloom, maybe your soul has never been in bloom. – Audra Foveo.
I can still bring into my body the joy I felt at seeing the first trillium of spring, which seemed to be telling me, 'Never give up hope, spring will come. – Jessica Stern.
Gather in the summer, gather in the winter; and you will have everything you want in the spring. – Alan Maicon.
Animate or inanimate, all bodies under the sun give expression to their vitality. Especially on a fine day in spring! – Henry Miller.
No matter how chaotic it is, wildflowers will still spring up in the middle of nowhere. – Sheryl Crow.
     Related: Best 70+ october quotes when you need some inspiration
Pronounce these words slowly: forsythia, magnolia, azalea, and redbud. Spring: it's not a fantasy, it's real. – Marty Rubin.
Why are people so tired on April 1st? Because they just finished a 31-day March.
April fool, n. The March fool with another month added to his folly.
April is the kindest month. April gets you out of your head and out working in the garden.
But it is a sort of April-weather life that we lead in this world. A little sunshine is generally the prelude to a storm.
April is a month of melody. In April, you can hear the warbling of mockingbirds and the chattering of squirrels.