Aunt Quotes, An aunt is a woman who is a sibling of a parent or married to a sibling of a parent. Aunt Quotes, Aunts who are related by birth are second-degree relatives. Your aunt takes care of you and loves you unconditionally. Aunt is a best-secrets friend and your parent.
aunts is a free the discipline with you so you tell them all your tension, Aunt is a second mother to nieces.it is true the bond between aunt and nephew is the best unique relationship in the world and something is very special. So we have a collection of some famous quotes between aunt and Nephew quotes saying, Be sure to read those as well.
If you wish to thank her for all the things she has done for you, these quotes will come in handy for that gesture. Check out these best funny, cute, inspirational quotes which will remind you of a beautiful relationship.
YOU MAY ALSO READ THESE QUOTES:70+ Best toxic family quotes
I Love My Cute Aunt Quotes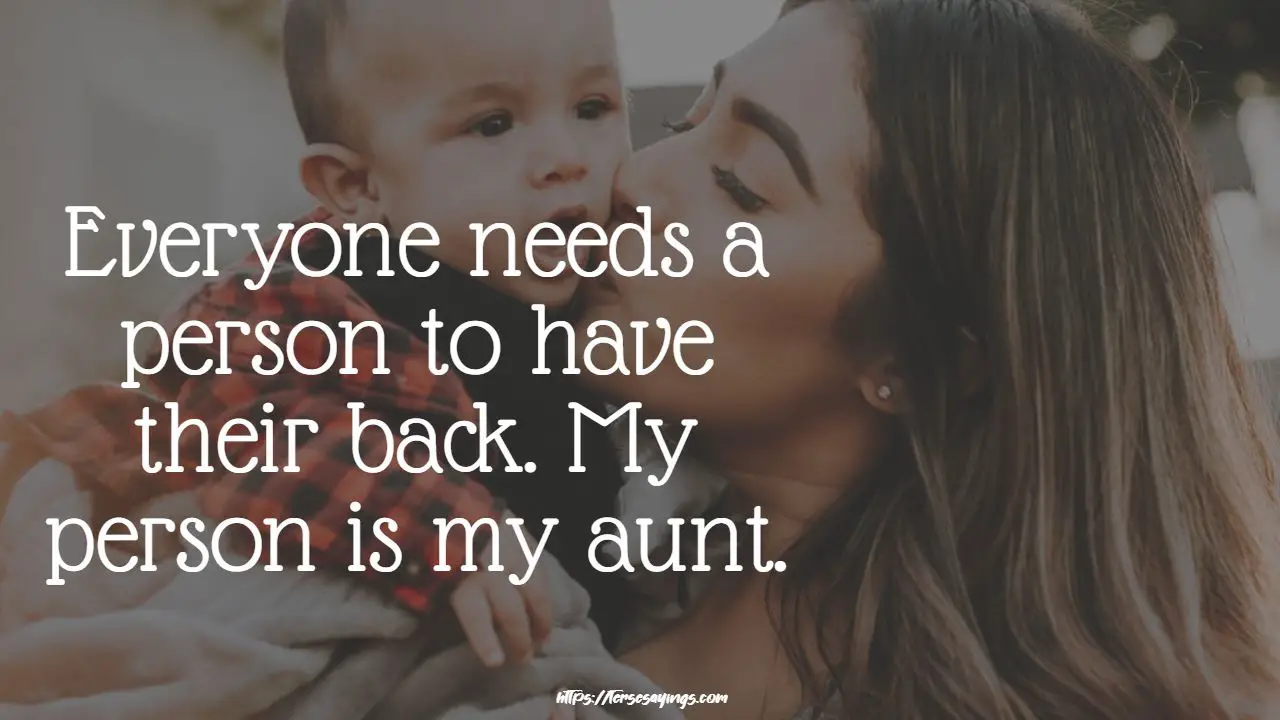 Everyone needs a person to have their back. My person is my aunt.
My aunt is like my eternal accomplice. I know I can always count on her.
Aunt is the best four-letter word!
When it comes to aunts, I got the best one! I don't know what I did to deserve such an amazing aunt, and I'm so proud when I get to introduce you as my aunt!
One word describes how I feel about you as my aunt – Proud!
I am single and childless, but I have lots of friends and I am an aunt to three lovely children.-
Aunts tried to broaden horizons by exposing nieces and nephews to new experiences and introducing nieces to notions of femininity.
Maiden aunts were teachers and nurses, confidants, and disciplinarians.
The aunt is the mother's sister, or the father's brother's wife, rather than simply an aunt.
The aunt nonetheless is an undeniable emotional presence in kinship and family relationships and histories.
I am grateful for having you as my aunt.
This free-spiritedness and unconventionality is the characteristic of a certain type of aunt we can call the cool aunt.
It is not money my aunt thinks about. She knows better than to value worldly wealth above its price.
An aunt is like a mother too. She will take care of you and love you unconditionally.
Also Check these:90+ Best Inspirational quotes for homeless families
Auntie is more a role than a moniker. An auntie is someone older, interested, a good listener, and a helpful adviser.
The relationship between aunt and niece was often based upon recognition of the similarity between the two–but also emphasized the difference between mother and daughter.
Aunts offer kids an opportunity to try out ideas that don't chime with their parents and they also demonstrate that people can get on, love each other and live together without necessarily being carbon copies.
Being an aunt is like getting to be a mom without all the rules.
Only an aunt can give hugs like a mother, keep secrets like a sister, and share love like a friend.
Aunts are the ones who stand beside Moms when nieces and nephews enter the world.
Aunties may also be someone who seems glamorous or simply lives a different life than our mother does and provides another example of who we can be as women.
My aunt is my role model.
Aunts are to be a pattern and example to all aunts; to be a delight to boys (and girls. and comfort to their parents, and to show that at least one daughter in every generation ought to remain unmarried, and raise the profession of aunts to a fine art.
A cherished friend and personal cheerleader who will always see you through rose-colored glasses. That's my aunt.
I'm now the elder in the position of doling out wisdom and trying to mend fences.
Being a sister is an honor. Being an aunt is priceless.
The aunt is the one who holds the family…
Nephew And Aunt Quote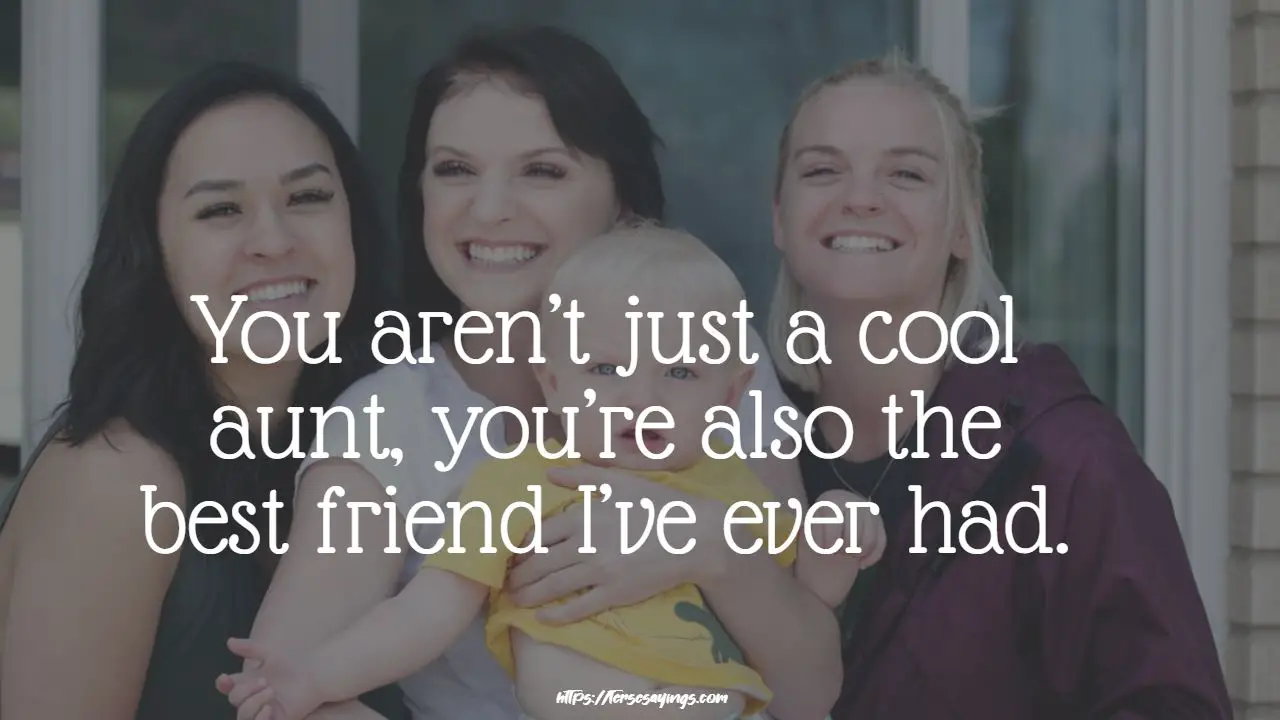 You aren't just a cool aunt, you're also the best friend I've ever had.
My aunt is an inspiration to me every day.
Aunt – a double blessing. You love like a parent and act like a friend.
My heart swells with pride whenever I think of my aunt and the incredible person she is.
Every man should have aunts. They illustrate the triumph of guesswork logic.
An aunt is a haven for a child. Someone who will keep your secrets and is always on your side.
I was really lucky that I had an aunt who was very inspiring to me. She was different than anybody in my family on either side.
My aunt has ears that listen, arms that hug and hold, a never-ending love, and a heart that's made of gold.
When my parents scold me, I just let call aunt.
My aunt played the piano and I used to sit and listen to it.
An aunt makes life a little sweeter.
There's something so great about being with your nephew.
To me, my nephew is the angel of my world.
Every child needs at least one adult who is irrationally crazy about him or her.
I want my nephew to have a little bit of an advantage over everyone when it comes time for him to make his way in the world.
I think there are many good Democrats, and strong leaders. The person I like the most over everyone is my nephew.
You are less like a nephew and more like my son. Every corner of my heart was captured by your first breath.
I love spending time with my dog, my nephew, and my family. I'm very family-oriented.
Any day spent with you, my nephew, is my favorite day.
I want to be the coolest aunt in the entire world.
Aunts are discreet, a little shy by instinct. They forbear to pry.
I'd rather be the cool aunt than the authoritative aunt.
Becoming an auntie, and having the opportunity to be in an active role a one, has been a marvelous opportunity.
Well, I do have some maiden aunts that are not quite like the aunts in the book, but I do have a couple of them, and a couple of old aunties.
Best Aunt Quotes From Niece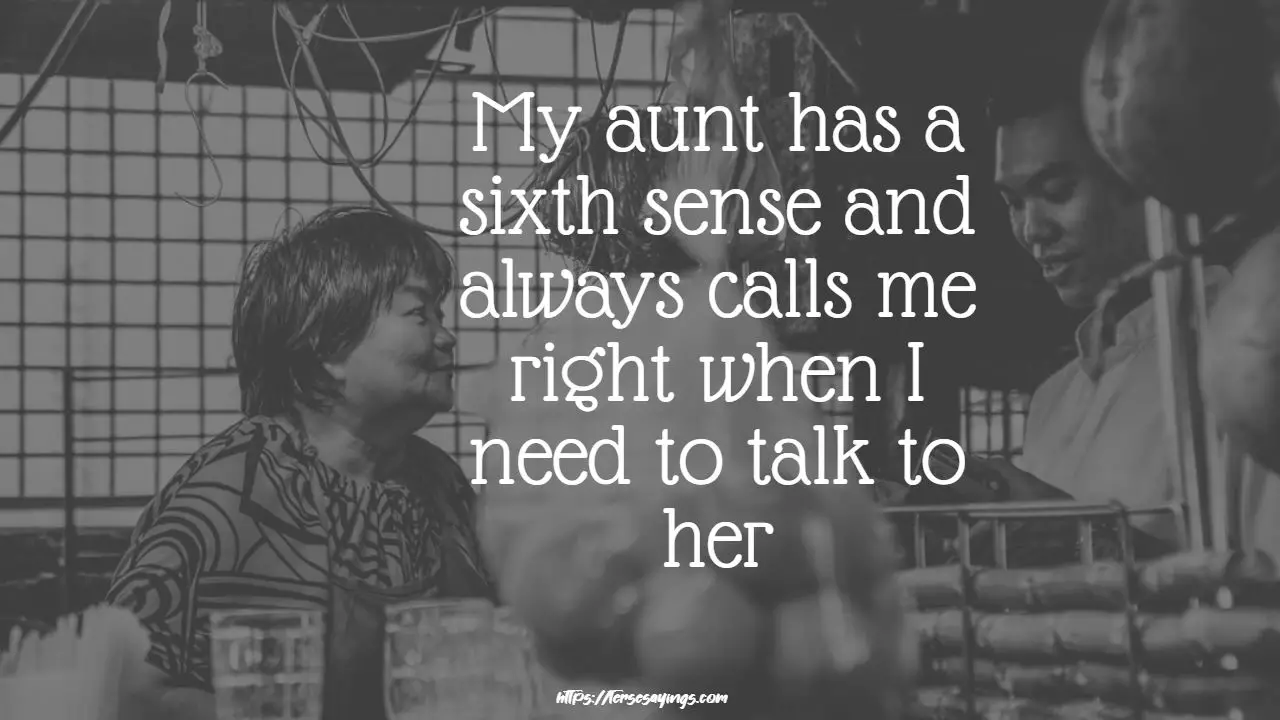 My aunt has a sixth sense and always calls me right when I need to talk to her.
When I'm asked who my best friend is, I always smile and say, my aunt.
My aunt is so much more than my mom's sister. She's like a second mom.
My aunt has her room in my heart.
An aunt treats her niece like she's her daughter, and a niece treats her aunt like she's her mother.
I'm proud of the woman my aunt is and wants to grow up to be just like her!
My friends envy me because I have such a fantastic aunt!
I know you are technically my aunt, but I feel you're more like my sister.
An aunt knows how to convince your mom to let you go to a party.
Many times aunties and nieces find amazing similarities in their tastes, attitudes, or even their appearances.
When a niece and aunt get together, there's a lot of whispering and giggling that tells you they're up to something.
Aunts were often involved in attempting to help a niece as she struggled with life choices and decisions.
Aunties need nieces, and nieces need aunties. It is never too late to find an aunt, or to be one!
Also Check:Best 80 + karma narcissist quotes About life&Relationship
My mom, my aunt, and my grandma banded together and gave me a village of support when I was growing up.
Our bond is special. I know you can feel how much I love you. Moreover, having a lovable aunt is one of God's greatest blessings.
In the grueling journey of life, when everything withers away, your love is something that will always stay.
You know you're the best aunt in the whole universe when your niece walks into the room and her face lights up when she sees you.
I was really lucky that I had an aunt who was inspiring to me. She was different than anybody in my family on either side.
I had lunch the other day with my niece, Emma, and she said, you're so smart, aunt Julia. And I wanted to say, I'm not smart – I'm 41! You're 17!
I'm cute – and God I hate it when aunts say that. Because that's not cool. I'm like your niece.
I have a six-year-old niece. I hope that by the time she's 16, the world will have changed.
As a niece, I always thought my Aunt was the coolest person growing up, turns out kids will think very highly of you if you let them choose the radio station.
Aunt Quotes For Instagram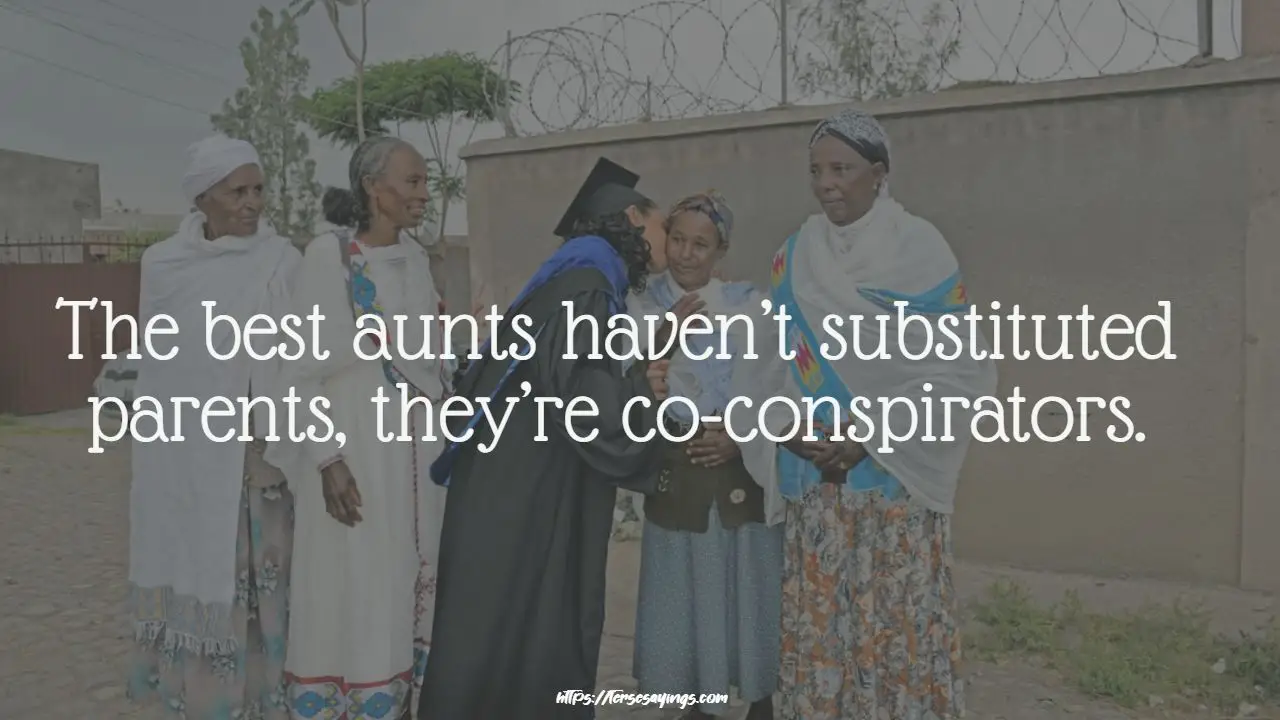 The best aunts haven't substituted parents, they're co-conspirators.
Don't mess with me. My aunt is crazy.
His father's sister had bats in the belfry and was put away.
They bring along their loving Aunt / But when they can't find a table for their fat Aunt Mable / They stamp their feet and cry.
Aunts are always offering cake, certainly, you couldn't have had enough.
I didn't want to be the aunt where you come over and can't sit on the sofa.
All nieces are brilliant and beautiful… and take after their aunt.
Only Aunties can love like a mother, keep secrets like a sister behave like a true friend, and kick your butt if you need it.
If mom says no, my aunt will say yes.
My aunts still try to fatten me up.
Sometimes just being an aunt is pretty fun too. You can play with them for a week or a weekend and give them back to Mom and Dad.
I never dreamt that I would be a super cool aunt. But here I am killing it.
My aunt used to call me light bulb head because my head was small at the bottom and bigger at the top. But it was a term of endearment.
My auntie is like my mom. Only a bit cooler and crazier.
If nephews and nieces were jewels, I would have the most beautiful gems ever.
They call me aunt because partner-in-crime makes me sound like a bad influence.
If I'm not the best aunt in America, then I don't know what's going on.
The term 'awesome aunt' remains incomplete if there is no 'wonderful niece' like you.
I'm not just an aunt. I'm a big cup of wonderful sauce covered in awesome with a splash of sassy and a dash of crazy.
Aunts can't be held responsible for extreme levels of fun, staying up past bedtime, or, any other actions that could be considered 'SPOILING.'
The Auntie Code: Bedtime is whenever, the answer is always, 'yes,' and your mom doesn't have to know everything.
My nephew is manipulative and scheming. And those are his good qualities.
You get the fun of spending time with your nephew without having to be the person responsible for taking care of them. It's the best of both worlds.
I was going to take my little nephew to Disneyland, but instead, I drove him to an old burned-out warehouse. He cried and cried, but I think that deep down, he thought it was a pretty good joke.
Special Words For Aunts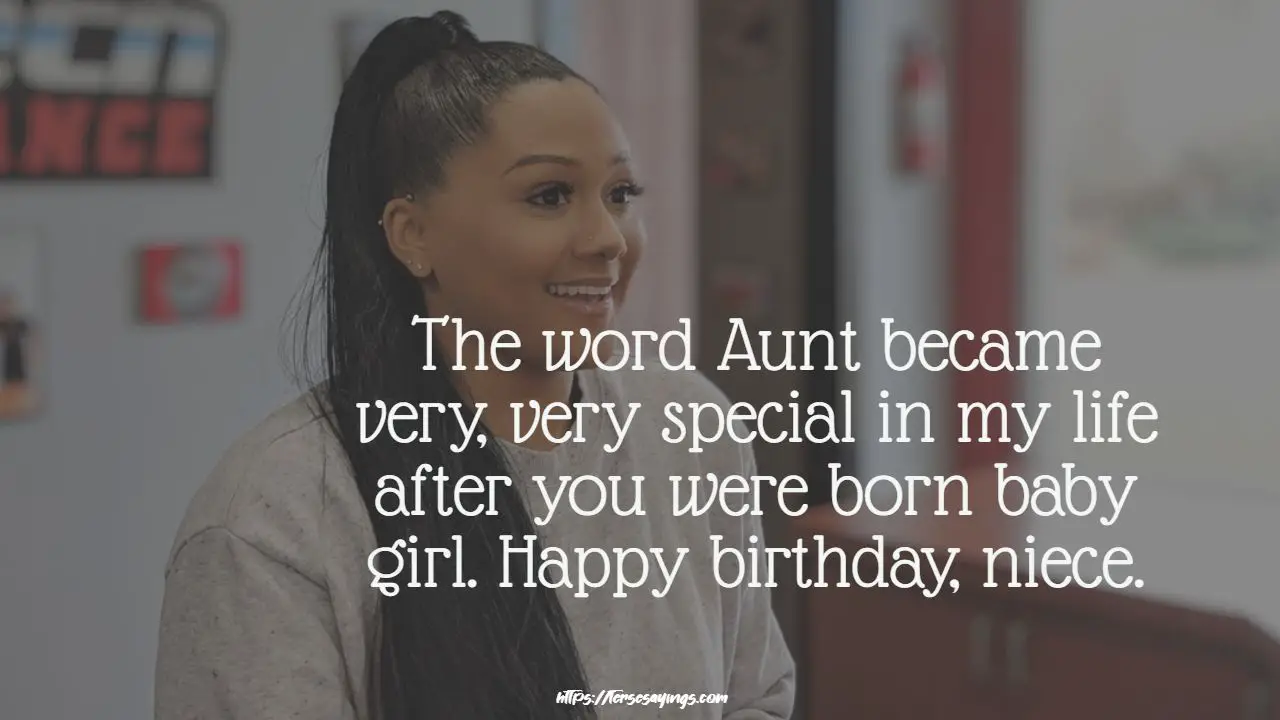 The word Aunt became very, very special in my life after you were born baby girl. Happy birthday, niece.
My aunt has ears that listen, arms that hug and hold, a never-ending love, and a heart that's made of gold.
I'm not just an aunt. I'm a big cup of wonderful sauce covered in awesome with a splash of sassy and a dash of crazy.
I can't imagine growing up without you as my aunt. You make every day special with your warmth, kindness, and quirky sense of humor. Thank you for every moment we've shared.
I love how fearless and courageous you are, you have deeply touched my life and I feel nothing but grateful to God and to my parents that I have you in my life.
I don't know how to thank you for all the kisses and hugs you gave me right when I needed them or for always being there for me. You are such an amazing aunt!
When I think about all the wonderful moments my aunt has given me, I'm filled with gratitude and thanksgiving.
My father's sister never narration rated me.
The pervasiveness of the manner of describing their aunts suggests the importance of situating the aunt within the extended family.
I'm so grateful my aunt is in my life.
Thank you for teaching me and helping me out with my project. Your insight and knowledge have me get by so many complications and troubles. Thank you for investing your time and effort in me.
As my ticket, you deserve the world, but all I can give is my love and gratitude.
If I could write a message in the sky for my aunt, it would read, I love you dearly!
I love my aunt and would do anything she asks of me without hesitation.
Have I told you yet…about the happiness you bring to me? Have I told you yet…that you mean the world to me? Just in case I haven't…I want you to know that 'I love you.
I can't keep calm because I love my auntie.
An aunt loves you for who you are. She would do anything to see you smile and love you no matter what.
Brought together by blood, kept together by love.
The love between aunt and niece knows no distance.
An aunt is a haven for a child. Someone who will keep your secrets and is always on your side.–
You are the best niece ever, your thoughtfulness and caring ways make you special in many ways.
I have nieces and nephews that I love hanging out with, and they think I'm the biggest goof on the planet.
My Niece, watching you learn and grow over the years is a privilege that only an Aunt would know.
I could not have supposed that a niece would ever have been so much to me. She is quite after one's own heart.
You know you're the best aunt in the whole universe when your niece walks into the room and her face lights up when she sees you.
YOU MAY ALSO BE READ A GOOD ARTICLE:Top 60 + famous Beauty and the Beast quotes About Love