We are accompanied by older and younger sisters and brothers in every family, which is a given. The relationship between the siblings is very amazing and loving.
It is an obvious thing that you grow up with them, you love your siblings, you play together, sometimes you fight with them but the main thing is the bond that always remains strong.
They are always with you in present and in the future, they stand for you in every difficult situation of your life. It might be possible that your siblings are annoying but the reality is they are loveable and sweet, and you cannot live without them.
If you have siblings and you are in the search of funny brother and sister quotes, then you are in the right place. In this article, we will tell you the best quotes related to brothers and sisters.
So, if you want to celebrate a special relationship with your siblings like brothers and sisters then all the quotes that are given below will definitely help you to express your feelings and love for them.
We all know that life with sisters and brothers is annoying and exciting, and also provides you with the opportunity to feel the sentimental moments.
All the funny quotes and jokes about the siblings will show more love in the special gifts, and speeches and also best for social media posts.
In most families, people don't have siblings and they are not lucky to have sisters and brothers. So you should wish your siblings with the help of funny quotes and captions, especially on the sibling's day.
Funny Brother And Sister Quotes
Sometimes people say they can't tell me and my sister apart. Here's a hint: I'm the pretty one.
Sisters are like psychiatrists. They have no choice but to listen to your whining then turn around and rob you blind.
Having sisters is like living in Cinderella's house. I'm pretty, overworked and underappreciated, and they're evil.
My sister is my best friend until she copies my hairstyle. Then, I'll swear she's adopted.
Sometimes being a brother is even better than being a superhero.
Read More: Most Famous 60+ Brother Caring Sister Quotes True Sibling Love
Big sisters are the crab grass in the lawn of life.
There is a little boy inside the man who is my brother… Oh, how I hated that little boy. And how I love him too.
You don't choose your family. They are God's gift to you, as you are to them.
More than Santa Claus, your sister knows when you've been bad and good.
Lord Help the Mister that comes between Me and My Sister.
Funny Brother Quotes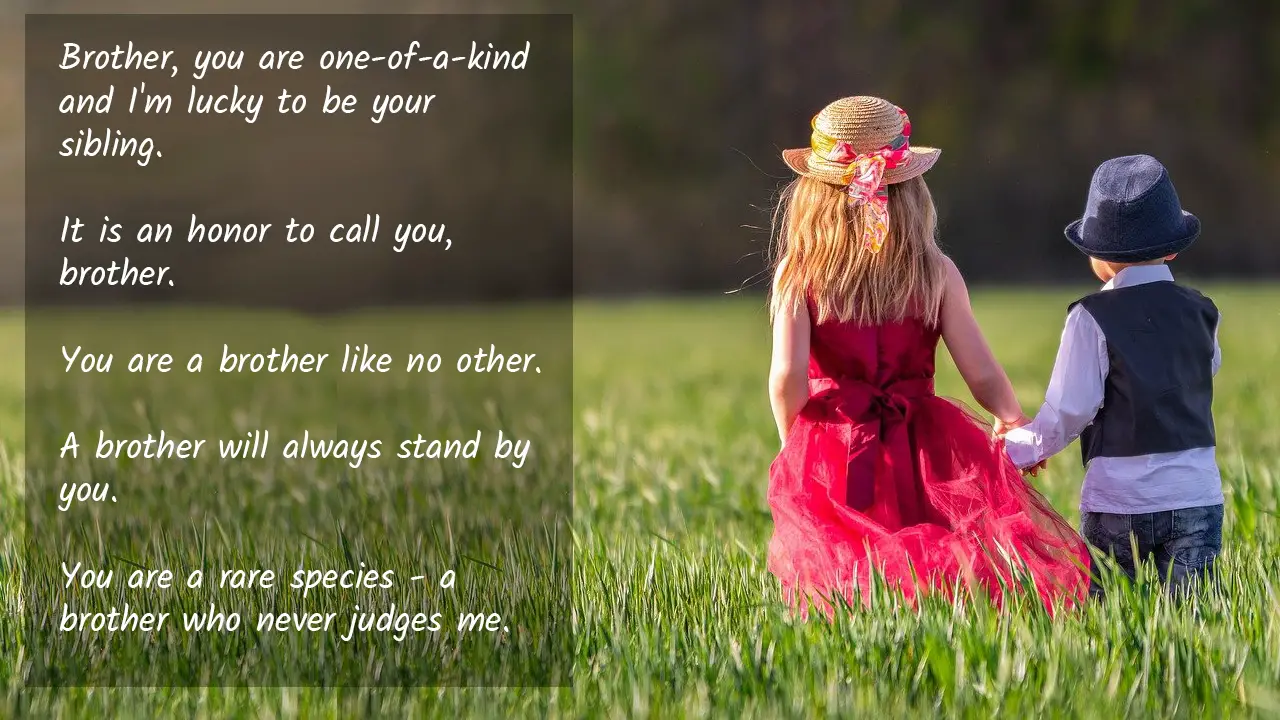 Nothing can stop me from loving my brother.
Everyone knows that if you've got a brother, you're going to fight.
Sometimes being a brother is even better than being a superhero.
There is a little boy inside the man who is my brother… Oh, how I hated that little boy. And how I love him too.
Never make a companion equal to a brother.
If you want to know how your girl will treat you after marriage, just listen to her talking to her little brother.
My brother is one of my true heroes. Steady and sober where I am impulsive and emotional.
I sought my soul, but my soul I could not see. I sought my God, but my God eluded me. I sought my brother and I found all three.
It takes two men to make one brother.
Half the time when brothers wrestle, it's just an excuse to hug each other.
Brother Quotes From Little Sister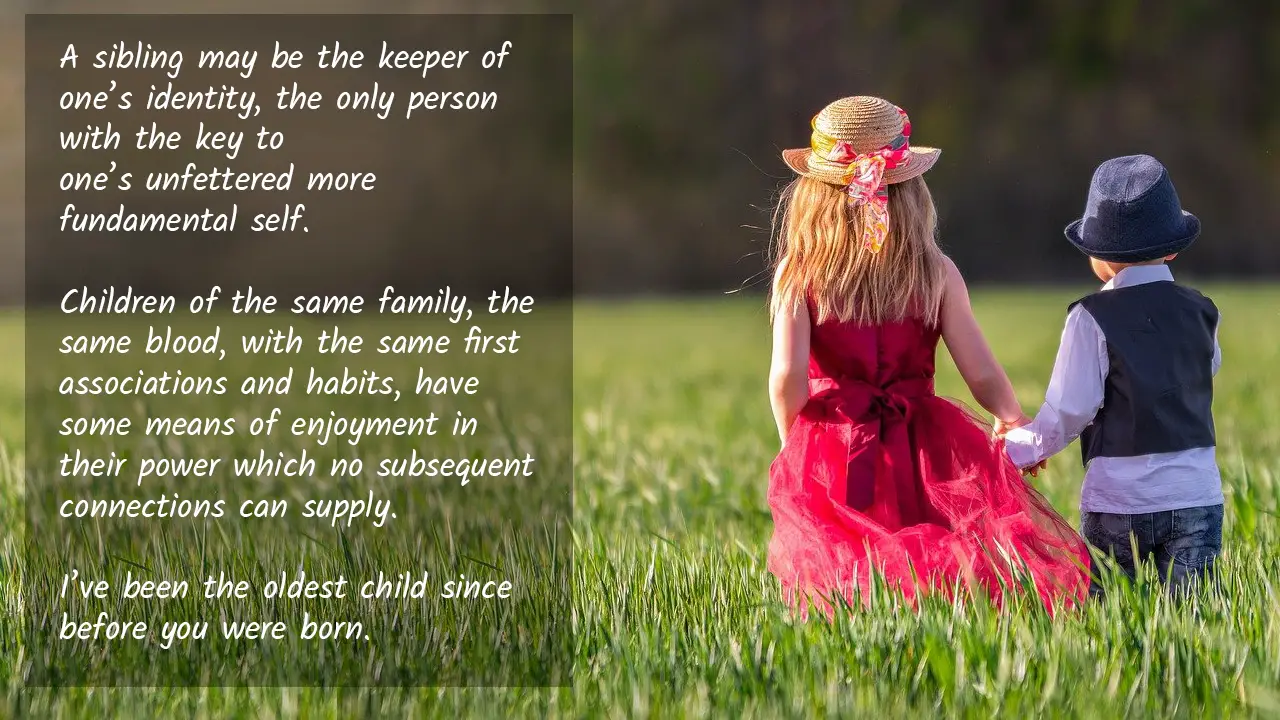 A sibling may be the keeper of one's identity, the only person with the key to one's unfettered more fundamental self.
Children of the same family, the same blood, with the same first associations and habits, have some means of enjoyment in their power which no subsequent connections can supply.
Siblings are the people we practice on, the people who teach us about fairness and cooperation and kindness and caring – quite often the hard way.
A sibling may be the keeper of one's identity, the only person with the keys to one's unfettered, more fundamental self.
Siblings function as safety nets in a chaotic world simply by being there for each other.
I've been the oldest child since before you were born.
try this also: Best 70+ Meaningful Brother And Sister Quotes Your Sibling Bond
Our siblings resemble us just enough to make all their differences confusing, and no matter what we choose to make of this, we are cast in relation to them our whole lives long.
The meaning of siblings isn't always about sharing.
An accident of birth does make you brothers and sisters. It makes you siblings. Sisterhood and brotherhood is a condition that we work at.
Siblings share a mirror of each other. Having a sibling means you're never the only one.
Quotes On Brother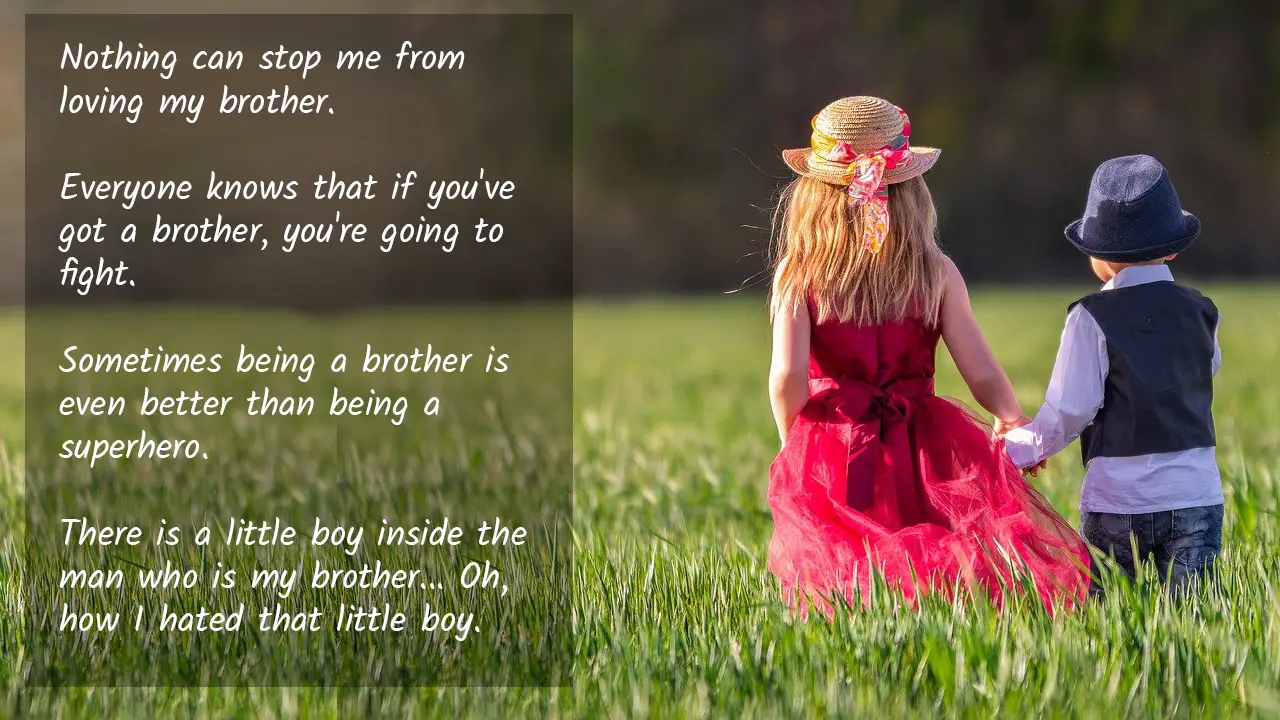 Brother, you are one-of-a-kind and I'm lucky to be your sibling.
It is an honor to call you, brother.
You are a brother like no other.
A brother will always stand by you.
Read More: Most Famous 80+ Emotional Brother And Sister Quotes
You are a rare species – a brother who never judges me.
A brother's unconditional love is priceless.
Regardless what I've asked of him, my brother has never refused me.
I love my brother's compassion; he's even kind to insects.
Growing up, I revered my brother and still do.
Brother, you got the best of genes of our parents.