Everyone enjoys eating desserts that include ice cream. Below is a collection of likable Ice Cream Quotes. Along with its creaminess and variety of different flavors, everyone enjoys ice cream. Everybody can find their favorite flavor of ice cream.
Although it is difficult to say whether there is the tastiest ice cream in the world, vanilla and chocolate flavors are among the most well-liked. Many people contend that eating ice cream reduces stress and improves mood. Although ice cream cannot kill a person, it may worsen their health if they have diabetes or another condition that prevents them from eating sugar, dairy, or cold foods. Ice cream is a favorite among children, and it is said that purchasing it will bring you happiness. When all you need is love, you can enjoy a bowl of happiness with a cold scoop of ice cream and some toppings.
Below are some Ice Cream Quotes that might make you smile and feel good during the summertime because, well, where would we be without ice cream?
You May Also Like To Read:Best 70 + Famous Baking Quotes that will help you make healthy food
Ice Cream Quotes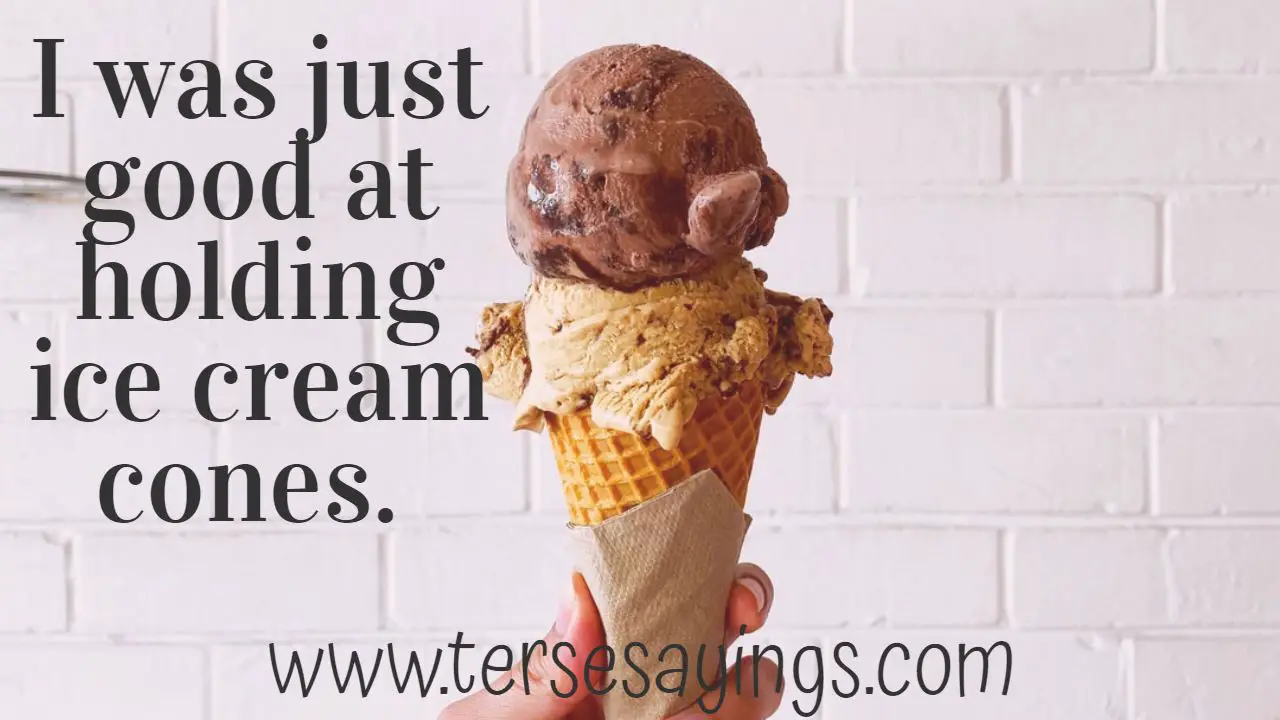 I was just good at holding ice cream cones.- Mitch Hedberg.
There is a big confusion in this country over what we want versus what we need…you need food. You want a chocolate sundae.- Mitch Albom.
Without ice cream, there would be darkness and chaos.- Don Kardong.
It was the color of someone buying you an ice cream cone for no reason at all.- Lemony Snicket.
Tomorrow we can eat broccoli, but today is for ice cream.- Malory Hobson.
I never say no to ice cream.
When I was a kid, I used to think, 'Man, if I could ever afford all the ice cream I want to eat, that's as rich as I ever want to be.'- Jimmy Dean.
Read More:30+ Funny Popcorn Quotes That You Must Read
My love for ice cream emerged at an early age — and has never left!- Ginger Rogers
Ice cream brings people together.- Doug Ducey.
Broccoli is not as bad as people make out. It might give you wind, but I'd prefer to have wind and have good health. Health is the number one thing on the planet. However, I am quite partial to rum and raisin ice cream.- Chris Eubank Sr.
Ice cream soothes the soul.- Adrienne Posey.
I'm trying to write books that taste like ice cream but have the nutrition of vegetables. – Dan Brown.
Like magic, she felt him getting nearer, felt it like a pull in the pit of her stomach. It felt like hunger but deeper, heavier. Like the best kind of expectation. Ice cream expectation. Chocolate expectation.- Sarah Addison Allen
Everyone knows that ice cream is worth the trouble of being cold. Like all things virtuous, you have to suffer to gain the reward.- Brandon Sanderson
Forget art. Put your trust in ice cream.- Charles Baxter
Without ice cream, there would be darkness and chaos.- Don Kardong
There were some problems only coffee and ice cream could fix.- Amal El-Mohtar.
Ice Cream Slogans Of Famous Brands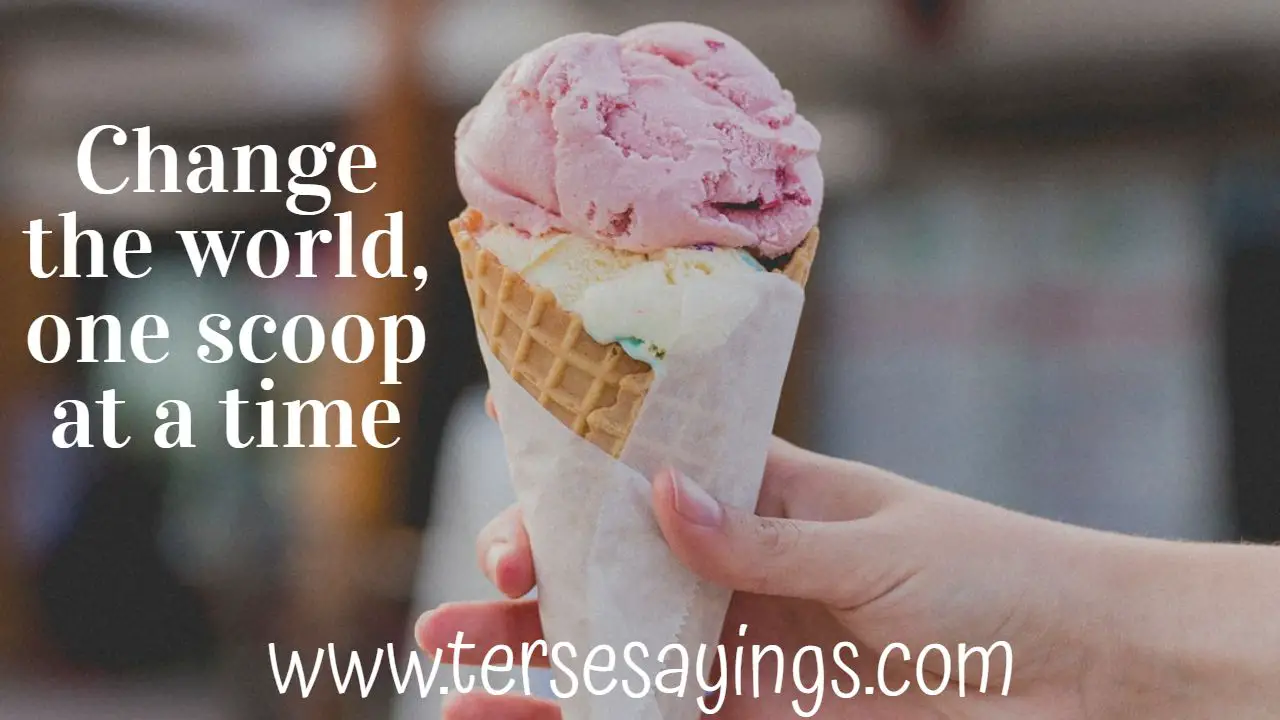 Change the world, one scoop at a time.- Ben & Jerry's.
Let's take a ride in a world of scoops.- Baskin Robbins.
The sweetness of everyday life.- Cold Stone Creamery.
Pleasure is a path to joy.- Haagen Dazs
Brings the family together.- Breyers.
A smile in every scoop.- Hershey's Ice Cream.
So good, you won't know it's healthy!- Arctic Zero.
It's another great reason to smile.- Edy's.
So good, it speaks for itself.- Blue Bunny.
Magnum after dinner. Little shivers of excitement.- Magnum.
Enjoy the ride, love the ending.- Cornetto.
If it isn't Popsicle, it's just an ice pop.- Popsicle.
Fortunately ice cream makes us all better.- Creamies.
Forget diamonds. Ice cream is a girl's best friend.- Huckleberries.
Doorway to Heaven.- Glace.
Winter Ice Cream Quotes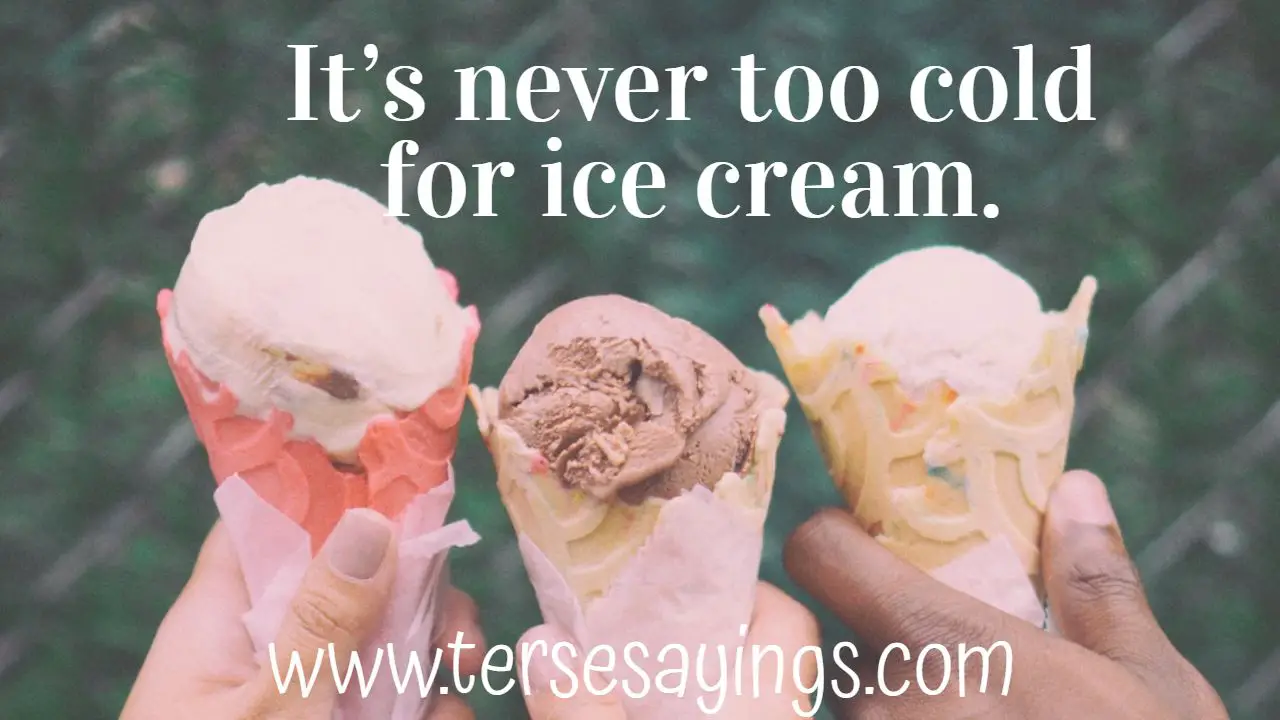 It's never too cold for ice cream.
Be bold. Eat ice cream in the winter.
I don't understand why everyone avoids ice cream in the winter. Ice cream is a year-round food.
A little lick of frozen cream every end then, goes a long, long way.
A surprise in every lick.
All gloomy weather is meaningless in the face of ice cream.
Always in the mood for sprinkles and sugar cones.
Ice cream season goes from age one until death.
If ice cream is the answer, then who cares what the question is!
The only time I work out is when I'm chasing after the ice cream truck.
Read More:Best 70 + Winter Solstice Quotes To Help You Get Through the Dark Days
There is satisfaction in seeing someone voraciously eating a bowl of ice cream.
This frozen treat is worth all the weight gain!
Ice cream is a currency of happiness and delight.
If I have a weakness, it's probably ice cream. That's where I get lax and sloppy.
Just taught my kids about taxes by eating 38% of their ice cream.- Conan O'Brien.
Falling in love is a completely transcendent experience. It's like eating pizza-flavored ice cream.- Mike Birbiglia.
Enjoy your ice cream while it's on your plate.- Thornton Wilder.
It's never too early for ice cream.- Michael Scott, The Office.
How do you say no when a little kid is asking you for ice cream? I know I can't say no to it myself.- Jimmie Johnson.
Not liking ice cream is to show oneself uninterested in food.- Joseph Epstein.
Rain And Ice Cream Quotes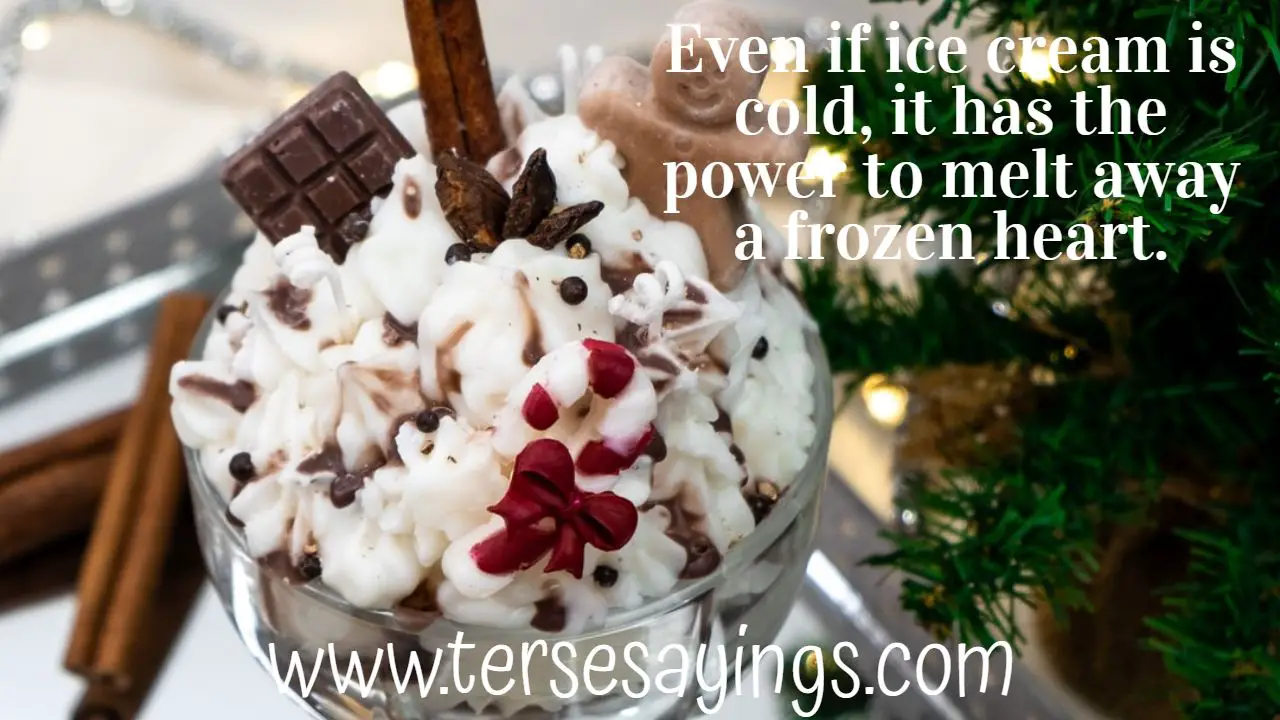 Even if ice cream is cold, it has the power to melt away a frozen heart.
Happiness is a tub of ice cream.
Humanity's greatest blunder is thinking that ice cream consumption requires hot weather.
Ice cream always sounds like a great idea.
Life is like an ice-crevice cream has to lick it one day at a time.- Charles M. Schulz.
If you like ice cream, why stop at one scoop? Have two, have three. Too much is never enough.- Morris Lapidus.
When everyone has let you down… You still have ice cream.- Keegan Allen.
I always say whoever can figure out how to make ice cream healthy will be a gazillionaire.- Justin Deeley.
The only emperor is the emperor of ice cream.- Wallace Stevens.
It is a grave error to assume that ice cream consumption requires hot weather.- Anne Fadiman.
Love ice cream. I let myself have that about once a week. Vanilla.- Tim Tebow.
Ice cream is my comfort food.- Jessie Ware.
For every two degrees the temperature goes up, and check-ins at ice cream shops go up by 2%.- Andrew Hogue.
After I win a match, I celebrate it by having an ice cream.- Saina Nehwal.
I don't think the problem is telling people you're on a diet. The problem is eating ice cream for breakfast.- Chelsea Handler.
I should probably confess that ice cream is my favorite food, and I eat it every night.- Becca Fitzpatrick.
Ben & Jerry's is an indulgent dessert that should be eaten in moderation. You should not be replacing more than one meal a day with ice cream. We do not consider a pint or a tub of ice cream to be a single serving.- Jerry Greenfield.
Ice Cream Quotes With Friends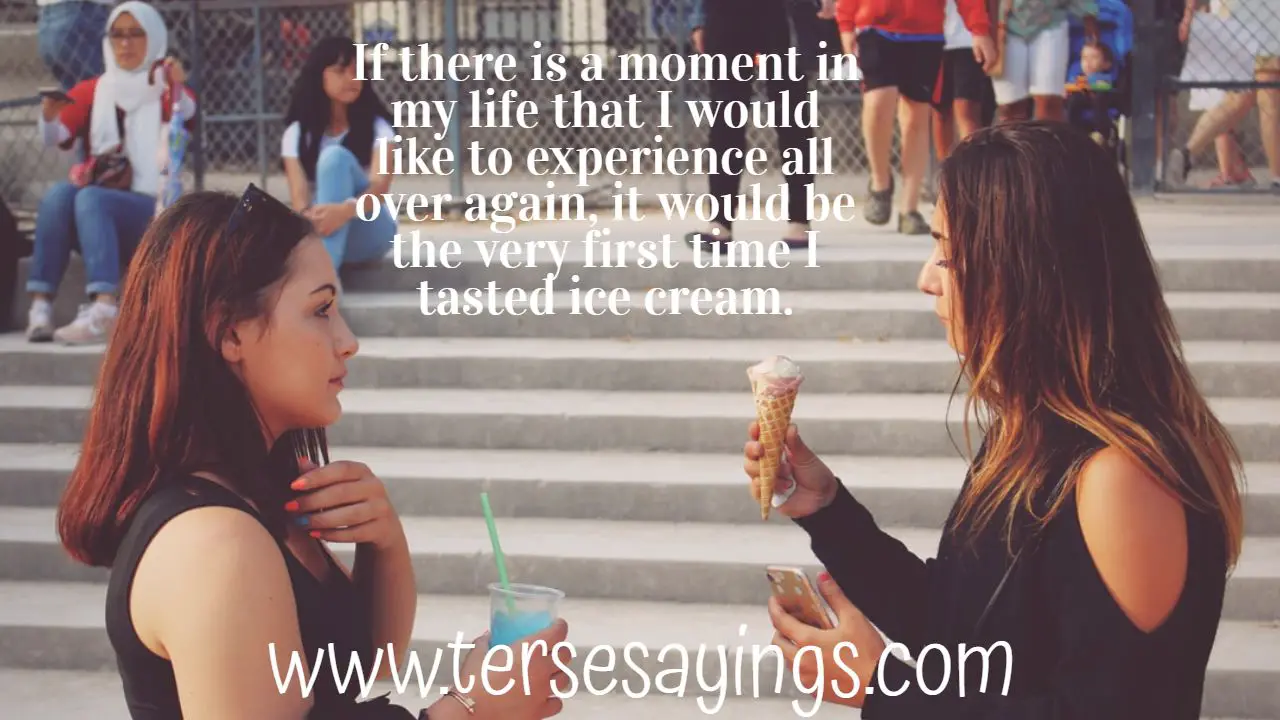 If you like it, you lick it. Even children know.
Imagine a world where ice cream is illegal. I would never dream of being part of such a barbaric world.
Isn't it fascinating how we devote so much attention to ice cream while we're eating it?
Life is a lot like ice cream. You have to relish it before it melts.
Living independently means you can fart in bed and eat ice cream anytime you want.
Money can't buy happiness, but it can buy ice cream, and that's kind of the same thing.
No war would even dare to start if everyone was busy eating ice cream at the same time.
One of the things I'm super thankful for is the existence of ice cream in this world.
Read More:Best 120+ Soul Sister Quotes To Make Strong Bonding
Smile, there is nothing ice cream can't solve!
Studies show that four out of five people like ice cream. The fifth person never admits it.
There are some problems only ice cream can fix.
There is no sincerer more love than the love of ice cream.
There's too much hot fudge on my sundae, said no one ever.
Wherever you go, near or far, you'll find people who love ice cream.
You'll know the serving size of your ice cream when you hear your spoon hit the bottom of the container.
If I have a weakness, it's probably ice cream.- Jack Nicklaus.
On some of my darkest days, Lucifer's the one who comes and gives me ice cream.- Tori Amos
Ice Cream Quotes Funny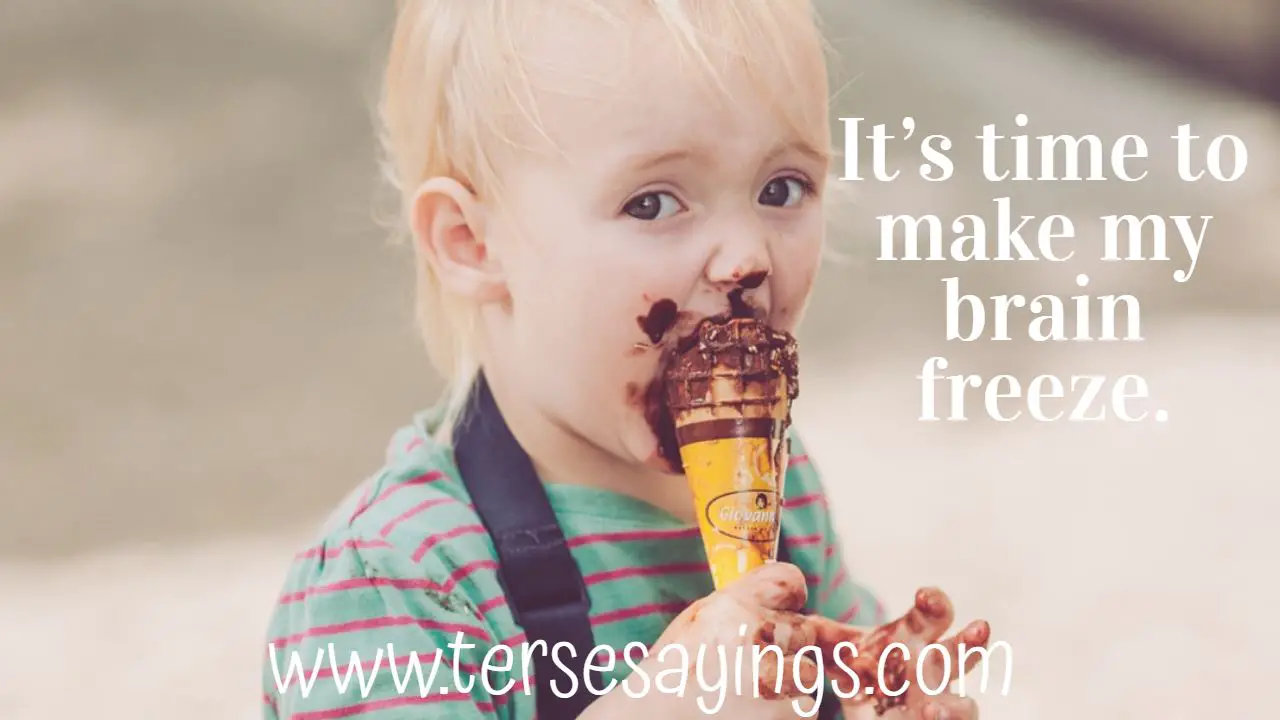 It's time to make my brain freeze.
Just the mere thought of eating this blizzard-like treat is putting pounds on me.
Kick them in the ass and go get some ice cream.
Let's scoot into a world of scoops.
Life is short, so make it sweet.
Melt into my mouth.
My brain is asking for salad, but my stomach is growling for ice cream.
The cherry on top makes everything better.
The only reason I don't want to go to hell is that there's probably no ice cream there.
A strong believer in ice cream for breakfast.
A world where ice cream doesn't exist, is a world of anarchy and disorder.
You miss one hundred percent of the ice cream you don't scoop.
Ice cream has the power to melt all negative thoughts away.
If there's an obscene amount of ice cream involved, then I'm in!
Don't Forget To Read:100+ Best Funny Cooking quotes