These Mamba Mentality quotes can motivate you to achieve your full potential!
You may have come across the term Mamba Mentality and wondered where it originated. It's the title of Kobe Bryant's book on his life philosophy, personal outlook, and professional accomplishments.
But what precisely does "Mamba Mentality" imply?
"To summarize what mamba attitude is, it is to be able to continually attempt to be the greatest version of yourself," Kobe Bryant said in response to this topic.
He defined "Mamba Mentality" as "focused on the process and trusting in the hard work when it counts most," It's no surprise that so many of these Mamba Mentality quotations are about perseverance, grandeur, and being the greatest.
Bryant's Mamba Mentality attitude has also been defined as "the ultimate motto for the competitive spirit." It began as a simple hashtag that occurred to me one day, and it's evolved into a concept that athletes — and even non-athletes — embrace."
Dedication makes dreams come true.
Once you know what failure feels like, determination chases success.
The most important thing is you must put everybody on notice that you're here and you are for real.
I see the beauty in getting up in the morning and being in pain because I know all the hard work that it took to get to this point. So, I'm not, I'm not sad about [retiring]. I'm very appreciative of what I've had.
After all, greatness is not for everybody.
I can't relate to lazy people. We don't speak the same language. I don't understand you. I don't want to understand you.
May you always remember to enjoy the road, especially when it's a hard one.
     Click her to read : Best 100 + Famous Liar Quotes From People
We psych ourselves up too much. Like if you try to talk yourself into, 'Oh, this is a big moment, this is a big shot,' you're putting a lot of pressure on yourself. You shot that shot hundreds and thousands of times. Just shoot another one.
There's nothing truly to be afraid of, when you think about it, because I've failed before, and I woke up the next morning, and I'm OK.
People say bad things about you in the paper on Monday, and then on Wednesday, you're the greatest thing since sliced bread. I've seen that cycle, so why would I be nervous about it happening?
If you're afraid to fail, then you're probably going to fail.
The beauty of coaching is growing the players from the ground up. That journey continues.
Use your success, wealth, and influence to put them in the best position to realize their dreams and find their true purpose.
I want to learn how to become the best basketball player in the world. And if I'm going to learn that, I got to learn from the best. Kids go to school to be doctors or lawyers, so forth and so on and that's where they study. My place to study is among the best.
Kobe Quotes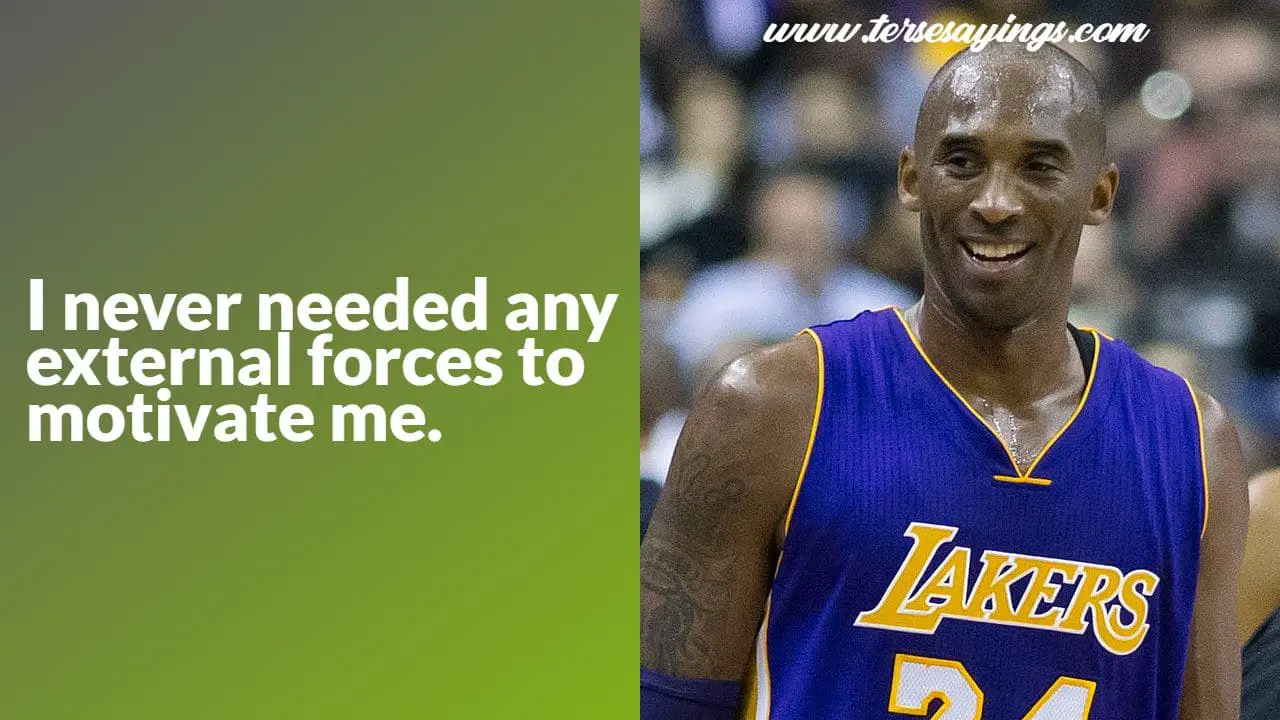 A lot of leaders fail because they don't have the bravery to touch that nerve or strike that chord.
Trust me, setting things up right from the beginning will avoid a ton of tears and heartache.
These young guys are playing checkers. I'm out there playing chess.
I'm going to do what I always do: I'm going to break it down to its smallest form, and smallest detail, and go after it. Day by day, one day at a time.
     Related: Best 90 + Libra Quotes About Their Character
I create my path. It was straight and narrow. I looked at it this way: you were either in my way or out of it.
When I have the chance to guard Michael Jordan, I want to guard him. I want him. It's the ultimate challenge.
A lot of people say they want to be great, but they're not willing to make the sacrifices necessary to achieve greatness.
It's hard for me to grasp the concept of somebody being nervous when I'm talking to them.
From the beginning, I wanted to be the best. I had a constant craving, a yearning, to improve and be the best.
My parents are my backbone. Still are. They're the only group that will support you if you score zero or you score 40.
I never needed any external forces to motivate me.
Pain doesn't tell you when you ought to stop. Pain is the little voice in your head that tries to hold you back because it knows if you continue you will change.
Losing is losing. There aren't different degrees of losing. You either win a championship or you're s**t. It's very black and white to me.
You guys know how I am. I don't forget anything.
I saw you come in and I wanted you to know that it doesn't matter how hard you work, that I'm willing to work harder than you.
I'm extremely willful to win, and I respond to challenges. It's not a challenge to me to win the scoring title, because I know I can.
Leadership is lonely. I'm not going to be afraid of confrontation to get us to where we need to go.
Kobe Bryant Quotes About Life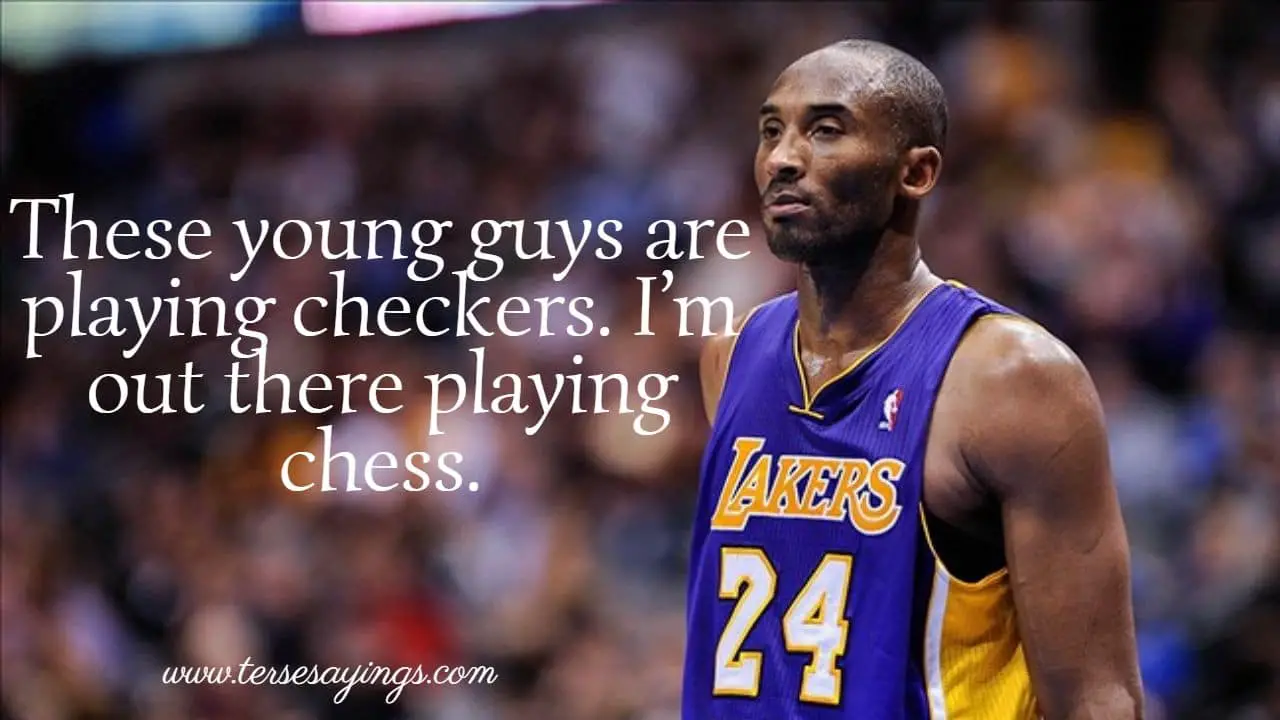 I'm extremely willful to win, and I respond to challenges. Scoring titles and stuff like that… it sounds, well, I don't care how it sounds – to me, scoring comes easy. It's not a challenge to me to win the scoring title, because I know I can. — Kobe Bryant
Boos don't block dunks. — Kobe Bryant
After winning his fifth championship in June of 2010: I just got one more than Shaq. So you can take that to the bank. — Kobe Bryant
I don't want to be the next Michael Jordan, I only want to be Kobe Bryant. — Kobe Bryant
Are you willing to push the right buttons even if it means being perceived as the villain? … I'd rather be perceived as a winner than a good teammate. I wish they both went hand in hand all the time but that's just not reality… I have nothing in common with lazy people who blame others for their lack of success. — Kobe Bryant
     Related: Top 60+ Jackie Robinson Quotes on Life, Racism, and Never Give Up
The topic of leadership is a touchy one. A lot of leaders fail because they don't have the bravery to touch that nerve or strike that chord. Throughout my years, I haven't had that fear. — Kobe Bryant
These young guys are playing checkers. I'm out there playing chess. — Kobe Bryant
Better learn not to talk to me. You shake the tree, a leopard's gonna fall out. — Kobe Bryant
Everything negative – pressure, challenges – is all an opportunity for me to rise. — Kobe Bryant
Because I don't want chumps, I don't want pushovers, and if you're a chump and a pushover, I will run over you. — Kobe Bryant
About Shaq's work ethic: It used to drive me crazy that he was so lazy. You got to have the responsibility of working every single day. You can't skate throughs–. — Kobe Bryant
I don't give a [expletive] what you say. If I go out there and miss game-winners, and people say, 'Kobe choked, or Kobe is seven for whatever in pressure situations.' Well, [expletive] you. — Kobe Bryant
It's an intentional pass to oneself, so it's an assist. That way people can't say all I do is shoot. — Kobe Bryant
If you're afraid to fail, then you're probably going to fail. — Kobe Bryant
The Black Mamba on Love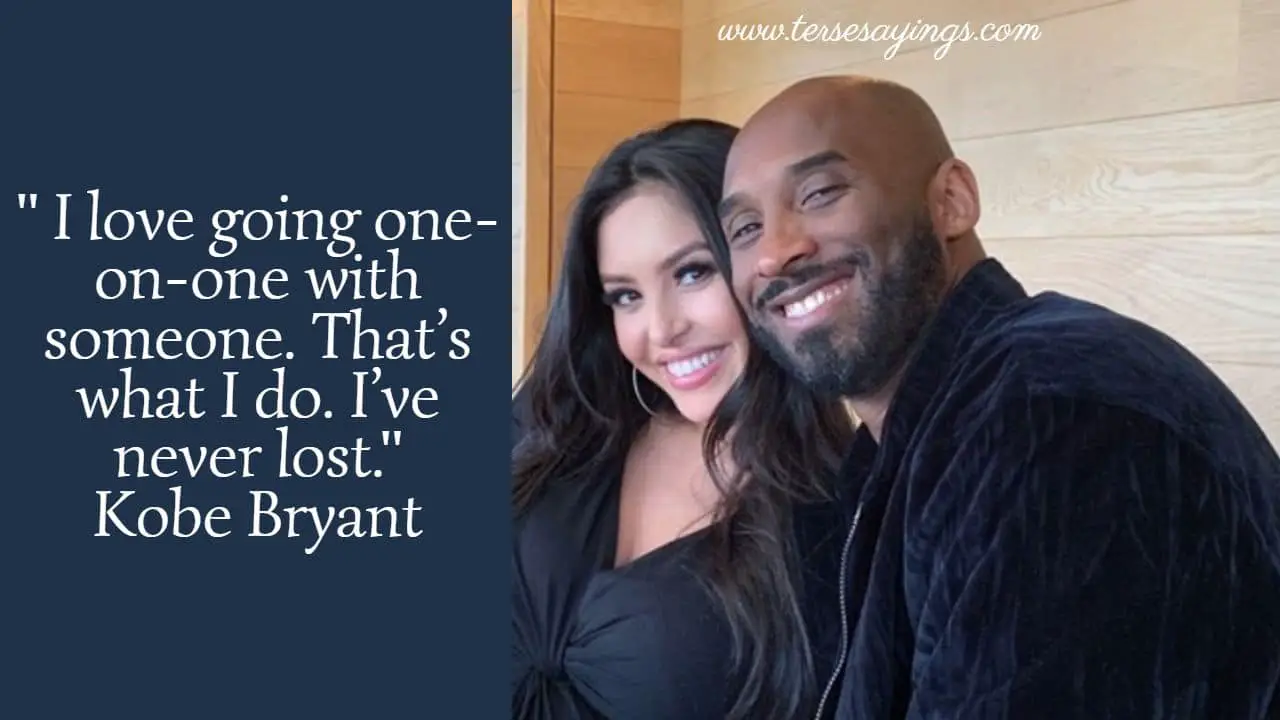 As I sit here now when I take off my shoe and I look down at my scar, I see beauty in it. I see all the hard work, all the sacrifices. I see the journey that it took to get back to this point of being healthy. And I see beauty in that struggle. That's what makes it beautiful. — Kobe Bryant
My parents are my backbone. Still are. They're the only group that will support you if you score zero or you score 40. — Kobe Bryant
Friends can come and go, but banners hang forever. — Kobe Bryant
I'm chasing perfection. — Kobe Bryant
     Don't forget to read : Best 40 + Rengoku Quotes Saying and famous
Hi, I'm Kobe Bryant. And I have decided to take my talent to, uh… I have decided to skip college and take my talent to the NBA. — Kobe Bryant
The most important thing is to try and inspire people so that they can be great in whatever they want to do. — Kobe Bryant
I'll do whatever it takes to win games, whether it's sitting on a bench waving a towel, handing a cup of water to a teammate, or hitting the game-winning shot. — Kobe Bryant
What people see on the court is another side of me; it's not me. — Kobe Bryant
There's a choice that we have to make as people, as individuals. If you want to be great at something, there's a choice you have to make. We all can be masters at our craft, but you have to make a choice. What I mean by that that is, there are inherent sacrifices that come along with that. Family time, hanging out with friends, being a great friend, being a great son, nephew, whatever the case may be. Some sacrifices come along with making that decision. — Kobe Bryant
I love going one-on-one with someone. That's what I do. I've never lost. It's a whole different game, just to have them right in front of you and be able to do whatever you want. — Kobe Bryant
I remember feeling the silence. I remember feeling the fear. I'm like, 'This could be a wrap.' And that's what the silence was. It was like, 'This could be a wrap for you. — Kobe Bryant
I'm more than comfortable just sitting back and scoring 21, 22 points, or whatever and getting 10, 11 assists whatever the case might be. More than comfortable with that. It's just a matter of the pieces that you have around you and what you can do to elevate everybody else. — Kobe Bryant
I've played with IVs before, during, and after games. I've played with a broken hand, a sprained ankle, a torn shoulder, a fractured tooth, a severed lip, and a knee the size of a softball. I don't miss 15 games because of a toe injury that everybody knows wasn't that serious in the first place. — Kobe Bryant
I'm playing against great players, playing against the best in the world. The competition – that's what I've always wanted. — Kobe Bryant
The Black Mamba on Mental Toughness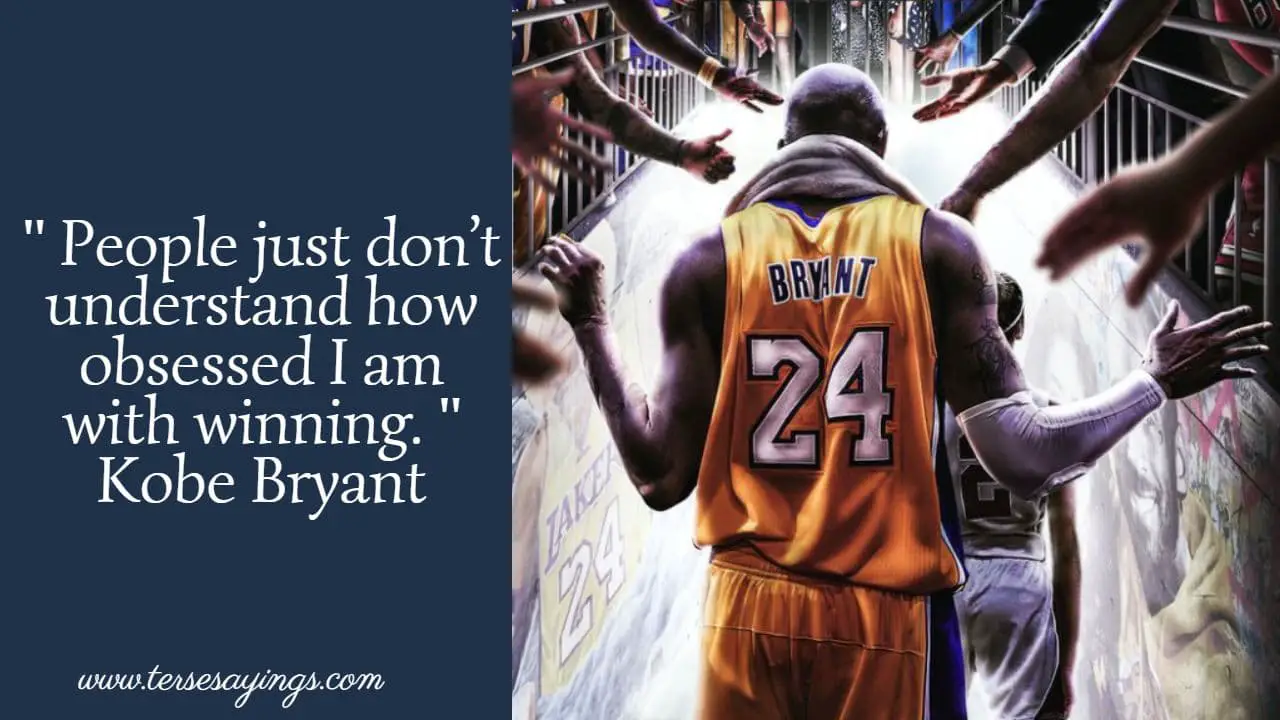 People just don't understand how obsessed I am with winning. — Kobe Bryant
After being ranked the 40th best player in the NBA by ESPN: I've known for a long time they're a bunch of idiots… I tend to use things as motivation that tend to be in the realm of reality. — Kobe Bryant
I focus on one thing and one thing only – that's trying to win as many championships as I can. — Kobe Bryant
I'm reflective only in the sense that I learn to move forward. I reflect with a purpose. — Kobe Bryant
The people who truly know me know what I'm like. There have been people who try to say things that aren't fair, and I check them. And then they don't like me because I checked them. — Kobe Bryant
I can't relate to lazy people. We don't speak the same language. I don't understand you. I don't want to understand you. — Kobe Bryant
I'm here. I'm not going anywhere. No matter what the injury – unless it's completely debilitating – I'm going to be the same player I've always been. I'll figure it out. I'll make some tweaks, and some changes, but I'm still coming. — Kobe Bryant
     You may like to read : Best 60 + Paul Walker Quotes That Will You Happy Much More
When I have the chance to guard Michael Jordan, I want to guard him. I want there to be the ultimate challenge. — Kobe Bryant
There are certain players that I've made cry. If I can make you cry by being sarcastic, then I don't want to play with you in the playoffs. — Kobe Bryant
Winning takes precedence over all. There's no gray area. No almost. — Kobe Bryant
Kobe was once asked, what he would do if his hand fell off and was forced to retire? Even then, you could still play with one hand. — Kobe Bryant
I don't f— with bees, man. Other than that, I'm not afraid of anything. — Kobe Bryant
During a Lakers blowout loss, The Black Mamba puts up 34 shots for 44 points in 31 minutes: I'd rather not have to do that, but you can't sit back and watch crime happen in front of you. — Kobe Bryant
My brain . . . it cannot process failure. It will not process failure. Because if I sit there and have to face myself and tell myself, 'You're a failure. I think that's almost worse than death. — Kobe Bryant
Kobe responds to LeBron James' claim that the Miami Heat received an unparalleled amount of scrutiny compared to Kobe's 2012–13 Lakers: What does it matter? What does he want, a cookie for that? — Kobe Bryant