For a new perspective on life, read these motivational and inspirational may quotes. These optimistic quotations will boost your brain and fill your heart, whether you're seeking a little more motivation as the month progresses or a classic reminder that everything will be OK. For a daily reminder, write them on a notecard or make them your phone's screensaver. There is a motivating quotation for everyone.
Every month, I try to pick a few motivational may quotes that connect to anything that's been on my mind or something I'd like to better in my life.
May is an excellent month to reflect on your life. To start making a plan, I recommend conducting a brain dump or filling out a hopes and objectives worksheet. Don't allow the days or weeks to pass you by!
I'll occasionally create some fast quotation visuals and use them as my computer's wallpaper and phone's lock screen. It's like a tiny burst of motivation every time it's time to head to work or open my phone.
May, more than any other month of the year, wants us to feel most alive. – Fennel Hudson
You are as welcome as the flowers in May. – Charles Macklin
Among the changing months, May stands to confess the sweetest, and in fairest colors dressed. – James Thomson
When April steps aside for May, like diamonds, all the raindrops glisten, fresh violets open every day to some new bird, each hour we listen. – Lucy Larcom
It was the month of May, the month when the foliage of herbs and trees is most freshly green when buds ripened, and blossoms appear in their fragrance and loveliness. – Thomas Malory
At last came the golden month of the wild folk honey-sweet May. When the birds come back, and the flowers come out, and the air is full of the sunrise scents and songs of the dawning year. – Samuel Scoville
'This is a month before the month of May, and the spring comes slowly up this way. – Samuel Taylor Coleridge
     Click here to read: Best 75 + September Quotes TO WelCome the Autumn Season
Rough winds do shake the darling buds of May, and summer's lease hath all too short a date. – William Shakespeare
In the deepening spring of May, I had no choice but to recognize the trembling of my heart. It usually happened as the sun was going down. – Haruki Murakami
The world's favorite season is the spring. All things seem possible in May. – Edwin Way Teale
It is now May. It is the month wherein nature hath her fill of mirth and the senses are filled with delights. I conclude it is from the Heavens, a grace, and to Earth, a gladness. – Nicholas Breton
Along with the greening of May came the rain. Then the clouds disappeared, and a soft pale lightness fell over the city as if Kyoto had broken free of its tethers and lifted up toward the sun. – Victoria Abbott Riccardi
Another May, new buds and flowers shall bring. Ah! Why has happiness no second spring? – Charlotte Smith
We roamed the fields and riversides when we were young and gay. We chased the bees and plucked the flowers in the merry, merry month of May. – Stephen Foster
Queer things happen in the garden in May. Little faces forgot to appear, and plants thought to be dead suddenly wave a green hand to confound you. – William Earl Johns
Happy May Quotes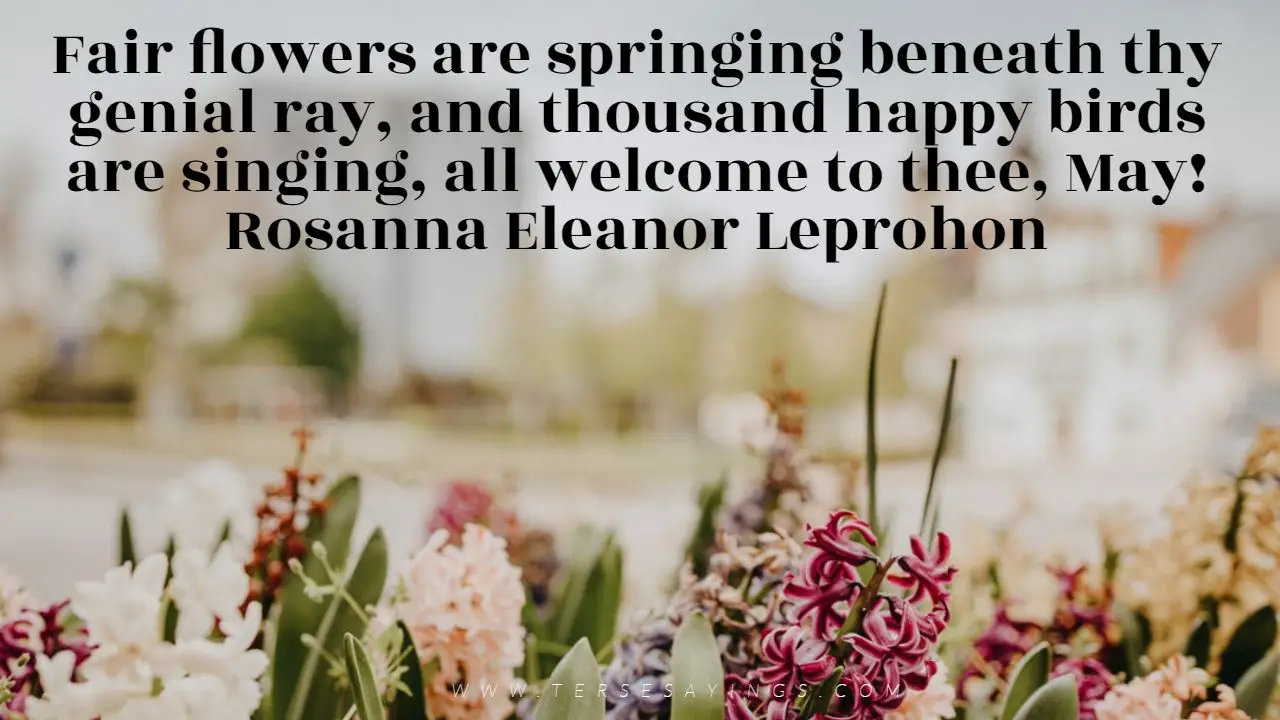 Sweet May hath come to love us, flowers, trees, their blossoms don. And through the blue heavens above us, the very clouds move on. – Heinrich Heine
It is the month, the jolly month. It is the jolly month of May. – Francis Thompson
And the May month flaps its glad green leaves like wings, delicate-filmed as new-spun silk. – Thomas Hardy
I've got sunshine on a cloudy day. When it's cold outside, I've got the month of May. – Smokey Robinson
Fair flowers are springing beneath thy genial ray, and thousand happy birds are singing, all welcome to thee, May! – Rosanna Eleanor Leprohon
May then is the month, if not of fulfillment, at least of promise. – John Henry Newman
A great difference between 'May' and 'Day' is the 'M' and 'D!' Be a good managing director of your life each day in May. – Ernest Agyemang Yeboah
Lots of people go mad in January. Not as many as in May, of course, nor June. – Karen Joy Fowler
     Related: Top 50 + Juneteenth Quotes to Keep Struggling Against Racism
This sweet and merry month of May, while nature wantons in her prime, birds do sing, and beasts do play for the pleasure of the joyful time. – William Byrd
The flowers that should bloom in the month of May, every one of them came on an April day! And they looked for April showers in vain, but all through May it, did nothing but rain! – Carolyn Wells
I sing of brooks, blossoms, birds, and bowers. Of April, May, June, and July flowers. – Robert Herrick
In the month of May, everybody was in love, and the city was sent from above, and just when I knew what I wanted to say, the violent wind blew the wires away. – Win Butler
While from the purpling east departs. The star that led the dawn, blithe flora from her couch upstarts, for May is on the lawn. – William Wordsworth
Prose and drama are well enough for winter, but when nature swells the darling buds of May, my spirit craves three things: poetry, painting, and love. – Joan Smith
The first night of May and the soft-silvered moon frightens her semicircle in the blue. – David Gray
Beautiful May Quotes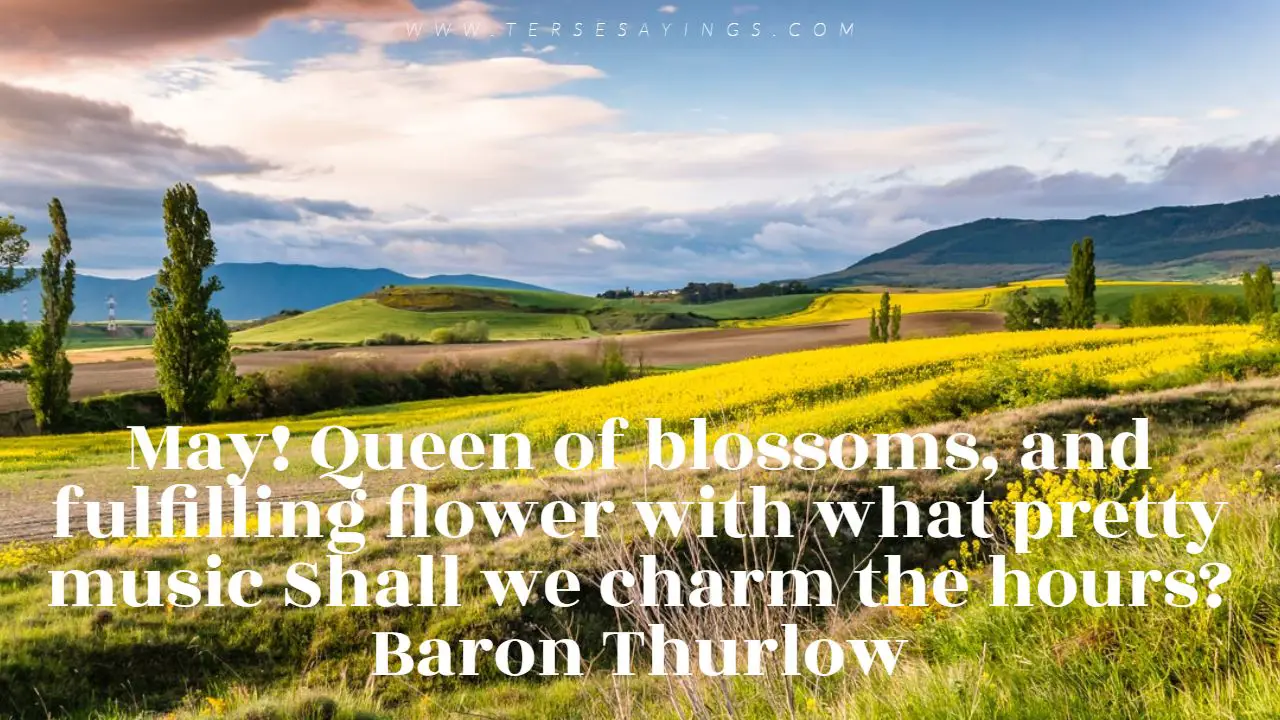 May and June, soft syllables, gentle names for the two best months in the garden year. Cool, misty mornings gently burned away with a warming spring sun, followed by breezy afternoons and chilly nights. The discussion of philosophy is over. It's time for work to begin. – H. Peter Loewer
It was outdoor detail, and May is one fine month to be working outdoors. – Stephen King
The month of May comes differently in cities. Not for us, white blossom on the hedgerows, bluebells in the woods. Instead, the sun's rays burnish bricks and mellow pavements. Seeds burst into flowers in the cracks between the stones. Speedwell and bindweed bloom among the rubble. – Heidi Thomas
Ah, in those earliest days of love, how naturally the kisses spring into life! So closely, in their profusion, do they crowd together that lovers would find it as hard to count the kisses exchanged in an hour as to count the flowers in a meadow in May. – Marcel Proust
Winds of May that dance on the sea, dancing a ring-around in glee. From furrow to furrow, while overhead, the foam flies up to be garlanded. – James Joyce
May! Queen of blossoms, and fulfilling flowers, with what pretty music shall we charm the hours? – Baron Thurlow
What is so sweet and dear as a prosperous morn in May, The confident prime of the day? – William Watson
     Related: Best 100+ November Quotes That Will Touch Your Thankful Emotions
The flowery May, from her green lap, throws the yellow cowslip and the pale primrose. Hail bounteous May that dost inspires mirth and youth and warm desire. Woods and groves are of thy dressing. Hill and dale doth boast thy blessing. – John Milton
May is green and pink and red. – Richard L. Ratliff
When purple finches sing and soar with vernal gladness running o'er. When joys like these salute the sense, then waiting long hath recompense, and all the world is glad for May. – John Burroughs
It was the month of May, the month when lovers, subject to the same force which reawakens the plants, feel their hearts open again, recall past trusts and past vows, and moments of tenderness, and yearn for a renewal of the magical awareness which is love. – Thomas Malory
And a bird overhead sang follow, and a bird to the right sang here. And the arch of the leaves was hollow, and the meaning of May was clear. – Algernon Charles Swinburne
I cannot tell you how it was, but this I know, it came to pass upon a bright and sunny day when May was young. Ah, pleasant May! – Christina Georgina Rossetti
May means long walks in the evenings, eating outside in the garden whenever possible, and lots of healthy, fresh salads to use up all the lovely summer veg that's available. – Sophie Morris
Where shall we keep the holiday and duly greet the entering May? – Ralph Waldo Emerson
The month of May Quotes For Inspiration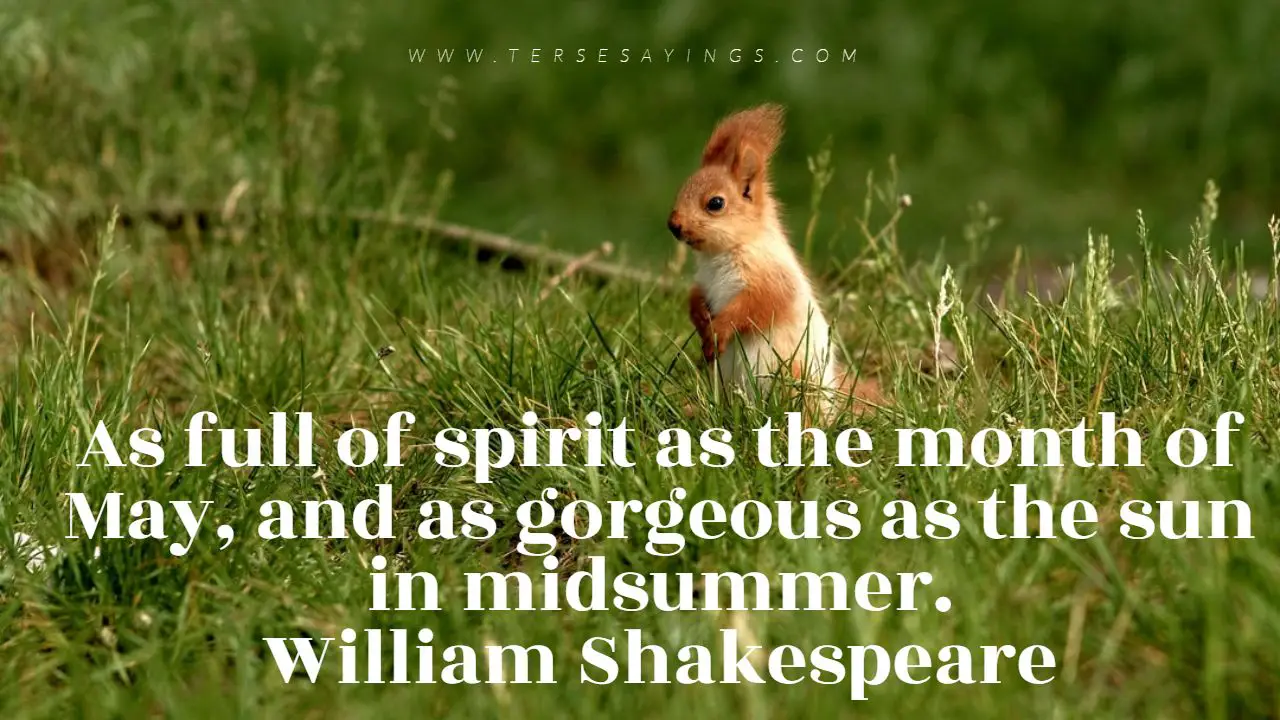 Make hay in May, for you may never know what June is coming with, and you may never know what July will present! When you see May, make hay! – Ernest Agyemang Yeboah
Mornings in May echoed with the call of cuckoos, sunlight glowed through fresh green canopies of trees. – Meeta Ahluwalia
As full of spirit as the month of May, and as gorgeous as the sun in midsummer. – William Shakespeare
The month of May is a pleasant time. Its face is beautiful. The blackbird sings his full song. The living wood is his holding. The cuckoos are singing and ever singing. There is a welcome before the brightness of the summer. – Lady Gregory
May, it's full of all the things that make spring and the brighter part of the year so special. Flowers bud, the sun shines, and new seeds are sewn into the fabric of our lives. May is awesome. – Jenna Danchuk
You have to remember to be thankful. But in May, one simply can't help being thankful that they are alive, if for nothing else. – Lucy Maud Montgomery
Let all thy joys be as the month of May, and all thy days be as a marriage day. – Francis Quarles
When the sun is out, and the wind is still, you're one month on in the middle of May. – Robert Frost
     Related: Top 80 + Famous March Quotes To End of Winter Season
May is the most beautiful month of the year, a month alive with warm color. The flowers and trees are in full bloom, and even the sun joins this rhapsody emitting warmer rays. – Lillian Berliner
As it fell upon a day in the merry month of May, sitting in a pleasant shade which a grove of myrtles made. – Richard Barnfield
The month of May has come, when every lusty heart beginneth to blossom, and to bring forth fruit. – Thomas Malory
Bright May afternoons, mango trees in the garden echoed with cuckoo calls. – Meeta Ahluwalia
I thought that spring must last forevermore. For I was young and loved, and it was May. – Vera Brittain
By May, most of the harshness of winter has passed. The sky is bright, and warm sunshine filters through the new leaves on the trees. – Ellen Jackson
The month of May Quotes Funny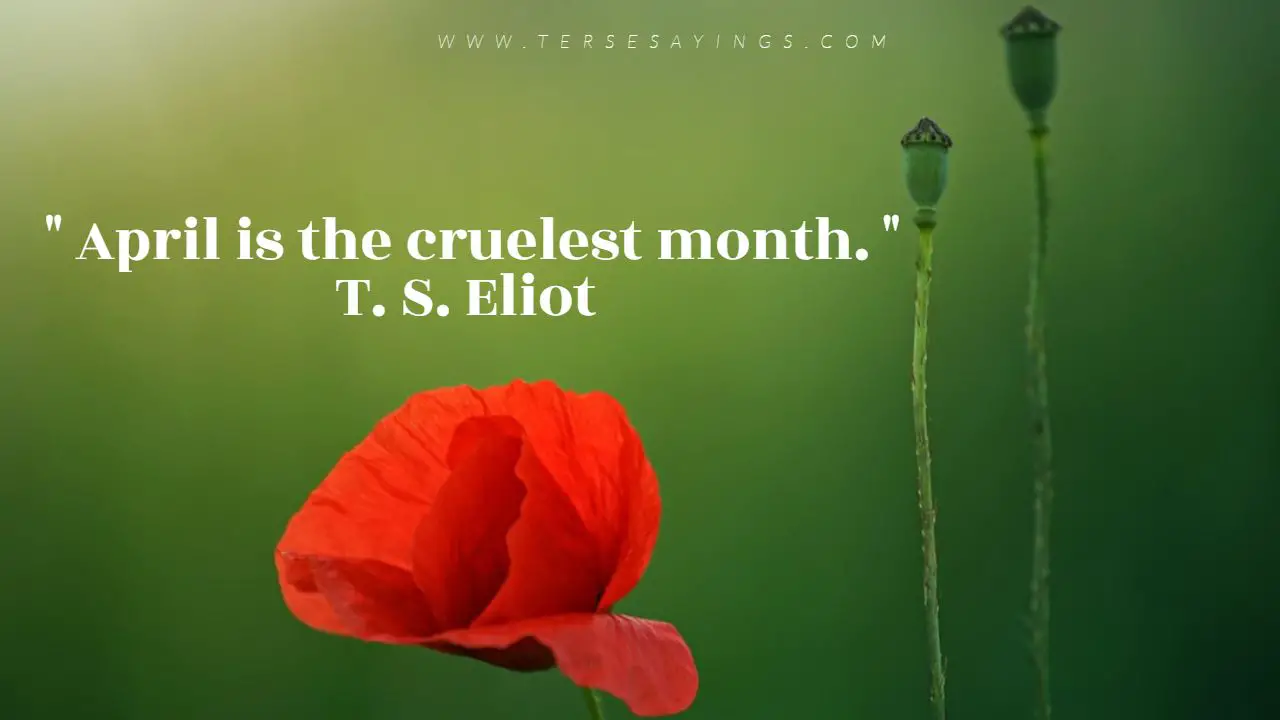 April is the cruelest month. T. S. Eliot
If you could kick the person in the pants responsible for most of your trouble, you wouldn't sit for a month. Theodore Roosevelt
Good character is not formed in a week or a month. It is created little by little, day by day. Protracted and patient effort is needed to develop good character. Heraclitus
I'm an emotional gangster. I cry once every month. Cardi B
The cleverest of all, in my opinion, is the man who calls himself a fool at least once a month. Fyodor Dostoevsky
The great earthquake shall be in the month of May; Saturn, Capricorn, Jupiter, Mercury in Taurus; Venus, also Cancer, and Mars in zero. Nostradamus
He was as fresh as is the month of May. Geoffrey Chaucer
Don't sleep too much. If you sleep three hours less each night for a year, you will have an extra month and a half to succeed. Aristotle Onassis
I post pictures that I want to post and say what I want to say. If that's three times a day or three times per month, then whatever. Gigi Hadid
     Don't forget to read: Best Inspirational quotes for the month of June
You don't want to have so much money going toward your mortgage every month that you can't enjoy life or take care of your other financial responsibilities. Dave Ramsey
To be a consistent winner means preparing not just one day, one month, or even one year – but for a lifetime. Bill Rodgers
Why are there so many months left at the end of the money? John Barrymore
I change my style maybe every month. I'm, like, punk one month, ghetto fab the next, classy the next. I'm just young and finding out who I am. Kylie Jenner
I do not take a single newspaper, nor read one a month, and I feel myself infinitely the happier for it. Thomas Jefferson
I could have ended the war in a month. I could have made North Vietnam look like a mud puddle. Barry Goldwater