These lovely angel quotes will help you want to be the greatest version of yourself if you want to be motivated and inspired to do better.
Angels assist us in a variety of ways. God sent His angels to us in order for them to inspire and assist us. They watch over us, guard us, express God's word to us, and are participating in our lives in a variety of ways.
Angels are represented as messengers between God and mankind in most faiths. They serve the gods by guiding people down the road of righteousness and motivating them to do great in their lives.
The greatest achievement was at first and for a time a dream. The oak sleeps in the acorn, the bird waits in the egg, and in the highest vision of the soul, a waking angel stirs. Dreams are the seedlings of realities. James Allen
An angel of God never has wings. Joseph Smith, Jr. Philosophy will clip an angel's wings. John Keats
    Click here to read Top 100 + Devil Quotes to Help You Conquest against Evil
Her angel's face, like the great eye of heaven, shined bright and made a sunshine in the shady place. Edmund Spenser
When I was a child I thought I saw an angel. It had wings and kinda looked like my sister. I opened the door so some light could come into the room, and it sort of faded away. My mother said it was probably my Guardian Angel. Denzel Washington
The peasant must always be helped technically, economically, morally, and culturally. The guerrilla fighter will be a sort of guiding angel who has fallen into the zone, helping the poor always and bothering the rich as little as possible in the first phases of the war. Che Guevara
 Annie Lennox Sooner and later you will see great changes made dreadful horrors and vengeance. For as the Moon is thus led by its angel The heavens draw near to the Balance. Nostradamus
A good teacher who can take the zero pay and help kids develop physically, emotionally, and socially, is an angel. Eva Amurri
Monsters will always exist. There's one inside each of us. But an angel lives there, too. There is no more important agenda than figuring out how to slay one and nurture the other. Jacqueline Novogratz
It is impossible to see the angel unless you first have a notion of it. James Hillman
I think we all do have a guardian angel. I believe they work through us all the time when we are thoughtful and good and kind to each other. Roma Downey
The way people come into your life when you need them, it's wonderful and it happens in so many ways. It's like having an angel. Somebody comes along and helps you get right. Stevie Ray Vaughan
When I work I am pure as an angel tiger and clear is my eye and hot my brain and silent all the whining grunting piglets of the appetites. Marge Piercy
He looked about as inconspicuous as a tarantula on a slice of angel food. Raymond Chandler
Short Angel Quotes
Another way angels help us is by responding to our individual needs. You may not know it, but angels are everywhere around you, ready to defend you from wicked individuals, cure you, and assist you in solving any difficulties you may have.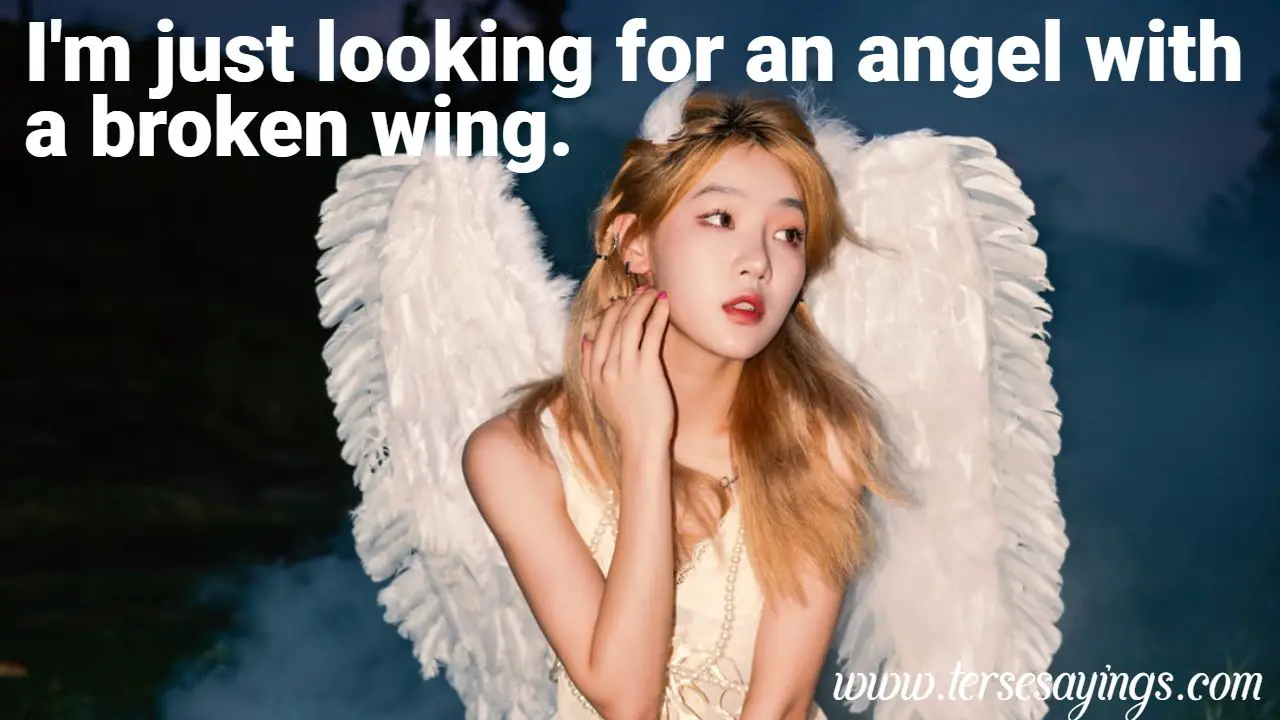 Angels are there to support and lead us along the right road. They urge us to think positive thoughts and to conduct nice deeds.
All that I am, or hope to be, I owe to my angel mother. Abraham Lincoln
Black as the devil, hot as hell, pure as an angel, sweet as love. Charles Maurice de Talleyrand
I saw the angel in the marble and carved until I set him free. Michelangelo
What may man within him hide, though angel on the outward side! William Shakespeare
     Related: Amazing 90+Inspirational angel quotes
I'm just looking for an angel with a broken wing. Jimmy Page
Don't put wings on me; I am no angel. Diego Costa
No, I never saw an angel, but it is irrelevant whether I saw one or not. I feel their presence around me. Paulo Coelho
You don't have to be an angel, just be someone who can give. Patti LaBelle
I feel safe in white because deep down inside, I'm an angel. Sean Combs
Oh, I am an angel, though sometimes I wish I was more of a devil. Victoria Pendleton
When I look back on my life, I wonder how I survived – my mother said I had a guardian angel. Micky Dolenz
I am an angel. I was sent here from God to heal. Kevin Hart
I've always felt like I had a guardian angel. Adrian Pasdar
In heaven, an angel is nobody in particular. George Bernard Shaw
I've had an angel on my shoulder all my life. Barbara Hale
Angel Quotes for Her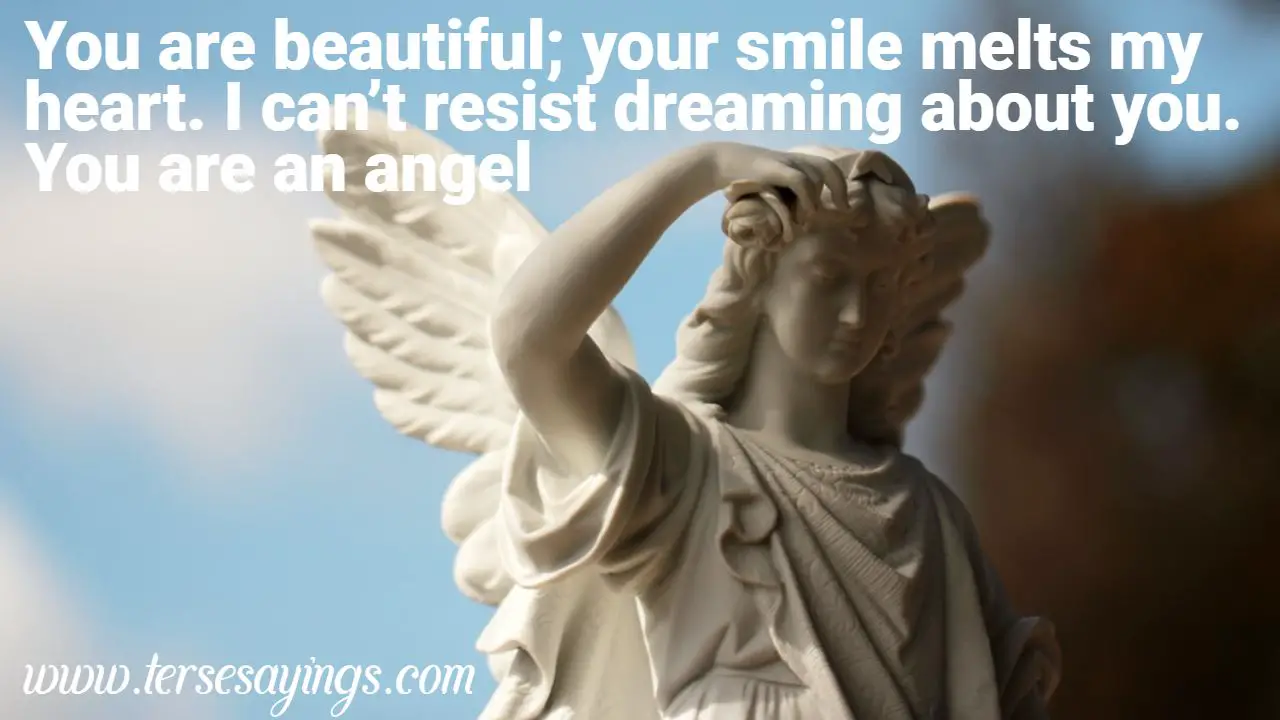 If I was with you right now, I would kiss you. Hold you tight and never let you go for you are my angel.
You are beautiful; your smile melts my heart. I can't resist dreaming about you. You are an angel
It is only beside you that am happy and at peace. You're my angel. I love you.
I promise to hold you tight, to love you and treasure you for the rest of your life for you are my angel.
There is nothing more valuable in this world than you. You are my angel, my heartbeat, and true love. I love you.
     You can read 60+ new year quotes girlfriend
For every angel fluttering through the skies, there is a divine counterpart here on Earth. Each of us has a golden celestial self just waiting to be awakened. . –Sue K
Be kind to strangers, because it's the loving thing to do. Also, you never know – they could be angels. . –Scott Curran
Black as the devil, hot as hell, pure as an angel, sweet as love. –Charles Maurice de Talleyrand
To find your angels… Start trusting your inner voice and intuition. . –Melanie Beckler
Angels are all around us, all the time, in the very air we breathe. . –Eileen Elias Freeman
Angels shine light into all areas of life… Helping you to see the light within all. . –Melanie Beckler
The more that you trust and believe in angels, the more they will pour their blessings upon you. . –Denise Linn
Every night and every morning thank your own guardian angel for peace and for the regeneration of all the cells in your body, and for joy. . –Dorie D'Angelo
We are each of us, angels, with only one wing and we can only fly by embracing each other. . –Luciano de Crescenzo
I could not have made it this far had there not been angels along the way. –Della Reese
Angels descending, bring from above, echoes of mercy, whispers of love. –Fanny J. Crosby
Angel Quotes for Instagram
Are you looking for Angel Captions or Angel Quotes to go along with your photo? Then this is the article for you. We've compiled the greatest selection of nice, creative, and inspiring Angel Captions and Angel Quotes for you to enjoy. These captions and quotes were gathered from a variety of sources. You may easily select the caption or phrase that you like.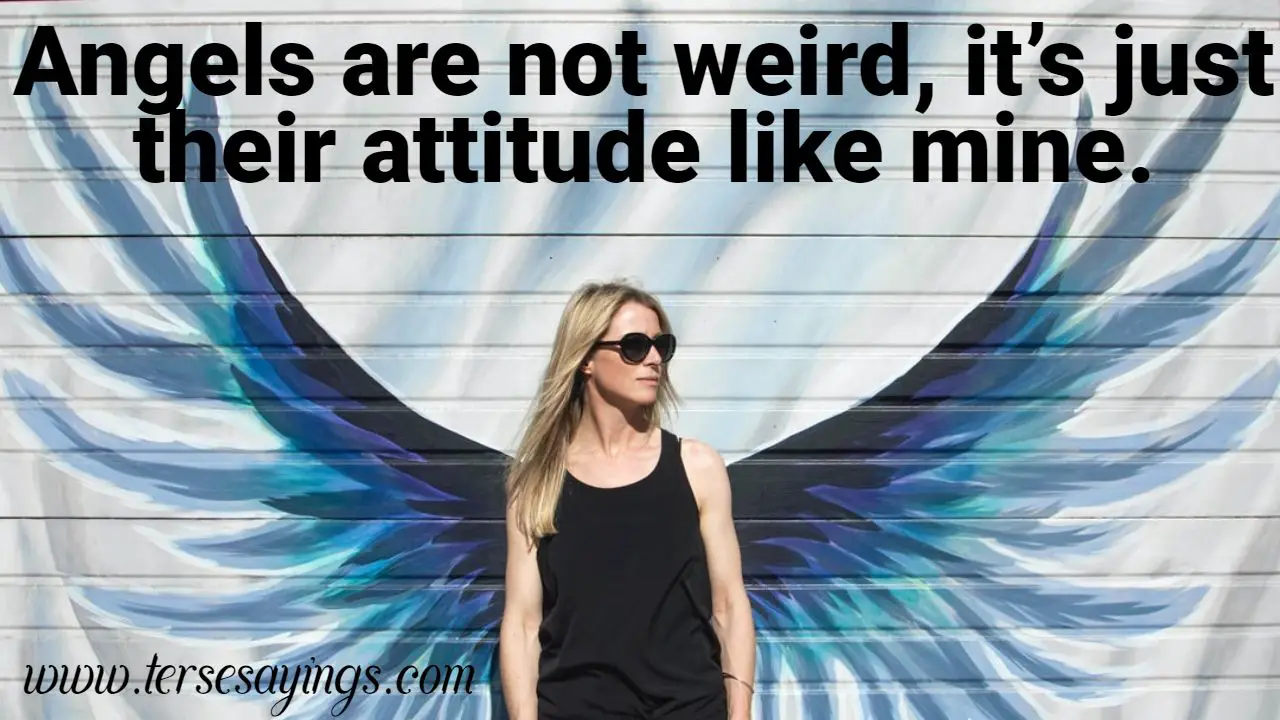 Angels are not weird, it's just their attitude like mine.
You are Right! I am the Angel sent down from heaven.
The more that you trust and believe in angels, the more they will pour their blessings upon you. -Denise Linn
     Related: 75+ Funny Basketball quotes for instagram
Every night and every morning thank your own guardian angel for peace and for the regeneration of all the cells in your body, and for joy. -Dorie D'Angelo
You'll believe God is a woman. — Ariana Grande, God Is A Woman
If I got rid of my demons, I'd lose my angels. — Tennessee Williams
Fall is here, which means we're starting to pull walls down and redesign more space in our apartment.
When you put in the time, trust the process, and allow your business to unfold, magic will happen
You have been an amazing friend and angel to me, I send all my love and thankfulness your way.
Keep your face to the sunshine, and you cannot see a shadow. ~ Helen Keller
All of this is an incitement to be a better person. ‪- ‪Gloria Estefan, ‪American singer, and actress.
You are an angel to me when you always fill up my day with the happiest of things.
There are so many positive, beautiful human beings out there who make the world a better place by simply letting others be kind to them.
Angel Quotes Aesthetic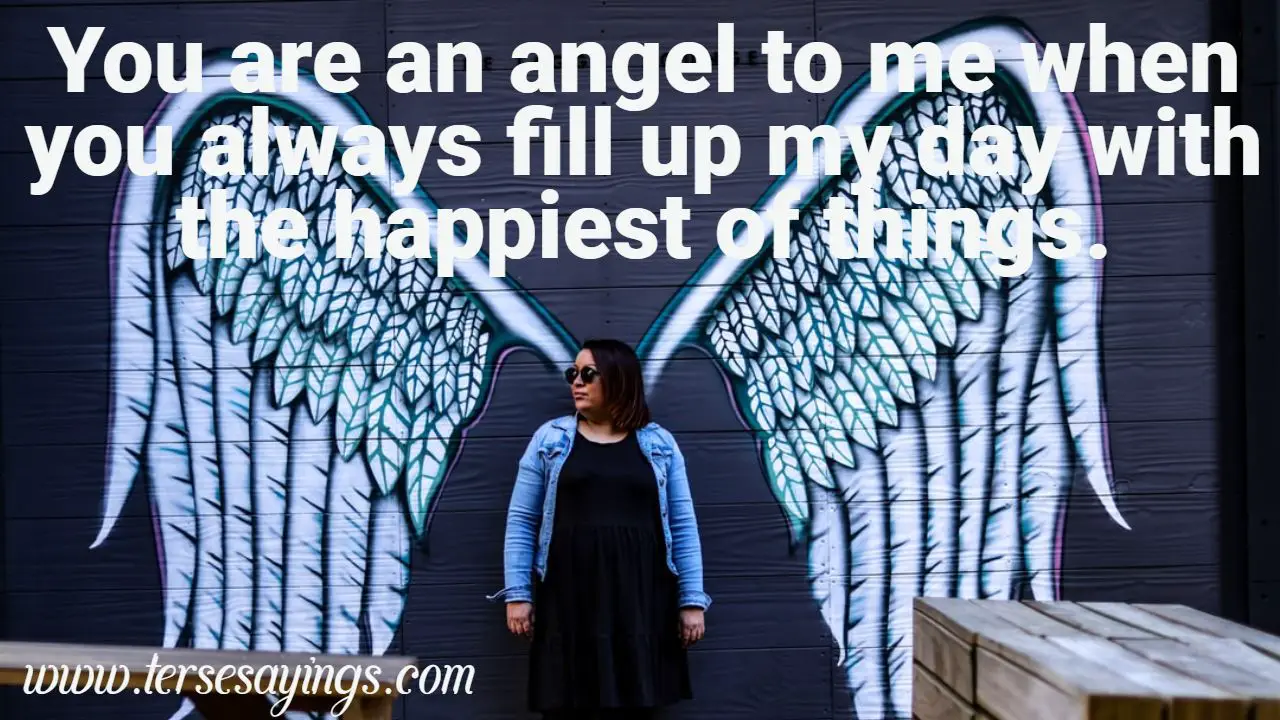 I do not want to be the angel of any home: I want for myself what I want for other women, absolute equality. After that is secured, then men and women can take turns being angels. Agnes Macphail
Mind you, I've always been musical… Mother used to sit me on her knee and I'd whisper, 'Mummy, Mummy, sing me a lullaby do,' and she'd say: 'Certainly my angel, my wee bundle of happiness, hold my beer while I fetch me a banjo.' Les Dawson
Of course, we all need angels. I had to have one over my head throughout my life, even right now. The odds of my making it were slim to none. So you have to have an angel. You have to believe. Michael Oher
I just live my life how I live as a person. I certainly am not, like, a saint or an angel by any means. I'm not anything like that. But I live just how I live. I mean, I have a little paranoia, but that's about it. Emma Stone
Kind words are the music of the world. They have a power which seems to be beyond natural causes, as if they were some angel's song, which had lost its way and comes on Earth, and sang on undyingly, smiting the hearts of men with sweetest wounds, and putting for the while an angel's nature into us. Frederick William Faber
I never said I was an angel. Nor am I innocent or holy like the Virgin Mary. What I am is natural and serious and as sensitive as an open nerve on an ice cube. Sister Souljah
Evolution was far more thrilling to me than the biblical account. Who would not rather be a rising ape than a falling angel? To my juvenile eyes, Darwin was proved true every day. It doesn't take much to make us flip back into monkeys again. Terry Pratchett
Trust no friend without faults, and love a woman, but no angel. Doris Lessing
I am not an angel and do not pretend to be. That is not one of my roles. But I am not the devil either. I am a woman and a serious artist, and I would like so to be judged. Maria Callas
A man does not have to be an angel in order to be a saint. Albert Schweitzer
     Read this article also 50+ Best Christmas quotes aesthetic
An angel has no memory. Terry Southern When the bright angel dominates, out comes a great work of art, a Michelangelo David or a Beethoven symphony. Madeleine L'Engle
When people call me God, I say, no, I'm still an angel or saint of acting. I still have a long way to go. Shah Rukh Khan
When I first started as an angel investor, I was excited to start investing in startups – but I didn't know much. I couldn't tell the good ones from the bad; I didn't understand all these venture capital terms, so I would invest somewhat blindly. Gil Penchina
We cannot pass our guardian angel's bounds, resigned or sullen, he will hear our sighs. Saint Augustine
Grace, like an angel of mercy, makes his voice heard sweet and clear, repeating the story of the cross, the matchless love of Jesus. Ellen G. White
I don't believe in angels, no. But I do have a wee parking angel. It's on my dashboard and you wind it up. The wings flap and it's supposed to give you a parking space. It's worked so far. Billy Connolly
I talk to God and ask Him to help me. I tell Him that everything I say and do in the game is for His glory and I ask Him to put me an angel on each side, in each post, and behind me so that everything can turn out fine. Keylor Navas
To see Sridevi making tea in Boney Kapoor's kitchen was a huge letdown. I won't forgive him because he brought the angel down from heaven to the kitchen of his apartment. Ram Gopal Varma
People really seemed to think of me as a guardian angel. People would bring their children before me for a blessing or something. Bruno Ganz
Angel Quotes for Him
Don't put wings on me; I am no angel. — Diego Costa
I've always felt like I had a guardian angel. — Adrian Pasdar
Oh, I am an angel, though sometimes I wish I was more of a devil. — Victoria Pendleton
Black as the devil, hot as hell, pure as an angel, sweet as love. — Charles Maurice de Talleyrand
O' what may man within him hide, though angel on the outward side! — William Shakespeare
We cannot pass our guardian angel's bounds, resigned or sullen, he will hear our sighs. — Saint Augustine
No, I never saw an angel, but it is irrelevant whether I saw one or not. I feel their presence around me. — Paulo Coelho
     You may like to read 100+ Amazing You got this quotes
A good teacher who can take the zero pay and help kids develop physically, emotionally, and socially, is literally an angel. — Eva Amurri
If I got rid of my demons, I'd lose my angels. – Tennessee Williams
Fools rush in where angels fear to tread. – Alexander Pope
Every angel is terrifying. – Rainer Maria Rilke
I was walking among the fires of Hell, delighted with the enjoyments of Genius; which to Angels look like torment and insanity. – William Blake
Nobody's perfect. We're all just one step up from the beasts and one step down from the angels. – Jeannette Walls
The treachery of demons is nothing compared to the betrayal of an angel. – Brenna Yovanoff
Some of the most beautiful things worth having in your life come wrapped in a crown of thorns. – Shannon L. Alder
For truly we are all angels temporarily hiding as humans. – Brian Weiss
Love is a dangerous angel. – Francesca Lia Block
'God will reward you,' he said. 'You must be an angel since you care for flowers.' – Victor Hugo