Boxing quotes can come from a variety of sources, including ringside commentators and analysts, boxing managers and trainers, and the sport's very own boxers. Boxing is a complicated sport with a basic premise: beat up on the other guy and either hit him more efficiently to win on a point system or strike him so hard or so much that he can't fight anymore.
The basic idea is as follows: Beyond the concept, boxing is a complex sport with several conflicts that define what it means to be a boxer.
Within the sport of boxing, money is an example of a complex topic. On the one hand, we don't want boxers to go hungry and out of business despite the fact that they contribute so much to the sport (ex: Sugar Ray Robinson, Joe Louis).
Boxers, on the other hand, frequently take advantage of the fact that they now earn more money for accomplishing so much less.
This results in dull battles, pointless fights, and even no fights for lengthy periods of time.
A fantastic quote illuminates the facts or challenges that exist within boxing, whether they be financial, institutional, cultural, or otherwise. Boxing quotes regarding a variety of themes that trouble or boost the sport may be hilarious, sad, furious, or baffling.
I'm so fast that last night I turned off the light switch in my hotel room and I was in bed before the room was dark. ~ Muhammad Ali
Rhythm is everything in boxing. Every move you make starts with your heart, and that's in rhythm or you're in trouble. ~ Sugar Ray Robinson
All fighters are prostitutes and all promoters are pimps. ~ Larry Holmes
You can sum up this sport in two words: You never know. ~ Lou Duva
There's more to boxing than hitting. There's not getting hit, for instance. ~ George Foreman
Getting hit motivates me. It makes me punish the guy more. A fighter takes a punch and hits back with three punches. ~ Roberto Duran
The fight is won or lost far away from witnesses – behind the lines, in the gym, and out there on the road, long before I dance under those lights. ~ Muhammad Ali
Sure the fight was fixed. I fixed it with my right hand. ~ George Foreman
To become a champion, fight one more round. ~ James Corbett
Bruce Lee was an artist and, like him, I try to go beyond the fundamentals of my sport. I want the public to see a knockout in the making. ~ Sugar Ray Leonard
To be a champ you have to believe in yourself when no one else will. – Sugar Ray Robinson
The temptation for greatness is the biggest drug in the world. – Mike Tyson
Once that bell rings you're on your own. It's just you and the other guy.—Joe Louis
    Click here to read : Top 70+ Wrestling Quotes for Wrestling Fans
To become a champion, fight one more round. – James Corbett
I hated every minute of training, but I said, 'Don't quit. Suffer now and live the rest of your life as a champion.– Muhammad Ali
A champion is someone who gets up when he can't.– Jack Dempsey
It would be hard to throw a punch at someone who wasn't a boxer, who wasn't in the ring, who didn't have on a pair of boxing gloves, and who hadn't been training. – George Foreman
Boxing is the only sport you can get your brain shook, your money was taken and your name in the undertaker's book. – Joe Frazier
I am an astronaut in boxing. Joe Louis and Dempsey were just jet pilots. I'm in a world of my own. Muhammad Ali
He can have heart, he can hit harder and he can be stronger, but there's no fighter smarter than me. — Floyd Mayweather Jr.
Boxing Quotes For Instagram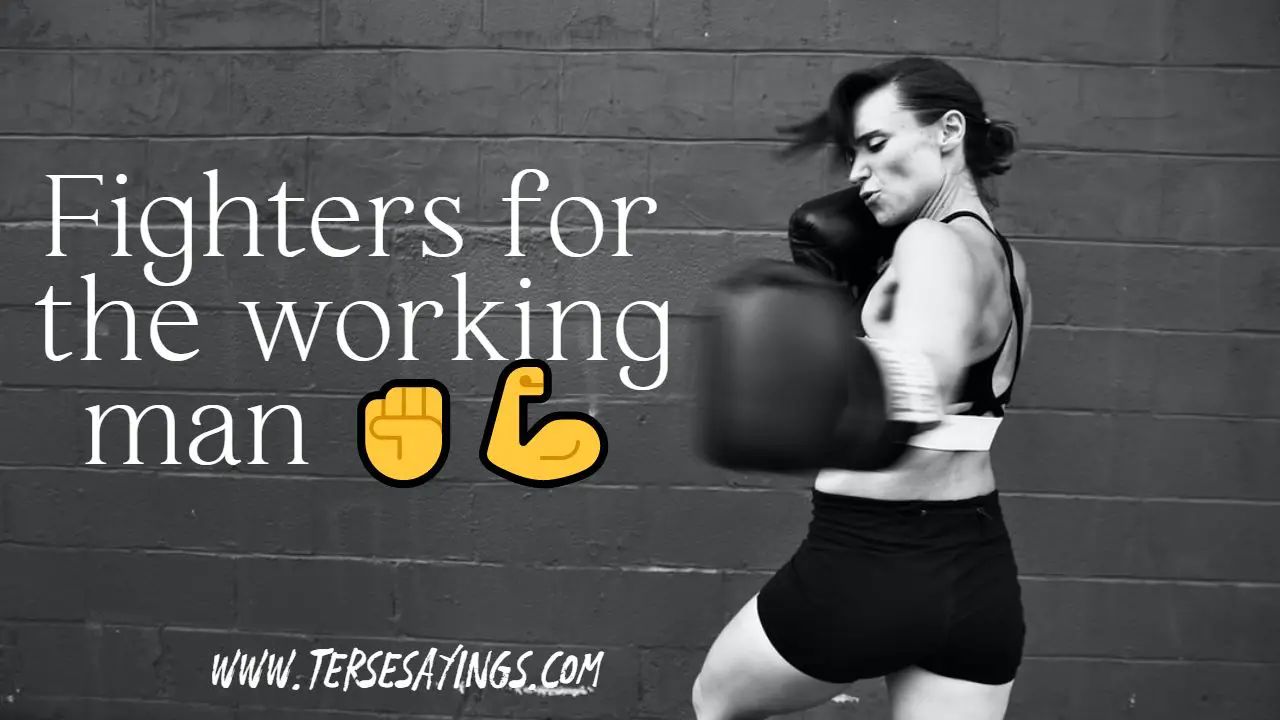 Fighters for the working man ✊💪
Young and hungry like a wolf, strong and ready to survive like a lion, and cool and disciplined like a panther. #IBelieve
Punches can be thrown in any direction, but if you really want to be technically accurate, it's best to lead with the left.
Quitting is not an option- #TheRock
Engage the mind before you engage the mouth. -George Foreman
The one who ends up with the most wins.
Tread lightly in the ring. It's not for the fainthearted.
I refuse to stay on the defensive. I'm out for victories, not debates. -Peter Delapaz
Driving home the message of mental health to its audience.
     Also read : 50+ Best Cruella Quotes That Are Really Iconic
Boxing is born on the streets. It's hard, gritty, tough and most of all – it's real. There are no pads or gloves to soften the blows so every single fight counts.
Fun fact: Sunday punch day is my favorite day.
Hard work beats talent when talent doesn't work hard. – Jeff Mayweather
The harder the battle, the more glory in victory. 😎
You expect a lot out of yourself, so do the same for your workout. Motivate yourself. Work hard.
Strength is the ability to overcome physical pain or adversity without showing suffering.
Never work a day in your life if you love what you do and faithfully live out your passion and purpose.
Whether you come at the king, you best not miss.
A story can be told in a few words when words are well used.
The best preparation for tomorrow is doing your best today.
Confidence is the key to all success.
Boxing Quotes Muhammad Ali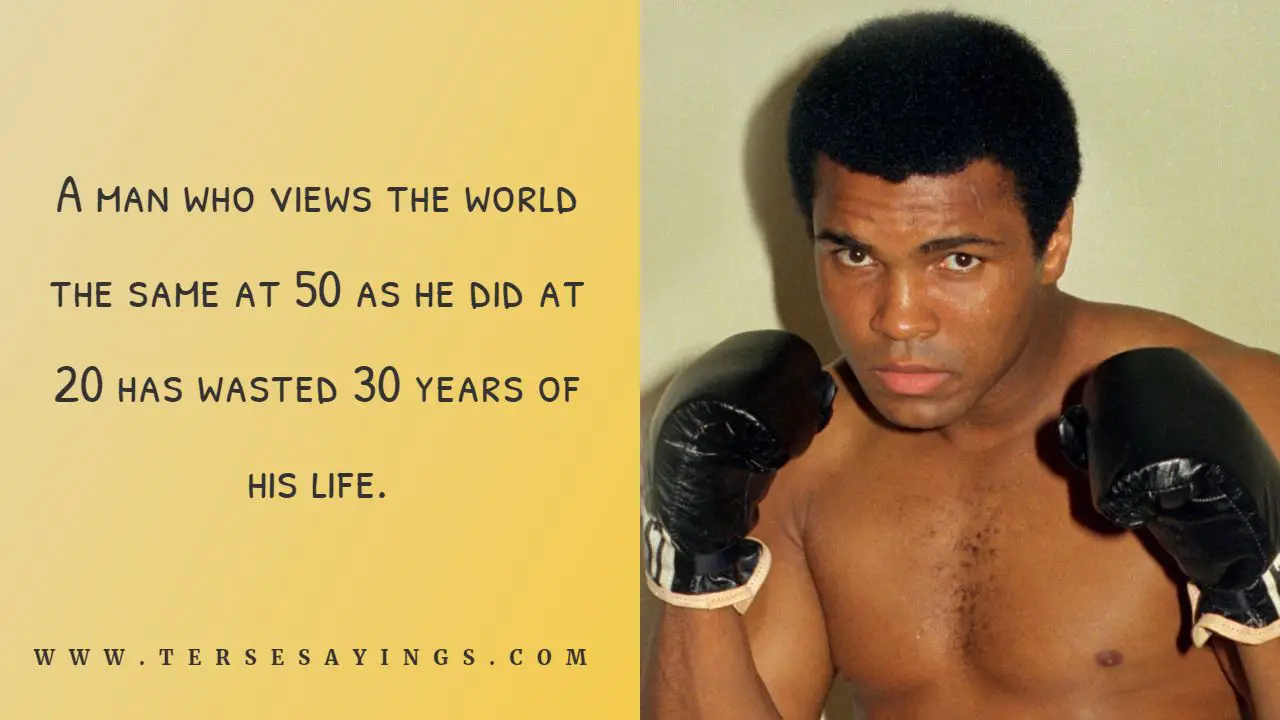 Float like a butterfly, sting like a bee. His hands can't hit what his eyes can't see. Now you see me, now you don't. George thinks he will, but I know he won't.
Service to others is the rent you pay for your room here on earth.
Don't count the days; make the days count.
It's hard to be humble when you're as great as I am.
It isn't the mountains ahead to climb that wear you out; it's the pebble in your shoe.
If you even dream of beating me you'd better wake up and apologize.
Braggin' is when a person says something and can't do it. I do what I say.
I am the greatest, I said that even before I knew I was.
    You may like to read : Best 60 + Racing Quotes That Will Help In Your Life
I'm so mean, I make medicine sick.
I should be a postage stamp. That's the only way I'll ever get licked.
He who is not courageous enough to take risks will accomplish nothing in life.
A man who views the world the same at 50 as he did at 20 has wasted 30 years of his life.
If they can make penicillin out of moldy bread, they can sure make something out of you.
I shook up the world. Me! Whee!
Boxing Quotes For Women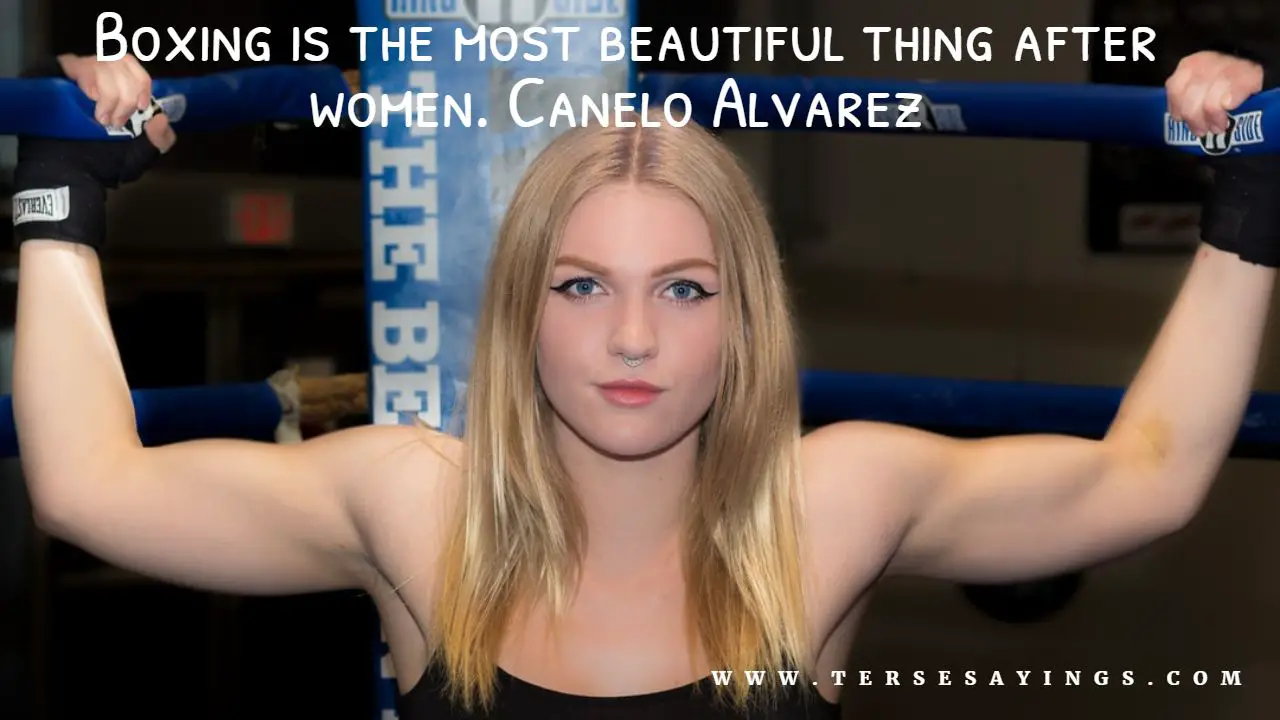 A computer once beat me at chess, but it was no match for me at kickboxing. Emo Philips
If you want the street fight, let's go. If you want boxing, I show you. But people think I am, like, a gangster. No. The ring is a different world. Very dangerous. Gennady Golovkin
Boxing is like jazz. The better it is, the fewer people appreciate it. George Foreman
I've seen George Foreman shadow boxing, and the shadow won. Muhammad Ali
Boxing is the most beautiful thing after women. Canelo Alvarez
Boxing is the only sport you can get your brain shook, your money was taken and your name in the undertaker's book. Joe Frazier
People say it's a movie about boxing, but… I don't agree at all. I don't think it's a movie about boxing. Boxing is like a platform. It's just a stage where this is played out. Morgan Freeman
     Also read : 60 Best Softball Quotes
Boxing's a poor man's sport. We can't afford to play golf or tennis. It is what it is. It's kept so many kids off the street. It kept me off the street. Sugar Ray Leonard
I am the astronaut of boxing. Joe Louis and Dempsey were just jet pilots. I'm in a world of my own. Muhammad Ali
Boxing has lost its glamour and excitement. I'm going to bring it back. Naseem Hamed
Boxing has been my life, and it is my life. I've enjoyed every moment of it. Roy Jones Jr.
Boxing, mixed martial arts, and tennis are the hardest sports to train for. Andy Murray
I always expect unexpected challenges. Boxing is not an easy sport. Sugar Ray Leonard
Boxing Quotes Funny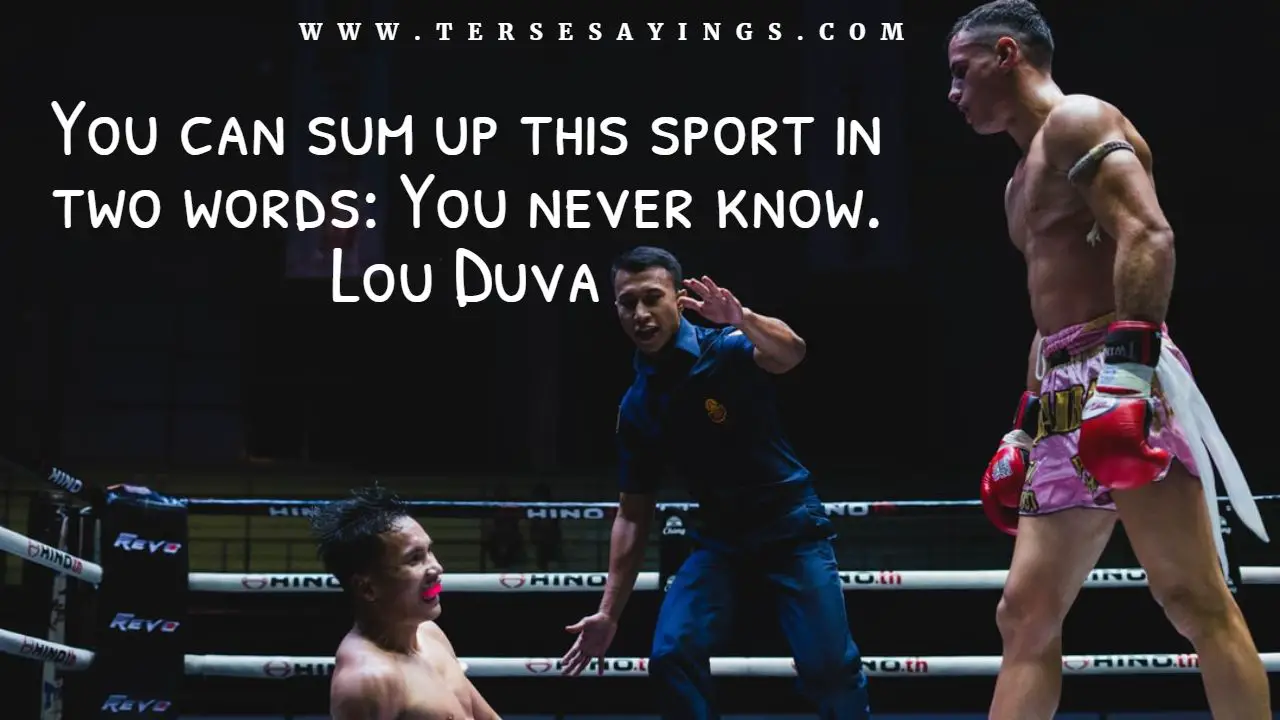 You can sum up this sport in two words: You never know. Lou Duva
I was the only fighter in Cleveland who wore a rear-view mirror. Bob Hope
He's standing there making a sitting target of himself. Terry Lawless
I truly believe the confidence I have is unbelievable. Prince Naseem Hamed
We'll have to take it on the chin. It's a real body blow. Barry Hearn
My mum says I used to fight my way out of the cot. But I can't remember. That was before my time. Frank Bruno
     Don't forget to read : 70+ funny bowling quotes
A champion is someone who gets up when he can't. Jack Dempsey
Sure there have been injuries and deaths in boxing – but none of them serious. Alan Minter
I quit school in the sixth grade because of pneumonia. Not because I had it, but because I couldn't spell it. Rocky Graziano
He's a guy who gets up at 6 a.m. regardless of what time it is. Lou Duva
No, I don't mind the fight being at three in the morning. Everyone in Glasgow fights at three in the morning. Jim Watt
Ruthless Boxing Quotes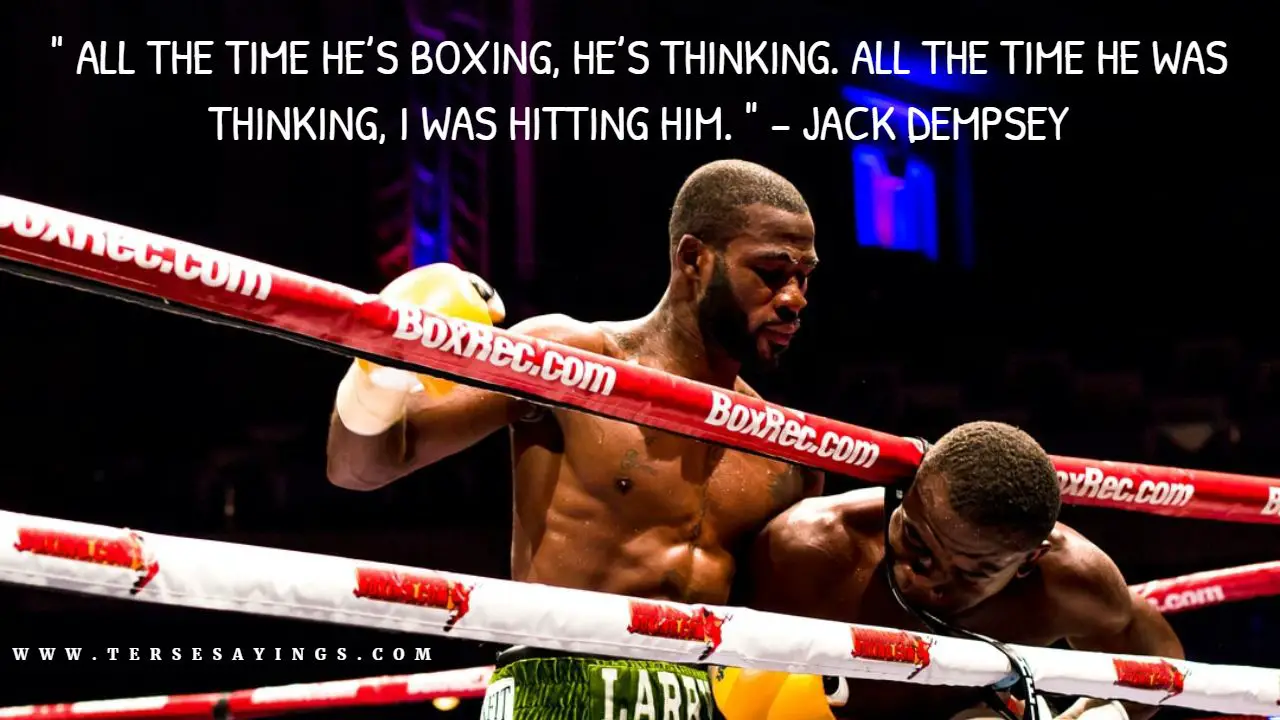 When you talk about boxing, you are talking about me. – Floyd May weather Jr.
In boxing, I had a lot of fear. Fear was good. But, for the first time, in the bout with Muhammad Ali, I didn't have any fear. I thought, 'This is easy. This is what I've been waiting for'. No fear at all. No nervousness. And I lost. – George Foreman
God only made one thing in this world that's perfect – and that's my boxing record. – Floyd Mayweather Jr.
I want your heart. I want to eat his children. Praise be to Allah! — Mike Tyson
Boxing is the ultimate challenge. There's nothing that can compare to testing yourself the way you do every time you step in the ring. – Sugar Ray Leonard
     You May like to read : Best 80 + Sadhguru Quotes About Success life
All the time he's boxing, he's thinking. All the time he was thinking, I was hitting him. – Jack Dempsey
I hated every minute of training, but I said, 'Don't quit. Suffer now and live the rest of your life as a champion.'
At home, I am a nice guy: but I don't want the world to know. Humble people, I've found, don't get very far.
A man who has no imagination has no wings.
He's (Sonny Liston) too ugly to be the world champ. The world champ should be pretty like me!
Boxing Quotes Mike Tyson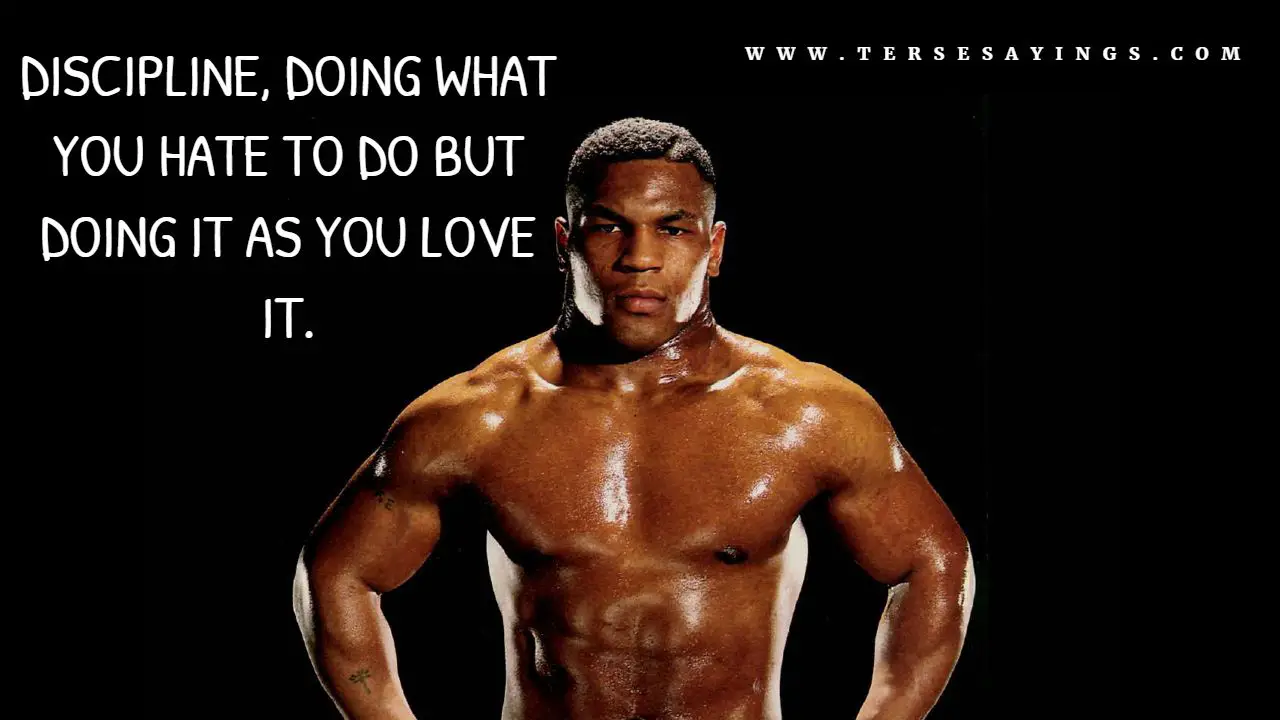 I'm a dreamer. I have to dream and reach for the stars, and if I miss a star then I grab a handful of clouds.
Discipline, doing what you hate to do but doing it as you love it.
Everyone has a plan 'till they get punched in the mouth.
In order for me to achieve… I had to regard myself as greater than what I was. In other words, I had to fake it until I make it.
God lets everything happen for a reason. It's all a learning process, and you have to go from one level to another.
There's nothing wrong with making mistakes, just don't make the same ones. We don't want to duplicate them.
Everyone that you fight is not your enemy and everyone who helps you is not your friend.
Hard times fall upon everybody. Whatever it is, we're going to get out of it.
I had to persevere because this was my life. This championship, this was the stuff I dreamt of all my life, and I wasn't gonna be denied.
     Also read : 75+ Funny Basketball quotes for instagram
If you don't do it for passion and love, the emotional outcome will be disastrous.
I'm in trouble because I'm normal and slightly arrogant. A lot of people don't like themselves and I happen to be totally in love with myself.
You need to learn independence. You have to be independent – it builds character.
If I have to live at the top of the world, I also have to live at the bottom of the ocean. I don't know how to live in the middle of life.
Another thing that freaks me out is time. Time is like a book. You have a beginning, a middle, and an end. It's just a cycle.
I can't change myself. I'm Mike Tyson. I'm a regular kid from the ghetto striving to do something positive with myself. I happen to fight well.
Real freedom is having nothing. I was freer when I didn't have a cent.