To make your Christmas day happy and enjoyable we have gathered some amazing Christmas quotes employees list which contains more than 80 quotes. By using these Christmas messages, you can make your employees and colleague happier. Christmas came once a year, and it is a sign of happiness and prayers. Different people treat Christmas according to their profession. If you are a professional and owned a company, then you must have some employees. The company's success and achievements totally depend on company employees. That's why it's very important to keep your employees happy.
During the Christmas season, you have the opportunity to make your employees happy by sending Christmas quotes to employees. You can also make them happy by sending them Christmas cards or Christmas gifts. Christmas gifts could be anything attractive like perfume, Christmas trees, Christmas cakes, or anything else you want.
At this amazing festival, everyone tries to make each other happy by giving gifts and good Christmas wishes. Your colleagues are also deserved your best wishes and gift so we include some amazing Christmas quotes for colleagues.
2021 Christmas is different from other years because of Covid-19. During Coronavirus you need to change the format for Christmas parties and all other functions. Try to keep your distance and follow Covid SOPs as possible as you can. Try to celebrate Christmas virtually with your friends. After each interaction doesn't forget to use sanitizers.
Christmas quotes employees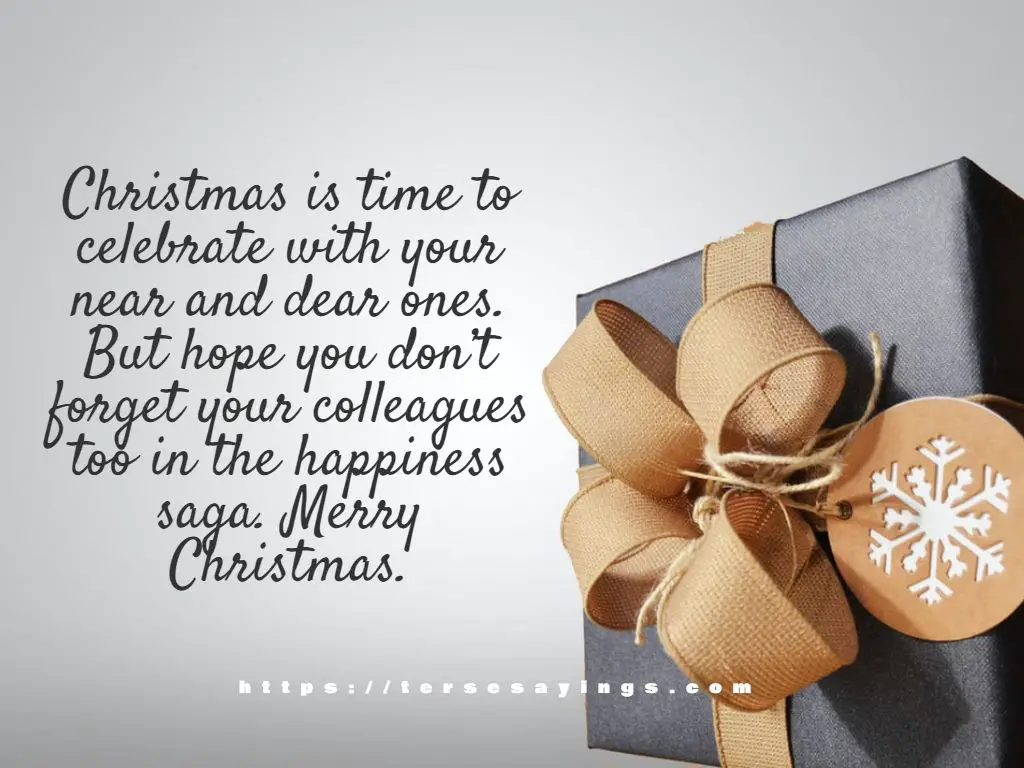 Our staff is the best around. You deserve time with family and friends to enjoy this holiday season. We wish you happiness, good health, and peace. We truly thank you for your devoted service.
I hope that you will accept my warmest wishes for the holiday season. You have all worked so hard. I hope that each of you can take some downtime with the people that are dearest to you.
Our organization is lucky to have dedicated employees. Your hard work makes us who we are. May this Christmas season bring you and your families enough joy and laughter to last a lifetime. Merry Christmas, and best wishes for a healthy and prosperous New Year.
Season's Greetings to each one of you. It is the time of year when we kick off our shoes, reflect on the successes of the past year, and plan our goals. I appreciate all you have done this year, and look forward to a new year filled with determination and vigor.
The company would like to extend its warmest Christmas wishes to you and your family. Thank you for your dedication and commitment to our shared goals. Please unplug, relax, and settle into an enjoyable holiday season. Happy Holidays.
We are so fortunate to have our employees. You are the backbone of our success. We want to wish each of you a very Merry Christmas, a relaxing and joyful holiday season, and a Happy New Year full of excitement and possibility. I look forward to seeing you next year.
On behalf of the leadership team, I wish you a very happy holiday season full of joy and celebration. Your hard work is greatly appreciated, and we wish you a relaxing and peaceful holiday season.
To all of our employees, thank you for all that you do and have done for the company. May this Christmas season bring an abundance of happiness and peace to you and your loved ones. Have an enjoyable New Years, and come back safely.
This message is to wish you all a joyous festive season and a fun-filled holiday. May you and your families create happy memories that will last a lifetime, and return next year refreshed and invigorated. Merry Christmas and Happy New Year.
To all our employees and staff, we are proud to have such honest, hardworking and loyal people like you on our team. Whether it's one holiday or twelve days with a partridge in a pear tree, we wish you a very Merry Christmas and a New Year full of success.
I realize that each of you spends the holiday season in your own way. Whatever your plans are, I wish you happiness, rest and health. Season's Greetings to you and your families.
Covid-friendly Christmas greetings for employees 2021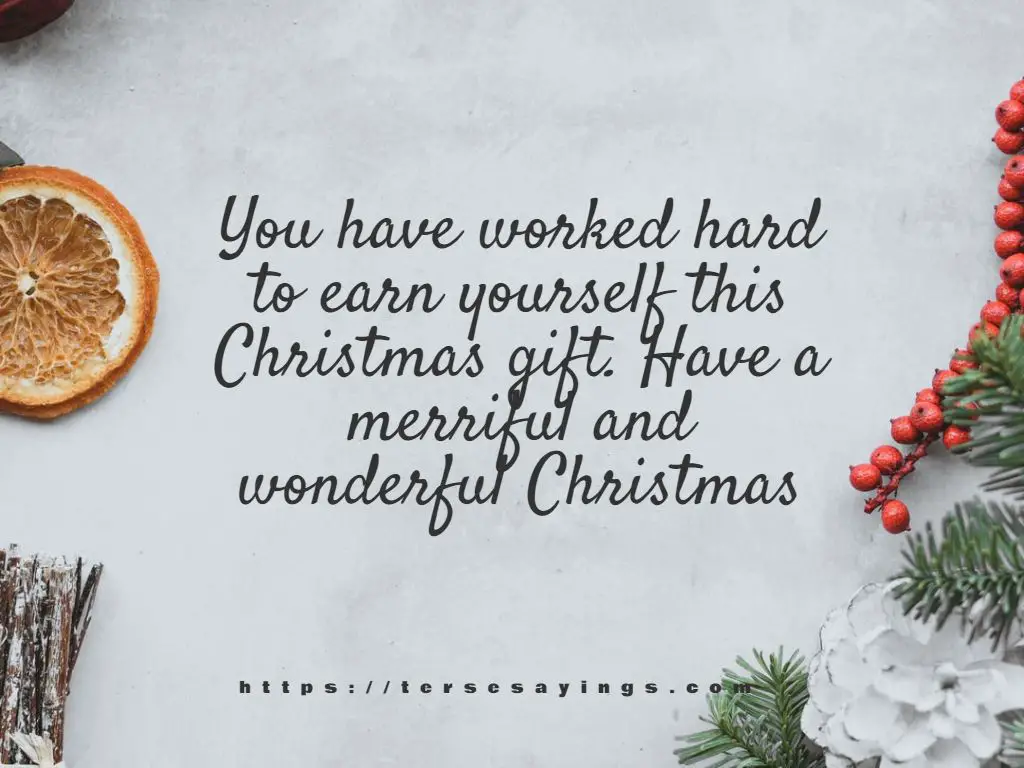 At this festive time of year, we want to take a moment to thank you for all the ways you make this team what it is. Happy Holidays! Stay safe during covid
At this special time of year, we want to take a moment to thank you for your dedication to our company. Happy Holidays!
At his special time of year, we want to express our gratitude for our work with you. We wish you abundance, happiness, and peace in 2021. Happy Holidays!
You may like this also: 40+ Best Christmas quotes en Espanola
Best wishes for a happy holiday season and our sincere appreciation for your loyalty throughout the year. Be very careful during covic
Happy Holidays! May you sore into 2021 filled with health, happiness, and prosperity.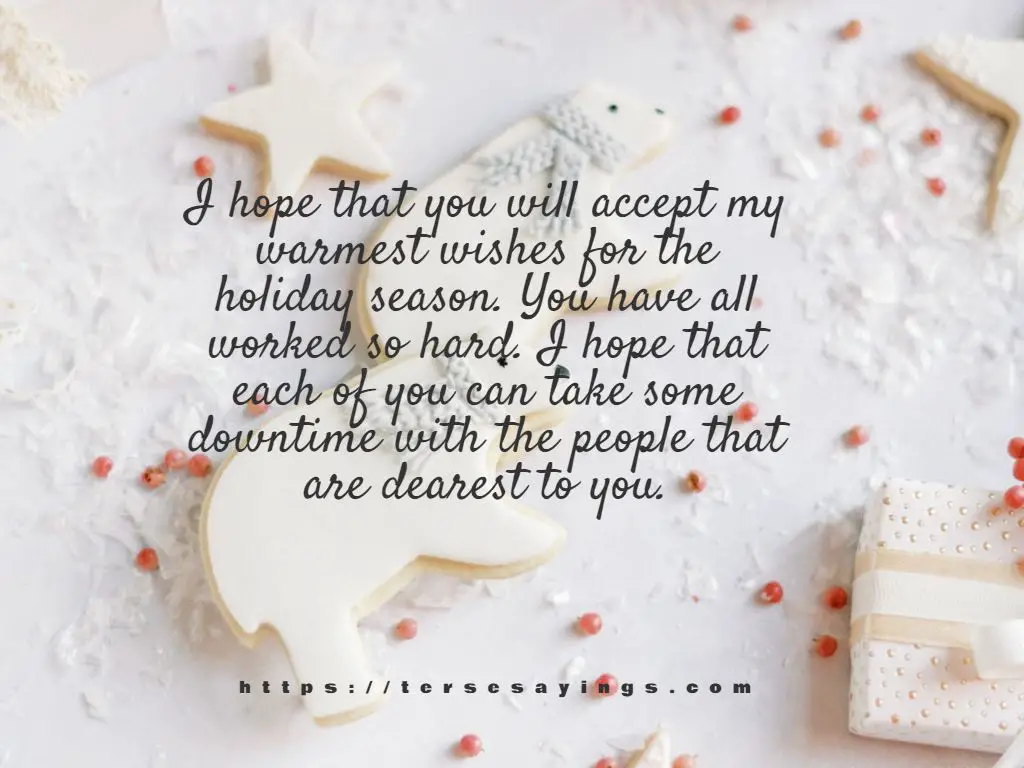 The holiday season brings thoughts of joy and gratitude, and there's no better time to express our thanks and sincere appreciation for your amazing hard work, creativity, and dedication. Happy Holidays!
Happy Holidays! Your hard work and dedication are appreciated. Thank you so much for everything you do to make us so successful. Stay home stay safe
To you and yours, we send wishes of a happy Holiday season. We are grateful to have you as part of our [company name] family.
Although we are grateful for your service and wish you well all year, we would like to extend our special wishes for a happy holiday season to our devoted employees and staff.
May your holidays be filled with cheer, warm memories, and happiness. Thank you for serving our business so well. Be safe in corona
May the magic and the wonder of the holiday season be with you throughout the coming year.
Sending you a world of good wishes. One of the real joys this holiday season is the opportunity to say thank you and wish you the very best for the new year.
Happy New Year! May you soar into the new year filled with health, happiness, and prosperity.
Holiday Holidays! Wishing you every happiness this holiday season and throughout the coming year.
Christmas message to staff samples 2021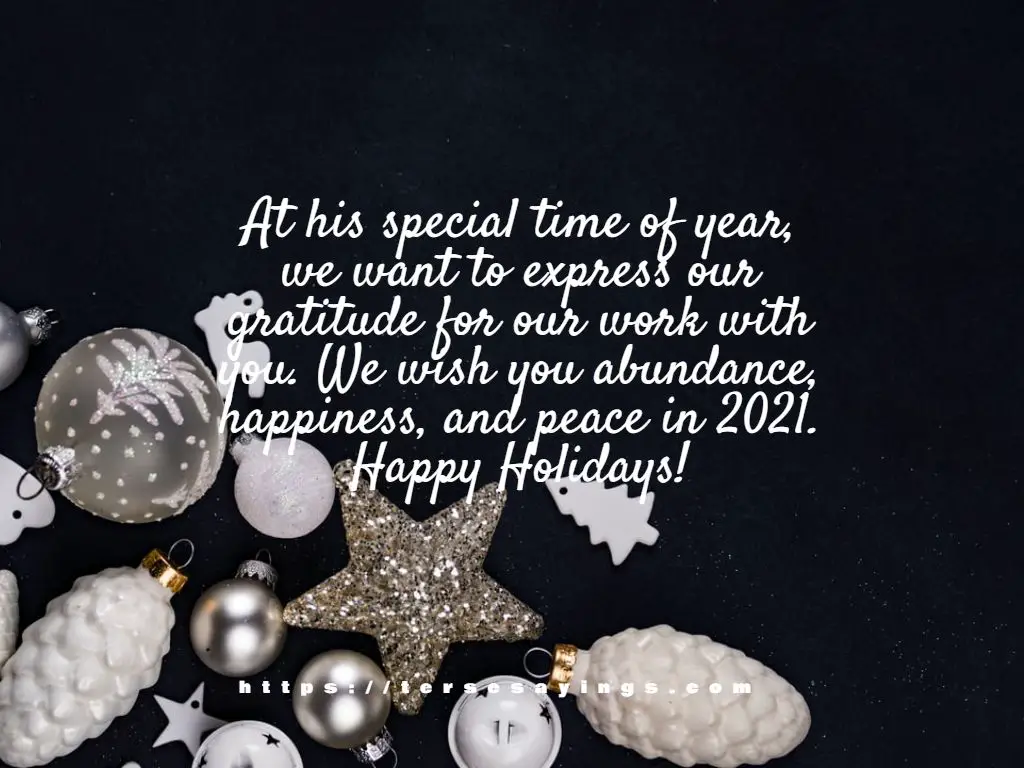 You have worked hard to earn yourself this Christmas gift. Have a merriful and wonderful Christmas
As much as the company appreciates your efforts throughout the year, it is equally happy to wish you a merry Christmas and present you a gift for your hardwork. Merry Christmas.
Christmas is time to celebrate with your near and dear ones. But hope you don't forget your colleagues too in the happiness saga. Merry Christmas.
When we work, we work hard. Its time to celebrate Christmas so lets party harder. Merry Christmas to all our valuable employees.
Your Christmas may be blessed with lots of love care and happiness this season. May you return to work with double the zeal with which you have worked. Merry Christmas.
You have been a valuable resource to the company and we would like to return the favor with this fancy Christmas gift for you and your family.
You have been working hard throughout the year and now its time to wear party shoes and enjoy the Christmas season with rejoice. Merry Christmas to all.
Company is equally happy to wish you all a merry Christmas as it is to have you all. You have been a valuable asset to us. Merry Christmas.
You have been tremendously boosting your billing hours till now. Now lets trench our souls with long party hours. We wish all our employees a merry Christmas.
You were there in both the good and bad times of the company. We are equally grateful to you for your determination and hardwork to take the company to next level. Merry Christmas.
Christmas message to employees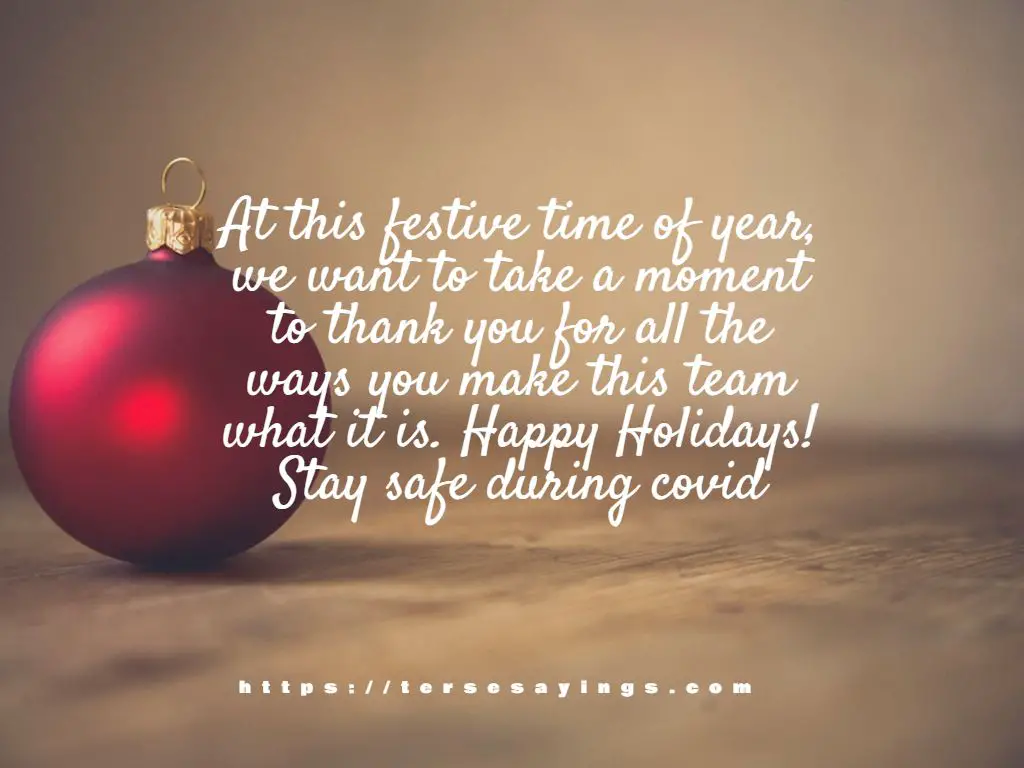 If it wasn't for our employees , we wouldn't have become the world's best employer. Company wishes its all valuable resources a merry Christmas.
In this Christmas season, we couldn't wish for more. You have been with the organization for so long. We are very grateful. Merry Christmas.
Read this: 100+ Christmas Quotes About Giving
Let's celebrate this Christmas with all our family folks in the company campus and show to world that we are there together in times of happiness too. Merry Christmas.
The company wishes all its employees a very happy and merriful Christmas. May God be with all.
Shining like a bright star in our company horizon, we wish you a very joyful Christmas. Accept this small token of appreciation from the management. Merry Christmas.
The leadership is very much excited with the success numbers thus giving all its employees a very generous offer and gift of Christmas. Merry Christmas.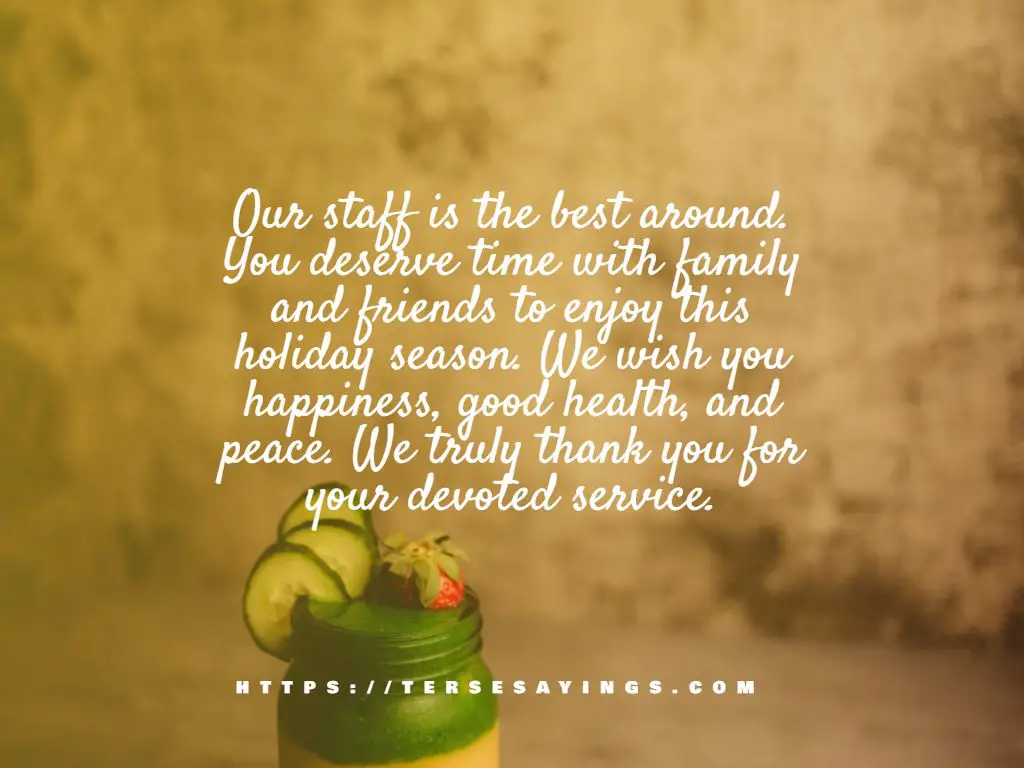 We are happy to announce the Christmas holiday season and wish for a merriful Christmas of each employee of ours. Merry Christmas.
As much as we work together, we should also celebrate Christmas in the same joyful spirit. Wishing all of you a very happy Christmas and holiday season.
Your hardwork and determination has led the organization to such a triumph in the market. Wishing you a Merry Christmas.
Let's hope for a much brighter future of the organization and celebrate Christmas with our loved ones.
The organization is so proud to have you all onboard. We wish you a lovely and cheerful Christmas and holiday season.
You all have proven your worth in the organization and now its time to rejoice and party together. Merry Christmas to all.
Christmas announcement message to employees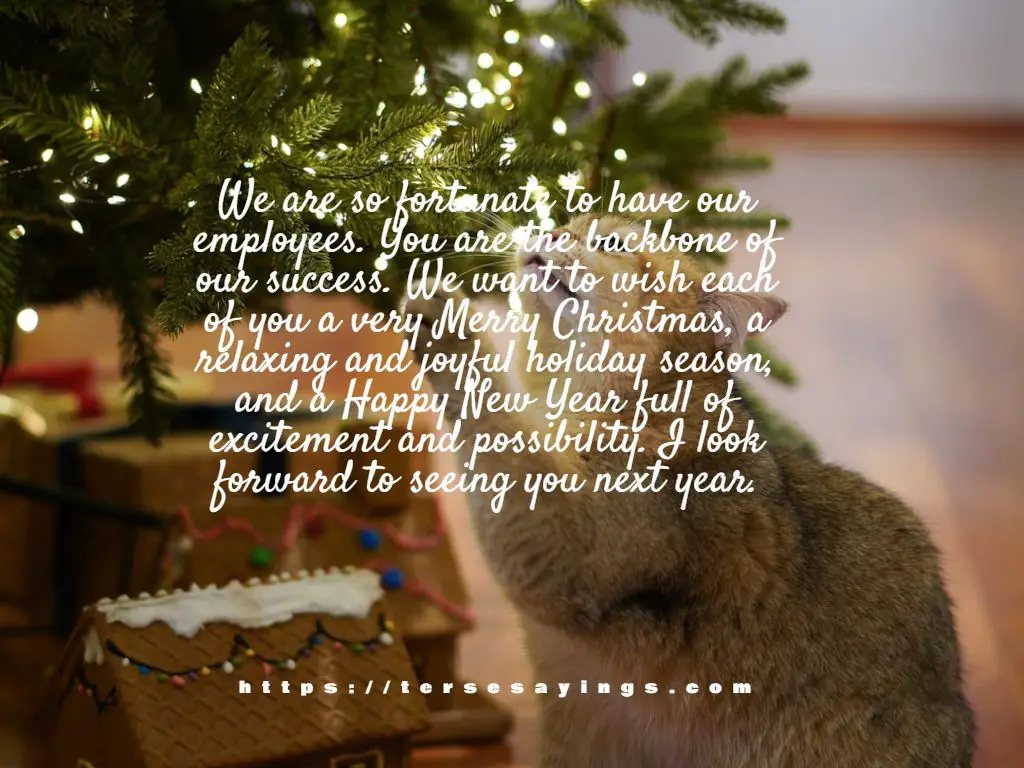 On this Christmas eve we cannot be more thankful and grateful for being with the company for so long and helping it to soar to new heights with your hardwork and commitment. Merry Christmas.
You may like this: 100+ Best Christmas quotes about Jesus
Christmas marks the begining of holiday season and the organization is no behind to make that holiday a bliss. So a small gift on this Christmas eve is what we have to offer to all. Merry Christmas.
We work together throughout the year, now lets celebrate the joy of Christmas and show that its not only work that brings us together. Merry Christmas.
We are very much thankful to have you in the organization. Your dedication and commitment has been tremendous and set a benchmark for others. Enjoy the Christmas season. Merry Christmas.
Have a joyful and merriful Christmas both at home and work. Your workplace should also feel the excitement of holiday season. Merry Christmas.
May the warmth of your loved ones keep you safe and sound this Christmas season. The company values its employees a lot. Merry Christmas.
Your commitment and hardwork is what company is proud of and thus offers you a full vacation this Christmas season. Have a joyful time and a merry Christmas.
You are an asset to the organization and when its Christmas time we know just exactly how to pay you all back. So here's a wonderful gift for all our shining stars. Merry Christmas.
It's because of its workforce strength that the company had such a wonderful year and wishes to have much worth next year. Wishing you all a very happy Christmas and holiday season.
Christmas isn't just a festival its a celebration of one year of togetherness in the company. Lets celebrate it with full valor. Merry Christmas to all.
We know we can win any ground if our employees show such dedication and commitment as they have been doing. There cannot be a better time as Christmas to reward them. Merry Christmas.
Christmas message to colleagues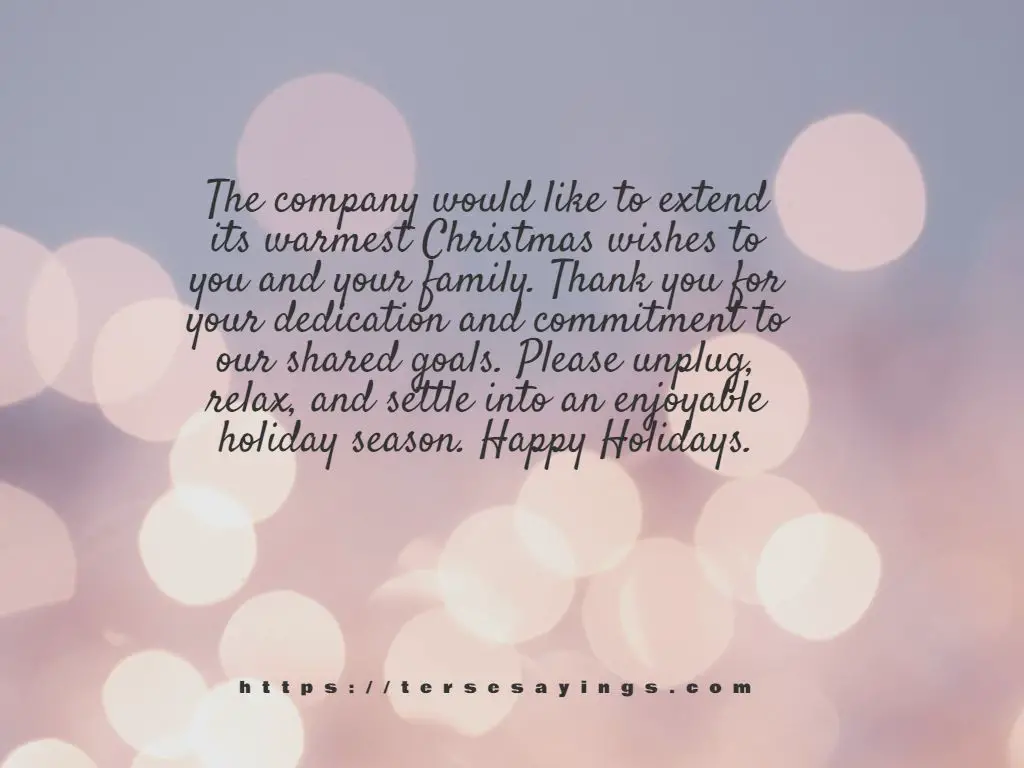 Your guidance and suggestions will always help me do the best thing at work. I want to wish you a Merry Christmas full of love and peace!
Have a happy and safe holiday. You'll be missed so dearly during this holiday season. Happy Christmas and New Year!
May Jesus always guide you and help you in life. Let this Christmas bring good vibes and good news for you and your family. Merry Christmas.
It feels great to have the opportunity to work with someone who knows much yet remains so humble all the time. Merry Christmas!
Colleagues like you make the workplace a comfortable and friendly place. I feel lucky to be a colleague. Wishing you all the happiness this Christmas!
Try this also: 60+ Best Christmas quotes and images
I wish all my colleagues a nice and quiet Christmas with all your family, friends, lots of love and certainly with lots of presents.
I'm grateful for the support and motivation you give me. The kind of energy you bring into the office is truly priceless. Merry Christmas 2020!
As a colleague of you, I have so many things to learn from you. You are just the best at what you do. Merry Christmas to you!
It's hard to believe that you can find a friend in your co-worker. But I just made a friend for my life. Happy Christmas dear!
Have a sweet and safe Christmas holiday. Wishing you a colorful Christmas season. Stay blessed!
Hope you celebrate the most memorable and precious Christmas with your family and friends. Have a blessed celebration.
A good coworker like you makes the workplace bearable. Have a wonderful holiday, dear. Stay safe, stay jolly.