Normally it's quite difficult to find Jewish love quotes and Hebrew love quotes in one place. Because 2 weeks before I had search for Jewish love quotes and also for Hebrew quotes I didn't find these 2 types on one page. After that, I decided to compose a post in which all types of Jewish and Hebrew love quotes are together. I did the research for that and collect very amazing and beautiful quotes.
You are here because maybe you are in love with someone or maybe your friend fall in love and you are here to search for a love quotes for him/her. Don't worry you are at the right place, we have a variety of quotes collections including love, funny, motivational, etc.
If you are Jewish and want to say I love you to your lover in your native language then we welcome you. We collect too many Hebrew love quotes. This post also contains Torah quotes about self love and Torah quotes in Hebrew. So let's dip in the post and start reading.
Jewish love quotes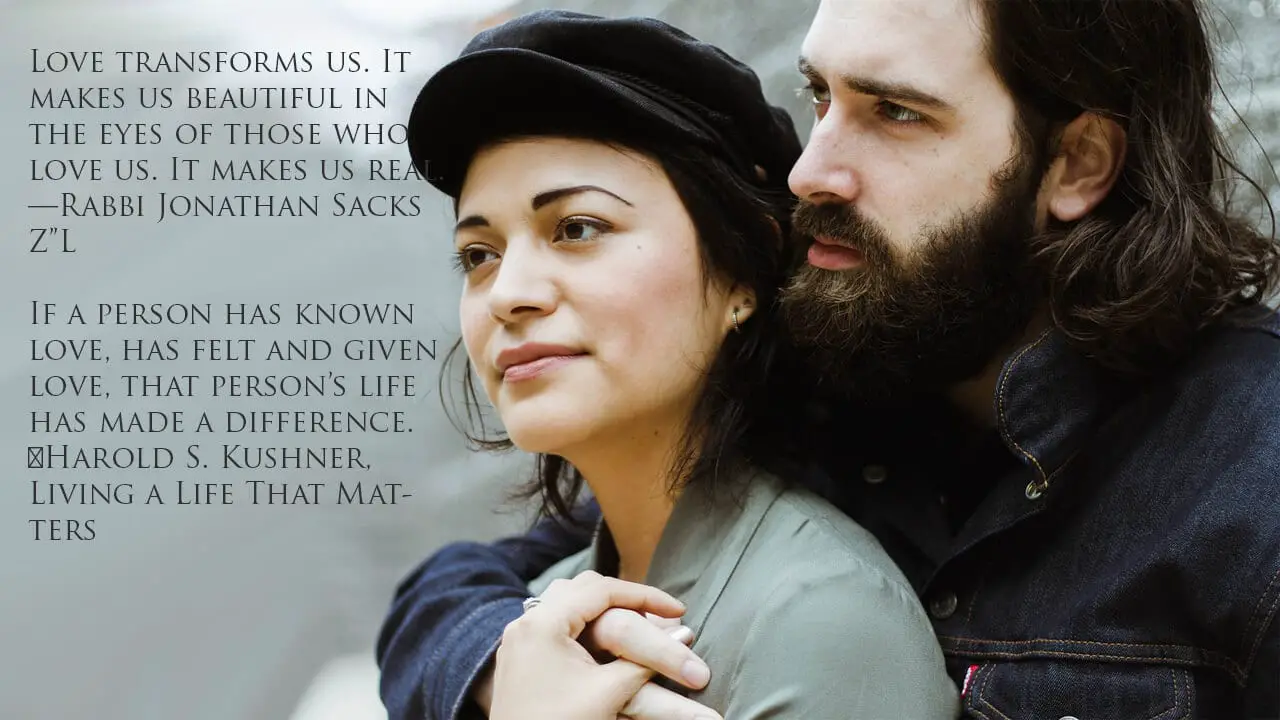 Love transforms us. It makes us beautiful in the eyes of those who love us. It makes us real. —Rabbi Jonathan Sacks Z"L
We are not mad. We are human. We want to love, and someone must forgive us for the paths we take to love, for the paths are many and dark, and we are ardent and cruel in our journey. —Leonard Cohen
Gravitation is not responsible for people falling in love. —Albert Einstein
Be careful to honor your wife, for blessing enters the house only because of the wife. —Talmud, Bava Metzia 59a
I like the way he danced. And then I like the way we danced together. ―Anita Diamant, Good Harbor
You may love this: 20+ Amazing Italian Love Quotes For Youngsters
If a person has known love, has felt and given love, that person's life has made a difference. ―Harold S. Kushner, Living a Life That Matters
Our sages recommended that a father should spend less than his means on food, up to his means on dress, and beyond his means for his wife and children. —Maimonides
You can't force anyone to love you or lend you money. —Jewish Proverb
To love God truly, you must first love man. And if anyone tells you that he loves God but does not love his fellow man, he is lying. —Hasidic proverb
There are two things that cannot be achieved in life unless you close your eyes a little bit. And that's love and peace. If you want perfection you won't obtain either of them. —Shimon Peres
Hebrew love quotes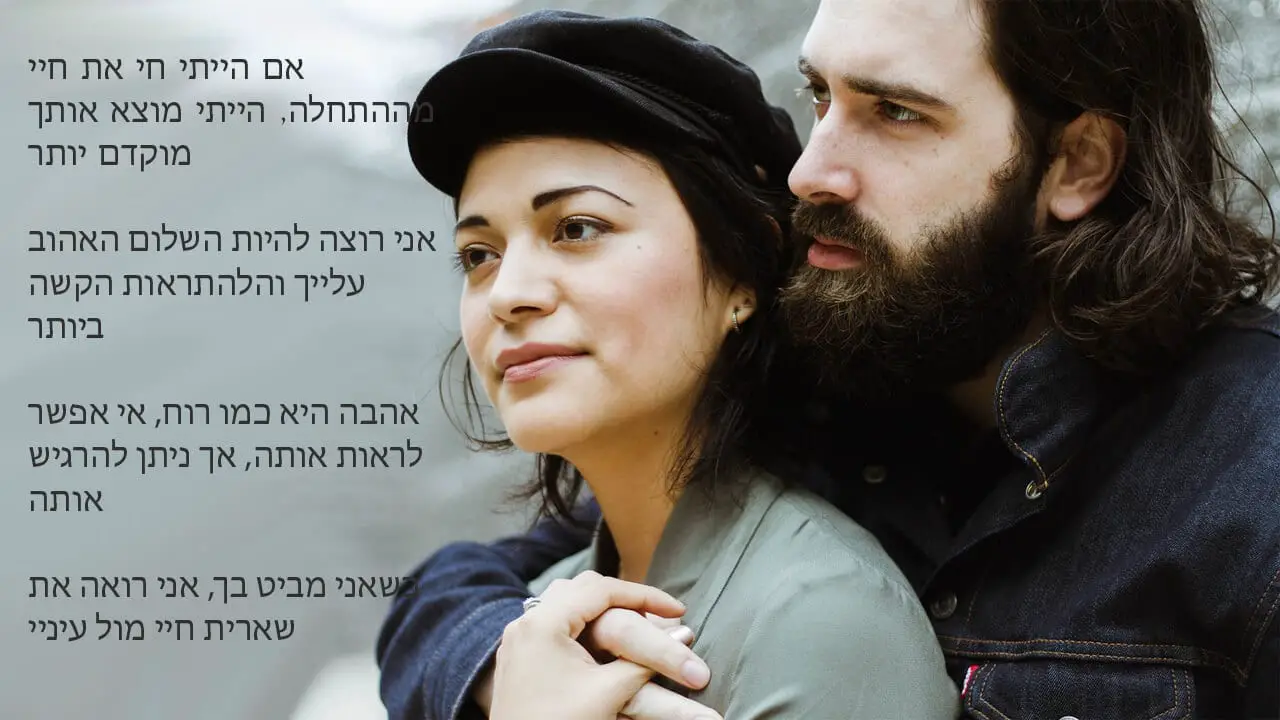 אם הייתי חי את חיי מההתחלה, הייתי מוצא אותך מוקדם יותר.
אני רוצה להיות השלום האהוב עלייך והלהתראות הקשה ביותר.
כל מה שאני רואה מזכיר לי אותך. את כל עולמי.
אהבה היא כמו רוח, אי אפשר לראות אותה, אך ניתן להרגיש אותה.
אם אני יודע מהי אהבה, זה בזכותך.
כשאני מביט בך, אני רואה את שארית חיי מול עיניי.
לאהוב זה כלום. להיות נאהב זה משהו. אבל לאהוב ולהיות נאהב זה הכל.
אני נשבע שלא יכולתי לאהוב אותך יותר מאשר עכשיו, אך עם זאת אני יודע שמחר אני אצליח.
אני לא זקוק לגן עדן כי מצאתי אותך. אני לא צריך חלומות כי יש לי אותך.
אם עשיתי משהו נכון בחיי, זה היה לתת לך את לבי.
Torah quotes about self love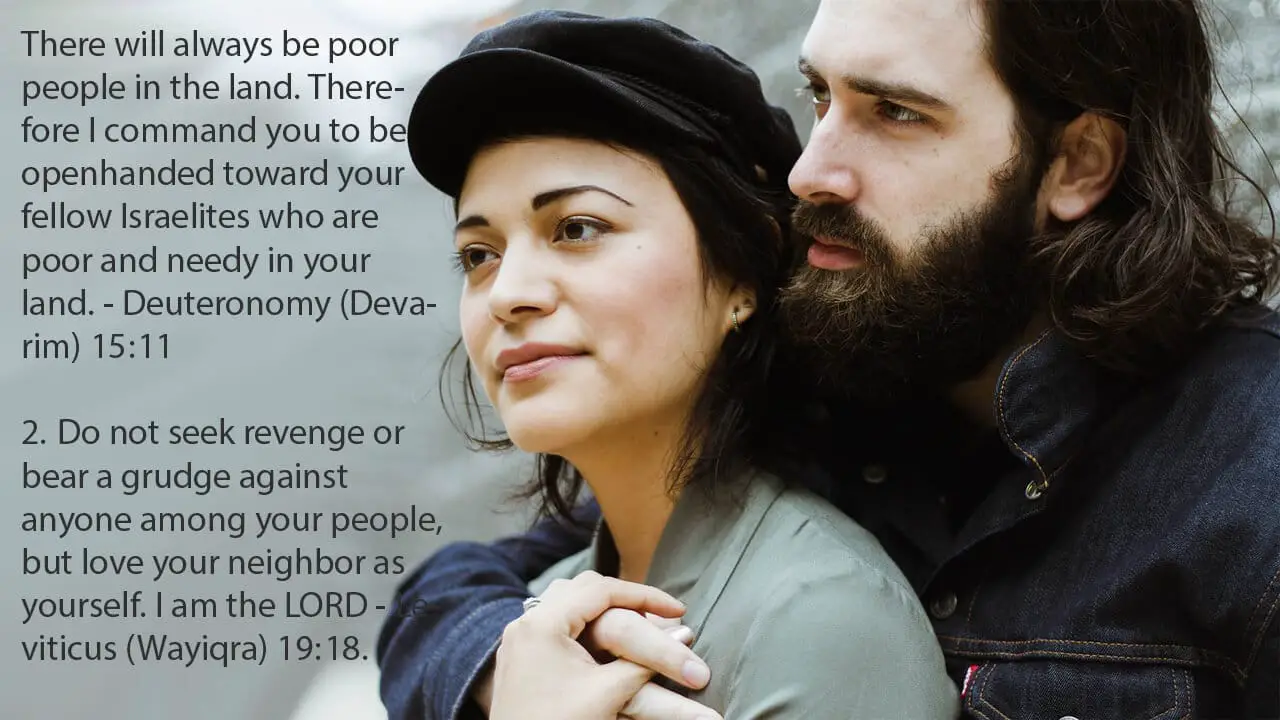 There will always be poor people in the land. Therefore I command you to be openhanded toward your fellow Israelites who are poor and needy in your land. – Deuteronomy (Devarim) 15:11
Do not seek revenge or bear a grudge against anyone among your people, but love your neighbor as yourself. I am the LORD – Leviticus (Wayiqra) 19:18.
Try this also: 25+ Amazing I Promise To Love You Forever Quotes For Youngsters
If anyone is poor among your fellow Israelites in any of the towns of the land the Lord your God is giving you, do not be hardhearted or tightfisted toward them. Rather, be openhanded and freely lend them whatever they need. – Deuteronomy (Devarim) 15:7 to 15:8.
Then Moses said, 'Now show me your glory.' And the Lord said, 'I will cause all my goodness to pass in front of you, and I will proclaim my name, the Lord, in your presence. I will have mercy on whom I will have mercy, and I will have compassion on whom I will have compassion. – Exodus (Shemot) 33:18 to 33:19.
And he passed in front of Moses, proclaiming, 'The Lord, the Lord, the compassionate and gracious God, slow to anger, abounding in love and faithfulness. – Exodus (Shemot) 34:6.
Some time later God tested Abraham. He said to him, 'Abraham!' 'Here I am,' he replied. Then God said, 'Take your son, your only son, whom you love—Isaac—and go to the region of Moriah. Sacrifice him there as a burnt offering on a mountain I will show you. – Genesis (Bereshith) 22:1 and 22:2.
Even if their own father or mother or brother or sister dies, they must not make themselves ceremonially unclean on account of them, because the symbol of their dedication to God is on their head. Numbers (Bamidbar) 6:7
Honor your father and mother, so that you may live long in the land the Lord your God is giving you. – Exodus (Shemot) 20:12
Be strong and courageous. Do not be afraid or terrified because of them, for the Lord your God goes with you; he will never leave you nor forsake you. – Deuteronomy (Devarim) 31:6
If you see your fellow's ox or sheep straying, do not ignore it; you must take it back to your fellow. – Deuteronomy (Devarim) 22:1
Hebrew quotes from the Torah
באהבתך הכושלת תוביל את האנשים שגאלת. בכוחך, תנחה אותם לבית מגוריך הקדוש. – Exodus (Shemot) 15:13
אם מישהו מבני עמך – גברים או נשים עברית – ימכור את עצמך לך ומשרת אותך שש שנים, בשנה השביעית עליך להניח להם לצאת לחופשי. וכשאתה משחרר אותם, אל תשלח אותם בידיים ריקות. ספק אותם באופן חופשי מהצאן שלך, מהגורן שלך ומהגת שלך. תן להם כמו שברך אותך ה 'אלוהיך. – Deuteronomy (Devarim) 15:12 to 15:14
הם ענו, 'ראינו בבירור שה' היה איתך; אז אמרנו, 'צריך להיות הסכם מושבע בינינו' – בינך לבינך. תן לנו לערוך איתך אמנה שלא תזיק לנו, כמו שלא פגענו בך אלא תמיד התייחסנו אליך טוב ושלחנו אותך בשלווה. ועכשיו אתה מבורך על ידי האדון. – Genesis (Bereshith) 26:28 to 26:29
יהוה יברך אותך וישמור עליך; יהוה יאיר פניו עליך וירחם עליך; יהוה יפנה פניו אליך ויתן לך שלום. – Numbers (Bamidbar) 6:24 to 6:26
אני אתן שלום בארץ, ואתה תשכב ואף אחד לא יפחד אותך. אסיר חיות בר מהארץ, והחרב לא תעבור בארצך. – Leviticus (Wayiqra) 26:6
בשישה ימים אפשר לעשות עבודה, אבל ביום השביעי תהיה לכם שבת של מנוחה מוחלטת, קדושה לה '. – Exodus (Shemot) 35:2
Jewish quotes about healing
One of the simple healing meditations I teach people is to see themselves through God's eyes.
To love yourself is to identify yourself as part of the Shekhinah. -Baal Shem Tov
If I am not for myself, who will be for me? -Hillel
Love your fellow as yourself -Leviticus 19:18
If it is a virtue to love my neighbor as a human being, it must be a virtue—and not a vice—to love myself, since I am a human being too. There is no concept of man in which I myself am not included. – Erich Fromm
When we are depleted of our own resources, we are incapable of providing for those around us. -Rabbi Lauren Eichler Berkun
The King of all Kings mints every human being with the stamp of the first, and yet not one looks like another. Hence, every single person must proclaim, "The world was created for me." -Mishnah Sanhedrin 4:5
Three things bring anxiety: great pain, long fingernails, and ripped clothing. -Kol Bo 118:11
I will speak that I may find relief"; for there is a redemptive quality for an agitated mind in the spoken word, and a tormented soul finds peace in confessing. -Joseph B. Soloveitchik
Do not give yourself over to sorrow or distress yourself deliberately. A merry heart keeps a person alive, and joy lengthens one's days. -Yeshua Ben Sira