So, after all, this language is the most spoken in Europe and some other countries, and the language is also romantic. So to express love in the Portuguese language someone needs Portuguese love quotes when he/she falls in love. Love can be express in English but the expression will be clearer when it is delivered in the native language.
In this post, we have collected some Portuguese love poems and some Portuguese quotes about life which can help the native person to express his feelings in the Portuguese language.
Portuguese is basically a romance language originating in the Iberian Peninsula of Europe. This is the sixth most spoken language in the world and it is the official language of too many countries such as Portugal, Angola, Mozambique, Guinea-Bissau, Brazil, etc. Normally a Portuguese-speaking person is called "Lusophone".  Portuguese is the 3rd most spoken language in Europe.
Portuguese love quotes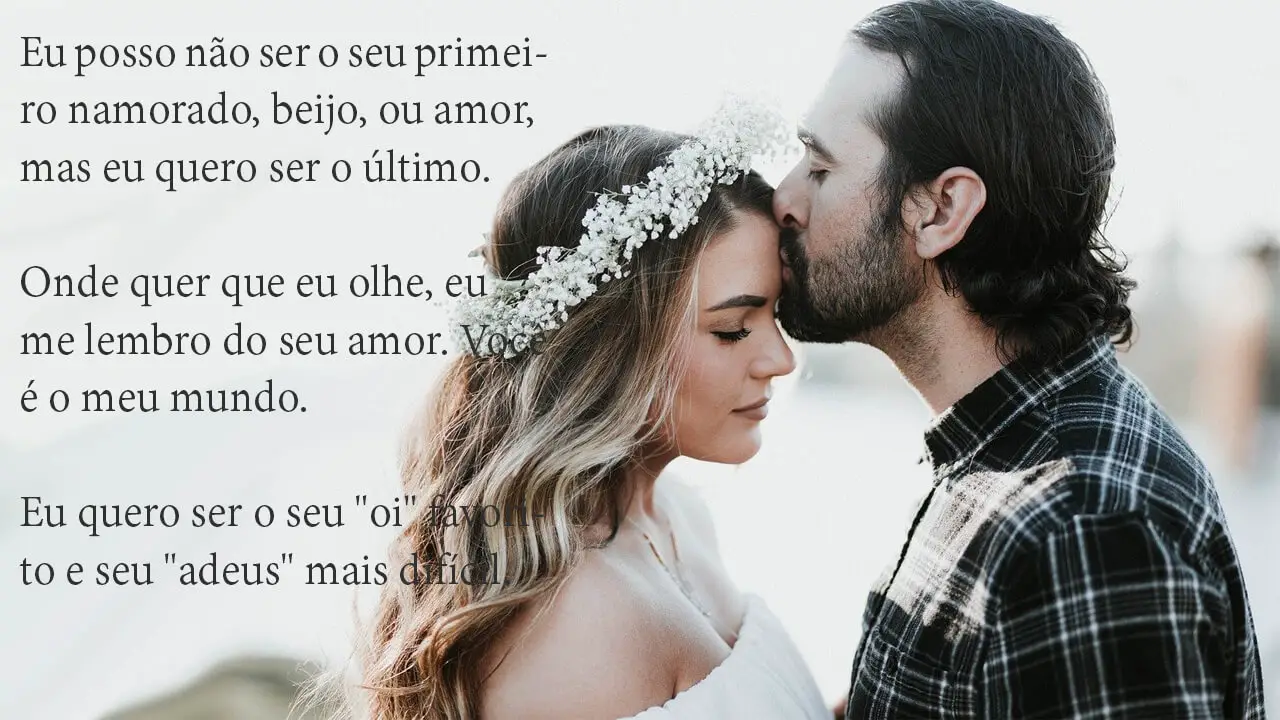 Eu posso não ser o seu primeiro namorado, beijo, ou amor, mas eu quero ser o último.
O meu lugar favorito é estar junto com você.
Se fosse para eu viver a minha vida de novo, eu te encontraria antes.
Eu quero ser o seu "oi" favorito e seu "adeus" mais difícil.
Onde quer que eu olhe, eu me lembro do seu amor. Você é o meu mundo.
O amor é como o vento, você pode não vê-lo, mas você pode senti-lo.
You may like this also: 25+ Amazing I Wanna Make Love To You Quotes For Youngsters
Se eu sei o que é o amor, é por causa de você.
Quando eu olho para você, eu vejo o resto da minha vida na frente dos meus olhos.
Amar não é nada. Ser amado é alguma coisa. Mas amar e ser amado é tudo.
Eu juro que não poderia te amar mais do que eu já te amo agora, mas mesmo assim eu sei que eu vou amanhã.
Portuguese love poems
Amor é fogo que arde sem se ver,

É ferida que dói e nao se sente,

é um contentamento descontente,

é dor que desatina sem doer
é um nao querer mais que bem querer ;

é solitário andar por entre a gente ;

é nunca contentar-se de contente ;

é um cuidar que ganha em se perder
é querer estar preso por vontade ;

é servir a quem vence o vencedor ;

é ter com quem nos mata lealdade.
Mas como causar pode seu favor

Nos corações humanos amizade,

Se tão contrário a si é o mesmo Amor ?
Portuguese quotes about life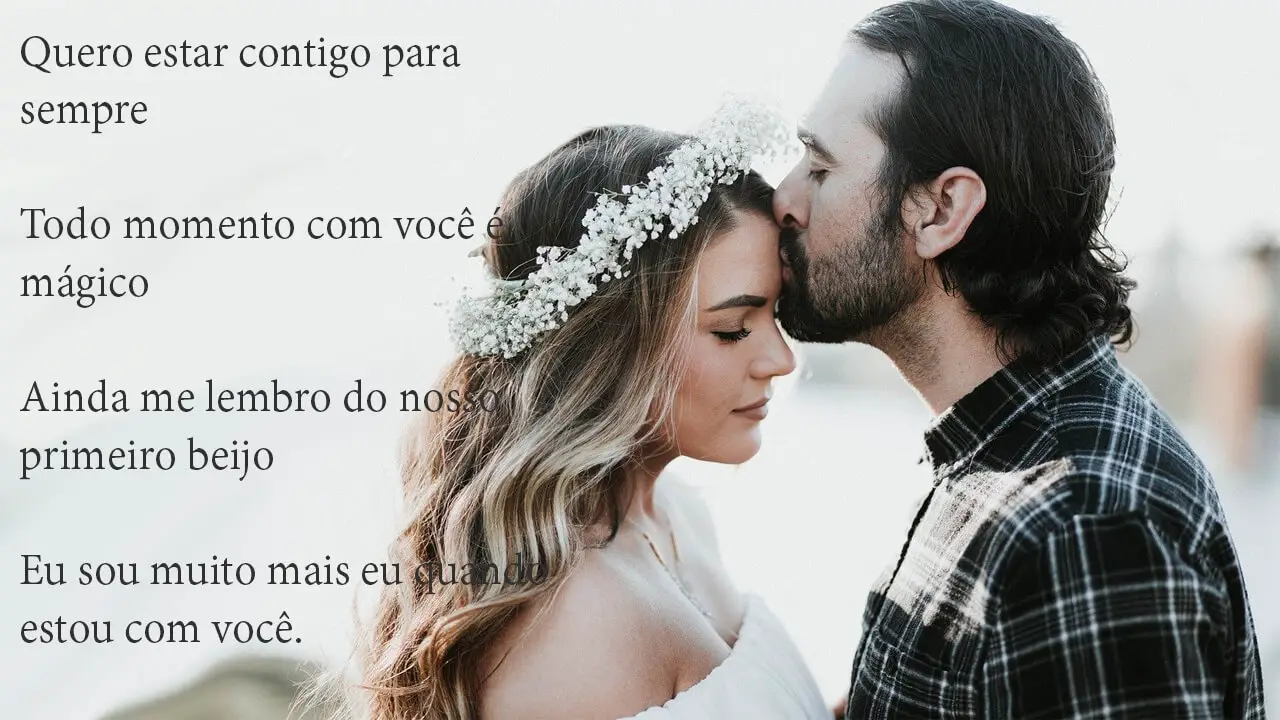 O amor está no ar
Quero estar contigo para sempre
Todo momento com você é mágico
Eu quero fazer amor contigo
Ainda me lembro do nosso primeiro beijo
Try this also: 15+ Amazing Saint Quotes On Love For Youngsters
Eu vou sempre me lembrar de você
Eu não preciso do paraíso porque eu encontrei você. Eu não preciso de sonhos porque eu tenho você.
Eu sou muito mais eu quando estou com você.
Obrigado por ser sempre o meu arco-íris depois da tempestade.
Cem corações seriam poucos para carregar todo o meu amor por você.
love status in Portuguese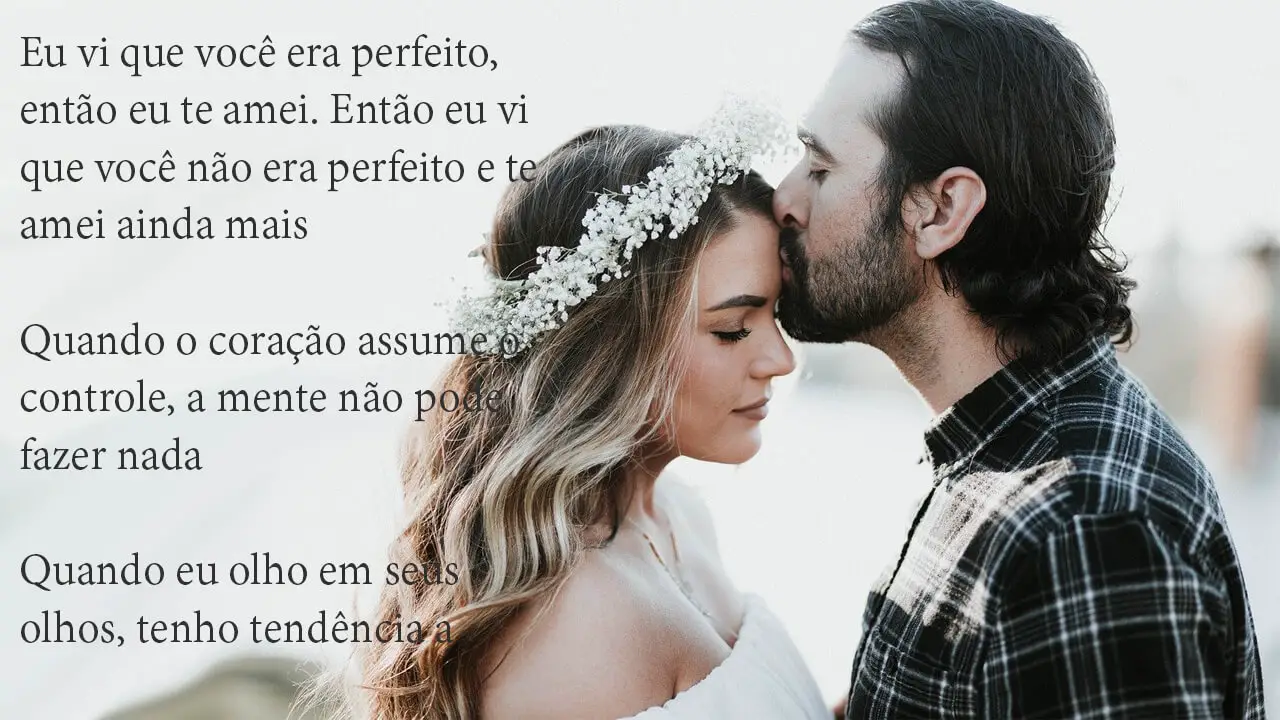 Eu vi que você era perfeito, então eu te amei. Então eu vi que você não era perfeito e te amei ainda mais.
Quando o coração assume o controle, a mente não pode fazer nada
Eu vou te amar para sempre até o fim dos tempos! Não importa o que você faça! Porque você é meu para sempre! E nada do que você fizer vai fazer com que eu pare de te amar
Amor + Confiança + Lealdade = Relacionamento Inquebrável
Quando eu olho em seus olhos, tenho tendência a perder pensamentos.
O amor é tudo, o amor é novo / O amor é tudo, o amor é você.
Nós nos apaixonamos por acaso. Nós permanecemos apaixonados por escolha.
Você não tem ideia do quão rápido meu coração bate quando eu te vejo.
Você não significa nada para mim. Você significa tudo para mim.
Você é Y Life. Você é a única coisa que doeria se perder.
quotes in portuguese translation
Dedique seu tempo e energia a alguém que irá adicionar luz solar à sua vida. A vida é muito curta para desperdiçar com a errada. Place your time and energy on someone who will add sunshine to your life. Life is too short to waste on the wrong one.
Obrigado por entrar na minha vida. Por me deixar sentir esse amor que tenho por você. Porque nem todo mundo tem tanta sorte quanto eu … Por ser amado por vocêThank you for coming into my life. For letting me feel this love that I have for you. Because not everybody is as lucky as I am… To be loved by you
Você é uma daquelas coisas lindas que aconteceram na minha vida e fizeram minha vida valer a penaYou are one of those beautiful things that happened to my life and made my life worthwhile
Você está incrível, maravilhoso, fantástico, inteligente, charmoso, deslumbrante …You looking most amazing, wonderful, fantastic, smart, charming, dazzling…
Toda amizade não se transforma em amor, mas todo amor começa com amizade.Every friendship doesn't change into love but every love begins with friendship.
Sempre oro a Deus para nos amarrar em um nó sagrado para que possamos passar cada momento juntos.I always pray to God to tie us in a sacred knot so that we spend each and every moment together.
Read more love quotes
Não ame muito, não se importe muito, não confie muito; porque isso pode machucar muito.Don't love too much, don't care too much, don't trust too much; because that too much can hurt you too much.
Não sei se gosto de você ou te amo, se quero ou preciso de você, tudo que sei é que amo a sensação que tenho quando estou perto de você.I don't know if I like you or love you, want you or need you, all I know is I love the feeling I get when I'm near you.
Se você espera algo em troca, isso se chama negócios, não amor.If you expect something in return, It's called business, not love.
Você pode ser alguém para o mundo, mas é o mundo para alguém.You may be someone to the world but you are the world for someone.