Jhene Aiko Efuru Chilombo is a Los Angeles-based American singer-songwriter who started her music career at the age of 13 by lending her vocals to R&B group B2K and making appearances in a number of their music videos. If you're seeking the best self-love Jhene Aiko Quotes that will alter your outlook on life, then this list is for you.
With the release of the mixtape Sailing Souls in March 2011, she made her official entrance. We encounter several roadblocks in life that take us in various directions. Gaining mainstream acceptance is challenging. Being talented and innovative are prerequisites for success. You'll need a big enough armory of weaponry to survive because there are a lot of competitors. With her musical uniqueness and talent, Jhene Aiko established her value as an artist. She is an outstanding singer and pianist. She relates her lyrics to her listeners in addition to writing them.
Looking for some of Jhene Aiko's best quotes? Check out the quotes below to learn more about Jhené Aiko's background, creative process, and other topics. We have compiled the best collection of Jhené Aiko quotes.
You May Also Like To Read:Best 120 + Miserable People Quotes About That Will Make You Stronger
Best Jhene Aiko Quotes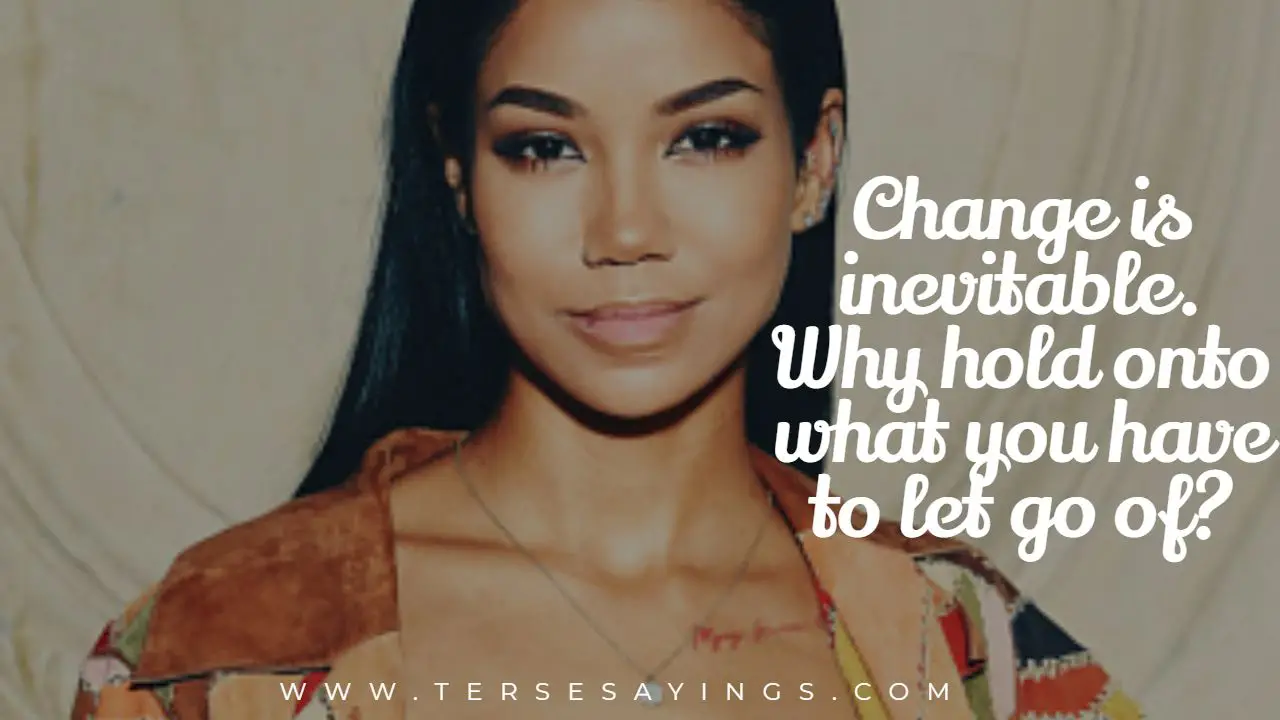 Change is inevitable. Why hold onto what you have to let go of?
Shame on you for staying the same.
Every other day's a different game that you just can't win.
I just love to have a clear mind.
Life only gets harder, but you gotta get stronger.
You have gotta lose your mind, just to find your peace of mind.
My main goal in life is to just be happy. I don't compromise my happiness for anything. If I find what makes me happy I'm going to do that. That's going with the flow of life.
What you create for yourself, no one can take from you.
You have to realize that you are everything and more just on your own.
We were free to be everything we dreamed of.
If you don't learn, you'll never know a good thing.
Jhene Aiko Quotes about Peace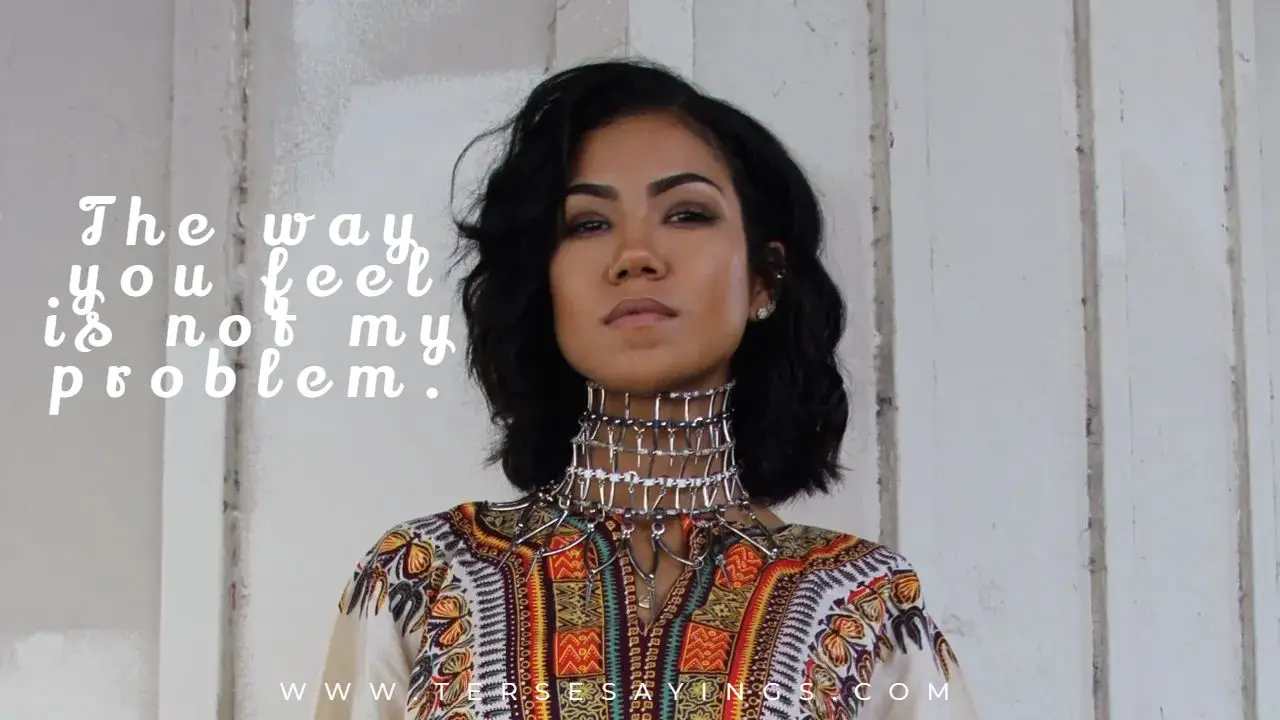 The way you feel is not my problem.
You have got to trust the signs. Everything will turn out fine.
I love myself enough for both of us.
I have a crazy sense of humor so if someone is just trying to be rude to me, or if you can tell that someone is angry for no reason, I like to entertain them.
Females in our generation's morals are just out the window. Materialistic things aren't life. I'd rather walk in the rain with a man who treats me like a queen than ride in a Benz with a man who treats me like crap.
I belong to the world. I'm in a relationship with the world.
We are all slaves of desire, controlled by the things we think that we need.
I've always been an over-sharer to the point where I'll meet someone and just start talking and telling them everything about my life.
There's no place quite like here, there's no better time than now.
Writing has always been my go-to form of expression. Whenever I was going through something as a kid, I would write it down and I would turn it into a poem.
Suffering is optional. You're gonna have some pain, but it doesn't have to make you suffer.
Motivational Jhene Aiko Quotes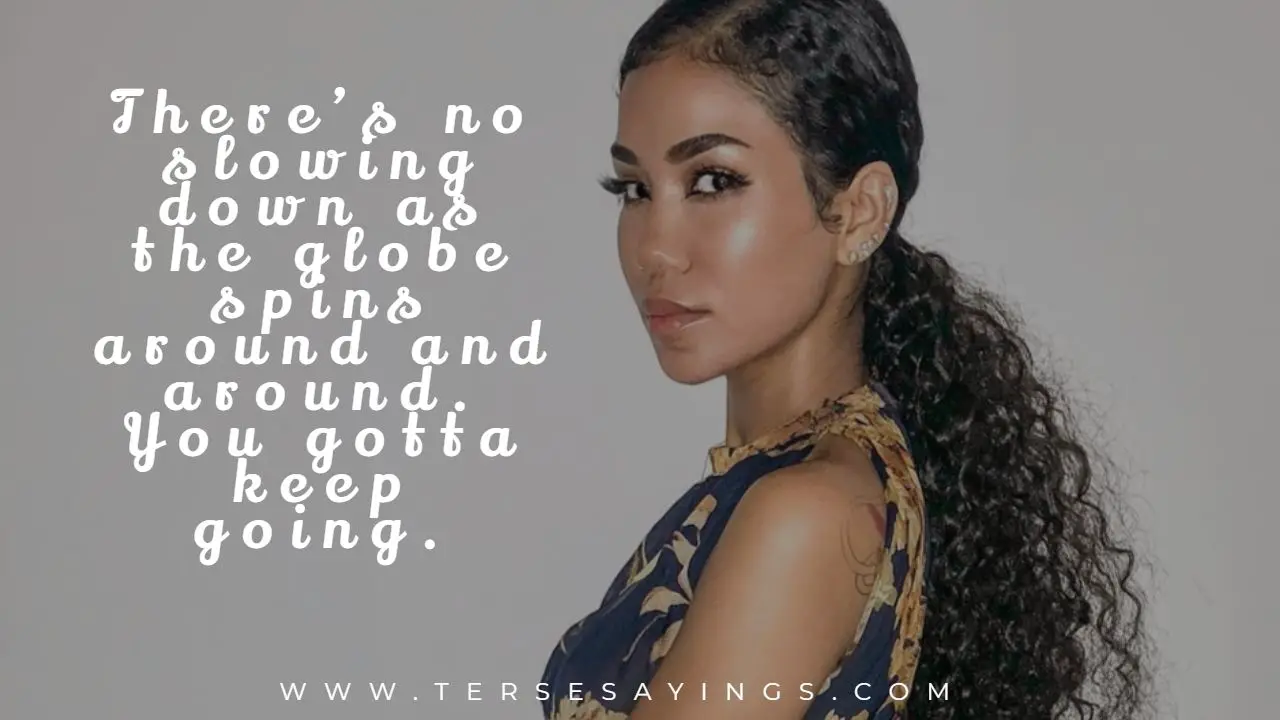 There's no slowing down as the globe spins around and around. You gotta keep going.
Oblivion is kind of like nirvana, where you become nothing and you don't have to suffer over and over again. You're free to just be nothing.
In a sense, I am like a volcano and this album is an e
I definitely think that people confuse their ego with their spirit. Your ego is always there telling you to 'be better and work harder,' not telling you that you're already enough. You need to silence your ego to hear your spirit and that's what I had to do.
Read More:Best 50+ Pootie Tang Quotes To Make You Loudly Laugh
I'm probably my biggest critic. There's nothing anyone can ask of me that I haven't already asked of myself.
It isn't perfect, but everything's beautiful now.
'Chilombo' is a word that means 'wild beast.' They're strong, confident, and graceful. Beasts are also beautiful.
A lot of times, we talk about what we are going through and our problems, but now we need to focus on resolving the issues and how we can help each other get through life.
Cause is, and everything really isn't.
Sometimes, you gotta work through the darkness to get to the light.
I'm trying to teach people not to be selfish. That's the thing. If you have a good thing, share it. Of course, we're not in a sexual relationship.
I don't feel like I have to use big words or theories to get my point across. People are like, 'Whoa. That's crazy,' and make it into this crazy thing.
Jhene Aiko Quotes Self Love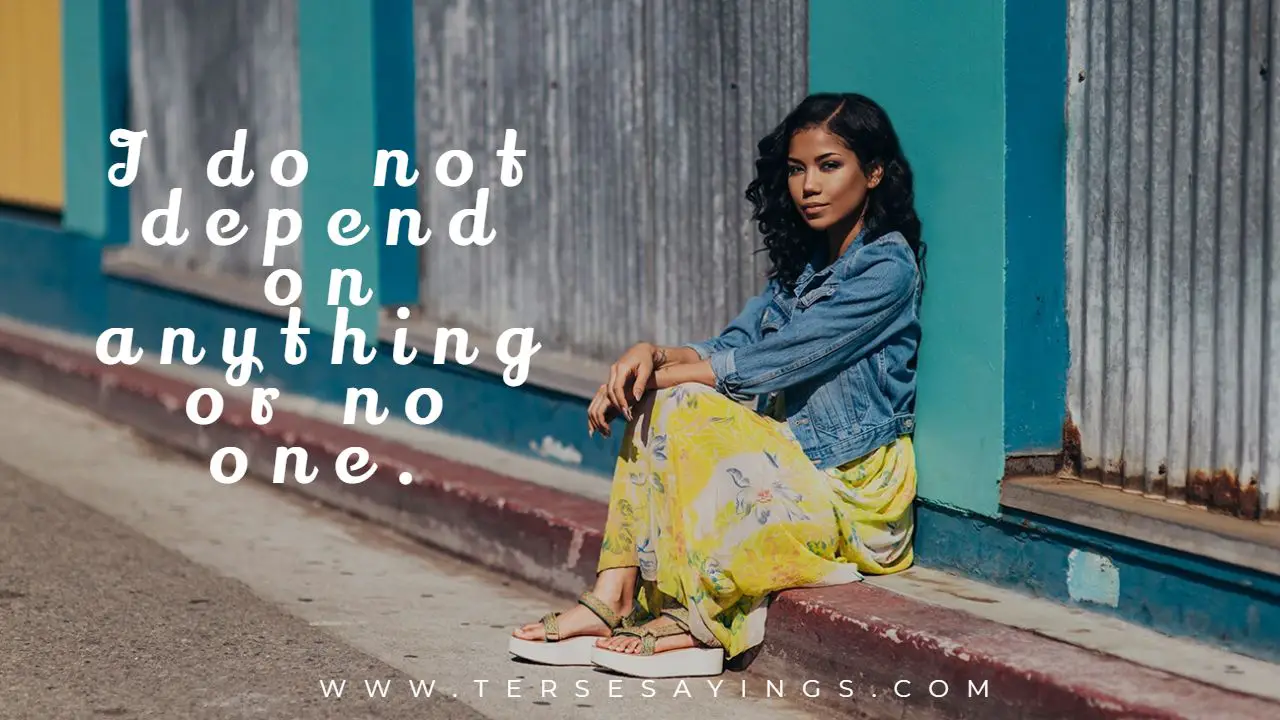 I do not depend on anything or no one.
Just be yourself and wear deodorant.
Love side, hate side—never in between.
If you don't get a hold of yourself, then you will end up with no self.
I'm not a party animal. I'm a chill homebody. I like to watch movies and go out to eat. That's my idea of a good time. I'm definitely able to be social.
Go with the wind, you know, like a sailboat. I think that's really important when it comes to inner peace especially. You can't help anyone else if you don't have it together for yourself.
Read More:Best 60 + Stephen King Quotes And Saying
That's what's so beautiful about art is that you can just throw paint on a blank and do something crazy and that's your release. You didn't hurt anyone, you know?
When I find something good, I stick to it for like a month. I'm usually late on, like, other stuff. Kendrick Lamar, I can play that often.
As I got older, I really got into Tupac's poetry, his books, and just learning about his life and what he was into.
I actually have a young readers' series that I wanna do, kind of in the same lane as Harry Potter, or Narnia, or Twilight. I want to write stuff like that.
When I'm writing, I'm not trying to save the world. I'm just trying to help myself, but it's a plus that people can relate to it.
I want to write some books. Books that have nothing to do with music, just soon of books for a whole different audience of people.
I'm creating songs. I do it most me—in the car or in the house.
 Short Jhene Aiko Quotes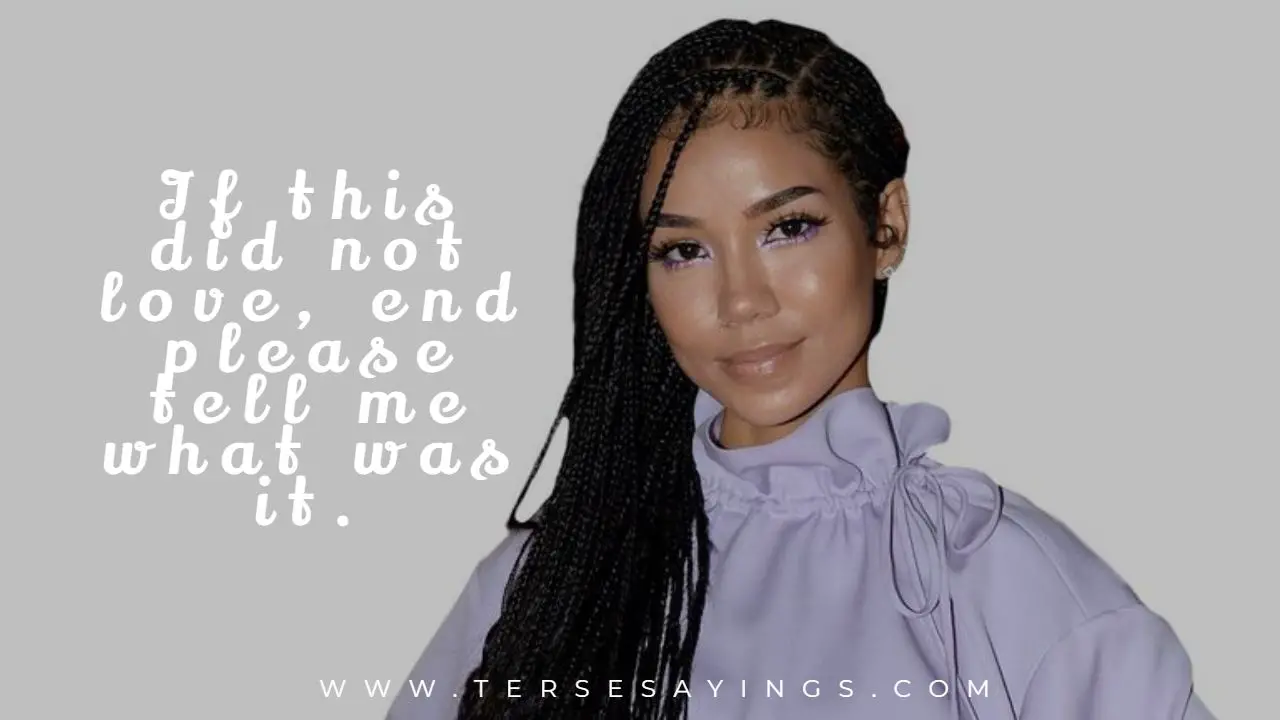 If this did not love, end please tell me what was it.
Please do not drive me crazy.
So you just go around breaking hearts just e what is inside.
I started as a love song.
Have you seen my fucks to give?
I just wanna ease your mind and make you feel alright.
If your dude comes close to me, he gon' wanna ride off in a ghost with me.
And yeah, it's obvious momma now probably can't stand me.
And the more that I see, the more that I know.
Every weekend turned to every evening.
Up till the sun rises, there's no compromising.
Yeah you know what I'm talking about, cause you just get me.
It does not get better, you cannot do better.
These bitches don't get no feelings.
You have been hoping I wouldn't go.
Moving from stranger to strangest.
God damn, baby, my mind's blown.
I chose happiness over everything.
Picture me rolling.
I've gotta save the world.
You better act like you know.
Gotta do my hair, gotta put on make-up.
Jhene Aiko Quotes About Love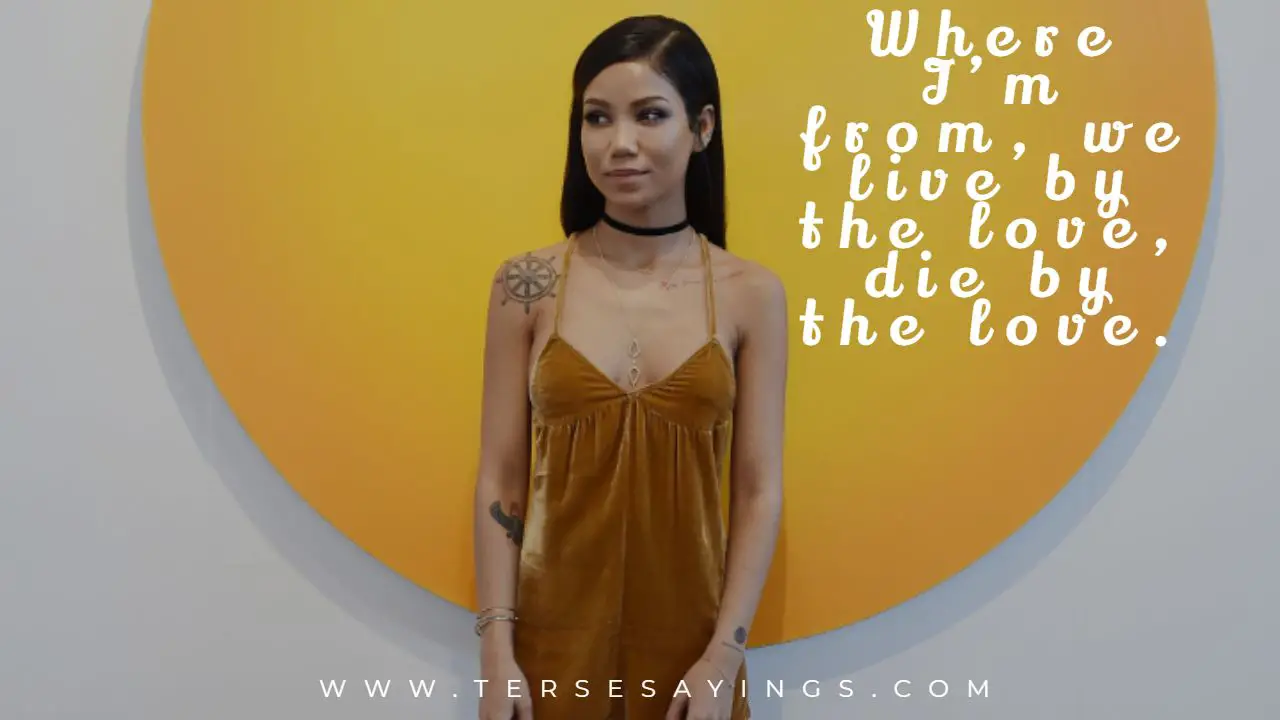 Where I'm from, we live by the love, die by the love.
Loving you was nice, but it's a new day, a new season.
Don't you know there's a line for my love? And you be out here lying on us.
I'm an acquired taste—not for everybody, but for the ones that get me—I will give you all of me, all the time.
I'm not the type that would ask for a number or ask him on a date, but I have approached a guy. I probably would tell a joke or say, 'You're really cute.'
We made love like the world would have ended.
I'm friends with exes and they hear the songs. I can honestly say I don't have any exes I hate. They're artists in some fashion so they understand.
It's not love, but it's pretty close.
Everything I do is for you and I do adore you.
I appreciate all the people that can respect and appreciate my music.
I appreciate it when people listen to sad songs because it's almost like telling someone your problems and having them listen with a compassionate ear.
A lot of times, when I'm creating songs, they're in real-time. When I'm writing the song, I feel what I'm feeling for its full potential. As soon as the song is over, I'm like, 'I created art.'
Don't Forget To Read:Best 50+ Famous Selena Quintanilla Quotes and Saying