If you enjoy spending time in the kitchen, you'll appreciate these kitchen quotes.
A kitchen appears to be a basic yet essential space in the home. We all need to eat, therefore having a space to cook and prepare meals in our home is only natural. The kitchen, on the other hand, is much more than that.
The kitchen is the room where most people congregate. It's where meals are cooked and shared, but it's also where a lot more is shared.
People share knowledge, learn new things, and create memories with one another. As you'll see from these kitchen quotations, the kitchen is about a lot more than food.
I have been in Sorrow's kitchen and licked out all the pots. Then I stood on the peaky mountain wrapped in rainbows, with a harp and sword in my hands. Zora Neale Hurston
I always had a fantasy of being a chef, because I like kitchen life. Geoffrey Rush
I am a woman who came from the cotton fields of the South. From there I was promoted to the washtub. From there I was promoted to the cook kitchen. And from there I promoted myself into the business of manufacturing hair goods and preparations. Madam C. J. Walker
     Read this article also 100+ best ever freaky quotes
I'm at the age where food has taken the place of sex in my life. I've just had a mirror put over my kitchen table. Rodney Dangerfield
It's not difficult to take care of a child; it's difficult to do anything else while taking care of a child. Trying to clean up the kitchen after you've had a baby is a nightmare because you have to wait for the baby to be asleep, you're exhausted, and you don't want to clean up the kitchen now. Julianne Moore
In department stores, so much kitchen equipment is bought indiscriminately by people who just come in for men's underwear. Julia Child
In large states, public education will always be mediocre, for the same reason that in large kitchens the cooking is usually bad. Friedrich Nietzsche
My favorite room in the house is my kitchen. It's the heart and soul of our home. It's where we gather in the morning as a family to start the day, and it's where we wind down at night over supper. Kimberly Schlapman
Many people continue to think of sharks as man-eating beasts. Sharks are enormously powerful and wild creatures, but you're more likely to be killed by your kitchen toaster than a shark! Ted Danson
I started at 5 years old at the kitchen table with my family supporting me. I know where I'm from and I know exactly where I'm going. Celine Dion
For me, the kitchen is the most special room in the house. It's a place for adventure – not drudgery, but discovery, sharing and showing off with friends, trying new ideas. Ted Allen
Short Quotes for Kitchen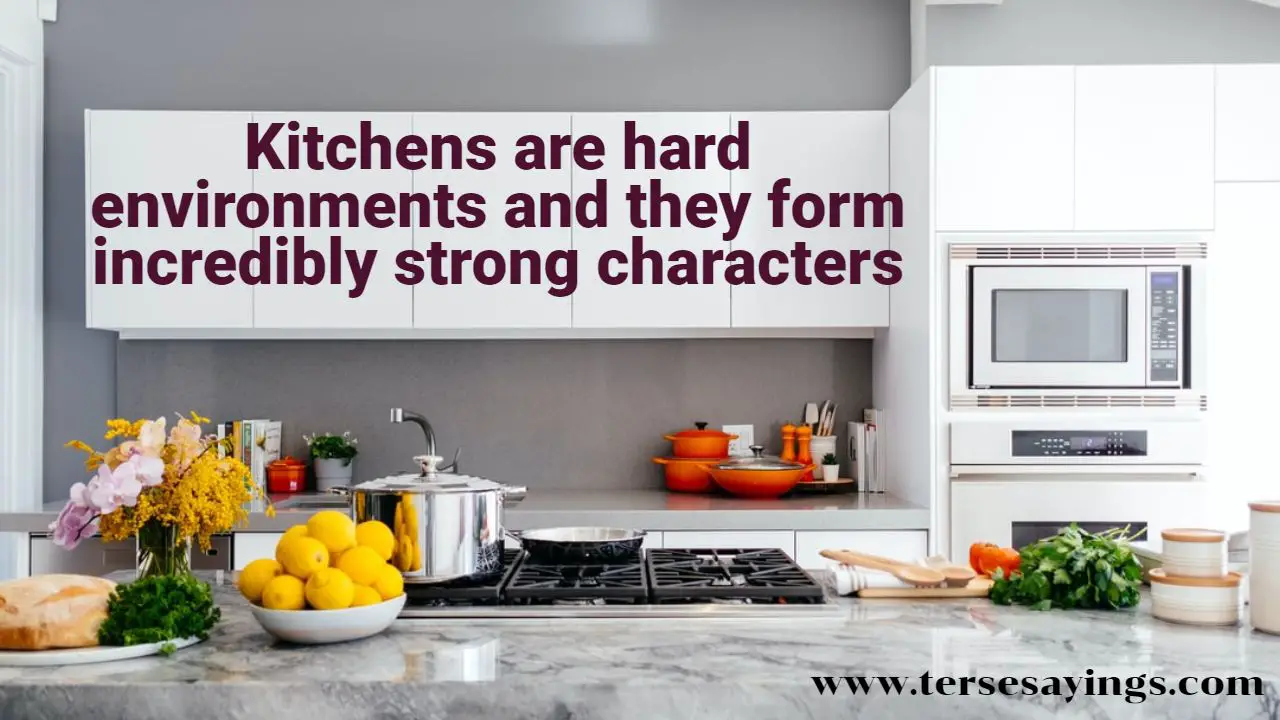 If you can't stand the heat, get out of the kitchen. Harry S Truman
Women belong in the bedroom and the kitchen, in that order. Bobby Riggs
Everything happens in the kitchen. Life happens in the kitchen. Andrew Zimmern
The kitchen is the heart of every home, for the most part. It evokes memories of your family history. Debi Mazar
The best way to get rid of kitchen odors is: Eat out. Phyllis Diller
A kitchen without a knife is not a kitchen. Masaharu Morimoto
I got all my boyhood in vanilla winter waves around the kitchen stove. Jack Kerouac
The best way to get anybody's attention is dinner. I have good kitchen skills and good grocery shopping skills. Al Roker
    Click here to read 100 + Heart Touching Birthday Quotes for Mom 
Kitchens are hard environments and they form incredibly strong characters. Gordon Ramsay
If my kid couldn't draw I'd make sure that my kitchen magnets didn't work. Mitch Hedberg
The story of Gucci is that there were too many cooks in the kitchen. Maurizio Gucci
No matter what the recipe, any baker can do wonders in the kitchen with some good ingredients and an upbeat attitude! Buddy Valastro
A good home must be made, not bought. In the end, it's not track lighting or a sunroom that brings light into a kitchen. Joyce Maynard
Their kitchen is their shrine, the cook their priest, the table their altar, and their belly their god. Charles Buck
Know your food, know your farmers, and know your kitchen. Joel Salatin
A sharp knife is the best tool you can have in the kitchen. Chris Morocco
New Kitchen Quotes
A kitchen is a room in which food is prepared.
The kitchen is where folks who enjoy cooking spend the majority of their leisure time. Regardless of how large, tiny, magnificent, or rustic your kitchen is, it serves as the heart of the home and the source of all the flavor and nutrition served at the dining table.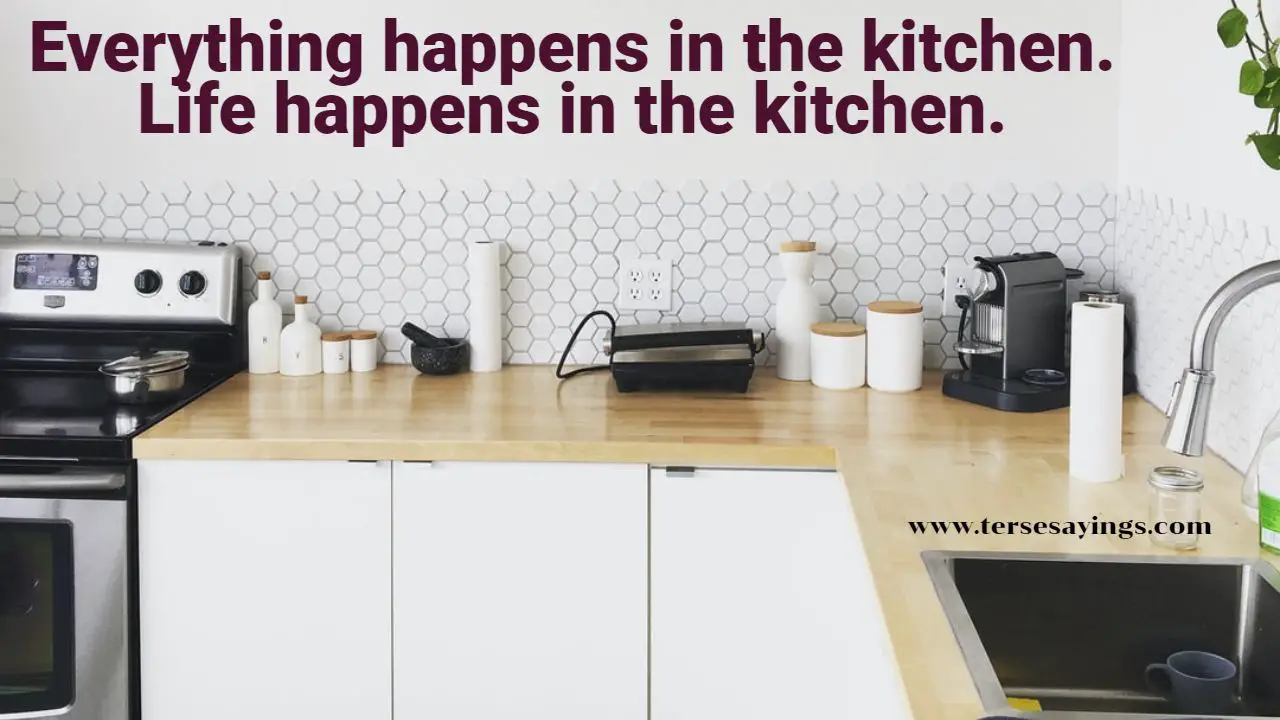 I go out to the kitchen to feed the dog, but that's about as much cooking as I do. Betty White

In the future, I'm sure there will be a lot more robots in every aspect of life. If you told people in 1985 that in 25 years they would have computers in their kitchen, it would have made no sense to them. Rodney Brooks

Show me a man who lives alone and has a perpetually clean kitchen, and 8 times out of 9 I'll show you a man with detestable spiritual qualities. Charles Bukowski

The people recognize themselves in their commodities; they find their soul in their automobile, hi-fi set, split-level home, and kitchen equipment. Herbert Marcuse

I love to design and remodel houses, from working with the contractors to picking the colors, materials, and kitchen and bathroom accessories to finally what furniture goes where. Olivia Newton-John

Related: 70+ Best quotes from life as we knew it

I come from nothing. I come from sleeping in the kitchen with my family with the oven open to keep us warm during winter, you know? When you come from that background, all this extra stuff is just… extra stuff, you know? Michael B. Jordan

My dad's cooking was magic in the kitchen. But eventually, over the years, his personality changed, and his ability to remember recipes failed. He became paranoid and thought people were stealing from him, when often he was just misplacing things. Tess Gerritsen

The kitchen is the castle itself. This is where we spend our happiest moments and where we find the joy of being a family. Mario Batali

My grandmother was the greatest cook in the world. She could just go in there, the whole kitchen would look like a tornado hit it, and then she'd come out with the best food. Then she'd sit at the table and she wouldn't eat! Edie Brickell

I went into a French restaurant and asked the waiter, 'Have you got frog's legs?' He said, 'Yes,' so I said, 'Well hop into the kitchen and get me a cheese sandwich.' Tommy Cooper

The movie theater is never going away. If that was the case why are there still restaurants? People still have kitchens in their homes! Michael Moore

To me, every kitchen appliance is useful and nothing's overrated. When I look at my little espresso machine, I don't see coffee. I see a steaming valve as an opportunity to make an amazing creme brulee. Grant Achatz

I remember being a kid, and if you had to pee, well, you had to hold it until the commercial break. Then you rushed, and hopefully, if you're going to the kitchen for a snack, you'll be back before so you don't miss a line. If your sister sneezed or was talking over a line, there was no way of knowing what that line was or what the joke was. America Ferrera
Funny Kitchen Quotes for Walls
We've collected some funny kitchen quotes, charming kitchen quotes, and short kitchen quotes that will make you laugh and are ideal for hanging on your kitchen wall!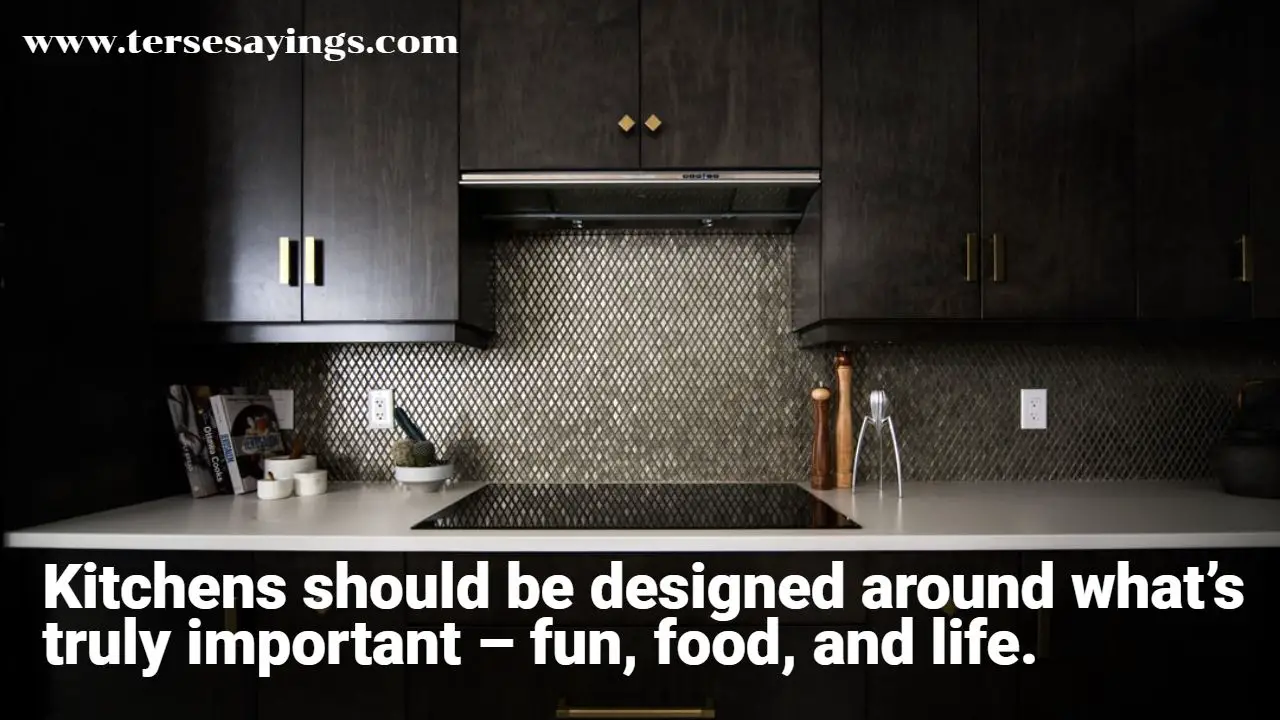 Do not take life too seriously. You will never get out of it alive.
Always remember that you are unique. Just like everyone else.
I'm sorry, if you were right, I'd agree with you.
Any girl can be glamorous. All you have to do is stand still and look stupid.
Progress is man's ability to complicate simplicity.
The kitchen is where you put all the ingredients together. No matter what you do in life, you have to have a plan and put it together. – Yo Gotti
Our taste buds do summersaults over Grandma's homemade nut bread, cookies, cobblers, cakes, and pies. But a grandmother's kitchen goes beyond good aesthetics – it's like a bakery plus love. – Books Barbour
     You may like to read 70+ Best toxic family quotes
Afterward, they always had tea in the kitchen, much the nicest room in the house. – Flora Thompson
Kitchens should be designed around what's truly important – fun, food, and life. – Daniel Boulud
My kitchen is a mystical place, a kind of temple for me. It is a place where the surfaces seem to have significance, where the sounds and odors carry meaning that transfers from the past and bridges to the future. – Pearl Bailey
The kitchen is the most important place in any house. Visit your family, and that's where you'll end up. Got to a party, that's where everyone congregates. – Michelle Dockery
The kitchen is the great laboratory of the household and much of the 'weal and woe' as far as regards bodily health, depends on the nature of the preparations concocted within its walls. – Isabella Beeton
For me, the kitchen is the most special room in the house. It's a place for adventure – not drudgery, but discovery, sharing and showing off with friends, trying new ideas. – Ted Allen
The kitchen is the castle itself. This is where we spend our happiest moments and where we find the joy of being a family. – Mario Batali
Welcome To My Kitchen Quotes
While a tiny and traditional kitchen has essentials like a stove, oven, sink, cookware, utensils, and food items, ultra-modern kitchens feature a futuristic design, subtle elegance, cutting-edge appliances, and strong color contrasts, such as black and white. The love and care with which the meals are prepared, on the other hand, is what brings a kitchen to life.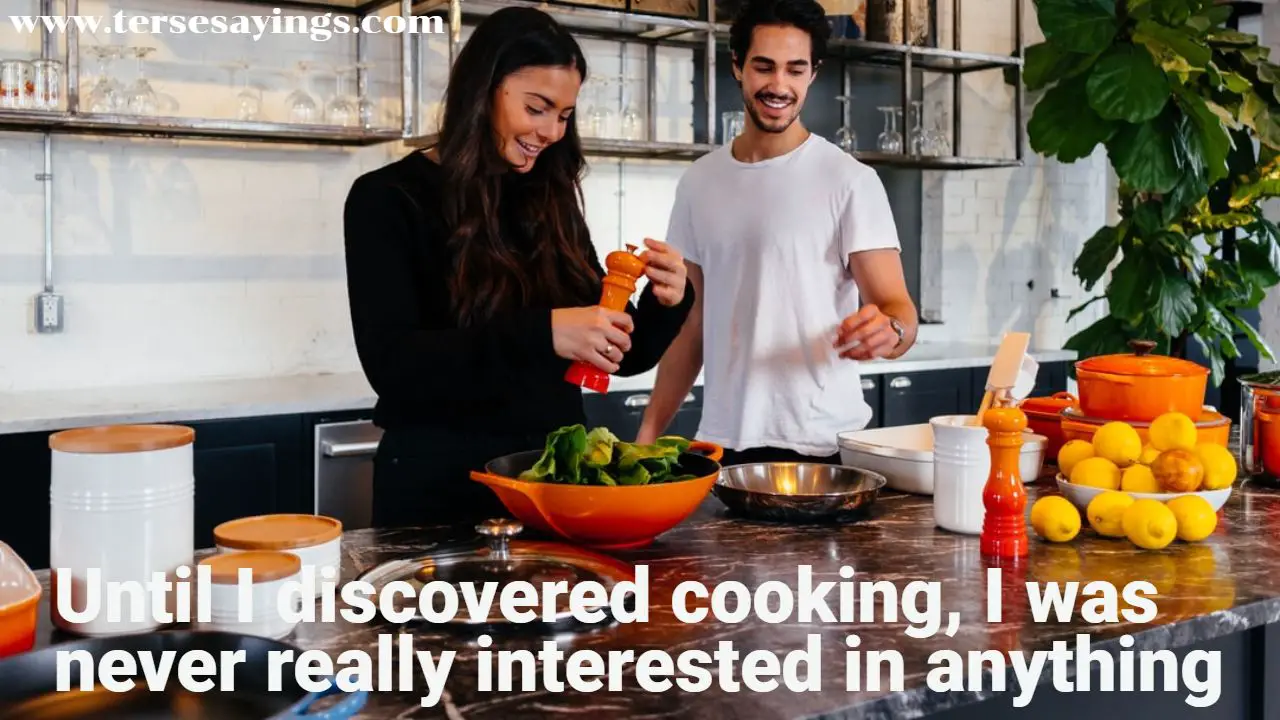 The kitchen may be the heart of the home, but it is also the place that naturally attracts the most clutter and mess. Brette Sember.
Nights alone in my yellow kitchen, I made myself a hot chocolate. I missed my mother. In my window, maple leaves rusted, young fall blooming. Aspen Matis.
Until I discovered cooking, I was never really interested in anything. Julia Child.
Good food and a warm kitchen are what make a house a home. Rachael Ray.
Their kitchen is their shrine, the cook their priest, the table their altar, and their belly their god. Charles Buck.
Happiness is a small house, with a big kitchen. -Alfred Hitchcock.
Afterward, they always had tea in the kitchen, much the nicest room in the house. -Flora Thompson.
A kitchen is a good place to be, almost always the best place in the house. -Michael Ruhlman.
The kitchen is the castle itself. This is where we spend our happiest moments and where we find the joy of being a family. -Mario Batali.
I made the coffee myself in Armande's curious small kitchen with its cast-iron range and low ceiling. Everything is clean there, but the one tiny window looks onto the river… -Joanne Harris.
In the secret kitchen of my imagination, I made them all, tested, tasted them, added to my collection of recipes wherever we went and pasted them into my scrapbook-like photographs of old friends. -Joanne Harris.
The worst mistake of a woman is to go to the kitchen because then she never gets out of there. -Shakira.
In the childhood memories of every good cook, there's a large kitchen, a warm stove, a simmering pot, and a mom. -Barbara Costikyan.
No one who cooks alone. Even at her most solitary, a cook in the kitchen is surrounded by generations of cooks past, the advice, and menus of cooks present, the wisdom of cookbook writers. -Laurie Colwin.
     Don't Forget to read 60 Best Inspirational kitchen quotes
Even the most avid technocrat must occasionally escape from virtual space, and what better place to do it than the kitchen, with all its dangerous knives and delicious aromas? -Ruth Reichl.
Over the years, the kitchens I grew up in and around continued to draw me in, like a moth to a flame, as though I might recapture whatever innocence I'd lost in that warm, fragrant space. -Sasha Martin.
They say the way to our hearts is through our stomachs, so the kitchen must be the heart of the home. -Emma Reed.
To me, a kitchen is a place of adventure and entirely fun, not drudgery. I can't think of anything better to do with family and friends than to be together to create something. -Ted Allen.