Please let these Lil Baby quotes about success inspire you to pursue your goals and better yourself. Jones was a resident of Oakland City when he was born in Atlanta, Georgia. His mother was left to raise him and his two sisters when his father abandoned the family when he was two years old. As a result of his commitment to drug dealing, he dropped out of Booker T. Washington High School in the ninth grade.  American rapper Lil Baby is well-known for winning the title of top all-genre Artist of the Year in 2020. He became well-known in the rap scene after the release of his debut album, Harder than Ever in 2018 and the Perfect Timing mix tape in 2017. Up until now, Lil Baby has expressed his difficulties and life events via his paintings. It's also the reason that many listeners can identify with his music. To see how his tenacity and drive enabled him to succeed, read the complete collection of Lil Baby Quotes down below.
I'm confident that you will appreciate these Lil Durk quotes if you adore Drill music. The moment is here if you've been waiting for the ideal occasion to read this anthology. Let's examine Lil Durk's journey to success and how he overcame adversity. Early on, Lil Durk had a passion for music, and he quickly started making his own recordings.
Lil Baby Quotes about Success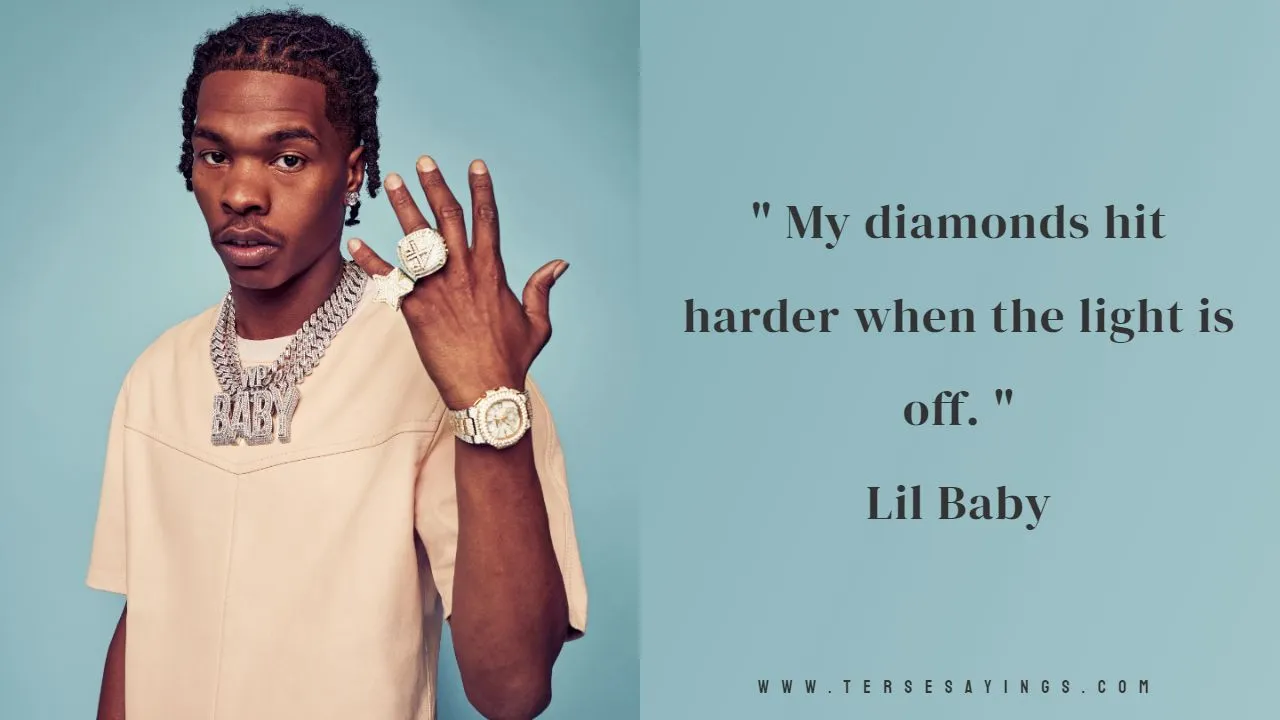 My diamonds hit harder when the light is off.
They just wanna talk about my past. They don't wanna accept the fact that I'm a boss.
People come and go, just gotta boss them up and move on.
Never thought that I'd get famous, always know that I'd be cool.
Day after day seems like I push against the clouds.
I came too far to stop now. I can't let an n*gg* get the best of me.
Ain't in competition with no one, I'm tryna ball with ya.
Boss up or get bossed around.

You may like: 60+ Most Popular Lil Baby Quotes Lyrics
Keep our business to ourselves. The internet ain't doin' no help.
I appreciate the support I get from the people! Y'all motivate me to go harder.
I been through it all, I came this far how a naggas not gon' feel me.
Used to dream about gettin' it, now I got it, I don't drive.
My life is like a dream, but I'm still here when I wake. I'm gon' get everything I need. I'll do whatever it takes.
Just 'cause you lost me as a friend, doesn't mean you gained me as an enemy!
Everyone has said I got my own sound.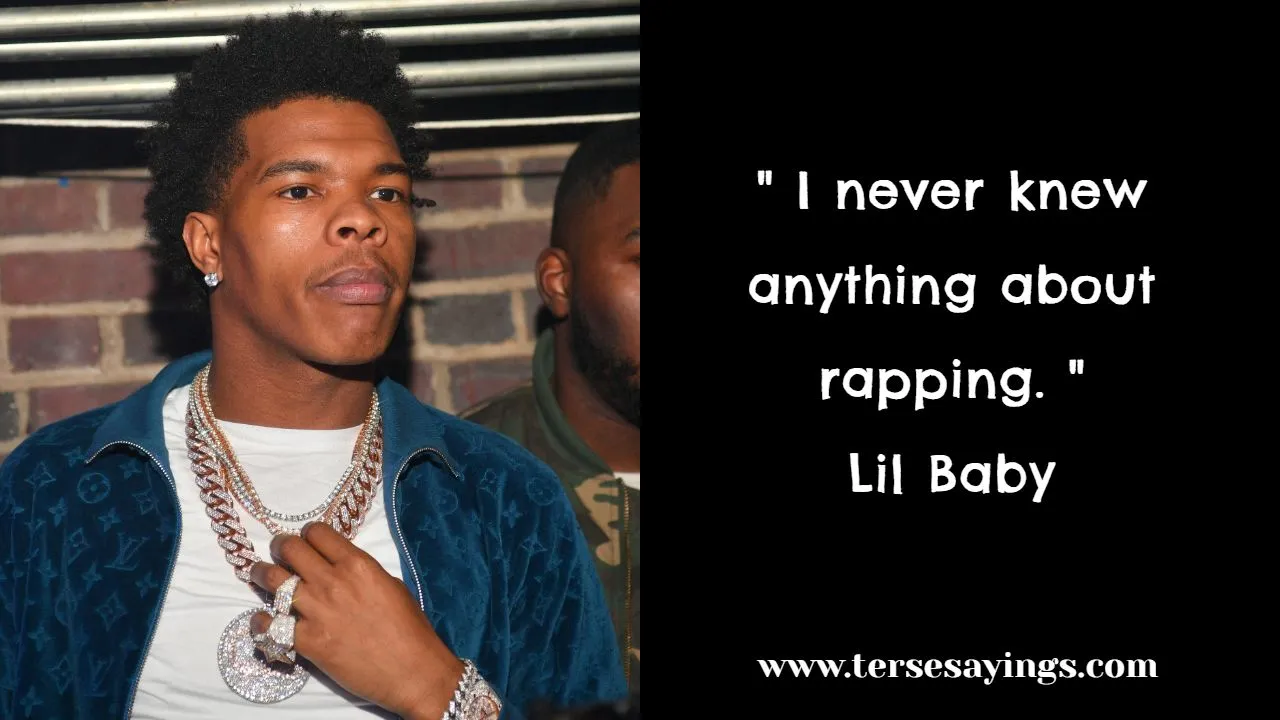 The rap game is kinda crazy, so I go with the flow but make sure that I cover my bases and do whatever to make sure I'm good no matter what.
I can't really describe my sound.
I never knew anything about rapping.
I just got an ear for the kind of things I like.
I don't really know the logistics of a SoundCloud rapper.
A lot of songs, I'm kind of singing and rapping.
I grew up listening to everybody.
I like music. I listened to all the rappers. People like Jeezy, Yo Gotti, T.I.
I have an impact and people look up to me now. It's more than money. Lil Baby
I will be hearin', say you buyin' their purses. I can't even lie, you ain't my type you ain't even all that fine in person. Lil Baby
I gotta turn my contacts into contracts. Lil Baby
I'm proud of the man I'm becoming. Lil Baby
I'm never really free but I'll make time for you! Lil Baby
I'm the type to count a million cash and then grind like I'm broke! Lil Baby
Ni**as can't out-snake me ima a king cobra. Lil Baby
Lil Baby Quotes Lyrics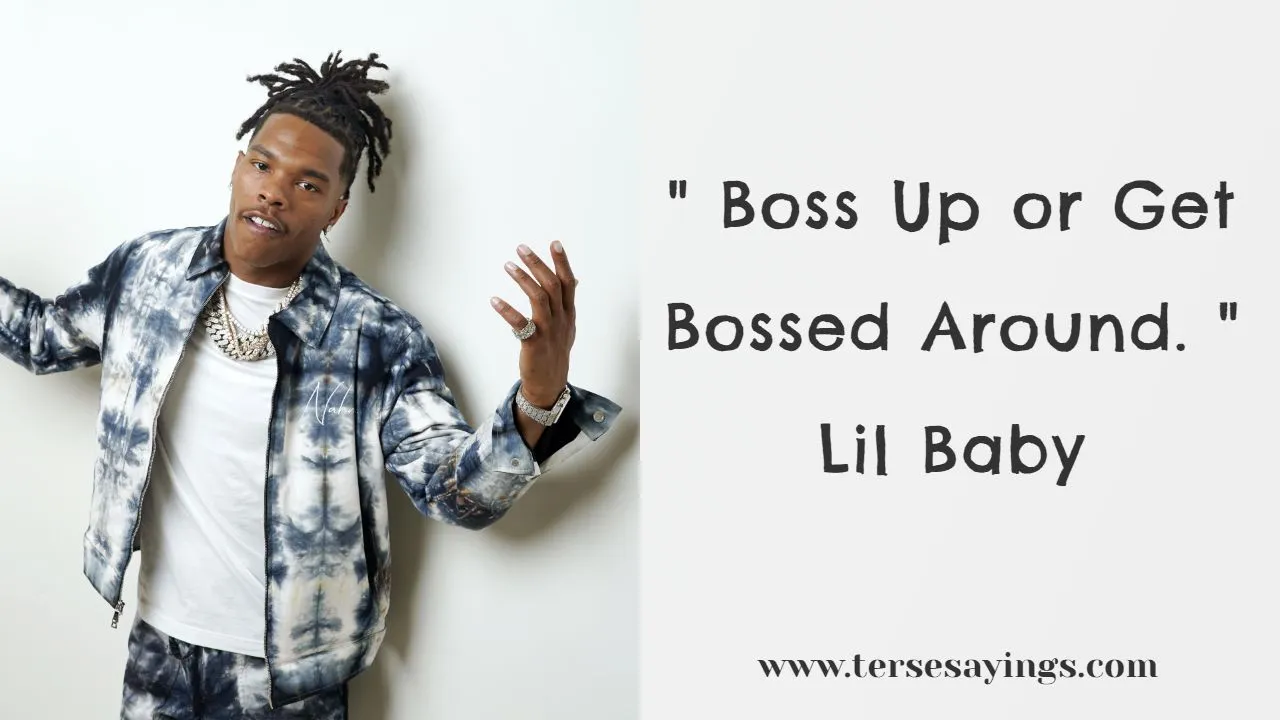 Boss Up or Get Bossed Around. Lil Baby
If you are the richest in the room you need a new room. Lil Baby
Ain't in competition with no one, I'm tryna ball wit ya. Lil Baby
I feel like whatever is meant is meant. I feel like this is already written. Lil Baby
If you learned a lesson it wasn't a loss. – Lil Baby
Sometimes you gotta go to a safe spot and just get some peace and rest. – Lil Baby
I know emotions come with lies, so I tell the truth all the time. Ain't got no sympathy for no bit*h. – Lil Baby
I know I wasn't there for you, at least I said I'm sorry. You know what it was, I told you that I was heartless. – Lil Baby
But don't listen to them haters tryna fill your ears with salt. Lil Baby
I want the best for you even if it's not with me. – Lil Baby
Lil Durk Quotes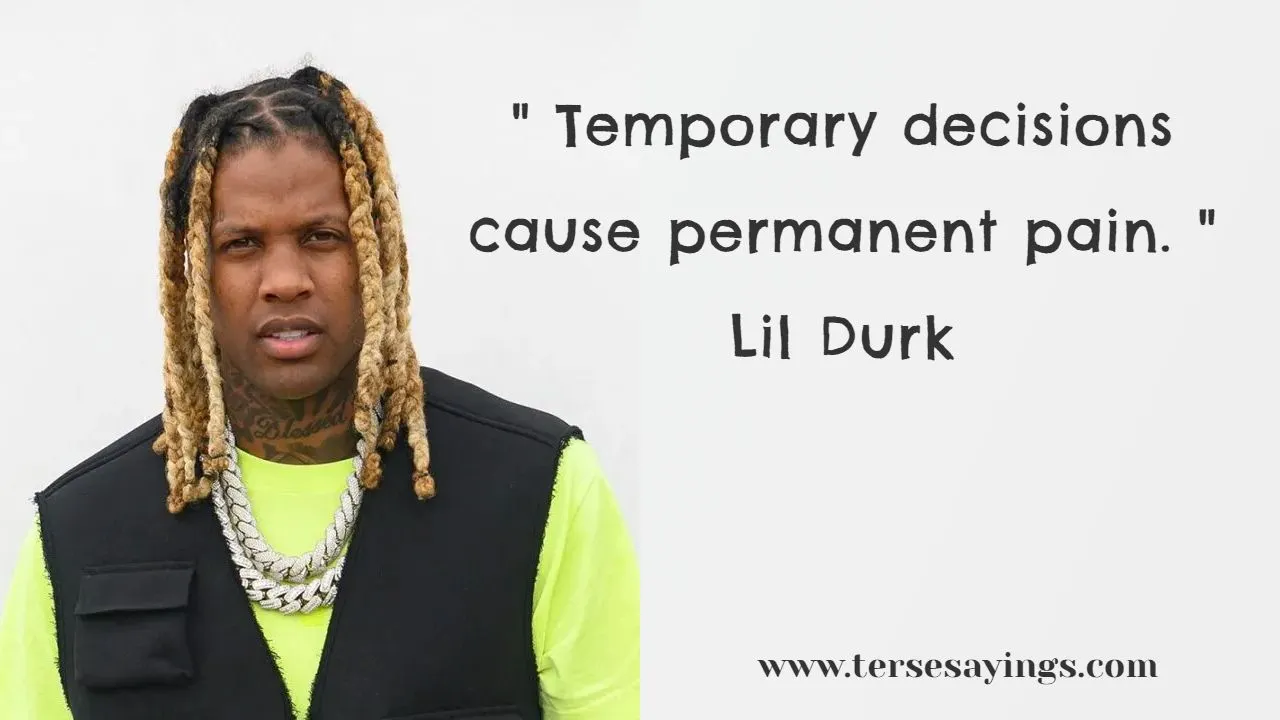 Money doesn't make us, we make money.
One thing I hate is a liar.
I look up to myself, tryna get better—always tryna get better.
Temporary decisions cause permanent pain.
Growth doesn't come with the people you expect to grow with you.
My message is just showing people how I came from nothing.
The family knows how I feel about them. I can do no deal without them. I can't even live without them.
Pay attention to every sign around you.
It never crossed my mind to cross my guys. I'm real with it.

Also read: 75+ Best Lil Durk quotes
Loyalty over all that made-up shit.
I'm on the road to riches, it's just a Lil traffic.
I'm happy with the person I become.
Everybody is always going to sound like somebody. You got to separate yourself.
I'm my own boss, you know?
Don't tell me that you love me if you ain't gone die for me.