These are one of the most well-known maleficent quotes, the infamous antagonist from Disney's Sleeping Beauty. Maleficent is the epitome of evil with her vicious intents and a sly grin. In contrast, she exhibits a more frightened and doubtful side in this quotation.
The maleficent quotes are potent and speak to the state of humanity. Although we all want to believe in happy endings, life is frequently bittersweet and painful. Insecurities and doubts can even be experienced by the most malevolent people, as maleficent quotes serve as a reminder.
Maleficent is one of the most iconic villains in all of fiction. She is the epitome of evil, and her story is one of the most tragic in all of Disney's pantheon. Maleficent was once a beautiful and kind-hearted fairy, but she was betrayed by the one she loved most and turned into a creature of pure hatred. She takes her revenge on humanity by cursing the newborn princess Aurora to die on her 16th birthday. But as Maleficent watches Aurora grow up, she begins to realize that the curse may not be as black and white as she thought. Slowly but surely, Maleficent's heart begins to soften and she comes to understand the power of love. In the end, she sacrifices herself to save Aurora, and in doing so, realizes that love is the most powerful force in the universe.
Inspirational Maleficent Quotes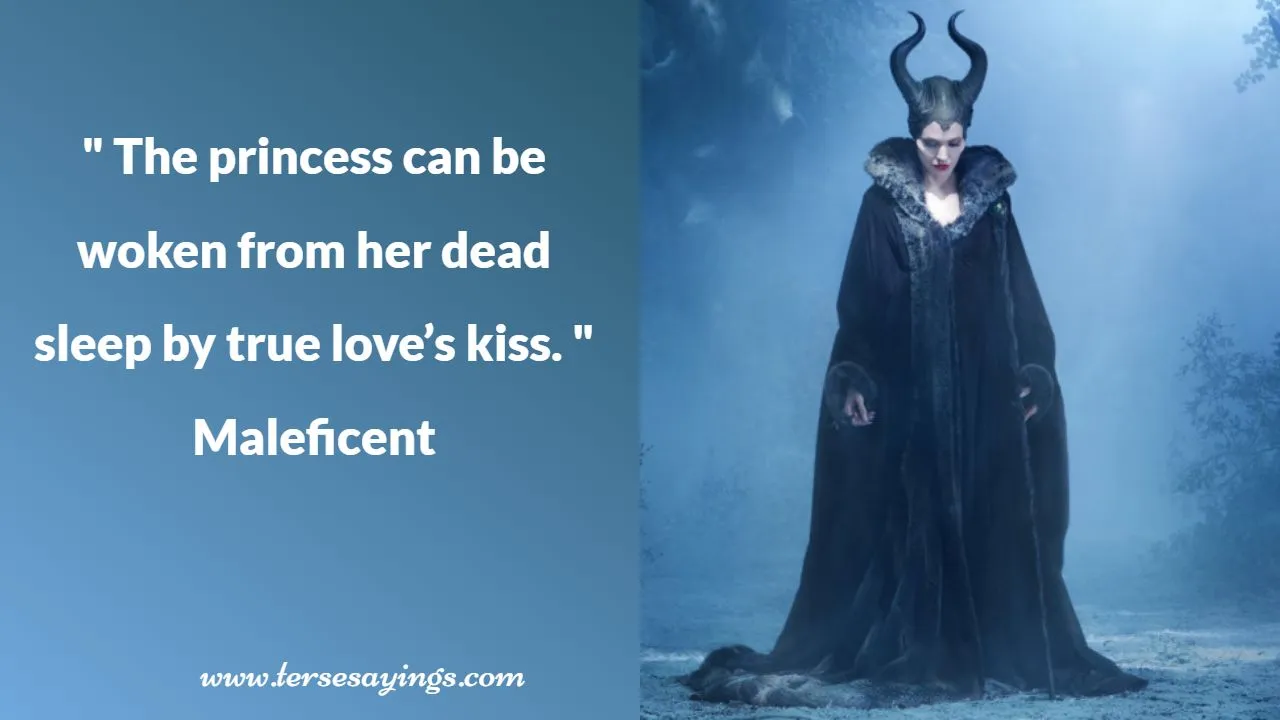 I will not ask your forgiveness because what I have done to you is unforgivable. – Maleficent
I was so lost in hatred and revenge. You stole what was left of my heart. – Maleficent
The princess can be woken from her dead sleep by true love's kiss. – Maleficent
As the tale was told over and over throughout the kingdom, Maleficent became evil once more. – Narrator
Aurora, there is evil in this world, hatred, and betrayal. And I cannot keep you from it. – Maleficent
I swear, no harm will come to you as long as I live. And not a day shall pass that I don't miss your smile. – Maleficent
Listen well, you all! The princess will indeed grow in grace and beauty. But before the sunset on her sixteenth birthday, she will prick her finger on a spindle of a spinning wheel, and she will fall into a sleep-like death! A sleep from which she will never awaken! – Maleficent
My son is marrying Aurora, and Maleficent is coming to dinner. – King John
I had wings once. They were strong. They could carry me above the clouds and into the headwinds, and they never faltered. Not even once. But they were stolen from me. – Maleficent
     Click here to read: 50+ Most Popular Dr. Evil Quotes from the Film Austin Powers
Well, well, what a glittering assemblage, King Stefan. Royalty, nobility, gentry, and, how quaint, even the rabble. I must say, I feel quite distressed not to receive an invitation. Oh dear, what an awkward situation. – Maleficent
And to show I bear no ill will, I too shall bestow a gift on the child. – Maleficent
Prince Phillip: I'm looking for a girl. Maleficent: Of course you are.
I call upon all the forces of nature! Fight with me now! – Maleficent
It's so ugly. You could almost feel sorry for it. – Maleficent
If I didn't know better, I'd say you were making a threat. – Queen Ingrith
Maleficent Quotes for Instagram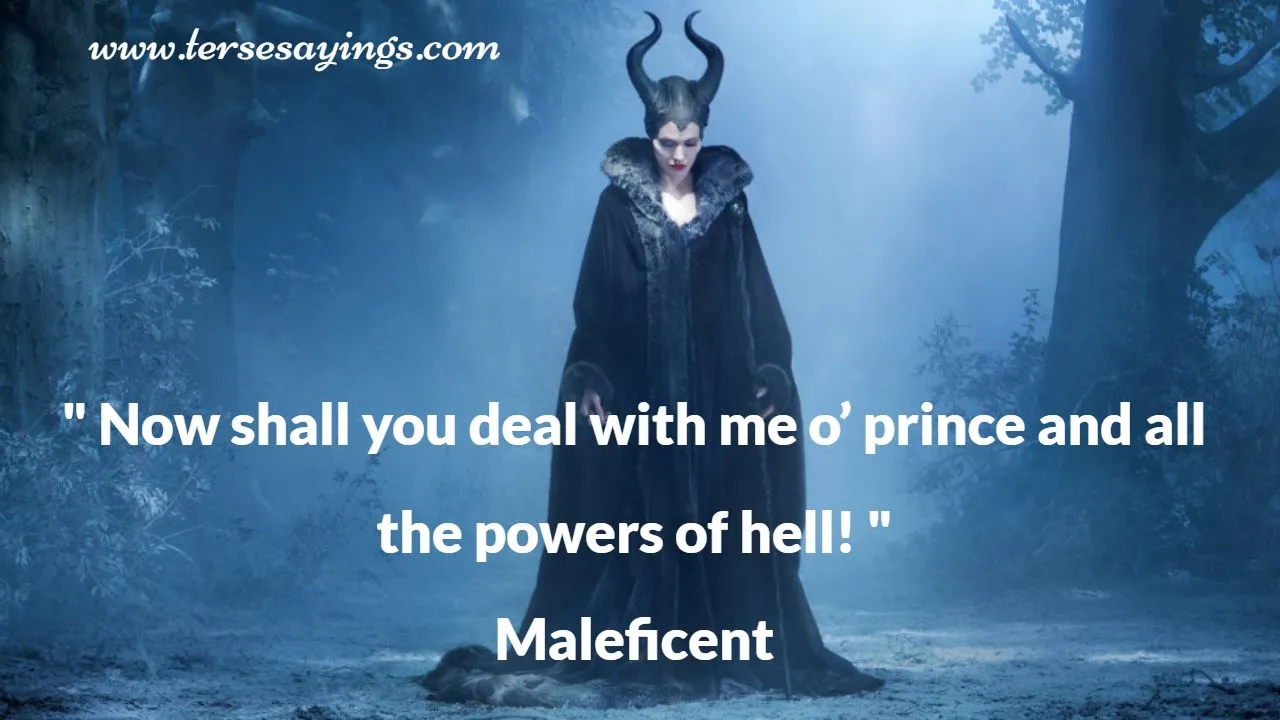 And to show I bear no ill will, I too shall bestow a gift on the child. -Maleficent
How quaint, even the rabble. -Maleficent
I have no daughter anymore. -Maleficent
Arise and stand with me! -Maleficent
Hello, Beasty. –Maleficent
I can't do it without you, Diaval. Please help me, Diaval. – Diaval
How wonderful. – Maleficent
     Also read: Best 70+ Blood In Blood Out Quotes From The Crime Drama Film
What have you done to my beautiful self? – Diaval
Faster, mule! – Maleficent
Oh, come on! That's funny. – Maleficent
Cradle? Did you hear that, my pet? All these years, they've been looking for a baby! – Maleficent
Now shall you deal with me o' prince and all the powers of hell! – Maleficent
No! We don't want your gift! – King Stefan
Yes, stay away! – Maleficent
Maleficent, please don't do this. I'm begging you. – King Stefan
Maleficent Quotations Cartoon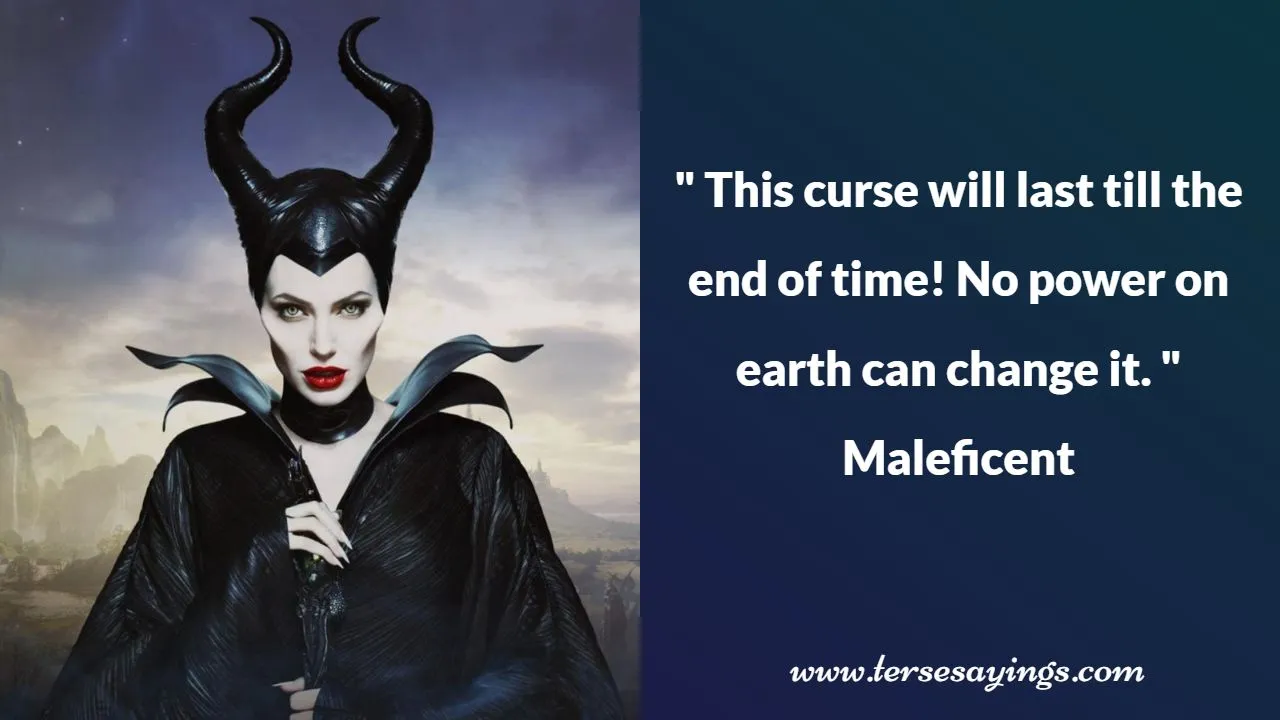 This curse will last till the end of time! No power on earth can change it. – Maleficent
There is no curse that could ever tear me away from you. – Prince Phillip
I fell in love with a girl in the forest—only her. I don't want you to change. – Prince Phillip
We are not defined by where we're from, but by who we love. – Priest
In the end, my kingdom was united not by a hero or a villain, as legend had predicted, but by one who was both hero and villain. – Princess Aurora
That boy is the answer! True love's kiss. – Diaval
      You may try this: Top Best 60 + Practical magic quotes fantasy romantic comedy film
She loves that boy, you know. You're doing her great kindness. – Diaval
But, as many thought, whenever they saw the graceful figure soaring through the air, it took a great hero and a terrible villain to make it all come about. And her name was Maleficent. – Narrator
Fools! Idiots! Imbeciles! Oh, they're hopeless. A disgrace to the forces of evil. – Maleficent
Don't ruin my morning. -Maleficent
Faster, mule! -Maleficent
I hate you, beasty. -Maleficent
Love doesn't always end well, beasty. -Maleficent
Oh, look! The little beast is about the fall off the cliff. -Maleficent
Short Maleficent Quotations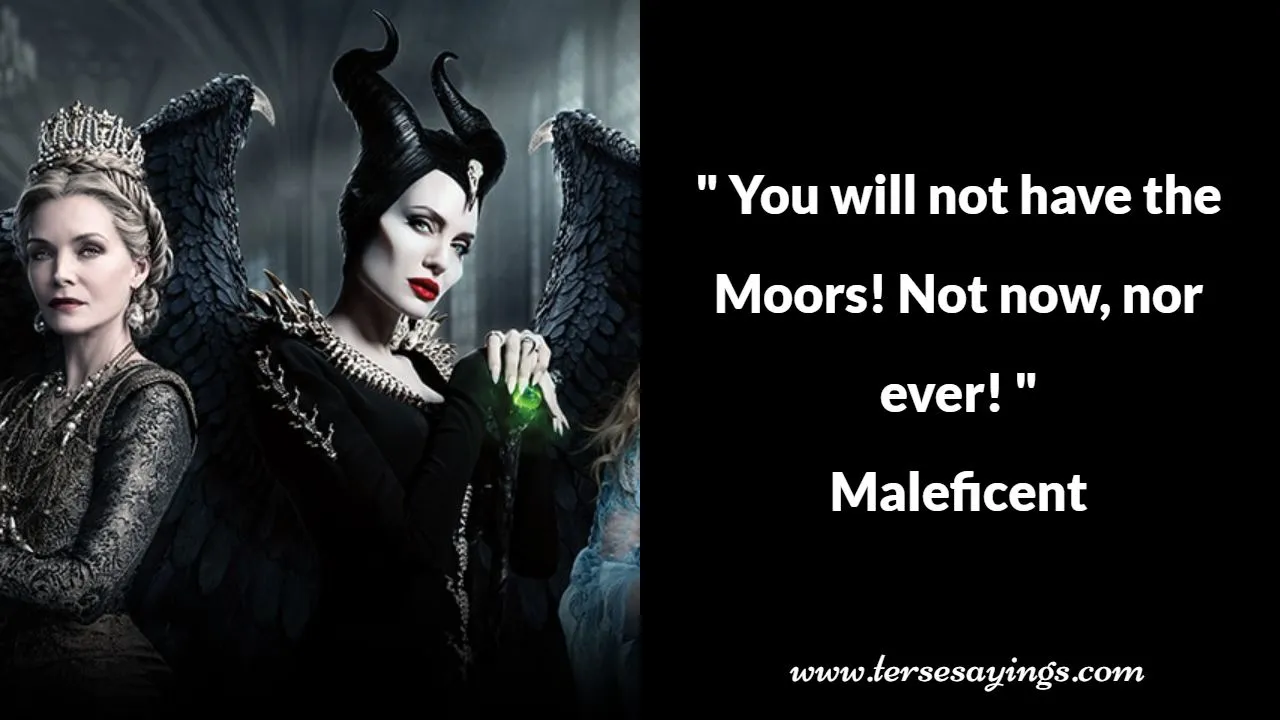 Pitchforks? Humans are hilarious. – Maleficent
You will not have the Moors! Not now, nor ever! – Maleficent
I have no daughter anymore. – Maleficent
She's not sleeping beauty anymore. – Knotgrass
Love doesn't always end well, Beastie. – Maleficent
No truer love. – Diaval
True love does not exist. – King Stefan
Your mother will learn to love who you love. – King John
I like you begging. Do it again. – Maleficent
      Also try this: Best 60 + famous Big Lebowski Quotes About Comedy film
He did this to me so he could be king. – Maleficent
You are no king to me. – Maleficent
Pull yourself together. – Maleficent
Don't ruin my morning. – Maleficent
It's over. – Maleficent
Oh, look! The little beast is about to fall off the cliff. – Maleficent
Maleficent Quotations about Her Wings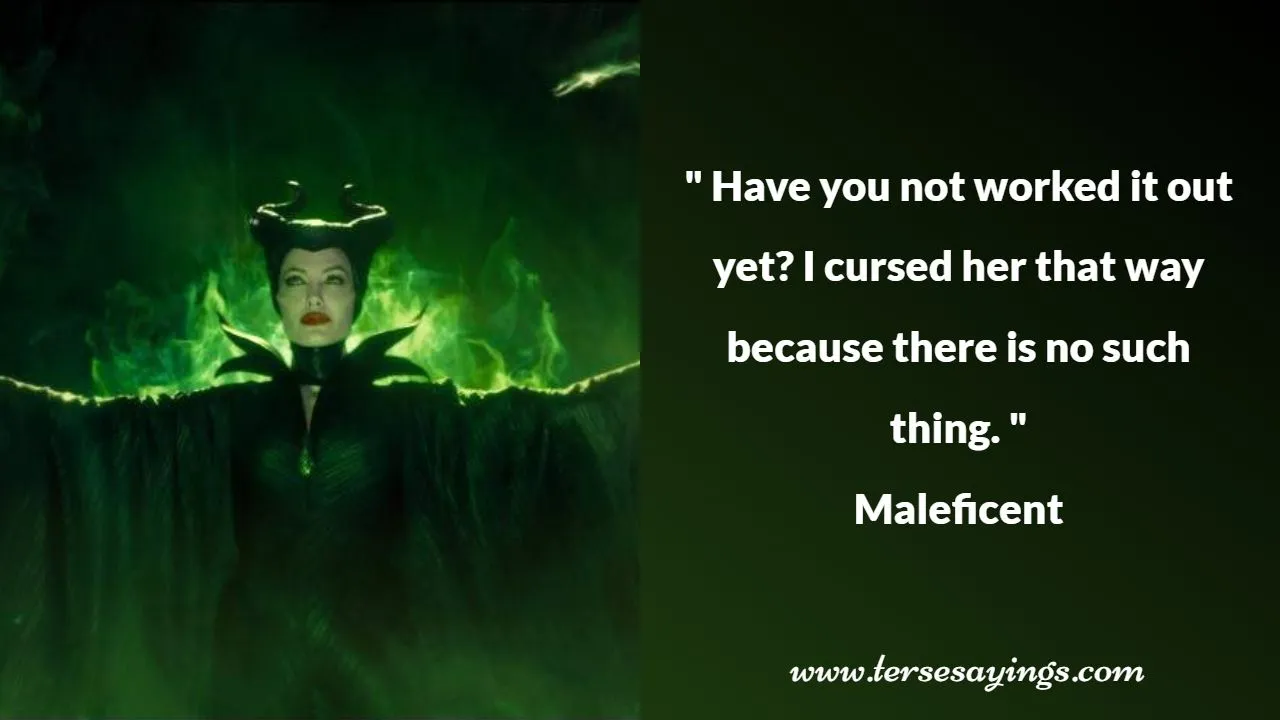 Ow! Your ring. Iron burns fairies. -Young Maleficent
I don't like children. -Maleficent
It's going to starve with those three looking after it. -Maleficent
He did this to me so he could be king… -Maleficent
Oh, come on! That's funny. -Maleficent
Have you not worked it out yet? I cursed her that way because there is no such thing. -Maleficent
Go no further! -Maleficent
     Don't forget to try this: Best 60 + famous Big Lebowski Quotes About Comedy film
Curious little beastie. -Maleficent
It's so ugly, you could almost feel sorry for it. -Maleficent
I'm not afraid. -Maleficent
Well, well. What a glittering assemblage, King Stefan. -Maleficent
I must say, I really felt quite distressed at not receiving an invitation. -Maleficent
I had wings once, and they were strong. They could carry me above the clouds and into the headwinds, and they never faltered. Not even once. But they were stolen from me. -Maleficent
Oh, dear! What an awkward situation. -Maleficent
I call on those who live in the shadows! Fight with me now! -Maleficent