Your skin, muscles, tendons, and ligaments can all be massaged by pushing, massaging, and manipulating them.
Here we have collected to you can easy to read about massage.
You'll be motivated to make an appointment for a massage quotes and sayings below.
You can control your health and wellbeing by using massage as a potential method of treatment. With the use of various essential oils, there are several types of massages that can range from gentle stroking to intense pressure. You can relieve bodily aches and stiffness by getting a massage. Additionally, it contributes to the body's increased energy and blood flow. It not only makes you feel more at ease but also lowers stress and strengthens your immune system. You may relax and heal your body by getting regular foot, head, or full body massages. After a messaging session, you feel more energized and awake. Therefore, it's frequently regarded as one of the best therapies to relieve muscle stress and tension.
You have a lot of choices if you were seeking for the best massage quotes to include in your relaxing Instagram posts. All of these will perfectly encapsulate putting your physical and mental wellness first in this crazy environment.
Massage Quotes
Happiness is a massage day.
Massage is always a good idea.
Massage… Make time for yourself!!
Massage day is the best day of the week.
Give your body a little love, it deserves it.
If fitness is your life. Massage is your prize.
A good foot massage can be a huge turn-on.
Massage is spending quality time with yourself.
Touch the body. Heal the mind. Calm the spirit.
On your feet all day? You owe your feet a massage.
One hour of getting a massage keeps the doctor away.
Massage is not just a luxury. It's a way to a healthier, happier life.
Read More:70+ Keep Your Head up Quotes To Motivate You In A Challenging Time
Aromatherapy without massage is like an orchestra without a conductor.
The way to health is to have an aromatic bath and a scented massage every day. ― Hippocrates
Oil your hair and take a head massage as often as possible for better blood circulation.
3 things you must do today: schedule a massage, get a massage, and schedule your next massage.
They say you can't buy happiness. But you can buy a massage, and that's kind of the same thing.
Happiness is… having a massage therapist annihilate that spot that has been bothering you for the past week.
Abdominal massage benefits: Colon, liver, gall bladder, stomach, appendix, spleen. ― Amy Jane Stewart, LMT
To me luxury is to be at home with my daughter, and the occasional massage doesn't hurt. ― Olivia Newton-John
I am pain-removing health improving back repairing always caring muscle kneading stress relieving miracle working massage therapist.
Happy St. Patrick's Day! Who else feels lucky to be part of the massage profession and provide healing and relaxation in our clients' lives?
Types of massage: Swedish, deep tissue, Rolfing, sports, pregnancy, hot stone, reiki, cupping, myofascial, Thai, lymphatic, acupressure, reflexology.
Massage Quotes Inspirational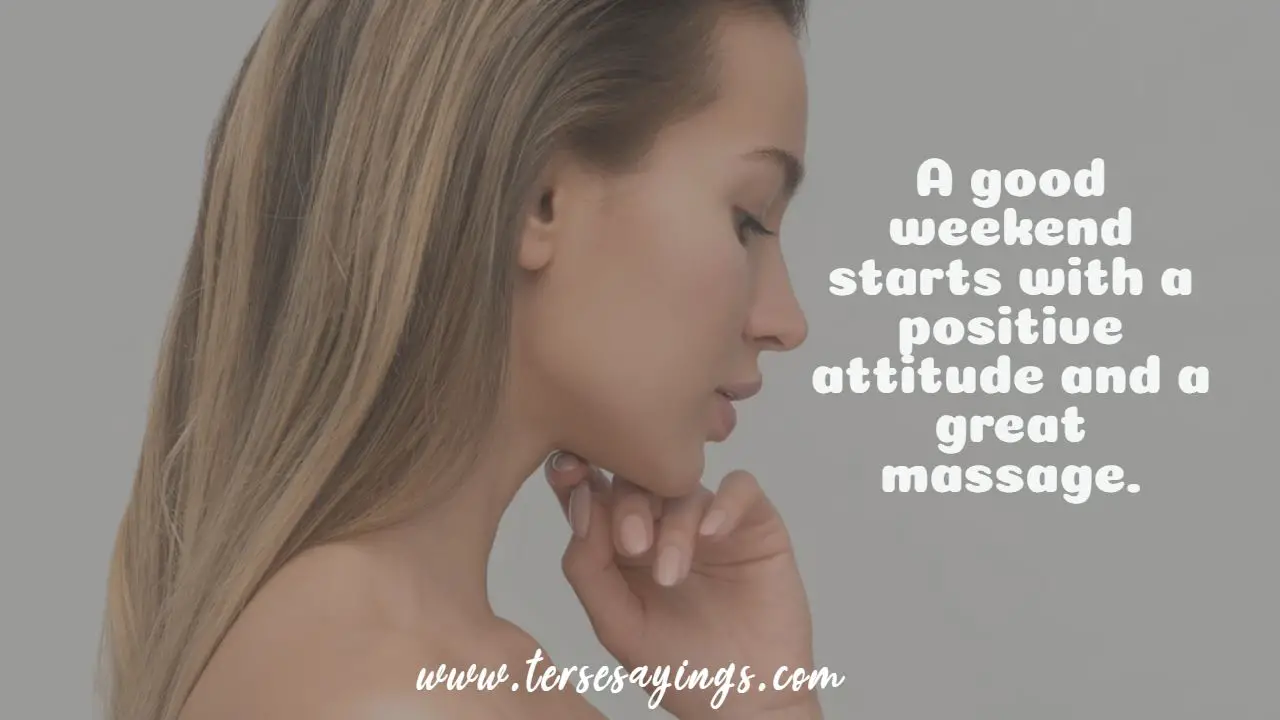 A good weekend starts with a positive attitude and a great massage.
Find a way to get a full-body massage every day.
Turn an ordinary Tuesday into a terrific Tuesday. Schedule a massage.
Give the gift of a therapeutic, stress-relieving, relaxing massage. Relax.
Sometimes the best thing to do is just call it a day and go get a massage.
May your coffee be strong, and may your message be long… Happy Monday!
The massage therapist doesn't ask questions, the massage therapist understands.
Relax, enjoy, and rejuvenate. Make massage a regular part of your well-being routine.
Read More:Best 80+ Expectations Quotes to Help Manage Your Own Life
Anyone wishing to study medicine must master the art of massage. ― Hippocrates
Saturday is a day for the spa. Relax, indulge, enjoy, and love yourself, too.
Friday Fact: Massage stimulates the release of endorphins, the body's natural painkillers.
Please grant me coffee to change the things I can and massage to accept the things I can't.
Massage can help: Fibromyalgia, arthritis, anxiety, carpel tunnel, hypertension, and migraines.
Stress, headache, anxiety, toxins, pain, depression, muscle aches. Let it all go with a massage.
A massage is just like a movie, really relaxing and a total escape, except in a massage you're the star. And you don't miss anything by falling asleep! ― Elizabeth Jane Howard
I love a long, deep-tissue massage where they get in there and remove the knots! ― Ashley Roberts
Funny Massage Quotes And Sayings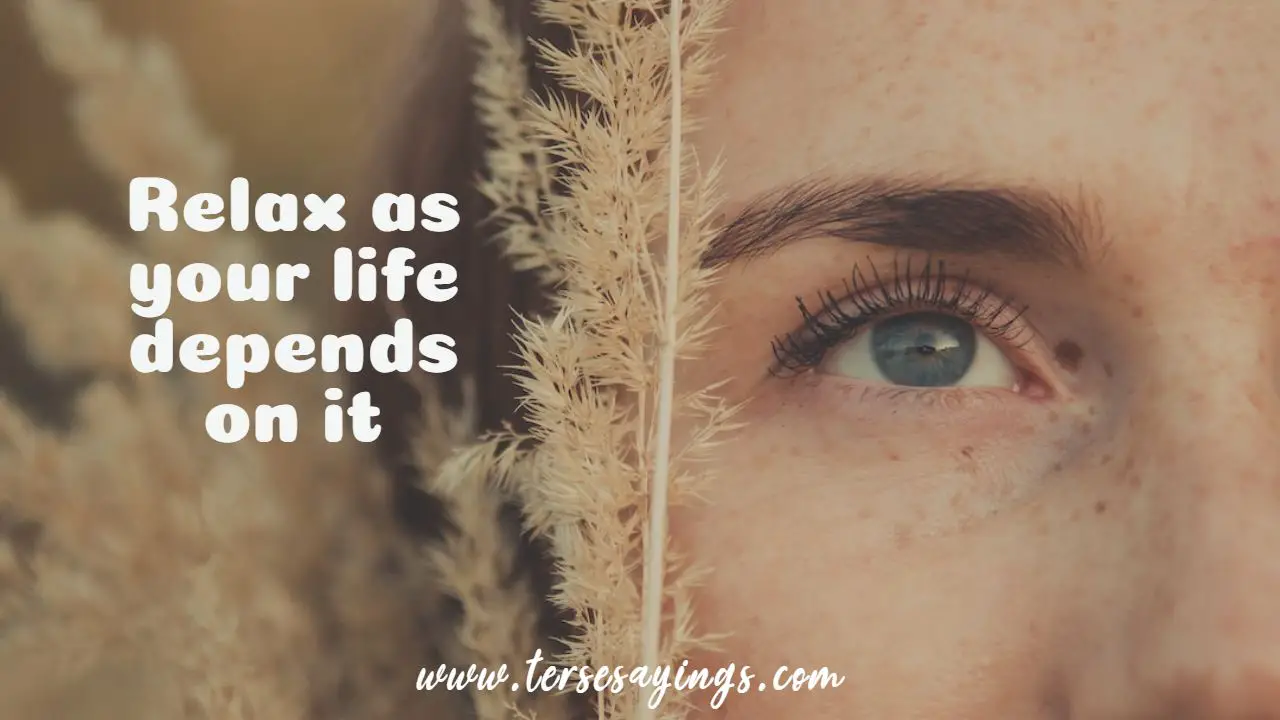 Relax as your life depends on it
Having Fabulous Nails is a choice!
Trust me. You need me to knead you
All I want is world peace and a pedicure
Life is not perfect. But your nails can be!
Monday; nothing a good massage can't fix!
Great Nails will often solve many problems.
A beautiful day at the spa is what I call heaven on earth.
Grab your girls and make it a spa day because you deserve it.
On-site corporate chair massage – show your employees your appreciation for all their hard work.
You heard Marcellus .raw Tony out of a woman-story window for giving me a foot massage? ― Movie: Pulp Fiction
Roses are red, violets are blue, and your stress is out of control. Let me massage you. Happy Valentine's Day from massage!
I don't fear death because I don't fear anything I don't understand. When I start to think about it, I order a massage and it goes away.
Massage Quotes For Instagram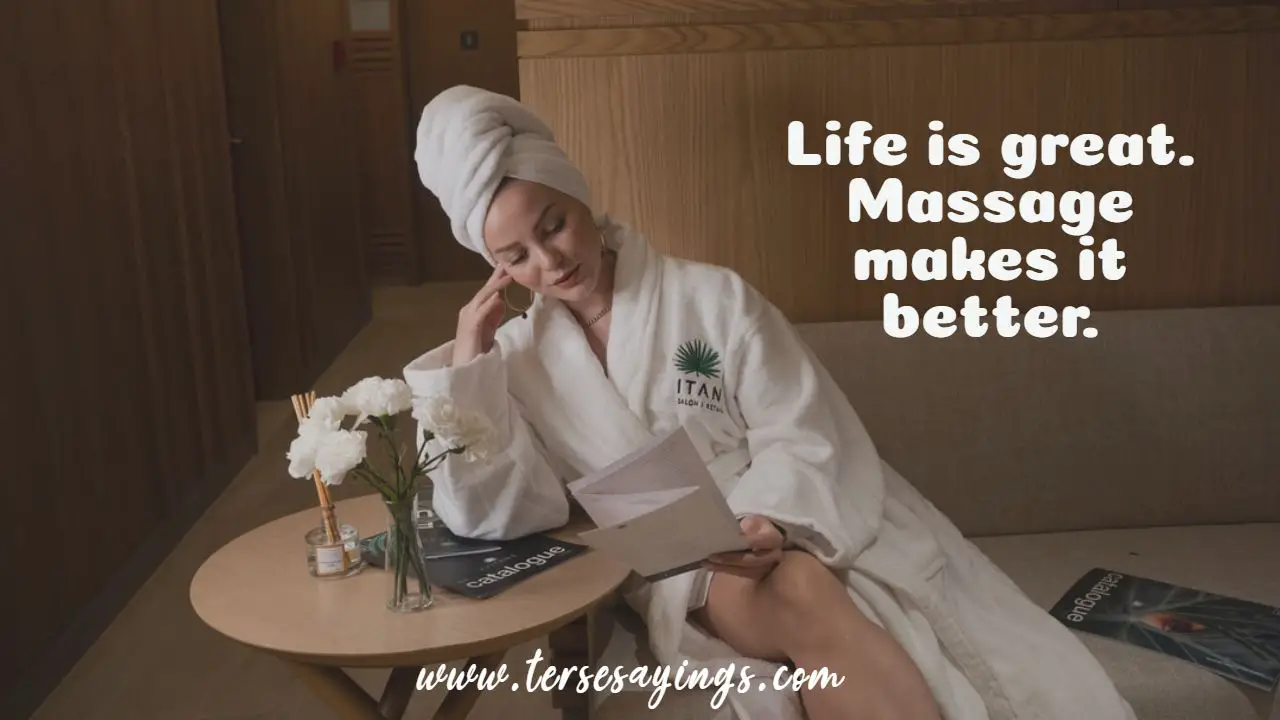 Life is great. Massage makes it better.
Every day is a great day for a sauna day
When your brain needs a hug.
Relaxation is a stepping stone to tranquility.
Massage is a luxury you can't afford to miss.
You are one massage away from a good mood.
Massages are luxuries you can't afford to miss.
Touch the body. Heal the mind. Calm the spirit.
Monday blues? The answer is always a massage.
Read More:Best 60+ Famous Black Queen Quotes And Sayings
Remember to relax and rejuvenate this summer.
It's Friday, don't forget to book a massage today!
Beautiful skin requires commitment not a miracle.
Massage is very important for relaxing. ― Andrew Tan
Chair massage is a quick de-stress and a quick time out.
Sometimes you have to just let go…. and have a spa day!
Sometimes the most productive thing you can do is relax.
Massage is the study of anatomy in braille – Jack Meagher
Aging is a fact of life. Looking your age does not have to be.
Great skin doesn't happen by chance, it happens by appointment.
I may not be a superhero but I'm a massage therapist and killing it!
The time to relax is when you have no time for it. ― Sydney J. Harris
Short Massage Quotes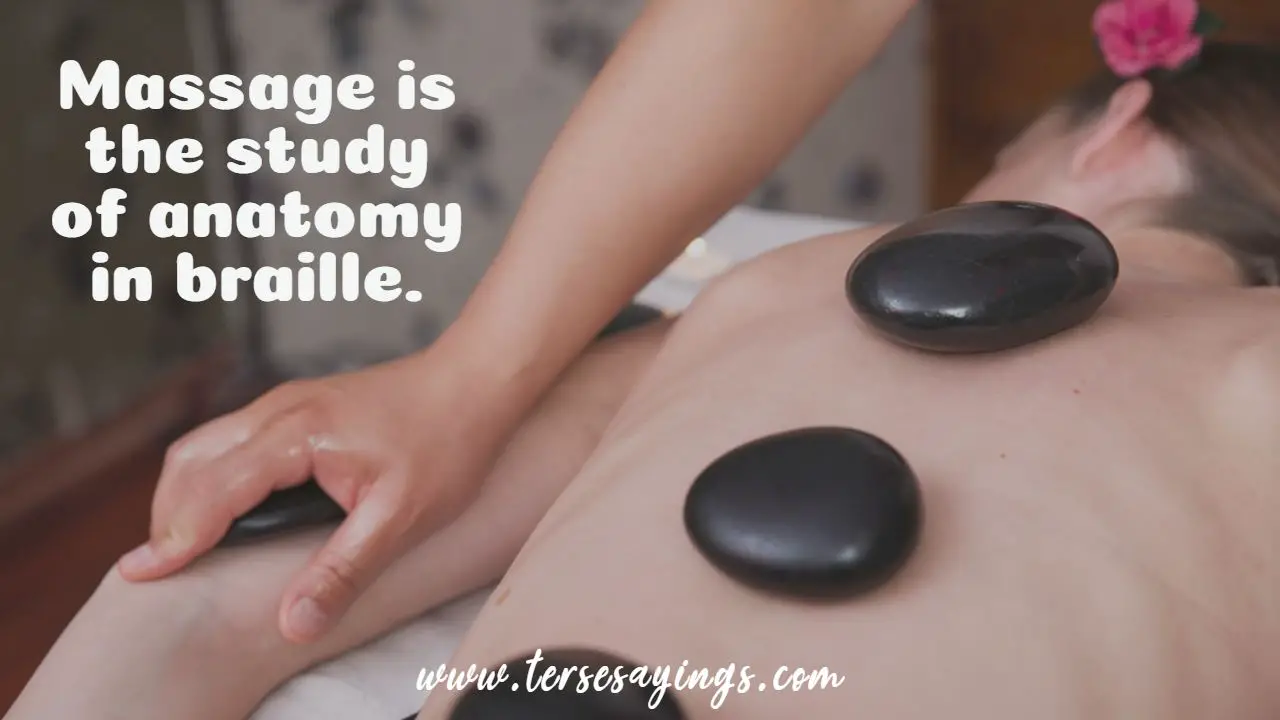 Massage is the study of anatomy in braille. ― Jack Meagher
Never put off your massage until tomorrow if you can get it today. ― Thomas Jefferson
We have nothing to fear but missing our massage appointment time. ― Franklin D. Roosevelt
I like getting massages regularly. So much so, that I built a massage room adjacent to my office.
Massage is the only form of physical pleasure to which nature forgot to attach consequences.
It's Monday, time to sparkle and shine!
Love is… when he gives you a foot massage.
Take care of your body. It's the only place you have to live.
I love a good massage, and self-care goes deep. ― Zo Lister-Jones
If you listen to your body when it whispers, you won't have to hear it scream.
Massage therapists listen with their hands and their hearts.
Beautiful skin doesn't come from makeup it comes from your esthetician.
Taking time out each day to relax and renew is essential to living well.
Don't Forget To Read:Best 60 + Racing Quotes That Will Help In Your Life