To discover the real, capable, and strong woman you are, read these wild woman quotes. A woman who is free-spirited, independent, and doesn't want to be controlled by anybody is referred to as a wild woman. A highly developed being with taste and attitudes in line with society, a wild lady. She is an individual who opposes the patriarchal world in which we live and allows her emotions to run like a river. Wild women follow their own set of guidelines and don't look back on their decisions.
No one is able to restrain the wild lady from being herself. She enjoys being a free spirit and is always in transition since she is certain that she has the will and confidence to express herself without restraint.
Motivational Wild Woman Quotes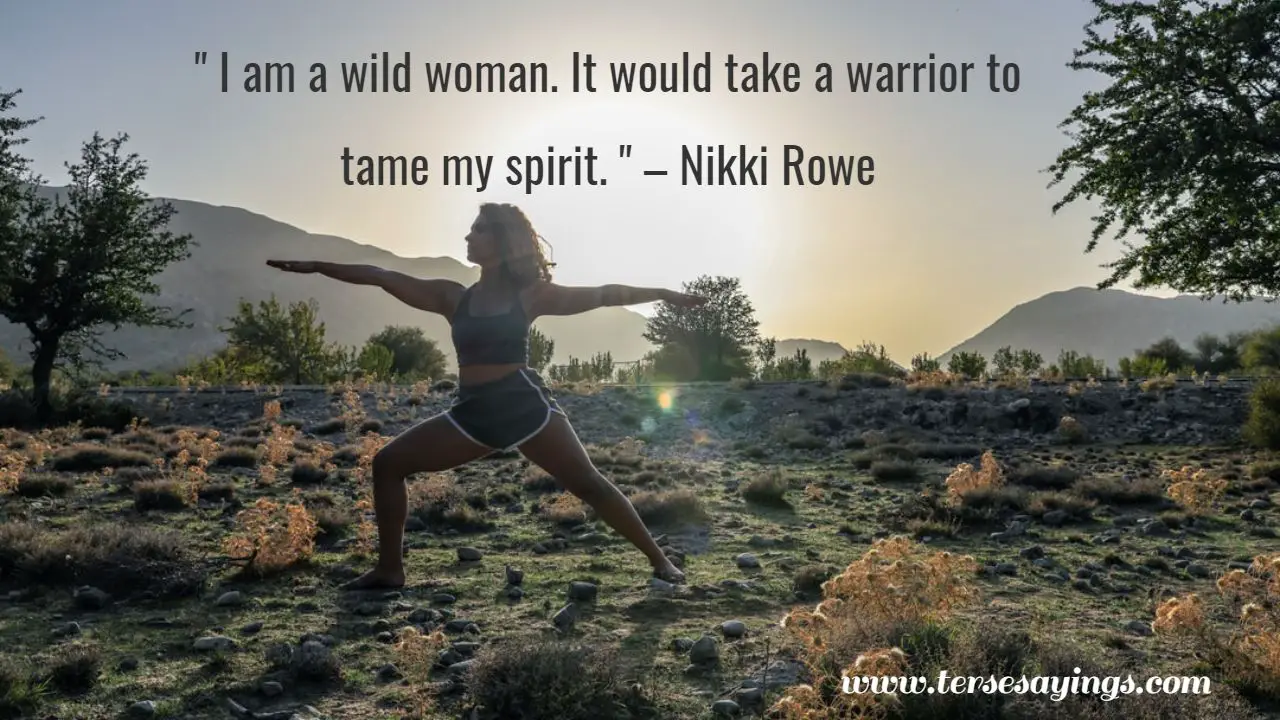 I am a wild woman. It would take a warrior to tame my spirit. – Nikki Rowe
Baby, I'm not afraid. I've been to hell and back. I'm a free spirit, a wild child, and a renegade. – Mishi McCoy
Not everyone will notice the way you shine, but you will shine all the same in beautiful, natural ways. – Morgan Harper Nichols
If you have ever been called defiant, incorrigible, forward, cunning, insurgent, unruly, rebellious, you're on the right track. Wild woman is close by. – Dr. Clarissa Pinkola Estés
She had a gypsy soul and a warrior spirit. they made no apologies for her wild heart. She left normal and regular to explore the outskirts of the magical and extraordinary. And she was glorious. – Michele Rose Gilman
Wild women are an unexplainable spark of life. They ooze freedom and seek awareness, they belong to nobody but themselves yet give a piece of who they are to everyone they meet. – Nikki Rowe
     Click here to read: 100+ Most Famous Cesar Chavez Quotes that show that nothing is impossible
There is no one a wildish woman loves better than a mate who can be her equal. – Clarissa Pinkola Estés
The parts for women, you're either like the quietly suffering wife or the wild girl. – Lauren Graham
You call yourself a free spirit, a 'wild thing,' and you're terrified somebody's gonna stick you in a cage. – Truman Capote
The wild woman speaks with her own voice, walks her path fiercely, talks with grace and dignity—she dances to the rhythm of her own drum.
Wild moon woman, you were not made to be tame. You are an earthquake shaking loose everything that is not a soul. Shake, woman, shake!
Free Spirit Wild Woman Quotes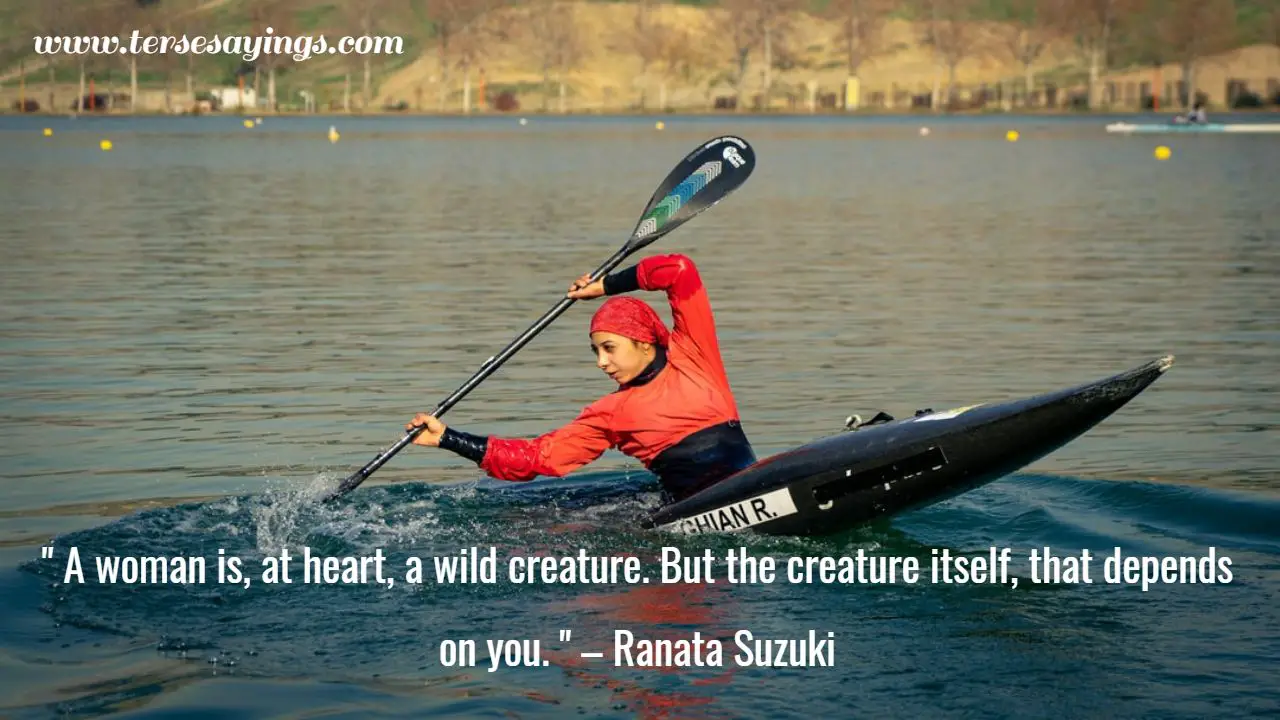 Her messy hair is a visual attribute of her stubborn spirit. As she shakes it free, she smiles knowing 'wild' is her favorite color. – Bessie Roaming
A woman is, at heart, a wild creature. But the creature itself, that depends on you. – Ranata Suzuki
She was a wild one; always stomping on eggshells that everyone else tip-toed on. – Kaitlin Foster
I am not eccentric. It's just that I am more alive than most people. I am an unpopular electric eel set in a pond of catfish. – Edith Sitwell
Some days I am more wolf than woman, and I am still learning how to stop apologizing for my wild. – Nikita Gill
She is delightfully chaotic. A beautiful mess. Loving her is a splendid adventure. – Steve Maraboli
      Also read: Best 100+ Sailor Moon Quotes to Empower Women and Girls
I am the woman you didn't prepare for, the one you can't quite grasp yet can't forget. – Nikki Rowe
The wild winds called to her soul and through the ground, she felt the thundering hooves of freedom. – Shikoba
The wild woman is fluent in the language of dreams, images, passion, and poetry. – Dr. Clarissa Pinkola Estés
She was like the sun. they knew her place in the world. She would shine again regardless of all the storms and changeable weather. We wouldn't adjust her purpose for things that pass. – Nikki Rowe
She had absolutely nothing to lose. they found freedom. – Paulo Coelho
My inner landscape? It's pure wilderness, darling, and the wolves are running. – Jeanette LeBlanc
She had this way of making you see life differently, a little ray of light in an ordinarily dim world. – Nikki Rowe
Short Wild Women Quotes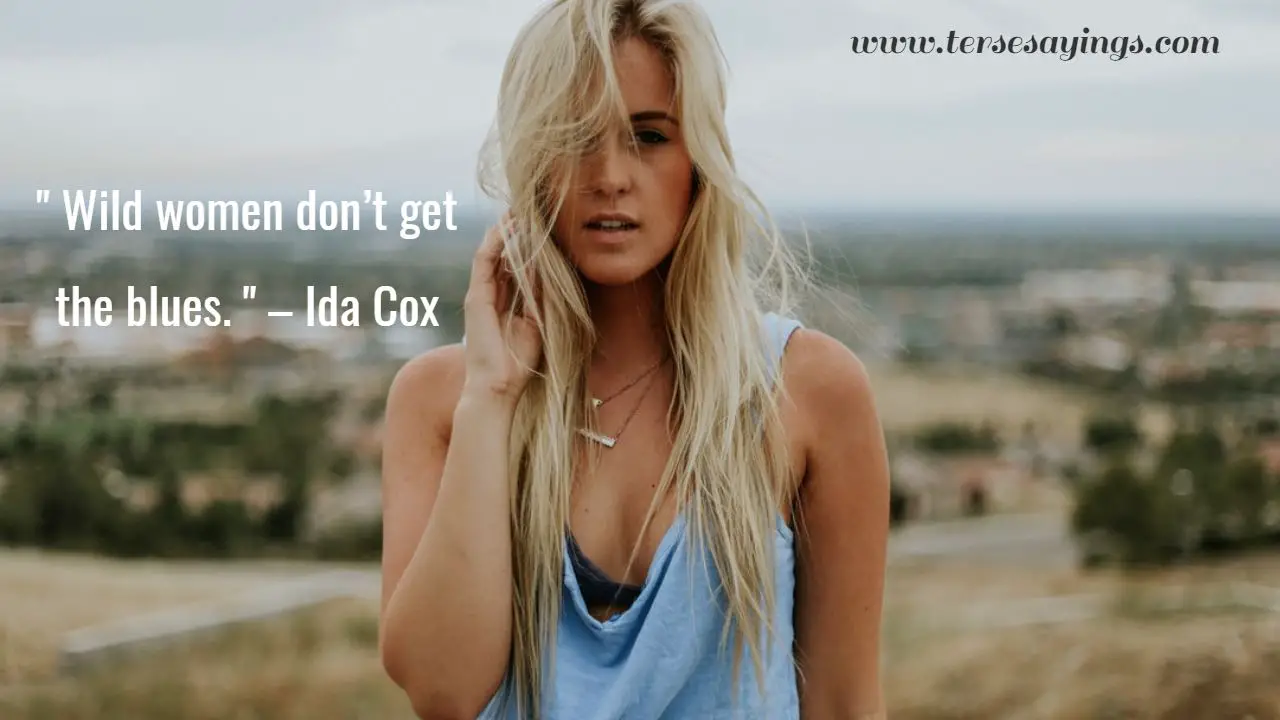 Wild women don't get the blues. – Ida Cox
A wild woman is in ceremony with life itself, and so her entire life is a living prayer. – Christina Sutra
Her love is rare but she'll keep you wild. – Nikki Rowe
She was a wild, wicked slip of a girl. She burned too brightly for this world. – Emily Bronte
Like a wolf, she lived by instinct. – Nikki Rowe
Be good to her, she's rare. – R. H. Sin
They tried to burn her not knowing she was a flame. – R. H. Sin
When she walked, it was as if the earth walked with her. – Kasia Urbaniak
    You may like to read: The Best 50 + Warrior Woman Quotes Images About The World Inspirational Women
She's mad but she's magic. There's no lie in her fire. – Charles Bukowski
My wild spirit is my deepest truth, my greatest expression, and my highest love. – Adrienne Enns
Some are born to play it safe, others are born to live it wild. – Nikki Rowe
Don't settle your wild, find a man who doesn't want to tame it. – Nikki Rowe
If you obey all the rules, you miss all the fun. – Katharine Hepburn
These people will try to manipulate you, try to bring you down but remember, baby girl, you are a queen. Own your crown. – Nikki Rowe
Strong Women Quotes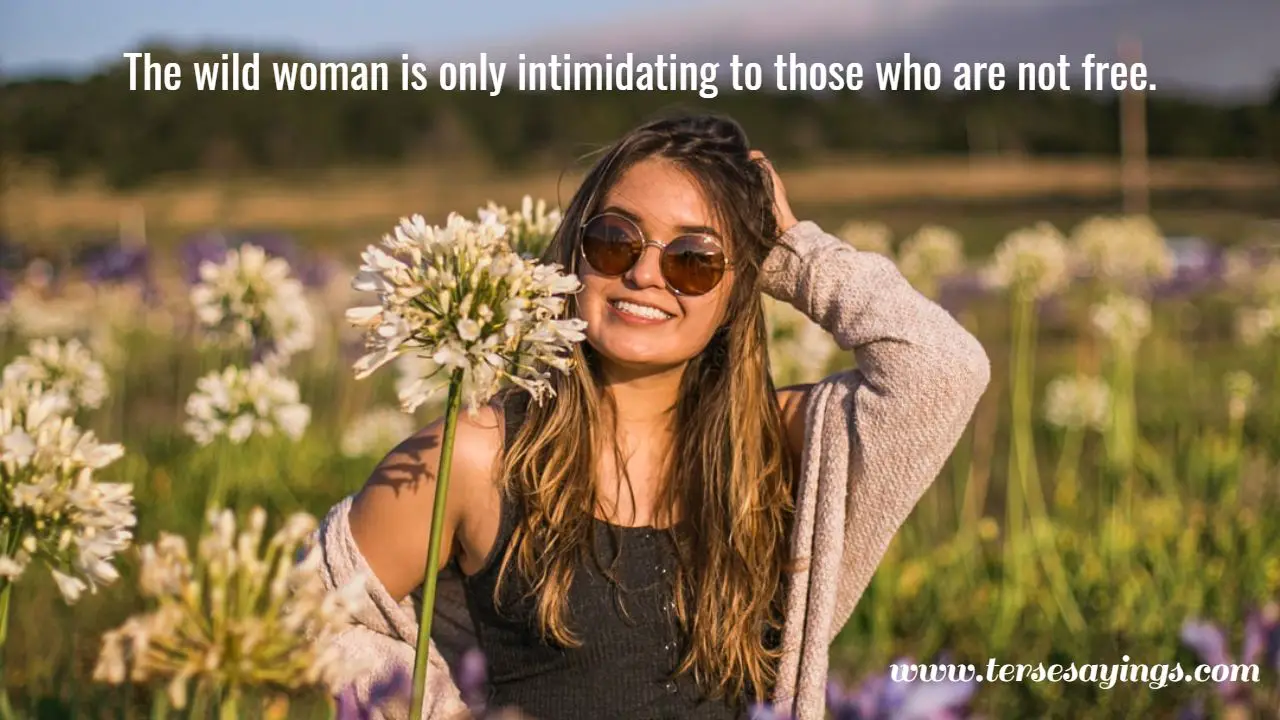 Maybe some women aren't meant to be tamed. Maybe they just need to run free until they find someone just as wild to run with them. – Candace Bushnell
Women always try to tame themselves as they get older, but the ones who look best are often a bit wilder. – Miuccia Prada
There is a part of us that can never, ever be happy until the gypsy can dance. – Dr. Clarissa Pinkola Estés
The wild woman is only intimidating to those who are not free. – Anonymous
A succulent wild woman is one of any age who feels free to fully express herself in every dimension of her life. – Sark
Go out in the woods, go out. If you don't go out in the woods nothing will ever happen and your life will never begin. – Dr. Clarissa Pinkola Estés
You're under no obligation to be who people think you are. Change, grow, rearrange yourself. Free and beautiful things always bloom and spark with no holding back. – Charlotte Eriksson
A woman is a full circle. Within her is the power to create, nurture, and transform. – Diane Mariechild
     Also read: Best 60+ White Chicks Quotes about the Comedy Film
Practice listening to your intuition, and your inner voice; ask questions; be curious; see what you see; hear what you hear, and then act upon what you know to be true. These intuitive powers were given to your soul at birth. – Dr. Clarissa Pinkola Estés
I was made to be wild, wicked, and free, to carve out my own crazy destiny, to find a place in this world where I can be the most authentic version of myself. – Christy Ann Martine
She has fought many wars, most internal. The ones that you battle alone, for this, she is remarkable. She is a survivor. – Nikki Rowe
Quotes about Being Wild and Free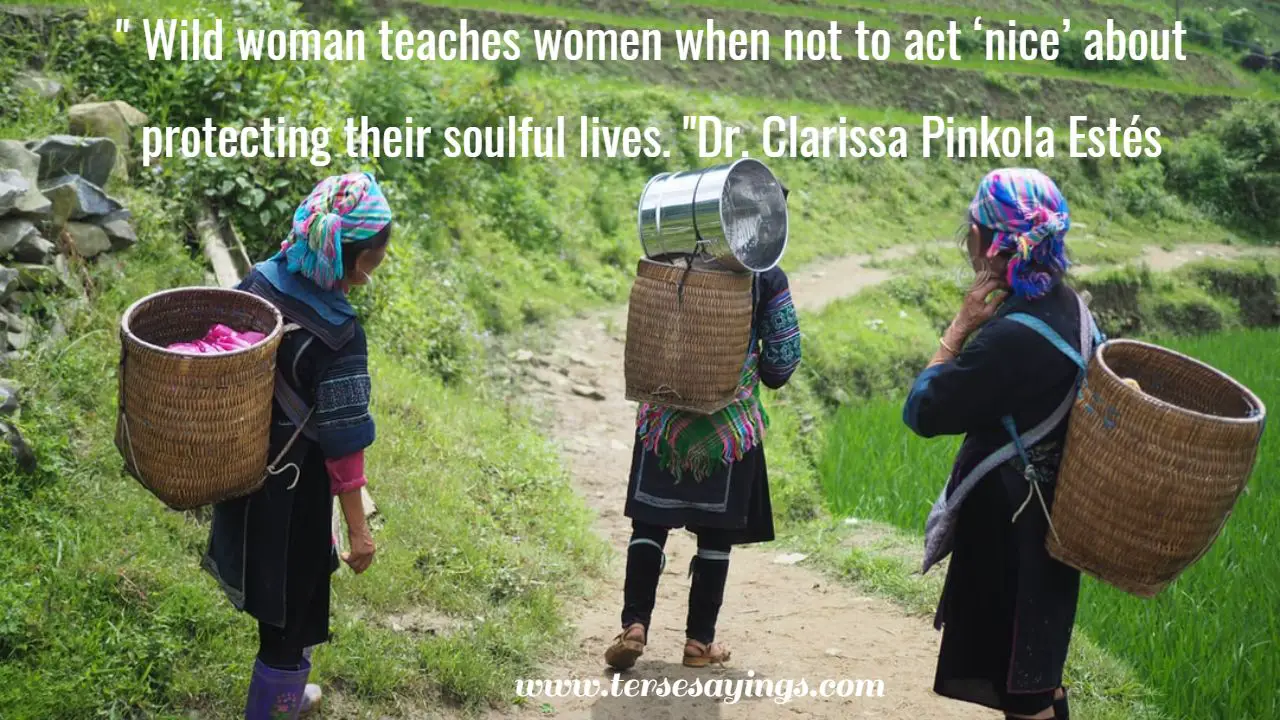 A woman whose smile is open and whose expression is glad has a kind of beauty no matter what she wears. – Anne Roiphe
You could tell she was a free spirit, a gypsy, just by looking at her. A smile like that doesn't come from a sad soul. – Nikki Rowe
My true ecstasy is to hunt, seek, and find new things in life. – Helen Edwards
I am a part of the group of wild ones, us women who speak to the moon. We crave passion, live with wide-open hearts and we wear our hearts on our sleeves too. – Nikki Rowe
She is like magic, completely untouchable. Only those aligned with themselves, know the secret to still feeling her. – Nikki Rowe
Wild woman teaches women when not to act 'nice' about protecting their soulful lives. – Dr. Clarissa Pinkola Estés
She had something more than material value—she had a soul, no money could buy. – Nikki Rowe
I am not afraid of storms, for I am learning how to sail my ship. – Louisa May Alcott
     You may like this: Best 60+ Being Used Quotes and Sayings
She was the type who chased, who danced into your life like a spring storm, and left you battered and quaking in the wake. – Katherine McIntyre
You can't break a woman like that. She carries an esoteric mind with an oracle soul, she's fiercely connected to spirit whilst dancing the human dance. – Nikki Rowe
She may feel she will die if she doesn't dance naked in a thunderstorm, sit in perfect silence, and return home ink-stained, paint-stained, tear-stained, and moon-stained. – Dr. Clarissa Pinkola Estés
If you have met one, hold on to her, she'll allow you into her chaos but she'll also show you her magic. – Nikki Rowe
She's a gypsy girl living in a materialistic world, unattached to most things but in love with life itself. – Nikki Rowe
Love us as we are, we create our own rules. – Anonymous
Wild Woman Quotes Clarissa
Promise me one thing, wild child, never filter your soul to suit a mold. – Nikki Rowe
I am a wild, wandering nomad, I belong everywhere and nowhere all at the same time, and in that gap between worlds, I am free. – Riitta Klint
They asked her, 'How did you free yourself?' She answered, 'By embracing my own power.' – Yung Pueblo
She was wild and free with a dab of logic in between, chasing her dreams and following her heartbeat. – Nikki Rowe
Oh, darling, you're only too wild, to those who are too tame, don't let opinions change you. – Nikki Rowe
Listen to me, you are a half ocean girl, with wild that you still have to unlock from your soul. No man can help you discover who you are, this is a thing you must do on your own. – Nikita Hill
She was a rule-breaker, never settling her fierce spirit for things built of structure. – Nikki Rowe
      Also read: 100+ Most Popular Billie Eilish Quotes That Will Brighten Your Day
So we all love a wild girl keeping a hold on a dream she wants. – Carl Sandburg
She was born to be free, let her run wild in her own way and you will never lose her. – Nikki Rowe
You were wild. Don't let them tame you. – Anonymous
I don't paint what people expect, I paint what my heart yearns to express. – Nikki Rowe
The world always tried to tame her, but she wore rebellion quite well. She lives in a state of euphoria after dancing decades through hell. – Nikki Rowe
Brave is the man who loves a wild woman. – Anonymous
Total exposure had seemed like the only way to be seen more clearly, heard, but now it seemed the opposite: a wild act that would define me. – Aspen Matis
Inspirational Wild Women Quotes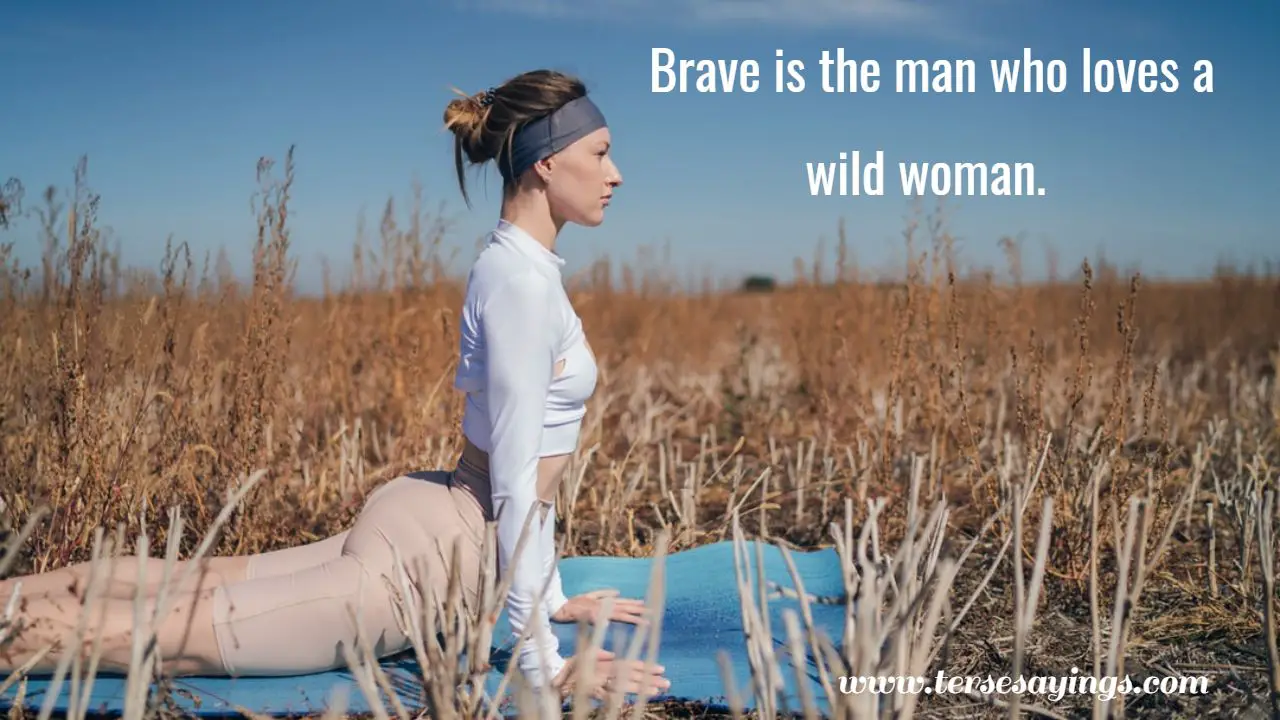 You can give illness to her body but you can't take the gypsy out of that girl. – Nikki Rowe
One woman is a tiny divine spark in a timeless sisterhood tapestry collective; all of us are wild women. – Jan Porter
A woman has to live her life or live to repent for not having lived it. – D.H. Lawrence
I must be a mermaid—I have no fear of depths and a great fear of shallow living. – Anaïs Nin
Many speak to her but she's looking for the one who knows her soul's language. – Nikki Rowe
Bone by bone, hair by hair, the wild woman comes back. Through night dreams, through events, half understood and half-remembered. – Dr. Clarissa Pinkola Estés
I'm not a girl that will lay in diamonds but I will run through the flowers of the seeds we plant together. – Nikki Rowe
     Don't forget to read: Best 60+ Famous Black Queen Quotes And Sayings
She was wild because there were flying things flapping around inside of her, trying to escape her eyes! – C. Joybell C.
Women often crave a mate who has endurance and the wit to continue trying to understand her deep nature. – Dr. Clarissa Pinkola Estés
You won't forget a woman like her, easily anyway. Once you cross paths with magic, it's hard to see life the same. – Nikki Rowe
I will never become a well-behaved woman. – Janne Robinson
We must lose our wild hearts from time to time, I believe. We must so that we know why we need them. – Jeanette LeBlanc
Deep Wild Woman Quotes That'll Have You Thinking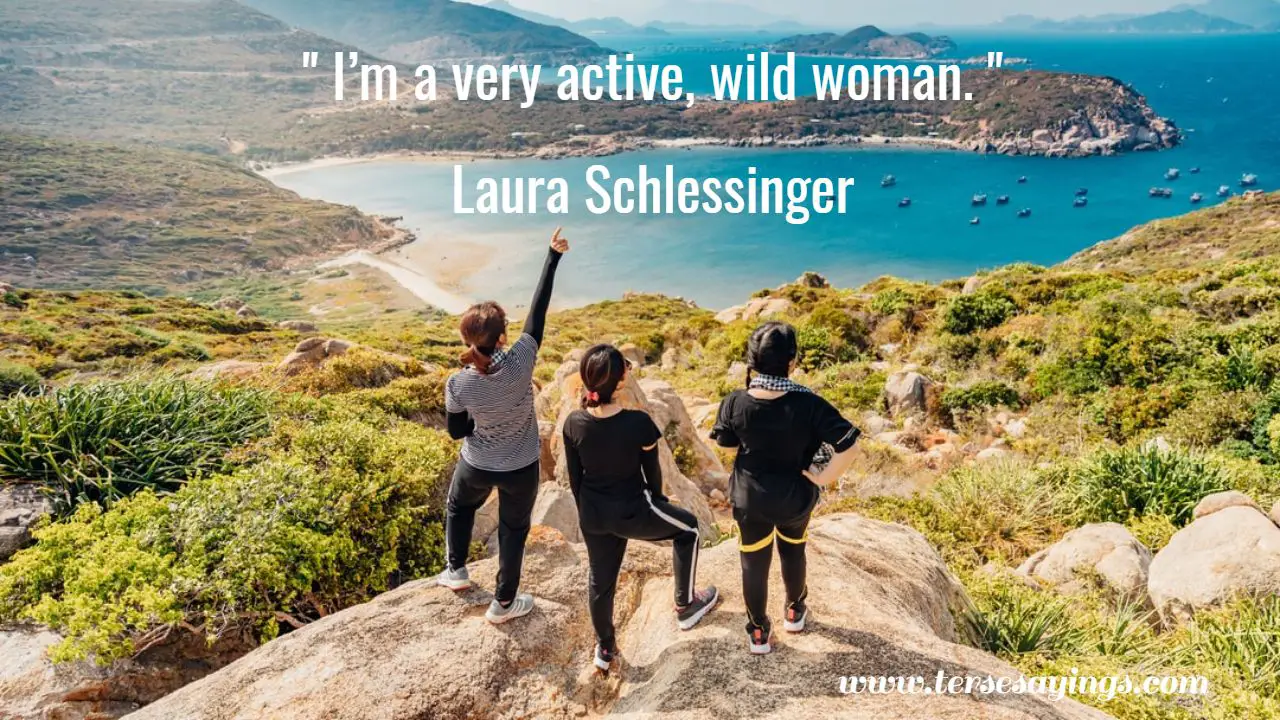 This girl is magic. She's wild incantations. She's that spark that lit me back to life and I'm burning for her. – Rebecca Paula
Wild honey smells of freedom. The dust of sunlight. The mouth of a young girl, like a violet, but gold smells of nothing. – Anna Akhmatova
Oh, girl, not woman, more than a child. Which of us two is the wilder? – Madeleine L'Engle
There is, in all women, a wild and ancient gypsy who cries in anguish when we starch her flat. – Dr. Clarissa Pinkola Estés
Oh, darling, your wild and untameable has been the best part of you all along. – Nikki Rowe
It's not my words that you should fear, but my silence. My words speak straight to the core but my absence will leave you speechless. – Nikki Rowe
It's okay to reinvent yourself as many times as it takes to live out your most authentic self. – Nikki Rowe
      Also read: Top 80+ Unappreciated Quotes Whenever You Feel Undervalued
Release your majestic mind, and embrace your untamed inner spirit. Break free from captivity, avoid society… You were born to be free. – Melanie Muller
I'm a very active, wild woman. – Laura Schlessinger
Wild woman emanates up through that kind of joy. That sort of soulful situation summons her by name. – Anonymous
I like to be a free spirit. Some don't like that, but that's the way I am. – Princess Diana
Nothing is more damaging to the adventurous spirit within a woman than a secure future. – Jon Krakauer
Why this cult of wilderness? Because we like the taste of freedom; because we like the smell of danger. – Edward Abbey
Women, fire in their crotch, won't burn out, begin by fighting off pricks, end by going wild hunting for one that still works. – John Updike