In today's article we are collecting the best ever Saint quotes on love of all the time which will make your day beautiful and you will enjoy the reading. The word Saint is originated in Christianity and very popular all over the world. Here are some Saint quotes on love which will be very important to know for all of you. If you like our quotes then share these quotes with your friends and family so that they also enjoy reading.
Saint Quotes on Love
Love proves itself by deeds, so how am I to show my love? Great deeds are forbidden me. The only way I can prove my love is by scattering flowers, and these flowers are every little sacrifice, every glance and word, and the doing of the least actions for love.
Many a sin has sullied me in body and in soul because I did not restrain my thoughts nor guard my lips: nevertheless it is to Thee, O God of majesty and love, that I turn in my extremity, for Thou art the fount of mercy; to Thee, as quickly as I may, I speed: for Thou alone canst heal me; I take refuge under Thy protection.
Anyone who wants to look at sunlight naturally wipes his eye clear first, in order to make, at any rate, some approximation to the purity of that on which he looks; and a person wishing to see a city or country goes to the place in order to do so.
Why, then, do you wander wide, poor child of earth, in your search after goods for body and soul? Love the One Good, in whom all good things are, and it is enough. For what do you love, O my flesh? What do you desire, O my soul? There it is, there it is: whatever you love, whatever you desire.
What we need most in order to make progress is to be silent before this great God with our appetite and with our tongue, for the language he best hears is silent love.
Man becomes an image of God not so much in the moment of solitude as in the moment of communion.
The entire educational process must be carried out with love, which is perceptible in every disciplinary measure and which does not instill any fear. And the most effective educational method is not the word of instruction but the living example without which all words remain useless.
Love is the most necessary of all virtues. Love in the person who preaches the word of God is like fire in a musket. If a person were to throw a bullet with his hands, he would hardly make a dent in anything; but if the person takes the same bullet and ignites some gunpowder behind it, it can kill. It is much the same with the word of God. If it is spoken by someone who is filled with the fire of charity- the fire of love of God and neighbor- it will work wonders.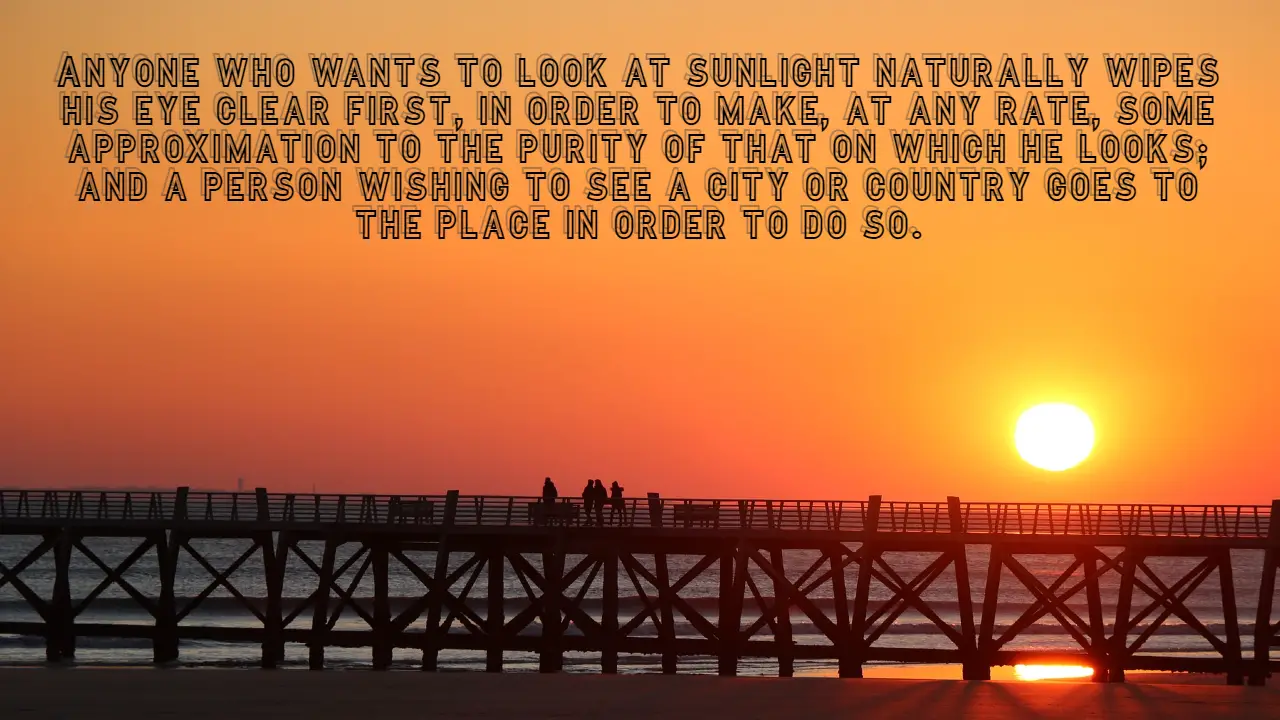 Liberated from the error of pagan tradition through the benevolence and loving kindness of the good God with the grace of our Lord Jesus Christ, and by the operation of the Holy Spirit. I was reared from the very beginning by Christian parents. From them I learned even in babyhood the Holy Scriptures which led me to knowledge of the truth.
Truly, love is delightful and pleasant food, supplying, as it does, rest to the weary, strength to the weak, and joy to the sorrowful. It in fact renders the yoke of truth easy and its burden light.
Mental prayer in my opinion is nothing else than an intimate sharing between friends; it means taking time frequently to be alone with Him who we know loves us. The important thing is not to think much but to love much and so do that which best stirs you to love. Love is not great delight but desire to please God in everything.
Nothing is sweeter than love, nothing stronger or higher or wider; nothing is more pleasant, nothing fuller, and nothing better in heaven or on earth, for love is born of God and cannot rest except in God, Who is above all created things.
Let us take refuge from this world. You can do this in spirit, even if you are kept here in the body. You can at the same time be here and present to the Lord. Your soul must hold fast to him, you must follow after him in your thoughts. You must tread his ways by faith, not in outward show.
Diverse forms of memory can have a variety of gaps. Thus it is possible for me to represent a past situation to myself and be unable to remember my inner behavior in this situation. As I transfer myself back into this situation, a surrogate for the missing memory comes into focus.
What does love look like? It has the hands to help others and the feet to hasten to the poor and needy and has eyes to see misery and want. It has the ears to hear the sighs and sorrows of men. That is what love looks like.
Charity never lacks what is her own, all that she needs for her own security. Not alone does she have it, she abounds with it. She wants this abundance for herself that she may share it with all; and she reserves enough for herself so that she disappoints nobody. For charity is perfect only when full.