Life isn't always easy and everybody must go through a hard situation. The further you concentrate on the negative, the more difficult it is to observe the positive aspects of your life. Practicing gratitude on a daily basis can assist you in focusing on the positive aspects of your life rather than the negative. Thankful And Grateful Quotes can help you express your gratitude for life and the people you care about, whether you're making a list of things to be thankful for at your Friendsgiving gathering or sharing kind words at the Thanksgiving conference table.
Focusing on what you're grateful for rather than all of your problems can alter your perspective on anything and everything. Appreciation is a strong feeling that can influence your future outlook and attitude. However, it's critical to recognize that gratitude is not a one-time event. It's simple to forget about the things you're thankful for if you don't keep thinking about them. That is why you should set aside some time each day to think about these things. Mindfulness practice is essential — we all need reminders to appreciate the small, often overlooked positives in our days and to share them with others. Friends are the people with whom we share many laughs, sadness, and memories throughout our lives.
Reading through these thankful and grateful quotes should have inspired you to consider what you're grateful for in your life. We want to help you give thanks, so we've compiled a list of thankful quotes appropriate for the holiday season and for everyone in your life. Quotes for giving thanks, and gratitude, and for specific people in your life such as friends and everyone in between can be found in our collection.
Thankful And Grateful Quotes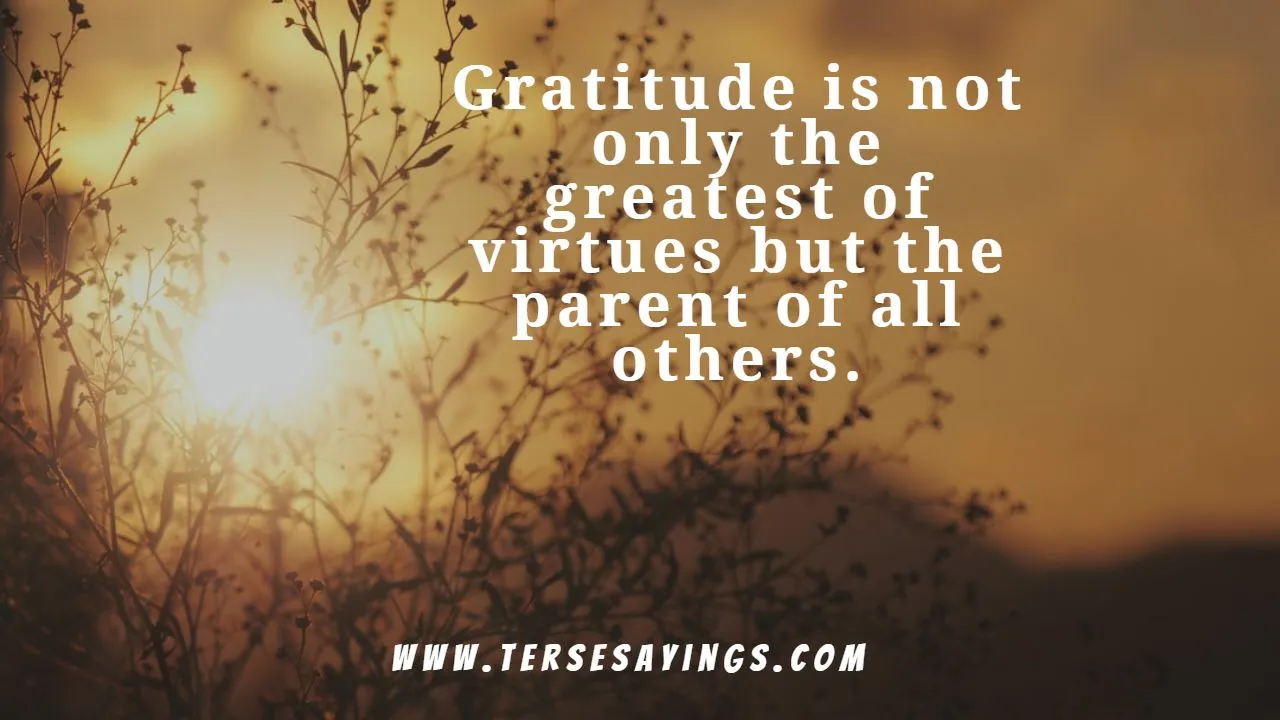 Gratitude is not only the greatest of virtues but the parent of all others. – Cicero
Gratitude is a sign of noble souls. – Aesop
I awoke this morning with devout thanksgiving for my friends, the old and the new. – Ralph Waldo Emerson
Appreciation is a wonderful thing. It makes what is excellent in others belong to us as well. – Voltaire
Got no checkbooks, got no banks, but still, I'd like to express my thanks. I got the sun in the morning and the moon at night. – Irving Berlin
No duty is more urgent than giving thanks. – James Allen
He is a wise man who does not grieve for the things which he has not, but rejoices for those which he has. – Epictetus
Read More: Most Popular 100+ Appreciation Quotes To Appreciate Those Who Are Successful
Learn to be thankful for what you already have, while you pursue all that you want. – Jim Rohn
Enjoy the little things, for one day you may look back and realize they were the big things. – Robert Brault
The real gift of gratitude is that the more grateful you are, the more present you become. – Robert Holden
When we focus on our gratitude, the tide of disappointment goes out and the tide of love rushes in. – Kristin Armstrong
Love is the greatest gift when given. It is the highest honor when received. – Fawn Weaver
Thanks for erasing the word nightmare from the dictionary of my life. You have made my life a dream come true. – Unknown
Be thankful for the moments, the things you have, and the life you live.
Understand your worth. Value your life. Appreciate your blessings. – Anonymous
I wake up every day with great appreciation for life and appreciation to play this game. – Will Grier
Humble Grateful Quotes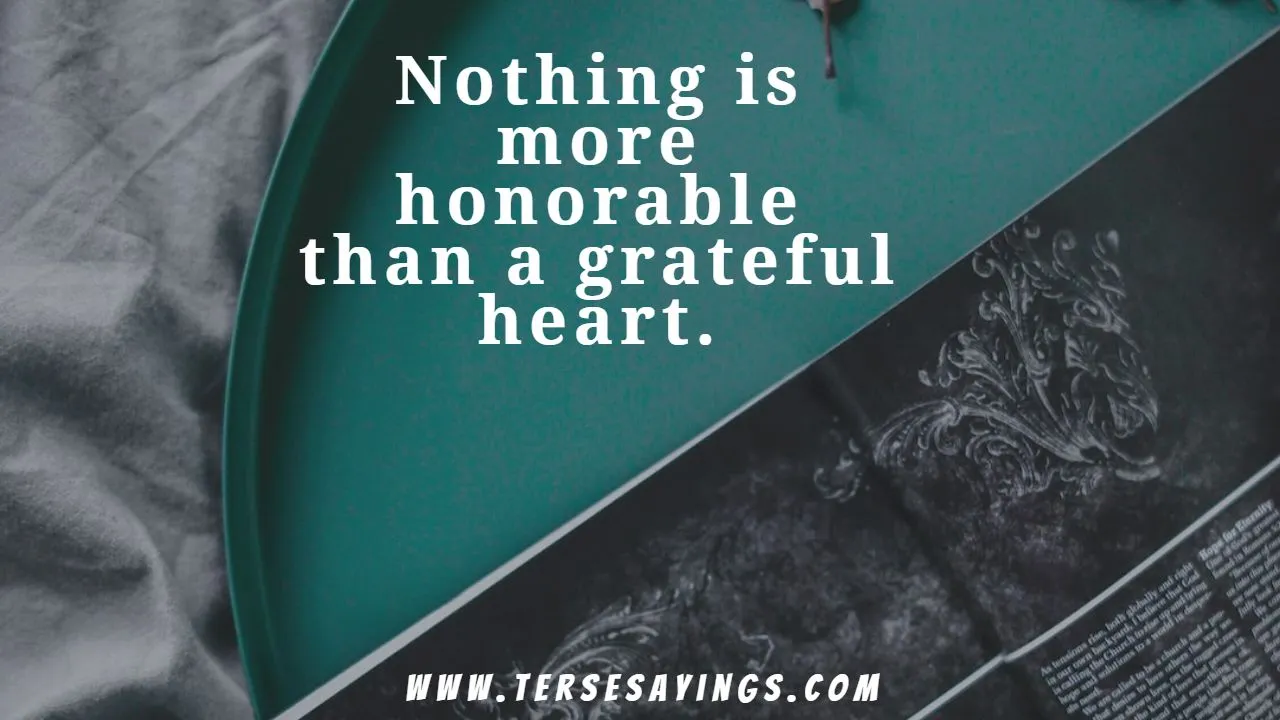 Nothing is more honorable than a grateful heart. – Lucius Annaeus Seneca
Be grateful in your hearts, that suffices. Thanksgiving has wings and flies to its right destination. – Victor Hugo
Gratitude looks to the past and love to the present. Fear, avarice, lust, and ambition look ahead. – Clive Staples Lewis
The more grateful I am, the more beauty I see. – Mary Davis
Wear gratitude like a cloak, and it will feed every corner of your life. – Rumi
Gratitude is the ability to experience life as a gift. It liberates us from the prison of self-preoccupation. – John Ortberg
Strive to find things to be thankful for, and just look for the good in who you are. – Bethany Hamilton

Read: Top 70+ Thank You Quotes Will Provide You the Motivation

Gratitude is when memory is stored in the heart and not in the mind. – Lionel Hampton
Gratitude also opens your eyes to the limitless potential of the universe, while dissatisfaction closes your eyes to it. – Stephen Richards
Gratitude will shift you to a higher frequency, and you will attract much better things. – Rhonda Byrne
Gratitude helps you to grow and expand. Gratitude brings joy and laughter into your life and the lives of all those around you. – Eileen Caddy
If you want to turn your life around, try thankfulness. It will change your life mightily. – Gerald Good
Practice appreciation for who you are and what you have… and allow your life to unfold most amazingly.
Be thankful for everything that happens in your life; it's all an experience. – Roy T. Bennett
The best way to appreciate life is to be grateful. – Wisdom Kwashie Mensah
An appreciation of what you have brings the ultimate abundance in your life. – Debasish Mridha
Be happy with who you are and what you do, and you can do anything you want. – Steve Maraboli
Inspiring Grateful Quotes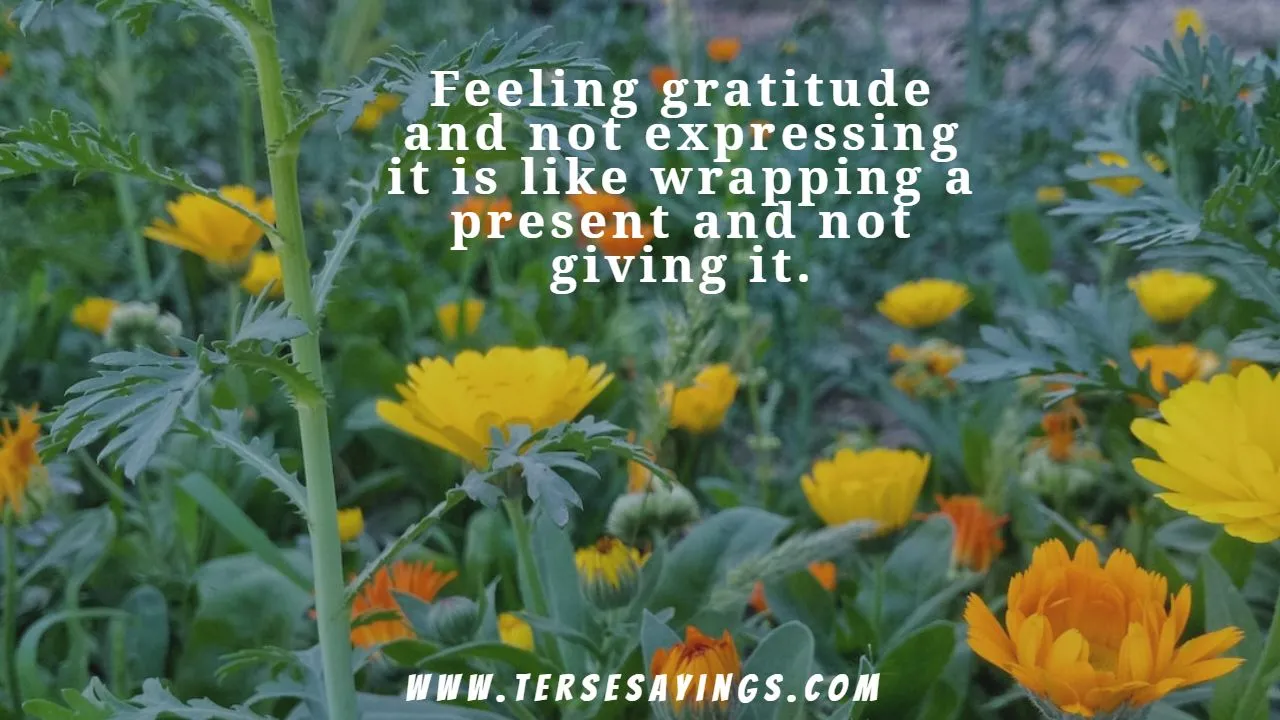 Feeling gratitude and not expressing it is like wrapping a present and not giving it. William Arthur Ward
I would maintain that thanks are the highest form of thought; and that gratitude is happiness doubled by wonder. G.K. Chesterton
If you count all your assets, you always show a profit. Robert Quillen
Enjoy the little things, for one day you may look back and realize they were the big things. Robert Brault
Acknowledging the good that you already have in your life is the foundation for all abundance. Eckhart Tolle
Gratitude is a currency that we can mint for ourselves, and spend without fear of bankruptcy. Fred De Witt Van Amburgh
The way to develop the best that is in a person is by appreciation and encouragement. Charles Schwab
Read More: Most Famous 60+ Grateful Quotes to God
The deepest craving of human nature is the need to be appreciated. William James
Silent gratitude isn't very much to anyone. Gertrude Stein
When I started counting my blessings, my whole life turned around. Willie Nelson
It is impossible to feel grateful and depressed at the same moment. Naomi Williams
One can never pay in gratitude; one can only pay 'in kind' somewhere else in life. Anne Morrow Lindbergh
The most important thing in the world is family and love. – John Wooden
The only rock I know that stays steady, the only institution I know that works is the family.
You go through life wondering what is it all about, but at the end of the day, it's all about family.– Rod Stewart
Everyone needs a house to live in, but a supportive family is what builds a home.– Anthony Liccione
Thankful Quotes For Friends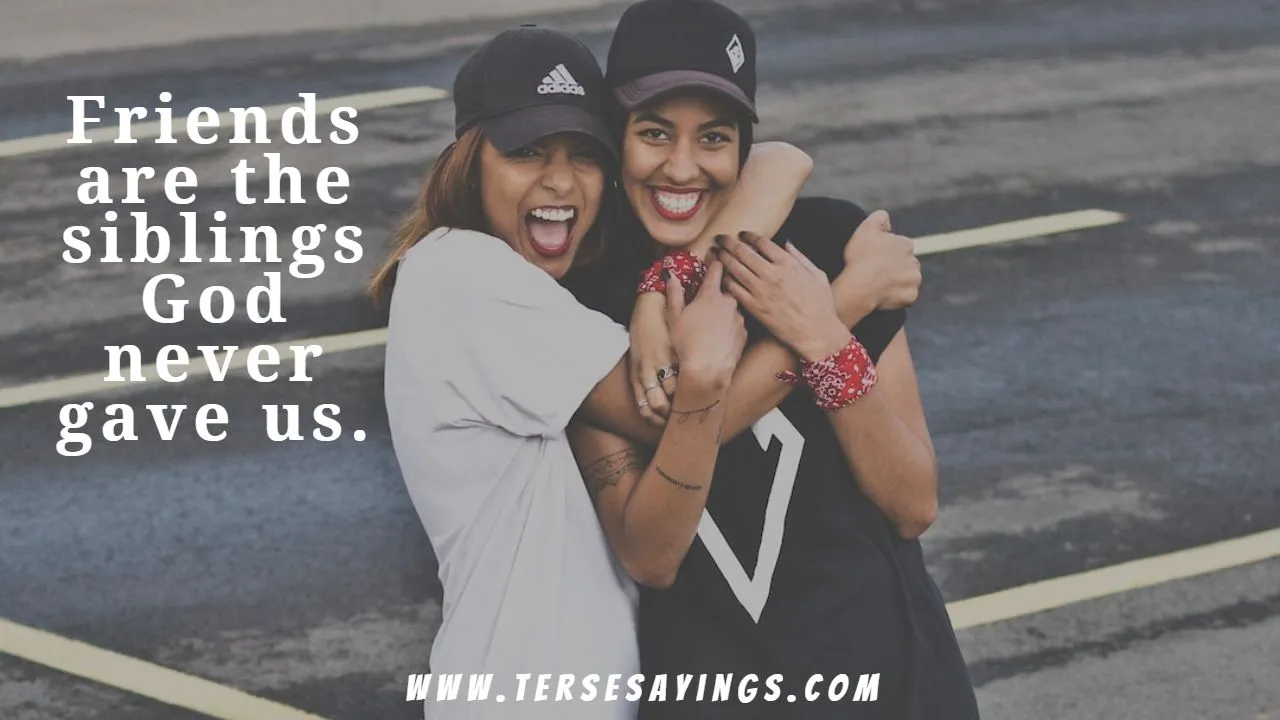 Friends are the siblings God never gave us. – Mencius
A friend is the one who comes in when the whole world has gone out. – Grace Pulpit
It's not where you are in life, it's who you have by your side that matters. – Unknown
The greatest gift of life is friendship, and I have received it. – Hubert H. Humphrey
If there ever comes a day when we can't be together. Keep me in your heart. I'll be there forever. – Winnie the Pooh
There is nothing on this earth more prized than true friendship.
A friend is someone who understands your past, believes in your future, and accepts you just the way you are. – Unknown
Read More: Most Famous 70+ Gratitude Quotes To Express You are Grateful
Even though we can't have all we want, we ought to be thankful we don't get what we deserve. – Unknown
Thank you for always being there for me even when I'm being a pain in the rear. – Anonymous
Walking with a friend in the dark is better than walking alone in the light – Helen Keller
Friends show their love in times of trouble, not in happiness. – Euripides
There's always something to be thankful for. If you can't pay your bills, you can be thankful you're not one of your creditors. – Anonymous
I am thankful for laughter, except when milk comes out of my nose. – Woody Allen
Friendship isn't about who you've known the longest; it's about who came and never left your side. – Yolanda Hadid
Let us be grateful to the people who make us happy; they are the charming gardeners who make our souls blossom. – Marcel Proust
There are many things that I am thankful for in my life, and you are at the top of the list. – Unknown
Grateful Quotes Short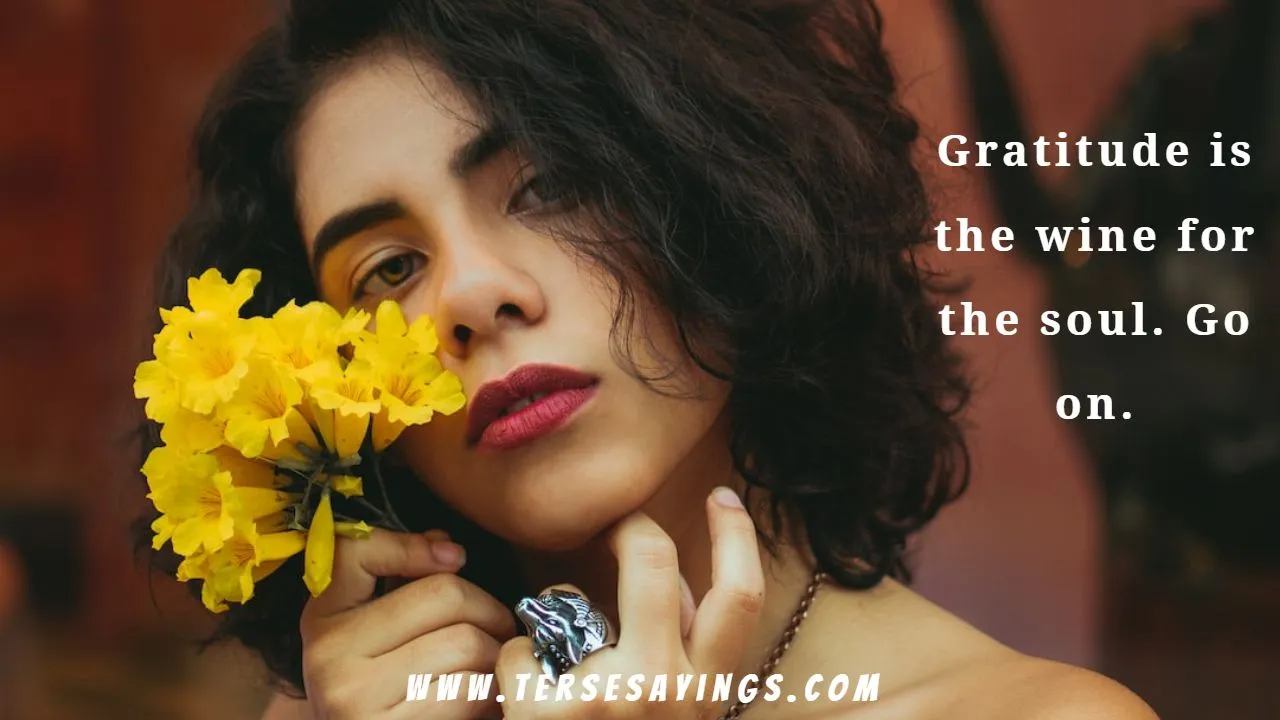 Gratitude is the wine for the soul. Go on. Get drunk. – Rumi
The thing I'm most grateful for right now is elastic waistbands. – Unknown
You put the 'you' in thank you! – Anonymous
The family is one of nature's masterpieces. – George Santayana
Don't overload Gratitude; if you do, she'll kick. – Benjamin Franklin
God gave us our relatives; thank God we can choose our friends. – Ethel Watts Mumford
Family means no one gets left behind or forgotten. – David Ogden Stiers
You gave me your time, the most thoughtful gift of all. – Dan Zadra
Read More: Best 60+ Inspiring Grateful Quotes You to Be Thankful for 2023
At the heart of great leadership is a curious mind, heart, and spirit. – Chip Conley
Leadership is unlocking people's potential to become better. – Bill Bradley
Where there is great love, there are miracles. – Willa Cather
You are, and always have been, my dream.– Nicholas Sparks
Gratitude is riches. The complaint is poverty. – Doris Day
Happiness doesn't result from what we get, but from what we give. – Ben Carson
To give without any reward, or any notice has a special quality of its own.– Anne Morrow Lindbergh
Things turn out best for people who make the best of the way things turn out. John Wooden
It takes a big heart to help shape little minds. – Unknown
Being able to help someone to learn is a talent. – Margaret Riel