Welcome to our collection of uplifting "Wednesday quotes" designed to provide you with the extra boost of motivation and inspiration you need to sail through the week.
It's no secret that when the midweek blues strike, we all need a little push to help us get through the remaining days.
That's why we've carefully curated this comprehensive list of inspirational and motivational Wednesday quotes to help you maintain a positive mindset and stay focused on achieving your goals.
This article is packed with Wednesday quotes, encompassing everything from famous personalities' sayings to light-hearted, funny quips. By the end, you'll have a vast repository of quotes perfect for sharing on social media or pinning up on your office wall.
So, grab your favorite cup of coffee, settle in, and let's dive into these amazing Wednesday quotes that will leave you feeling inspired, motivated, and ready to conquer the rest of the week.
Read: Andrew Tate Quotes – Motivation from a Kickboxing Champion
The Significance of Wednesday
Wednesday, also known as "hump day," signifies the midpoint of the workweek. For many people, it's a day when motivation levels dip, and the weekend still feels far away.
The excitement of the new week has worn off, and the finish line seems distant. This is where the power of positive thinking and motivation comes into play.
Wednesday quotes serve as little nuggets of wisdom and encouragement, helping you refocus your energy and push through to the weekend.
Top 5 Inspirational Wednesday Quotes:
Quotes have a magical way of resonating with us. They condense wisdom and inspiration into bite-sized pieces that we can carry with us throughout our day.
Our selection of top 5 inspirational Wednesday quotes is designed to give you that midweek motivation boost.
They're powerful reminders to stay determined, positive, and focused, turning Wednesday from a hurdle into an opportunity for progress.
"Wednesdays are like Mondays in the middle of the week!" – Lee Fox Williams
This quote reminds us that while Wednesday may feel like a second Monday, it's also an opportunity to start fresh and refocus our energy on the tasks ahead.
"When a day that you happen to know is Wednesday starts off sounding like Sunday, there is something seriously wrong somewhere." – John Wyndham
This quote highlights the importance of staying present and engaged in your work, even when your motivation may be waning.
"They didn't want it good, they wanted it Wednesday." – Robert A. Heinlein
A reminder that sometimes, progress is more important than perfection. Keep pushing forward, even when things aren't perfect.
"Wednesday is a day to help others celebrate life. You and only you are accountable for what you extend and give to others. One smile not only increases your value but it gives joy to each person you meet." – Byron Pulsifer
This quote encourages us to bring joy to others, making both their day and our own better in the process.
"Wednesday will be amazing, so wake up and smile." – Unknown
A simple reminder that each day is a new opportunity to make a positive impact on the world and ourselves.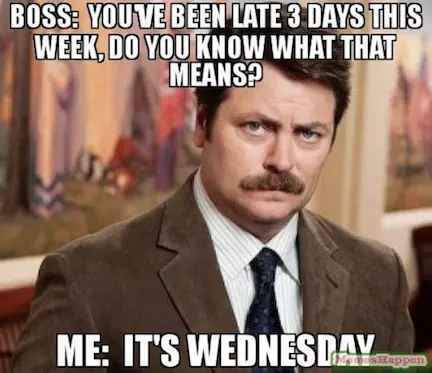 Famous Wednesday Quotes from Renowned Personalities
Quotes from renowned personalities often carry an additional weight of wisdom. These individuals have faced trials, tribulations, and successes, and their insights can provide us with valuable guidance.
The famous Wednesday quotes in this section come from a diverse range of personalities, from presidents to artists to scientists, offering you a broad spectrum of wisdom and inspiration to power through your Wednesday.
"Keep your head high, keep your chin up, and most importantly, keep smiling, because life's a beautiful thing and there's so much to smile about." – Marilyn Monroe
This quote from the legendary actress reminds us that even during the toughest days, there is still beauty to be found.
"Success is to be measured not so much by the position that one has reached in life as by the obstacles which he has overcome." – Booker T. Washington
An inspiring reminder from a renowned civil rights leader that overcoming challenges is a vital part of achieving success.
"Believe you can and you're halfway there." – Theodore Roosevelt
The 26th President of the United States highlights the importance of self-belief in achieving our goals.
"In the middle of every difficulty lies opportunity." – Albert Einstein
This quote from the world-renowned physicist reminds us that challenges often present opportunities for growth and innovation.
"The only way to do great work is to love what you do." – Steve Jobs
A profound quote from the late Apple co-founder that underscores the importance of passion in our work.
Read: 60+ Motivational Prayer Warrior Woman Quotes
Funny Wednesday Quotes to Brighten Your Day
Humor has a way of lightening our mood and making our day brighter. Funny Wednesday quotes serve to inject a dose of laughter and joy into your day, reminding you to not take life too seriously all the time.
These quotes will bring a smile to your face, proving that even in the middle of the week, there's room for a little fun and laughter.
"Wednesday: Halfway to the weekend! Enjoy your day!" – Unknown
A light-hearted quote to remind us that we're making progress towards the weekend.
"I've heard of Monday, Tuesday, Wednesday, Thursday, and Friday. But I've never heard of Someday." – Reverend Ike
A witty reminder to seize the day and make the most out of every moment.
"On Wednesdays, we wear pink." – Mean Girls
A funny quote from the movie Mean Girls, reminding us to add a little fun to our Wednesday routine.
"It must be Wednesday, there goes that camel again." – Unknown
A humorous nod to the concept of 'hump day,' reminding us to keep pushing through.
"Wednesday is Latin for 'almost Friday.'" – Unknown
A playful quote to inspire optimism and remind us that the weekend isn't too far off.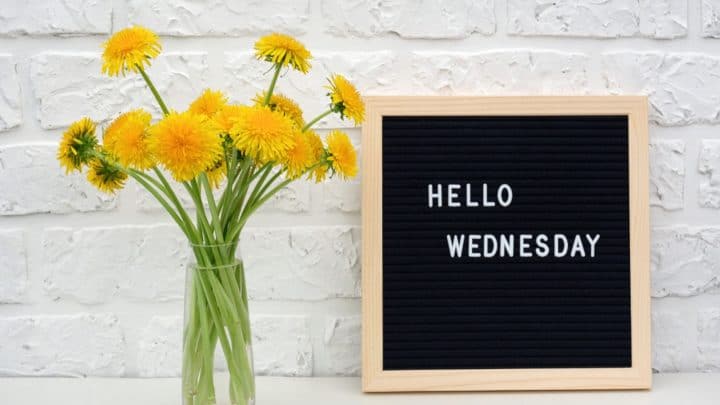 Wednesday Quotes for Workplace Motivation
Workplace motivation can often wane by the middle of the week. Our carefully chosen Wednesday quotes for workplace motivation are designed to reignite your passion, drive, and focus, helping you stay productive and motivated.
These quotes remind us that each day is an opportunity to make a difference, achieve our goals, and contribute positively to our work environment.
"Focus on good thoughts and good things will happen. Stay positive, think positive and do positively on this Wednesday morning!" – Unknown
A perfect quote to inspire positivity in the workplace, helping to foster a more productive environment.
"The only way to achieve the impossible is to believe it is possible." – Charles Kingsleigh
This quote from Alice in Wonderland reminds us that believing in our abilities is the first step towards achieving our goals.
"You miss 100% of the shots you don't take." – Wayne Gretzky
An important reminder from a hockey legend that we must seize opportunities and take risks in order to achieve our goals.
"The future depends on what you do today." – Mahatma Gandhi
A powerful quote from Gandhi emphasizing the importance of our actions today in shaping our future.
"The only limit to our realization of tomorrow will be our doubts of today." – Franklin D. Roosevelt
An inspiring quote from the 32nd President of the United States, reminding us to overcome our self-doubt and strive for success.
Conclusion
This collection of "Wednesday quotes" aims to inspire and motivate you to keep moving forward, even when Wednesday seems to stand in the way. They serve as reminders that we all have the power to overcome the midweek slump, and that each day presents a new opportunity for growth and success.
So, the next time you find yourself feeling stuck on a Wednesday, remember these quotes. Let them lift your spirits, inspire your creativity, and motivate you to conquer the rest of the week. After all, Wednesday is not just a day to survive—it's a day to thrive.
We hope you've enjoyed this collection of Wednesday quotes. Please feel free to share your favorite ones with us in the comments below, and share this post with your friends and family to spread some midweek motivation. Remember, every Wednesday is a new opportunity to inspire and be inspired. So, let's make the most of it, shall we?
Recomended Read: 40+ Funny Master Oogway Quotes to Make You Laugh