Here are some cheerful baptism quotes for all you nice people to get you enthusiastic about your baby's baptism, as well as bible verses and baptism quotations to make you look forward to it. Faith is crucial, and any Bible passage or quotation from this page will undoubtedly assist you.
Baptism is the initial step of a faithful heart. – Max Lucado.
God's Spirit is like a 'living spring.' It gives life to our journey, heals us, and brings love and meaning, Turn to Jesus, a source of goodness. – Phil Mitchell.
It would be my joy to baptize you today at our Lake Forest campus of Saddleback Church. Last night I spent 4 hours in our baptism pool baptizing 213 people. Today I start at 9 am. Come be baptized! I'll be baptized as long as it takes. – Pastor Rick Warren.
At Baptism, I received grace — that quality that makes me share in the very nature of God. – Mother Angelica.
     Click here to read: 50+ Best Online Funny Baptism Quotes And Sayings
There are two sides to this baptism: The first is, you possess the Spirit; the second is that the Spirit possesses you. – Smith Wigglesworth.
Baptism is faith in action. – Watchman Nee.
To live a life of holiness, we must first receive new life from God — we must be born from above. – J. Vernon McGee.
God brings men into deep waters not to drown them, but to cleanse them. – John H. Aughey.
Cute Baptism Quotes
Babies are born with God's and Jesus Christ's love. Here are a few baptism quotes to inspire you as you prepare to baptize your new baby. Best wishes to all the families who already baptized their children.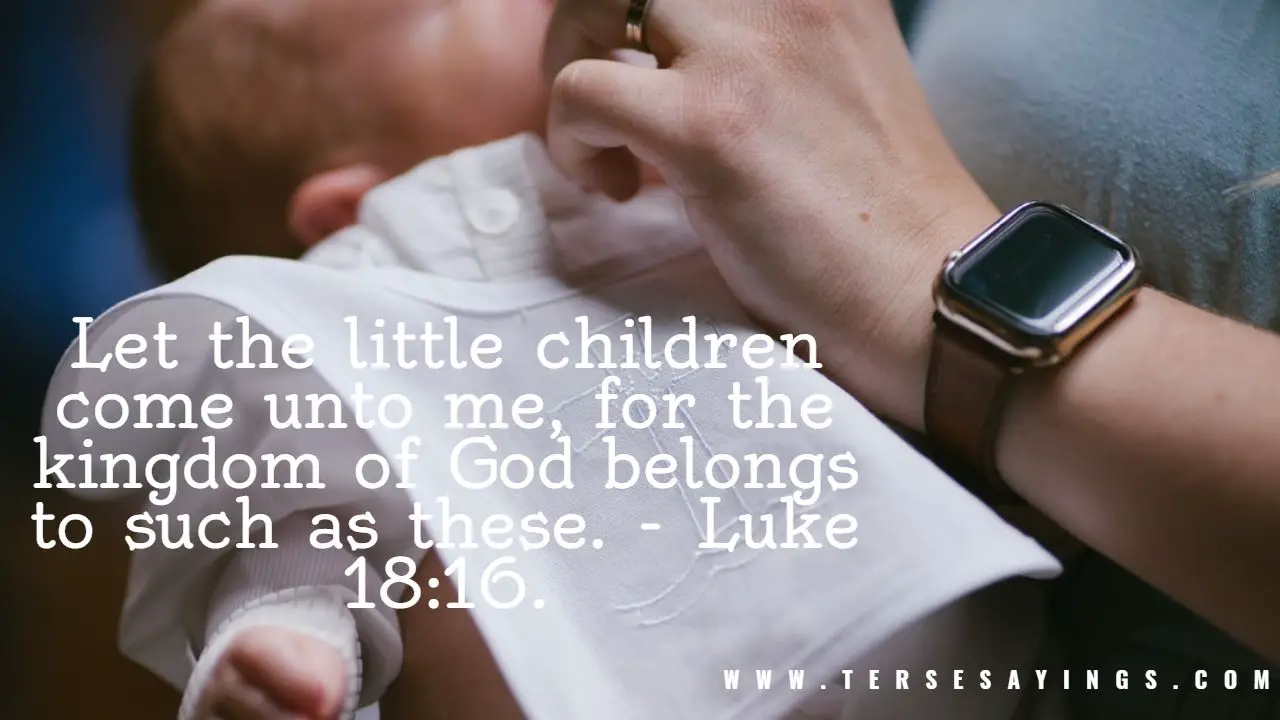 Train a child in the way he should go, and when he is old he will not turn from it. – Proverbs 22:6.
Every child born into the world is a new thought of God, an ever-fresh and radiant possibility. – Kate Douglas Wiggins.
They were still splashing around and calling my name when I popped up downriver like a bobber on a fishing line, a few shades paler and fulla the Holy Ghost! ― Ron Hall.
The Church does not dispense the sacrament of baptism to acquire for herself an increase in membership but to consecrate a human being to God and to communicate to that person the divine gift of birth from God. ― Hans Urs von Balthasar.
Let the little children come unto me, for the kingdom of God belongs to such as these. – Luke 18:1:6.
     Also read: 50+ Best Christmas quotes cute
Whoever welcomes a child in my name, welcomes Me. – Luke 9:46-48.
It would be unjust toward children to introduce them to Christian teaching and existence only as little pagans and catechumens, to leave it up to them to choose the Faith on their responsibility at a point in time difficult to determine. ― Hans Urs von Balthasar.
We ought to regard the sacrament of baptism with reverence. An ordinance of which the Lord Jesus Himself partook, is not to be lightly esteemed. An ordinance to which the great Head of the Church submitted, ought to be ever honorable in the eyes of professing Christians. – J.C. Ryle.
Baptism Quotes from Bible
Here are some biblical quotations, baptism quotes from the Bible, and passages to help you prepare for your trip. We hope you appreciate the Bible quotations below.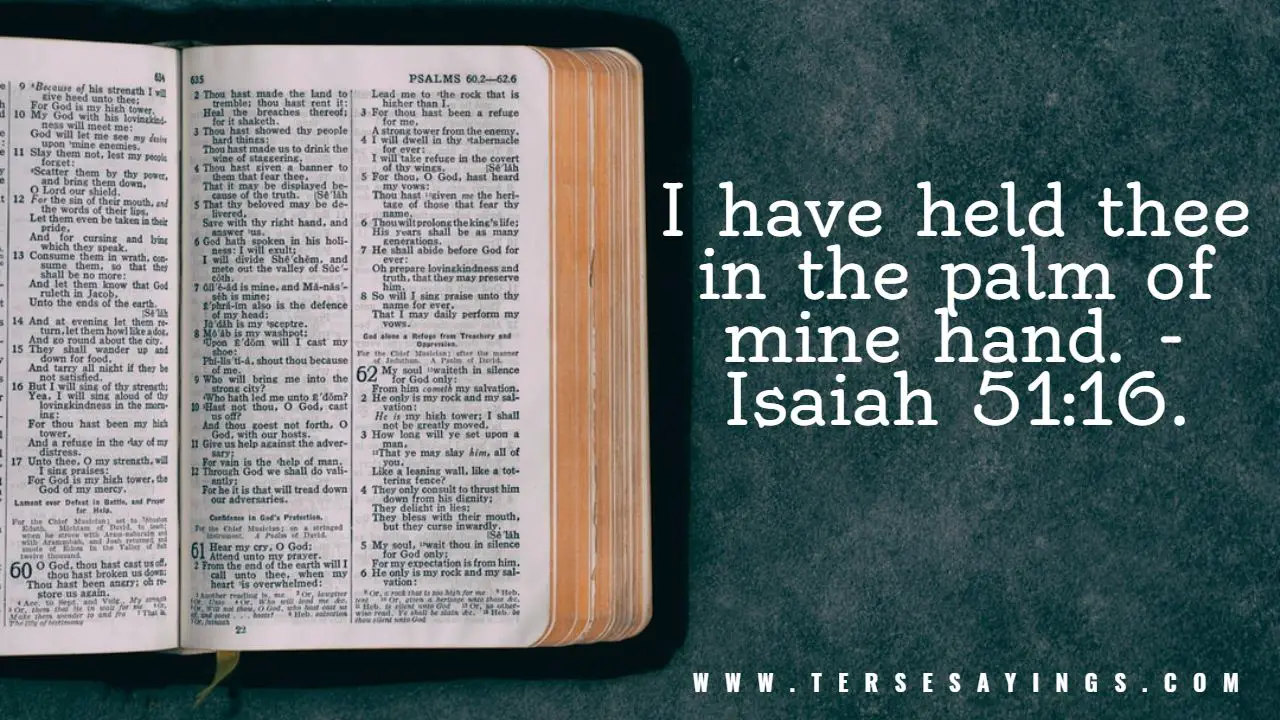 You must be born again. – John 3:7.

Jesus answered, 'Truly, truly, I say to you, unless one is born of water and the Spirit, he cannot enter the kingdom of God. – John 3:5.

When she speaks, her words are wise, and she gives instructions with kindness. – Proverbs 31:26.

For in Christ Jesus, you are all sons of God, through faith. For as many of you as were baptized into Christ have put on Christ. There is neither Jew nor Greek, there is neither slave nor free, there is no male and female, for you are all one in Christ Jesus. – Galatians 3:26-28.

For I know the plans I have for you, says the Lord. They are plans for good, to give you a future and hope. – Jeremiah 29:11.

Related: 100+ New Year quotes bible

Peter replied, 'Each of you must repent of your sins and turn to God, and be baptized in the name of Jesus Christ for the forgiveness of your sins. Then you will receive the gift of the Holy Spirit. – Acts 2:38.

I have held thee in the palm of mine hand. – Isaiah 51:16.

Children are a gift from the Lord, a child is a reward from Him. – Psalm 127:3.

Every good and perfect gift is from above, coming down from the Father of lights with whom there is no variation or shadow due to change. – James 1:17.

You are the One who put me together inside my mother's body, and I praise you because of the wonderful way you created me. Everything you do is marvelous! Of this, I have no doubt. – Psalm 139:13.
Baptism Quotes for Adults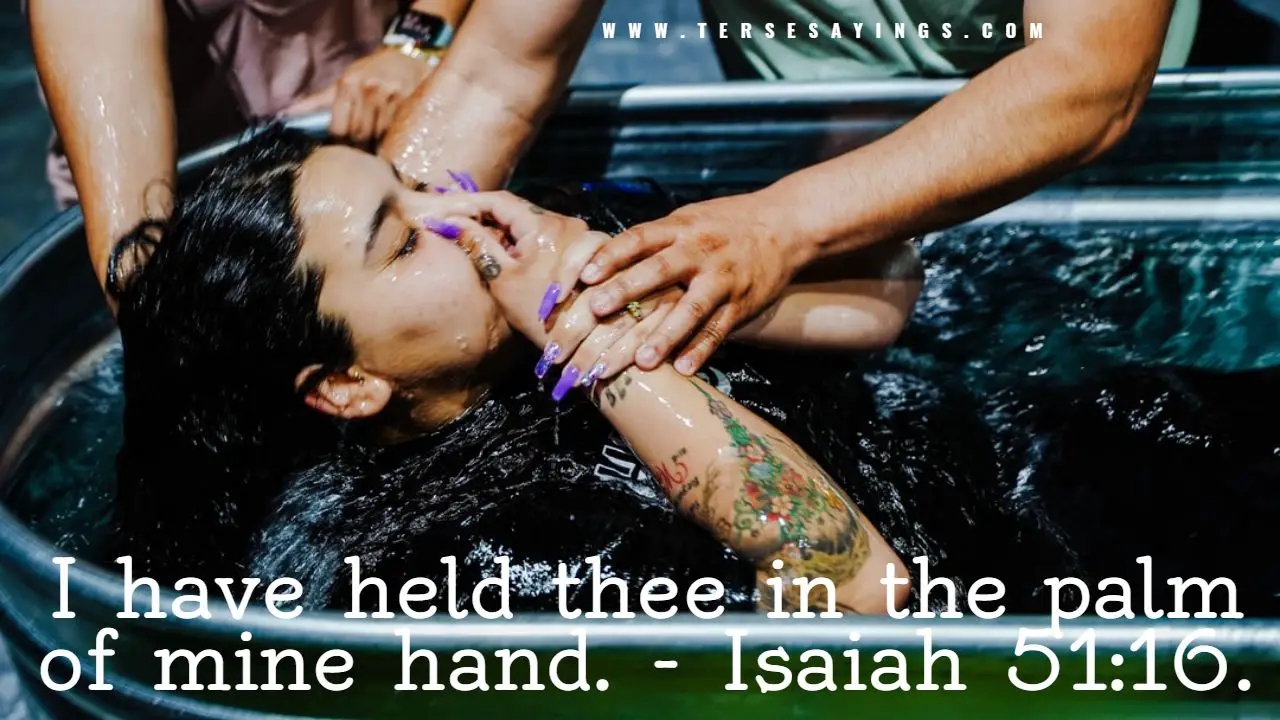 May God pour out his blessings on you today as you walk in his abundance and live in his love?
Today I close the door to my past, open the door to my future, take a deep breath and step through to a new life.
There can be no rebirth without a night of the soul, total annihilation of all that you believed in and thought that you were.
To live fully is to let go and die with each passing moment, and to be reborn in each new one.
You must be born again. –John 3:7
     Related: Eternal Sunshine of the Spotless Mind Quotes
As the droplets of water are placed upon you, you are wrapped in God's precious love. May he bless, guide, and protect you, keeping you safe, healthy, and happy from above. God bless you.
Jesus answered and said to him, 'truly, truly, I say to you, unless one is born again he cannot see the kingdom of God. John 3:3
For God so loved the world, that he gave his only son, that whoever believes in him should not perish but have eternal life John 3:16
So be good today, there is wonderful joy ahead.
Heaven is cheering you on today, tomorrow, and forever.
Baptism Quotes Catholic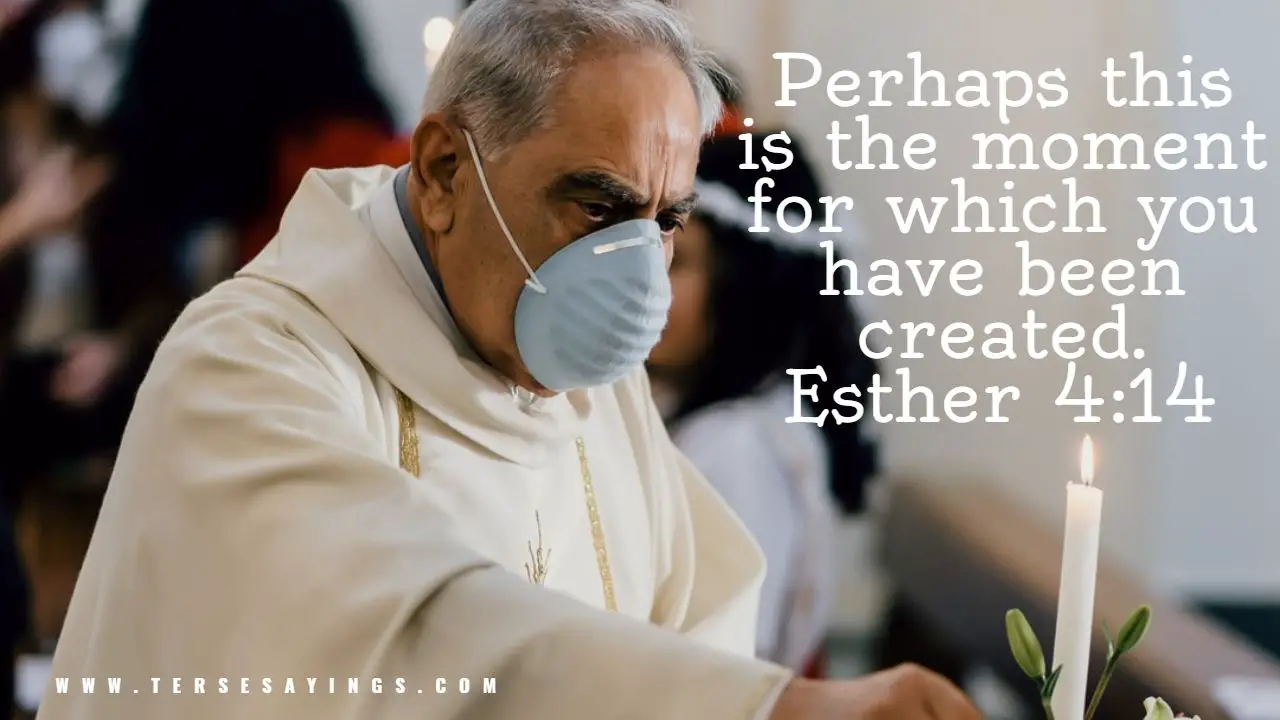 For I know the plans I have for you, says the Lord. They are plans for good, to give you a future and hope. Jeremiah 29:11
Every good and perfect gift is from above… James 1:17
She is clothed with strength and dignity and she laughs without fear of the future. When she speaks her words are wise and she gives instructions with kindness. Proverbs 31:25
You must be born again. John 3:7
     Don't forget to read: Top 70 + Jocko Willink Quotes On Discipline,Leadership
And now what are you waiting for? Get up, be baptized, and wash your sins away, calling on his name. Acts 22:16
And this water symbolizes baptism that now saves you also- not the removal of dirt from the body but the pledge of a clear conscience toward God. It saves you by the resurrection of Jesus Christ. 1 Peter 3:21