I believe that a grateful heart is eternally blessed. My life has changed since I decided to be grateful for each moment. And today, let us bring joy and awareness of gratitude to one another with my handpicked blessed and grateful quotes. Reminding ourselves of our daily blessings is an excellent way to cultivate gratitude. It keeps us moving forward by reminding us of all the good things in our lives. We've compiled a comprehensive list of our favorite blessed and grateful quotes just for you. Begin reading below to discover your new favorite blessed quotes.
Take a break from your hectic schedule to reflect and be grateful. Blessings vary in their forms and sizes, and there's no way to know how many we'll receive. People believe that their circumstances are the best thing that could happen to them. When we look closely and with a more optimistic perspective, we can see that there is much to be thankful for in those instances. Though each person has chosen a different set of words, they all convey the same message: taking the time to reflect on all that you have will help you find the path to happiness. We can be grateful for the life lessons we learned as a result of those feelings, or for how those feelings shaped us into the people we are today.
I hope you have a wonderful reading of these quotes about being blessed and grateful. I'm hoping that these quotes about being beyond blessed and grateful will help you see the world from a different perspective of your blessings. I also hope they help convince and inspire you to be thankful for anything and everything.
Blessed And Grateful Quotes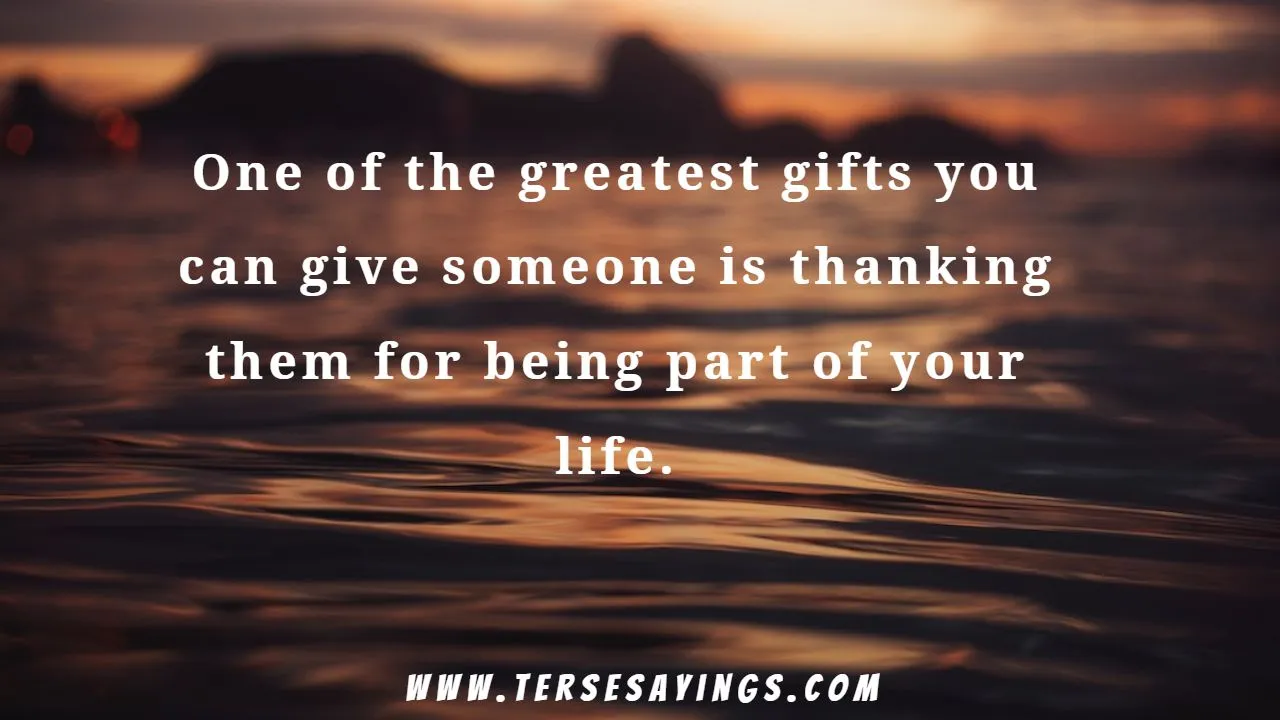 One of the greatest gifts you can give someone is thanking them for being part of your life.
Happiness comes when we stop complaining about the troubles we have and offer thanks for the troubles we don't have.
If the only prayer you ever say in your entire life is thank you, it will be enough. – Meister Eckhart
Gratitude makes sense of our past, brings peace for today, and creates a vision for tomorrow. – Melody Beattie
I have a lot to be thankful for. I am healthy and happy and I am loved. – Reba McEntire
When you practice gratefulness, there is a sense of respect toward others. – Dalai Lama
Thank you for life, and all the little ups and downs that make it worth living. – Travis Barker
Gratitude is not only the greatest of virtues but the parent of all the others. – Marcus Tullius Cicero
Read More: Top 70+ Thank You Quotes Will Provide You the Motivation
When I started counting my blessings, my whole life turned around. – Willie Nelson
I'm just thankful I'm surrounded by good people. – Jon Pardi
I am even thankful for the negative things that have made me a stronger and better person. – Joanna Krupa
I am very thankful and blessed to have a healthy and happy baby boy and baby mama. – Eric Church
If you suffer, thank God! It is a sure sign that you are alive. – Elbert Hubbard
The thankful receiver bears a plentiful harvest. – William Blake
Let us be grateful to the mirror for revealing to us our appearance only. – Samuel Butler
Gratitude changes the pangs of memory into a tranquil joy. – Dietrich Bonhoeffer
Be thankful we're not getting all the government we're paying for. – Will Rogers
Some people are always grumbling because roses have thorns; I am thankful that thorns have roses. – Alphonse Karr
Sometimes the little things in life mean the most. – Ellen Hopkins
No duty is more urgent than that of returning thanks. James Allen
Thankful Quotes And Appreciation Sayings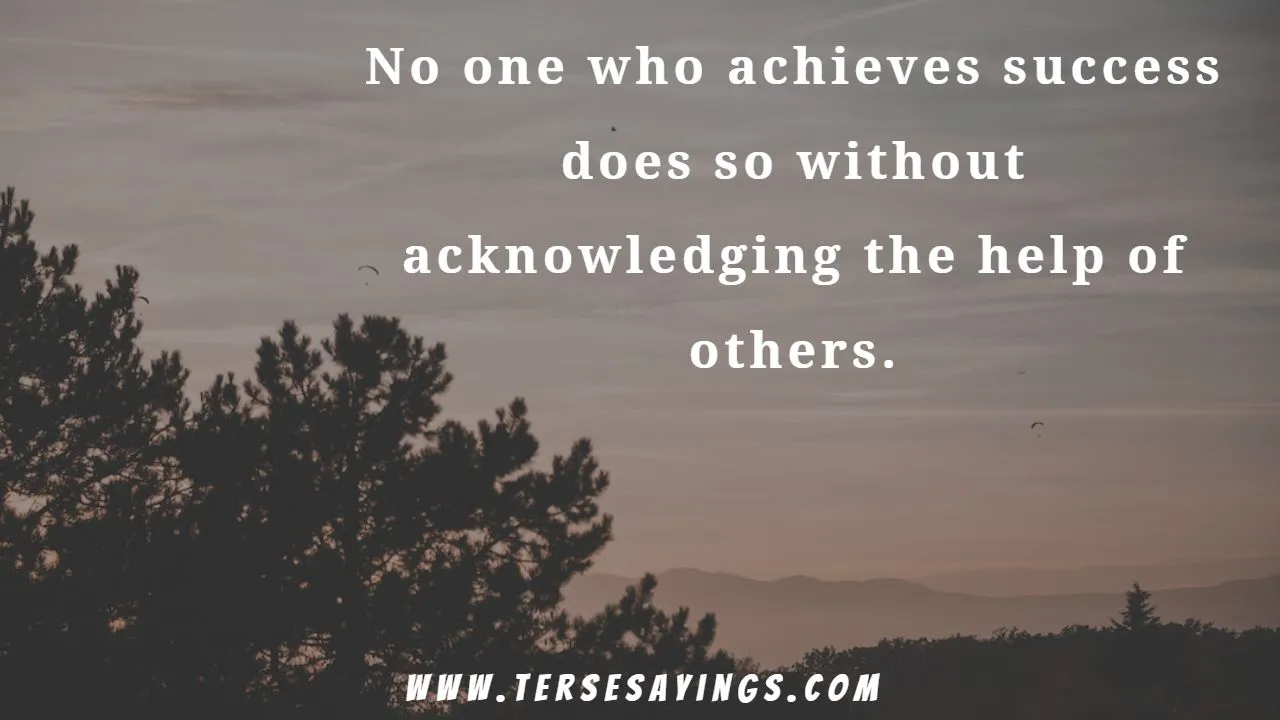 No one who achieves success does so without acknowledging the help of others.
The wise and confident acknowledge this help with gratitude. – Alfred North Whitehead
Gratitude is the most exquisite form of courtesy. – Jacques Maritain
There's no happier person than a truly thankful, content person. – Joyce Meyer
If you are really thankful, what do you do? You share. – W. Clement Stone
Strive to find things to be thankful for, and just look for the good in who you are. – Bethany Hamilton
The trick is to be grateful when your mood is high and graceful when it is low. – Richard Carlson
I am thankful for laughter, except when milk comes out of my nose. – Woody Allen
Read More: Most Popular 100+ Appreciation Quotes To Appreciate Those Who Are Successful
Whatever life throws at me I'll take it and be grateful for it as well. Tom Felton
My advice: Take a second out of the day today and be thankful for your family. – Jenna Morasca
So many people have touched my heart and made an impact on my world. I'm thankful for every lesson and learning experience. – Bindi Irwin
When a person doesn't have gratitude, something is missing in his or her humanity. – Elie Wiesel
Dear Lord, I'm so grateful I'm still loved. – Vivien Leigh
I'm thankful because all the hard work and sacrifices were worth it in the end. – WizKid
Be thankful for problems. If they were less difficult, someone with less ability might have your job. – Jim Lovell
I feel grateful because I have a lot of love in my life. I found the person I'm sharing my life with. I have a good man. – Gisele Bundchen
Keep your eyes open to your mercies. The man who forgets to be thankful has fallen asleep in life. – Robert Louis Stevenson
I'm thankful to God that my life changed, but I'm also still on my grind. – Tory Lanez
I wouldn't change anything. I've made mistakes, but thanks to those mistakes, I've learned. – Enrique Iglesias
Be thankful for everything that happens in your life; it's all an experience. – Roy T. Bennett
Short Thankful Quotes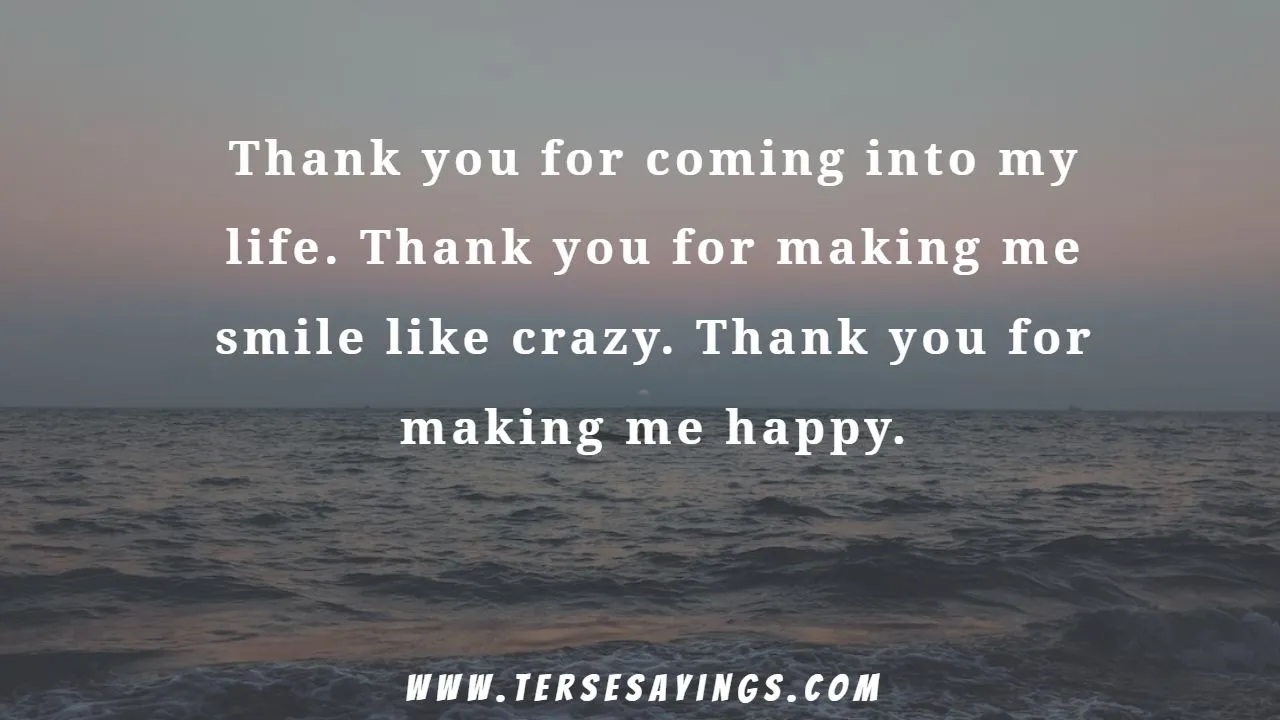 Thank you for coming into my life. Thank you for making me smile like crazy. Thank you for making me happy.
Other things may change us, but we start and end with the family. – Anthony Brandt
When we give cheerfully and accept gratefully, everyone is blessed. – Maya Angelou
There are many things that I am thankful for in my life, and you are at the top of my list.
When I count my blessings, I count you twice.
A grateful heart is a magnet for miracles.
Read More: Best 60+ Inspiring Grateful Quotes You to Be Thankful for 2023
Upon waking, let your first thought be, Thank you.
Every day may not be good. But there's something good in every day.
Every life is a story. Thank you for being part of my story.
Thanks for pigging out on pizza with me at any time of the night.
I'm the luckiest wife/husband to have you as my life partner. Thank you for being so kind and loving.
But most of all…thank you for loving me- like no one else ever has, or ever will.
Be thankful for what you are now, and keep fighting for what you want to be tomorrow.
Thank you, Universe for the good things in my life that I don't know about yet.
Begin each day with a grateful heart.
Always be thankful for what you have. Many people have nothing.
Thankful Quotes For Life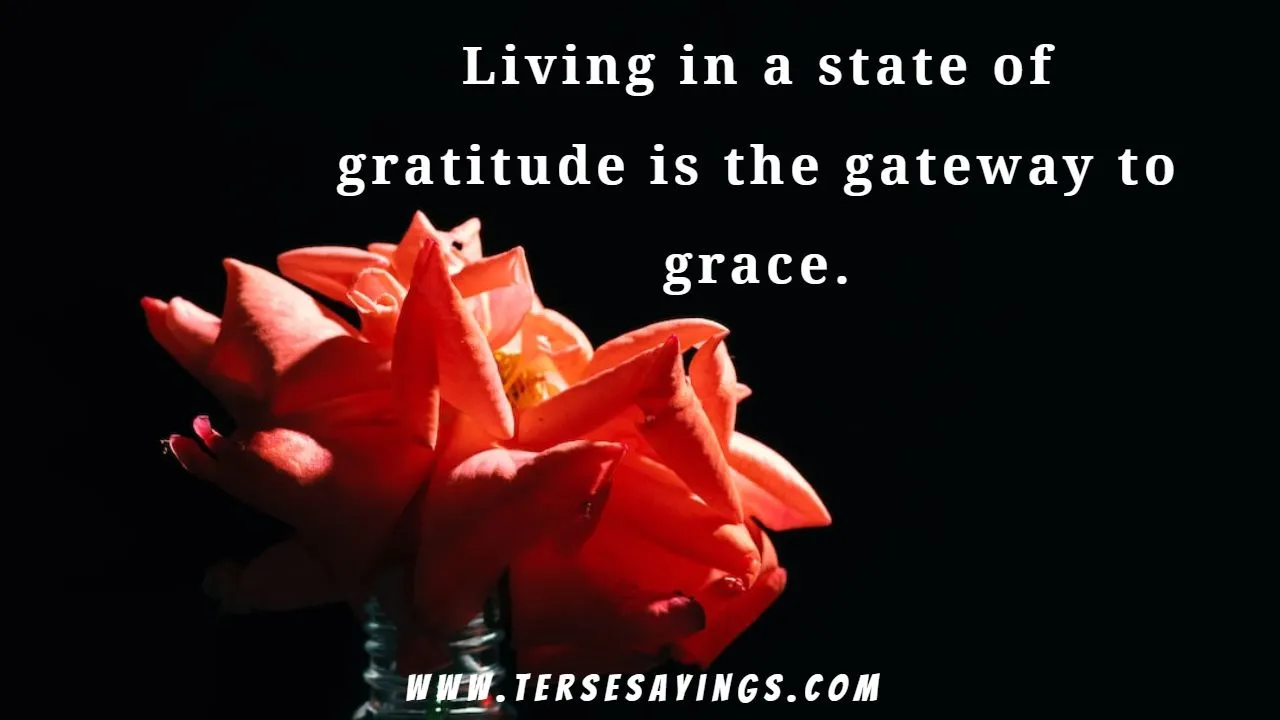 Living in a state of gratitude is the gateway to grace.
The real gift of gratitude is that the more grateful you are, the more present you become.
When we give cheerfully and accept gratefully, everyone is blessed.
Don't pray when it rains if you don't pray when the sun shines.
Gratitude opens the door to the power, wisdom, the creativity of the universe. You open the door through gratitude.
What separates privilege from entitlement is gratitude.
Sometimes we spend so much time and energy thinking about where we want to go that we don't notice where we happen to be.
Learn to be thankful for what you already have, while you pursue all that you want.
If you keep searching for everything beautiful in the world, you will eventually become it.
Also Read: Most Famous 60+ Grateful Quotes to God
Remember that sometimes not getting what you want is a wonderful stroke of luck.
If you believe it will work out, you'll see opportunities. If you believe it won't, you'll see obstacles.
Don't let negativity from yesterday dull the sparkle of today.
Instead of thinking 'I will be happy when,' try thinking 'I will be happy now.'
I am thankful for all those difficult people in my life. They have shown me exactly who I do not want to be.
I am grateful for the grace of existence.
Replace expectation with gratitude.
The secret of being happy is accepting where you are in life and making the most of every day.
I'm thankful for my struggle because without it I wouldn't have stumbled across my strength.