Generally, people become overwhelmed because they don't know who and when to send cards, to or what to write. In a busy time, you think that you will have enough time to write cards at the last moment but it becomes difficult. In this way, there is a number of Christmas quotes for cards. You will surely like them and you can write to your loved ones.
Christmas is a blessed day and considers a special time of the whole year. On this day all the family members, friends, and fellows meet with each other and share generous wishes. Several families receive Christmas cards and family pictures to hang or display on holiday. For this purpose, it is quite essential to craft generous and well wishes messages for your friends and family.
Meet up your loved ones by enlightening the cozy fire and sit around here because the holiday time has finally arrived. These Christmas holidays are the busy days of the year, as you have to decorate your place, cook delicious cookies, and buy gifts and cards. The main thing is to write something good on it.
Christmas cards often contain a lot of information, such as spaces for family photos, a personal message, your signed name, a selection of quotes or Christmas thoughts, and the address of the company. Picking the card wisely is essential. Thus, if you are unsure of what to write, we have a fantastic variety of Christmas quotations that you may use to send your best wishes.
Depending on the person, you can modify your card's signature and the message you choose to include. The Christmas cards you send to relatives and friends should appear different than those you send to clients. Choosing the appropriate holiday card design is essential once you've decided what to write on your card.
Christmas Quotes For Cards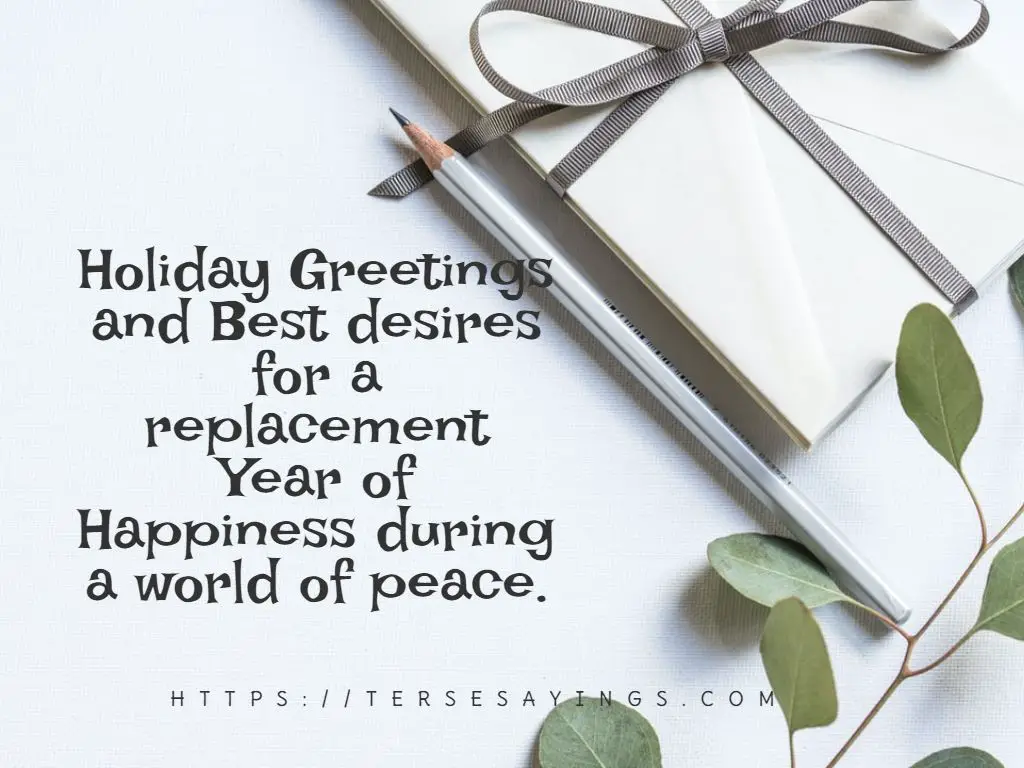 Christmas waves a magic wand over this world, and behold, everything is softer and more beautiful.
One of the most glorious messes in the world is the mess created in the living room on Christmas day. Don't clean it up too quickly.
There has been only one Christmas–the rest are anniversaries.
I will honor Christmas in my heart, and try to keep it all the year.
Christmas is the season for kindling the fire of hospitality in the hall, the genial flame of charity in the heart.
Gifts of time and love are surely the basic ingredients of a truly merry Christmas.
At Christmas, all roads lead home.
50+ Best Christmas quotes God & religion
Blessed is the season which engages the whole world in a conspiracy of love!
Love is what's in the room with you at Christmas if you stop opening presents and listen.
I wish we could put up some of the Christmas spirit in jars and open a jar of it every month.
Christmas Card Messages For Friends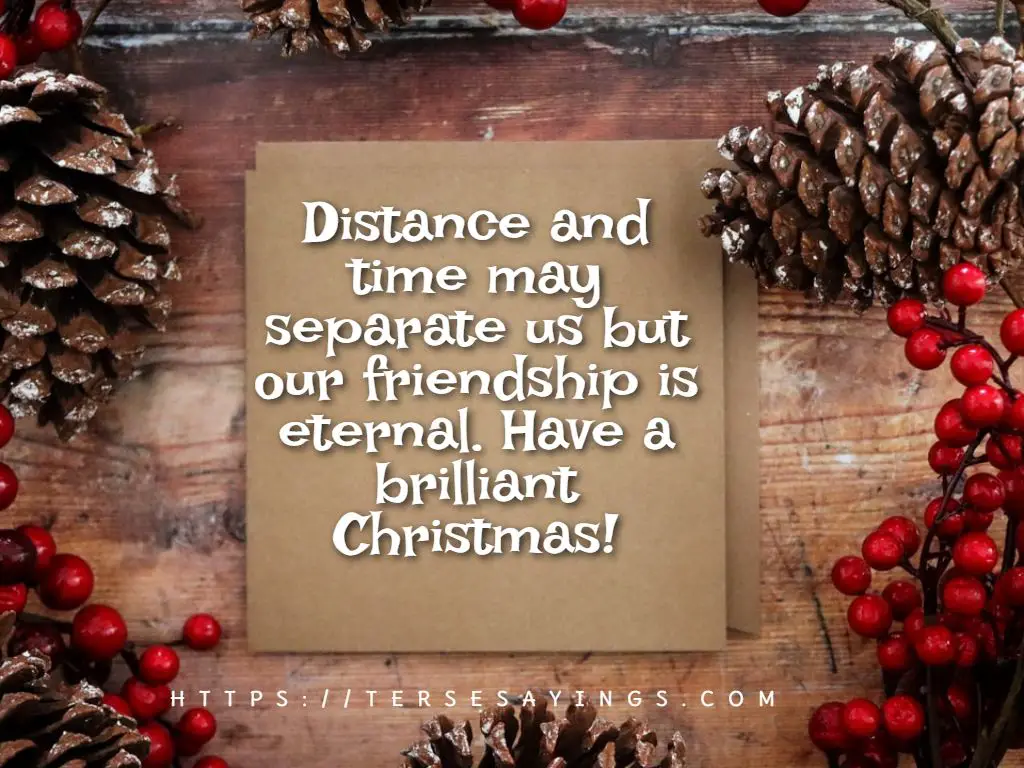 I'm so blessed to have a friend like you, not only at Christmas but all year round. Merry Christmas lovely!
What more could you want this Christmas then having me as a best friend?!
Distance and time may separate us but our friendship is eternal. Have a brilliant Christmas!
There's no gift out there that I will provide you with to indicate you ways a lot of I care. you're my succour within the world and that I can carry you in my heart every place I am going.
Read More: 60+ Best Christmas Quotes By CS Lewis
Remember, after you stop feat cookies and milk for Santa you get socks for Christmas.
The best factor regarding Christmas is attending to write my Christmas cards to all or any the folks I really like.
Holiday Greetings and Best desires for a replacement Year of Happiness during a world of peace.
Having a family such as you is that the best present there ever might be.
Wishing you and yours a Merry Christmas and a contented yr.
For the spirit of Christmas fulfils the best hunger of the human race.
Inspirational Christmas Messages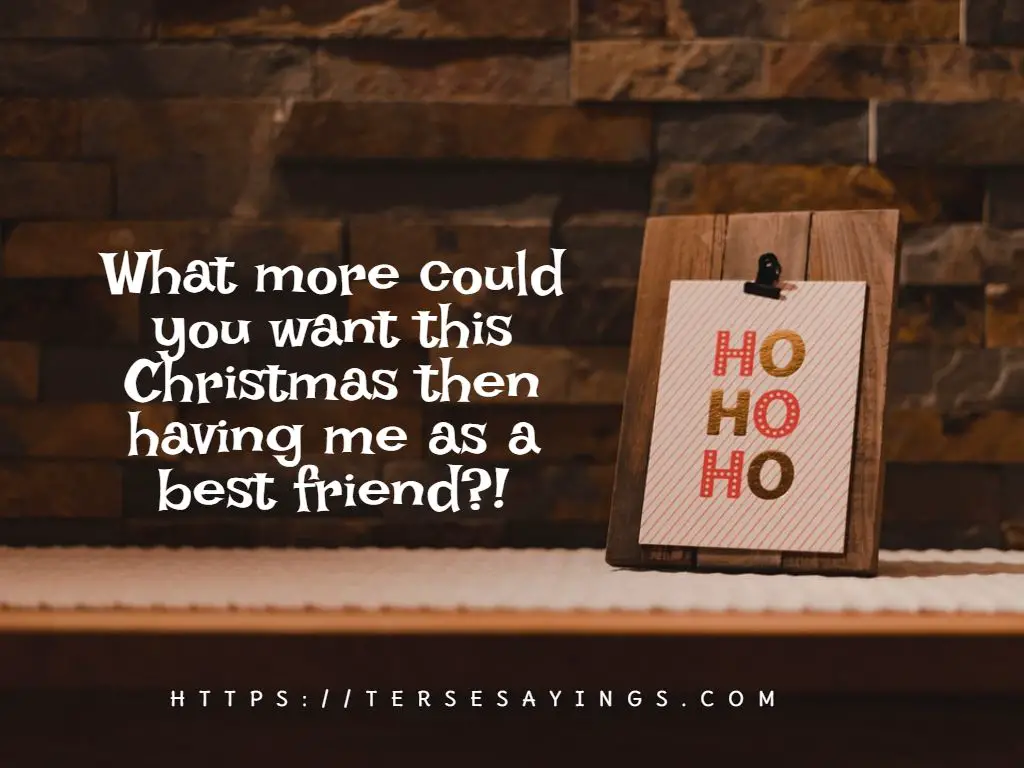 Let's celebrate this blissful New Year. happy Christmas.
During this time of faith and family, may the true meaning of Christmas fill you with joy. Wishing you a Merry Christmas and a blessed New Year.
Amidst the Christmas carols, eggnog, cookies, and mounds of presents, may your heart be filled with contentment and the unique feeling of joy that the season brings.
My special wishes to you and to all those too are close to you. May you have a Christmas that is more special than it has ever been. May Baby Jesus bless you abundantly.
Christmas is a season of great joy: a time for remembering the past and hoping for the future. May the glorious message of peace and love fill you with joy during this wonderful season.
This time of year brings festivities and family fun. It is a time for reminiscing and looking forward. Wishing you wonderful memories during this joyous season.
Try this also: 50+ Best Christmas Quotes Charles Dickens
A Christmas candle is a lovely thing; It makes no noise at all, But softly gives itself away; While quite unselfish, it grows small.
During the miraculous time that is Christmas may you see with the eyes of a child, experience the wonder of love, and truly enjoy all that the season has to offer.
As you celebrate the glory of this miraculous season, may your home be filled with love, peace, and joy. May these blessings follow you throughout the New Year.
The best present one can hope for this year is to spend time together. I can't wait to celebrate the holidays with you.
Funny 2021 Christmas Card Sayings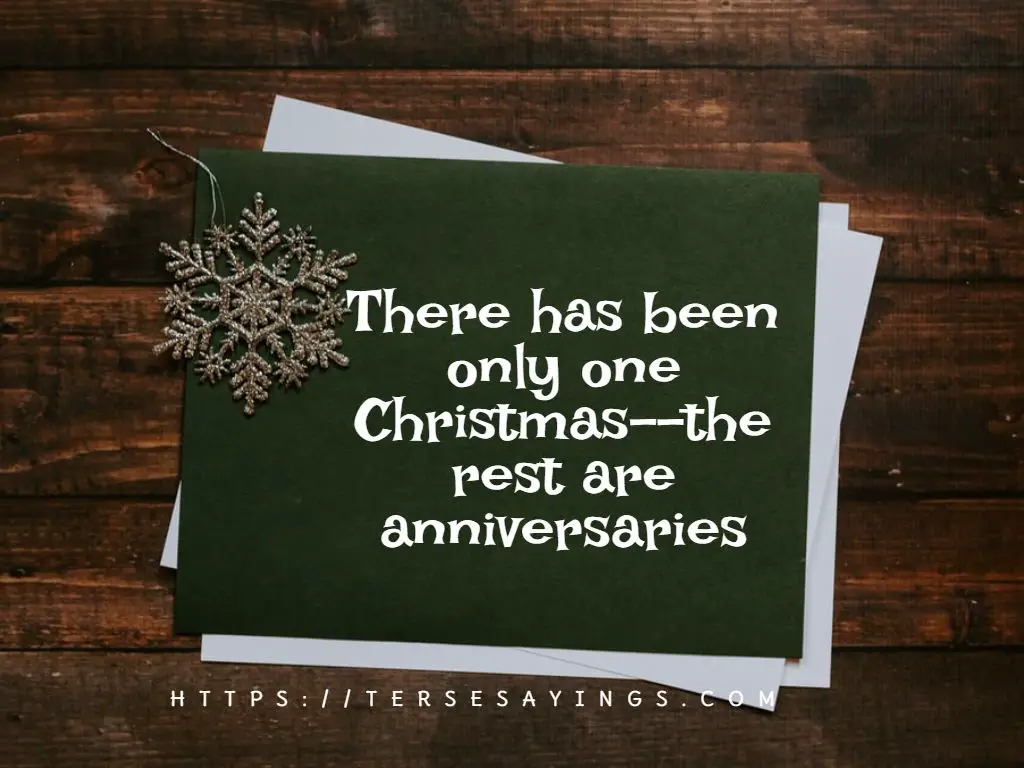 Christmas is a good excuse to send cards to all my favorite people. Congratulations on retaining your position on my list this year.
That warm feeling isn't just the Christmas spirit. I think you left the oven on.
This holiday season let us treasure what is truly important in all our lives, the reason for the season: Cookies.
You know those commercials where the present is a brand new car with a big red bow? Yeah, we're not doing that.
We wish you a merry Christmas, we wish you a merry Christmas, we wish you a merry Christmas and you're welcome – that song's now stuck in your head all day.
Read More: 50+ Best Christmas quotes giving sharing
There's pure joy in the discovery that the best presents are the people whose presence is solely for bringing presents.
Home is where the Christmas cookies and presents are!
Insert fruitcake joke, add ugly sweater = The best xmas card ever made. You are welcome.
May your fun be large and bills be small this year. Merry Christmas!
If you ask Santa for a lump of coal this Christmas, how will we know if you're naughty or nice? I guess we'll never know…
Short Christmas Phrases For 2022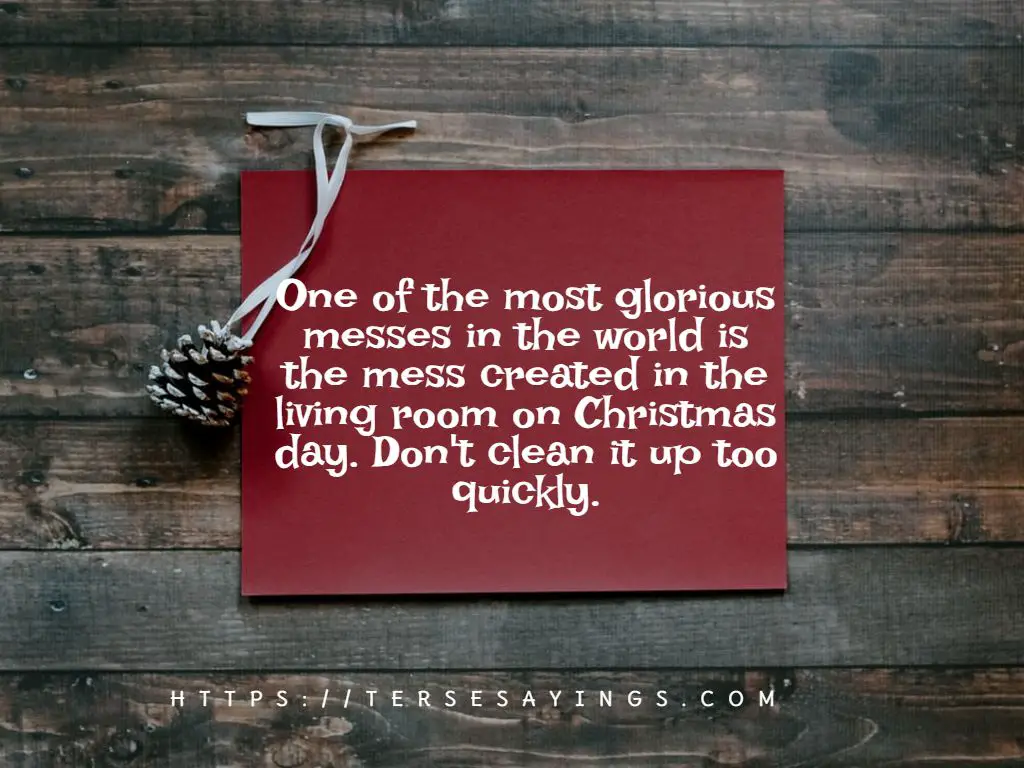 Believe in the Magic of Christmas
'Tis the season
Peace on Earth
Let It Snow
Merry and Bright
Read more: 50+ Best Christmas Quotes Black And White
Deck the Halls
Joy to the World
Baby, it's Cold Outside
Let Your Heart Be Light
Better Not Pout
Christmas Card Messages 2021 COVID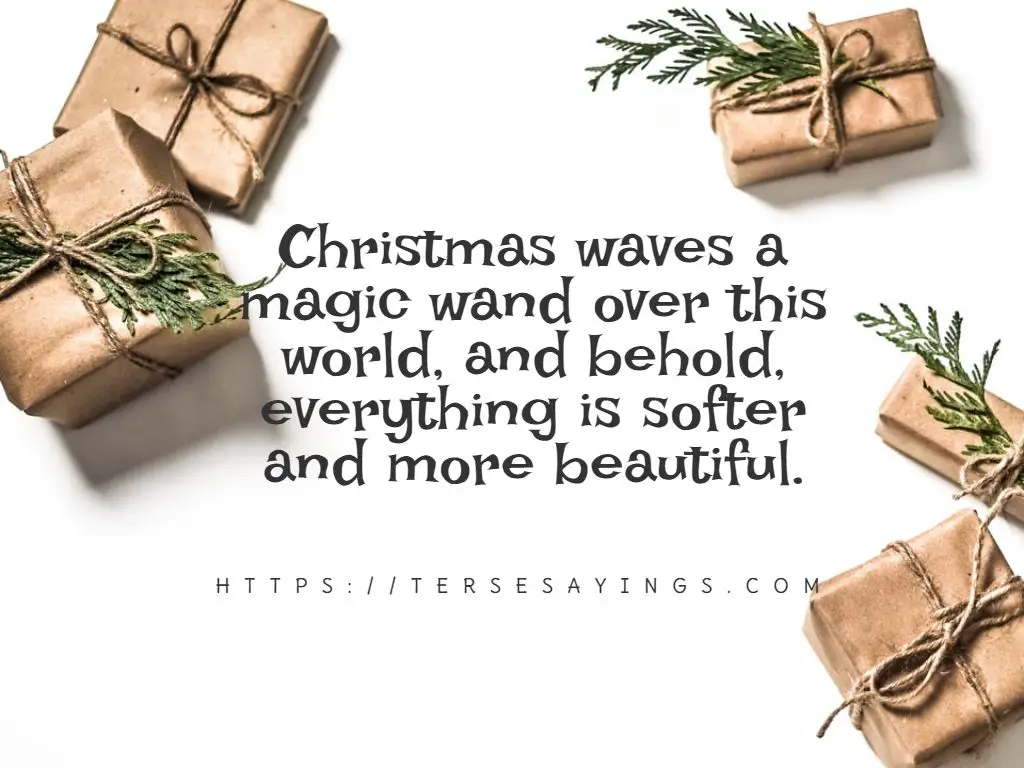 Oh DEER! What a YEAR!
It's fine. We're fine. Everything is FINE.
Just ZOOMING by to say Happy Holidays!
2021 Year in Review… Ditto 2020
Read More: 30+ Best Christmas quotes harry potter
STILL Home for the Holidays!
Wishing you a happy & healthy holiday season!
PAWSITIVELY A Year We Will NEVER Forget!
It's the best time of the year to wish you good health, peace and a good year ahead!
Merry Christmas from Six Feet Away!
Christmas Card Messages For Family And Friends
I don't need anything from Santa because I was blessed with such a wonderful family. Merry Christmas!
May the melody and spirit of the holidays fill your home with love and peace. I wish you all the best and happy New Year too!
Merry Christmas to the greatest parents. Thanks for filling my childhood full of joy, cheer and Christmas spirit.
Three phrases that sum up Christmas are: Peace on Earth, Goodwill to Men and Batteries not Included.
You know you're getting old when Santa starts looking younger.
You may read this also: 50+ Best Christmas quotes from movies
We hope this season ends on a joyful note and continues into a safe and prosperous New Year for you and your family.
May the Christmas season fill your home with joy, your heart with love and your life with laughter.
May the sweet magic of Christmas conspire to gladden your heart and fill every desire.
Christmas is a time when everyone wants his past forgotten and his present remembered.
Best wishes for a happy holiday season and our sincere thank for your loyalty and goodwill throughout the year.