It is an obvious thing that all types of books can teach us different things. All books are based on interesting facts and correct information.
Other than this some best books of literature provide you the wisdom and positive energy to face difficult situations in your life.
In this way, if you are a book reader then you know very well that some books become friends and in our entire life, we consult with these books for advice and guidance.
If you feel demotivated to read books and you have a number of books on your bookshelf, then don't worry.
Because here in this article we are going to tell you the funny quotes from books that will make you feel better and stop thinking about reading books or not.
It doesn't matter which genres are your favorite, whether you are a history lover, literature lover, with the help of all these quotes you will definitely love to read all types of books.
Too many people have the ability to find the right book at the right moment and this thing have special effects on life.
However, if you are a book reader then you know very well that books have the power to change your life, which means transport you to your dream world.
If you want to build your vocabulary then reading books is the best option, if you want to reduce your stress and relax your mind then in this condition reading books is a good option.
Overall reading books is very beneficial and if you are not a reader then in my recommendation you should read books.
So, if you need the motivation to read books then all the quotes that are given below will definitely motivate you to read books and also make you laugh.
Read the complete article to know more about these quotes and share them with your friends and family members.
Whimsical Quotes From Books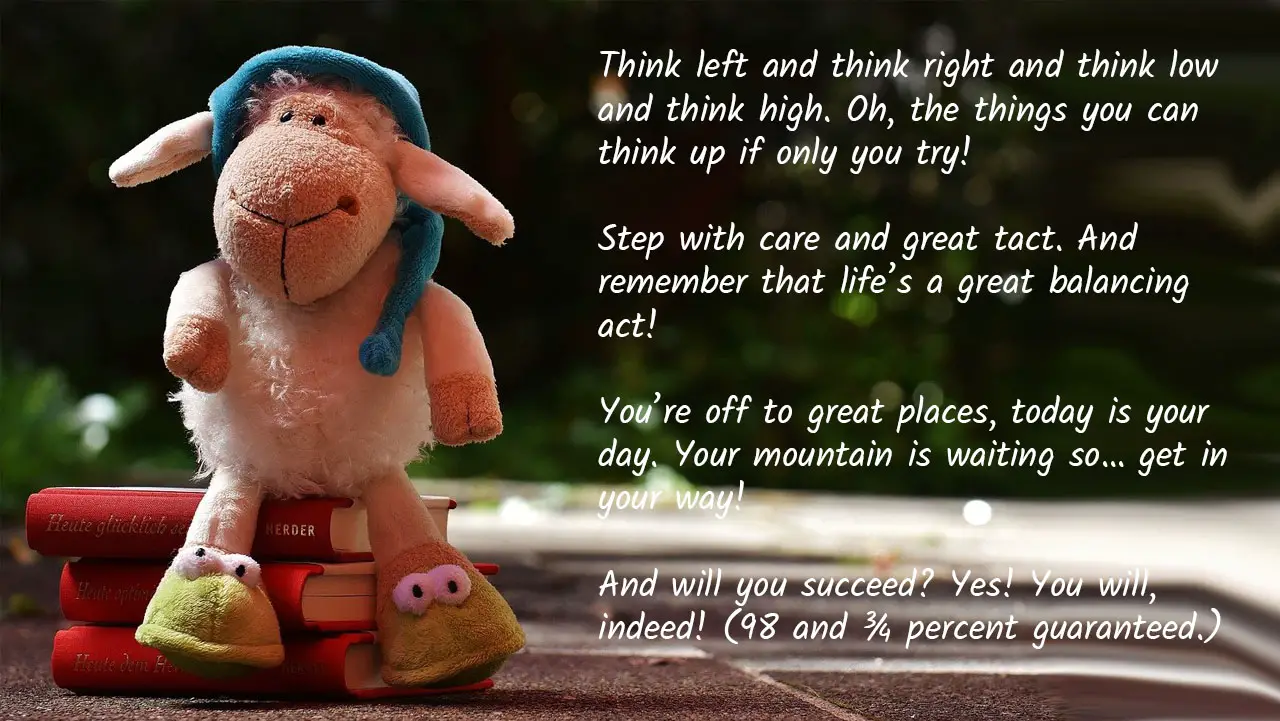 Think left and think right and think low and think high. Oh, the things you can think up if only you try!
Step with care and great tact. And remember that life's a great balancing act!
You're off to great places, today is your day. Your mountain is waiting so… get in your way!
Wherever you fly, you'll be the best of the best. Wherever you go, you will top all the rest. Except when you don't. Because sometimes you won't.
And will you succeed? Yes! You will, indeed! (98 and ¾ percent guaranteed.)
Don't give up. I believe in you all. A person's a person, no matter how small.
Because Horton was faithful! He sat and he sat! He meant what he said. And he said what he meant.
You have to be odd to be number one.
Unless someone like you cares a whole awful lot, nothing is going to get better. It's not.
Your mind is a garden, your thoughts are seeds. You can grow flowers, or you can grow weeds.
Funny Quotes From Books And Movies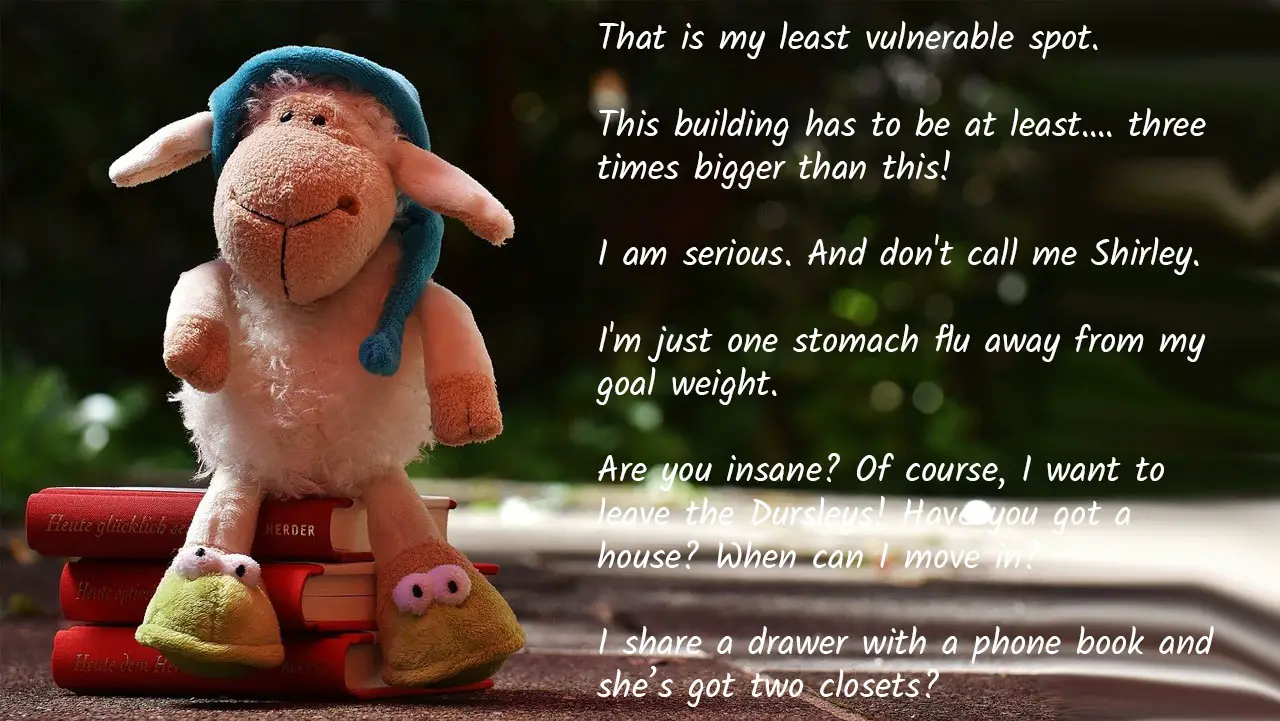 That is my least vulnerable spot.
This building has to be at least…. three times bigger than this!
I am serious. And don't call me Shirley.
Yeah, but I shoot with this hand.
I'm just one stomach flu away from my goal weight.
Are you insane? Of course, I want to leave the Dursleys! Have you got a house? When can I move in?
If I wasn't terrified of heights, I'd like this. But, I'm terrified of heights, so I don't like this.
By all means move at a glacial pace. You know how that thrills me.
Can I use the facilities? Because being pregnant makes me pee like Seabiscuit!
I share a drawer with a phone book and she's got two closets?
Funny Book Lover Quotes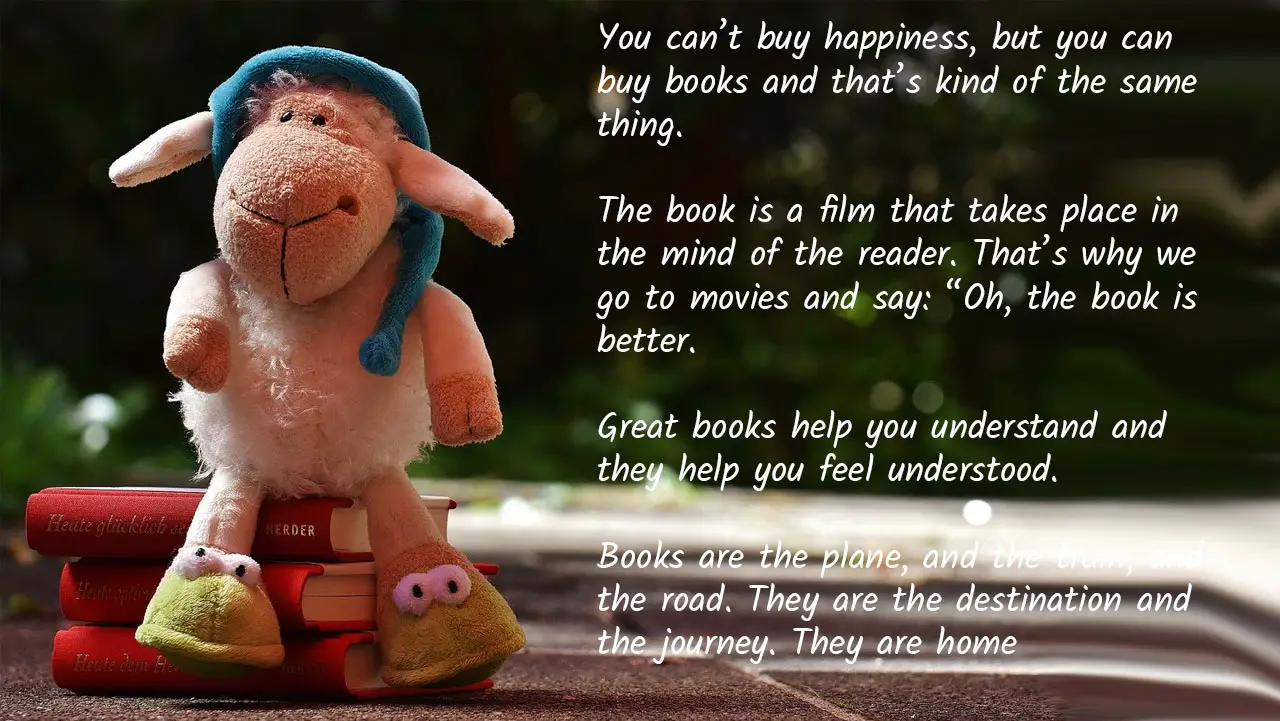 You can't buy happiness, but you can buy books and that's kind of the same thing.
The book is a film that takes place in the mind of the reader. That's why we go to movies and say: "Oh, the book is better.
Great books help you understand and they help you feel understood.
The cure to boredom is booked. There is no cure for books.
No two persons ever read the same book.
Books are the plane, and the train, and the road. They are the destination and the journey. They are home.
Never trust anyone who has not brought a book with them.
A classic is a book that has never finished saying what it has to say.
Literacy is a bridge from misery to hope.
Books wash away from the soul dust of everyday life.
A mind needs books as a sword needs a whetstone if it is to keep its edge.
Sassy Quotes From Books
I like to think I'm helping them by hating them. I'm reminding them that they aren't God's gift to humankind.
I only want one thing of men, and that is, that they should leave me alone.
Puh-lease… Team leather and cocks aren't always right.
Try this also: 25+ Funny Pregnancy Announcement Quotes
Mother, you have my father much offended.
It should go without saying that anyone who introduces themselves as 'a bit weird' is almost certainly not.
If she fell, she'd die of humiliation.
Ran into the wrong end of a knife.
How will this stroke steal away my remaining dignity, let me count the ways.
Funny Book Quotes Sayings
The covers of this book are too far apart.
If we didn't have libraries, many people thirsty for knowledge would dehydrate.
No books are lost by loaning except those you particularly wanted to keep.
Everything comes to him who waits, except a loaned book.
Never lend books, for anyone ever returns them. The only books I have in my library are books that other folks have leant me.
I was reading a book, "The History of Glue." I couldn't put it down.
Life happened because I turned the pages.
Do you love New York? here are some funny quotes about NY 50+ New York Funny Quotes
There's many a bestseller that could have been prevented by a good teacher.
I just got out of the hospital. I was in a speed-reading accident. I hit a bookmark.
Someday I hope to write a book where the royalties will pay for the copies I give away.
Never judge a book by its movie.