Heart Touching I Miss You Mom Quotes From Daughter: When you miss your mother, it's the simplest way to tell her that you can't stop thinking about her. Whether you live far away from your mother or she is no longer alive, these quotations will encourage you to let her know that even if you feel like you're living in pieces, there will always be a piece of her with you.
It's natural to miss your mother. Even if you've only been apart for a short time, you miss her after she passes away.
That's because mothers are unique. They adore you, are there for you when you need them, and have the ability to make everything better.
So we all think about how much we miss our mothers when they're gone.
However, it can assist us in retaining our fond recollections of our moms. Remembering the happy moments won't bring her back, but it will help us cope with the loss and remember how fortunate we were to have such a wonderful mother.
You don't go around grieving all the time, but the grief is still there and always will be – Nigella Lawson
There is something about losing a mother that is permanent and inexpressible – a wound that will never quite heal – Susan Wiggs
Mothers never really die, they just keep the house up in the sky. They polish the sun by day and light the stars that shine at night, keep the moonbeams silvery bright, and in the heavenly home above they wait to welcome those they love – Helen Steiner Rice
Love as powerful as your mother's for you leaves its own mark. To have been loved so deeply, even though the person who loved us is gone, will give us some protection forever – J.K. Rowling
I cannot forget my mother. She is my bridge. When I needed to get across, she steadied herself long enough for me to run across safely – Renita Weems
     Don't forget to read : 100+ beautiful Boy Mom Quotes
You were my home, Mother. I had no home but you – Janet Fitch
I should know enough about the loss to realize that you never really stop missing someone – you just learn to live around the huge gaping hole of their absence – Alyson Noel
Miss you, mum.

I'm sorry that I didn't say thank you enough.

There are a few people who have always been there for us, who have always been there to support us, and whose words of wisdom have helped us become the people we are today. There's no one else in the world like these people. You are one of these people Mum, I love and miss you dearly!

You know how you always said that family is the most important thing in life? Well, it's true and I'd like to thank you for my happy childhood. I miss you, Mum!

Hi mum! Oops almost forgot to send this on time! Hope you're well. It's been ages! I promise I'll call soon. I miss you Mum.

Thanks for being the best mum in the whole world. We love you more than anything! I really miss you.

You make me the person I am today. Thank you for everything mum. I miss you!
Miss You Mom Messages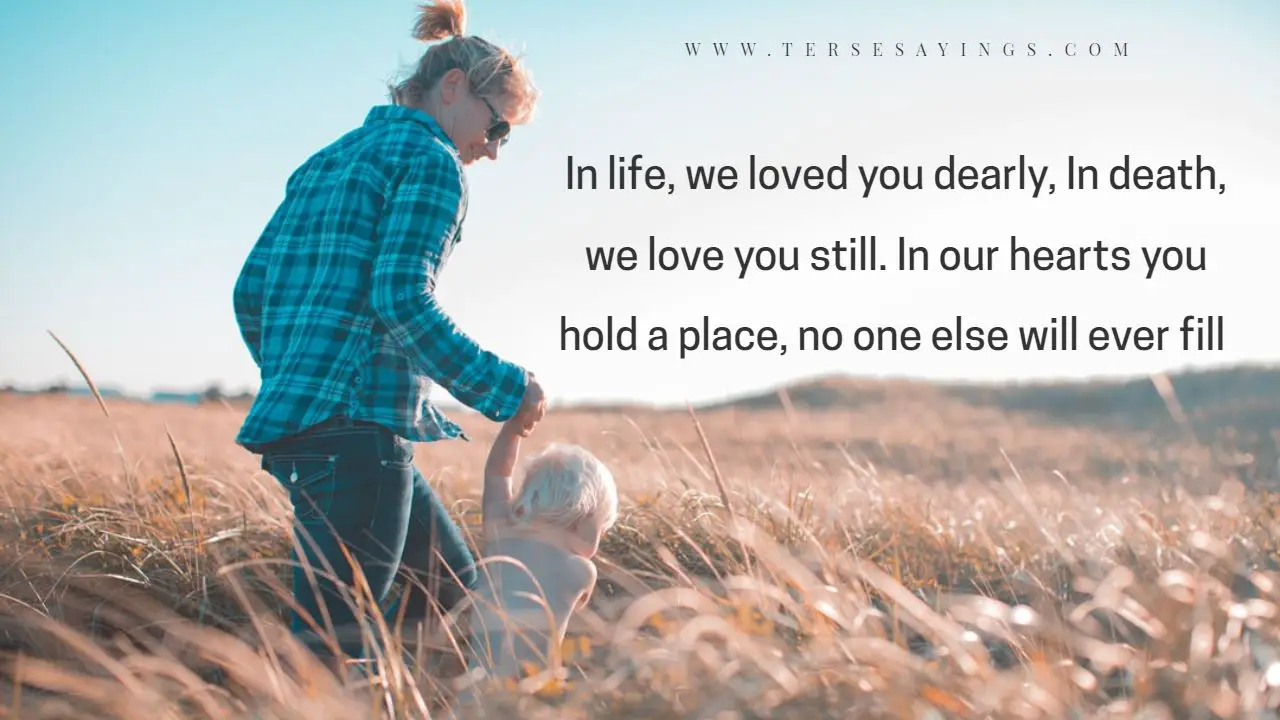 I truly never learned what the words 'I miss you' were until I reached for my mom's hand and it wasn't there – Unknown
Sadness is not being able to hug your mom– Unknown
To my mother in heaven, thank you for always loving me and guiding me. Even though you are no longer here with me I can still feel your love guiding me. You are always in my heart. I love you and miss you dearly
Mom, nothing has been the same since I lost you. I miss you more than words can ever say
In life, we loved you dearly, In death, we love you still. In our hearts you hold a place, no one else will ever fill – Unknown
I wish heaven had visiting hours so I could see and speak to my mom again. I miss her so much
     Click here to read : 100 + Heart Touching Birthday Quotes for Mom 
Whenever I am missing you, I also remember how fortunate I was that you were in my life. I wouldn't trade those moments for the world – Unknown
Mom, sometimes I wish you could come back, but I don't want you to suffer again. I know you are with me and I will always love and miss you with all my heart. Until we meet again! – Unknown
I'll never forget all the good things you've helped me experience and I'll never forget all the advice you've given me in life. Miss you mom
Mother, you left us beautiful memories, your love is still our guide, although we cannot see you, you're always at our side – Unknown
I miss you so much, mom. I would give anything just to hug you or to hear you say my name again
There is no worse feeling than missing your mother and not being able to see her. It's a pain that never leaves you
Mom, could you come back and stay awhile. I want to hear your voice. And see your smile. I want to tell you how much I love you. I want to hold you tight and never let you go – Unknown
Mom, sometimes I wish you could come back, but I don't want you to suffer again. I know you are with me and I will always love and miss you with all my heart. Until we meet again!
Time may move on, but there isn't a day that goes by that I don't miss my mother. The day she died is not just a date on a calendar, it was the day my very existence changed forever
It wasn't until I lost my mom that I fully understand the phrase 'I miss you. Now it makes more sense than anything else in this world and I find myself saying it daily
There is nothing that can prepare you for your mom not being there. To find one day that the person you've always turned to and looked to is no longer with you is both heartbreaking and terrifying. And you miss her like no one else
You are always in my heart mom. It doesn't matter how long you've been gone you will forever be a part of me
Life might go on but it is never the same. I will miss you forever and be thankful for every wonderful moment I had with you mom
I Miss You Mom Quotes From Son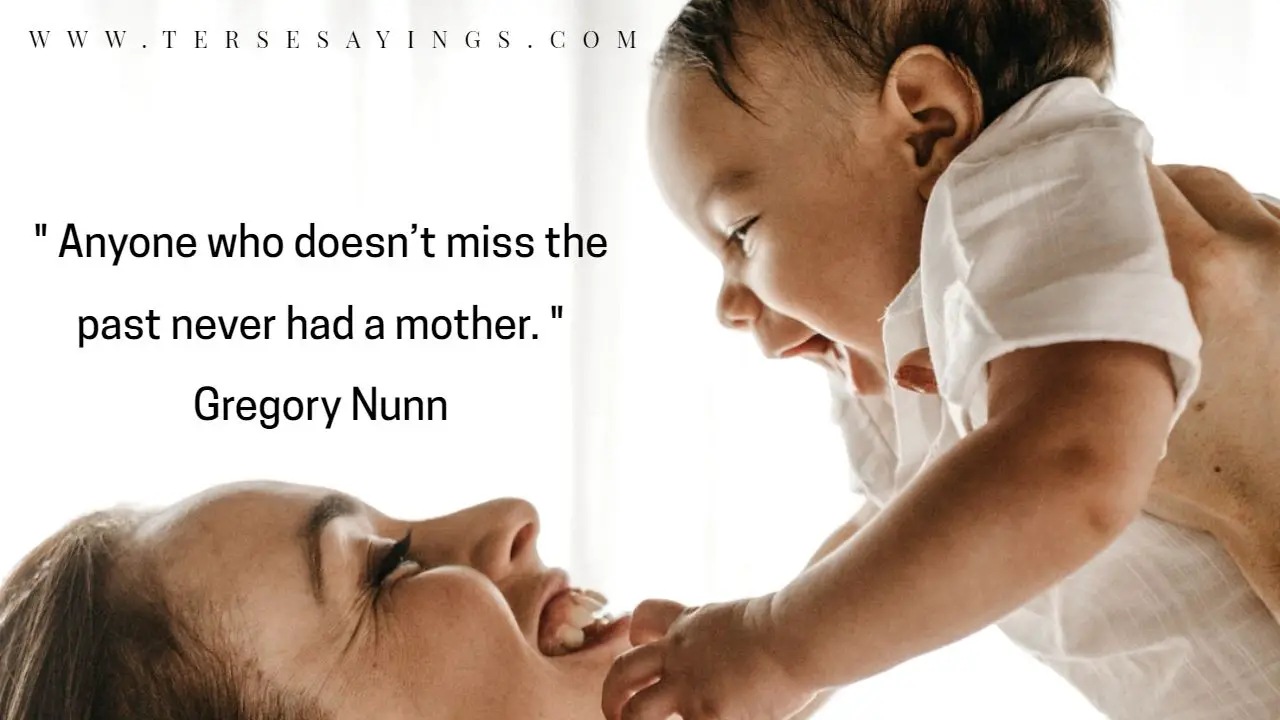 All that I am, or hope to be, I owe to my angel mother – Abraham Lincoln
No matter how prepared you think you are for the death of a loved one, it still comes as a shock, and it still hurts very deeply – Billy Graham
But she wasn't around, and that's the thing when your parents die, you feel like instead of going into every fight with backup, you are going into every fight alone – Mitch Albom
I remember my mother's prayers and they have always followed me. They have clung to me all my life – Abraham Lincoln
My mother had a slender, small body, but a large heart – a heart so large that everybody's joys found welcome in it, and hospitable accommodation – Mark Twain
A man loves his sweetheart the most, his wife the best, but his mother the longest – Irish Proverb
     Also read : 100+ Amazing Working Mom funny quotes
Anyone who doesn't miss the past never had a mother – Gregory Nunn
A mother's love's a blessing, no matter where you roam, keep her while she's living, you'll miss her when she's gone. Love her as in childhood, though feeble, old, and grey, for you'll never miss a mother's love, till she's buried beneath the clay – Thomas P. Keenan
All that I am, or hope to be, I owe to my angel mother – Abraham Lincoln
If I had a flower for every time I thought of you… I could walk in my garden forever – Alfred Tennyson
Heart Touching Quotes for Dead Mother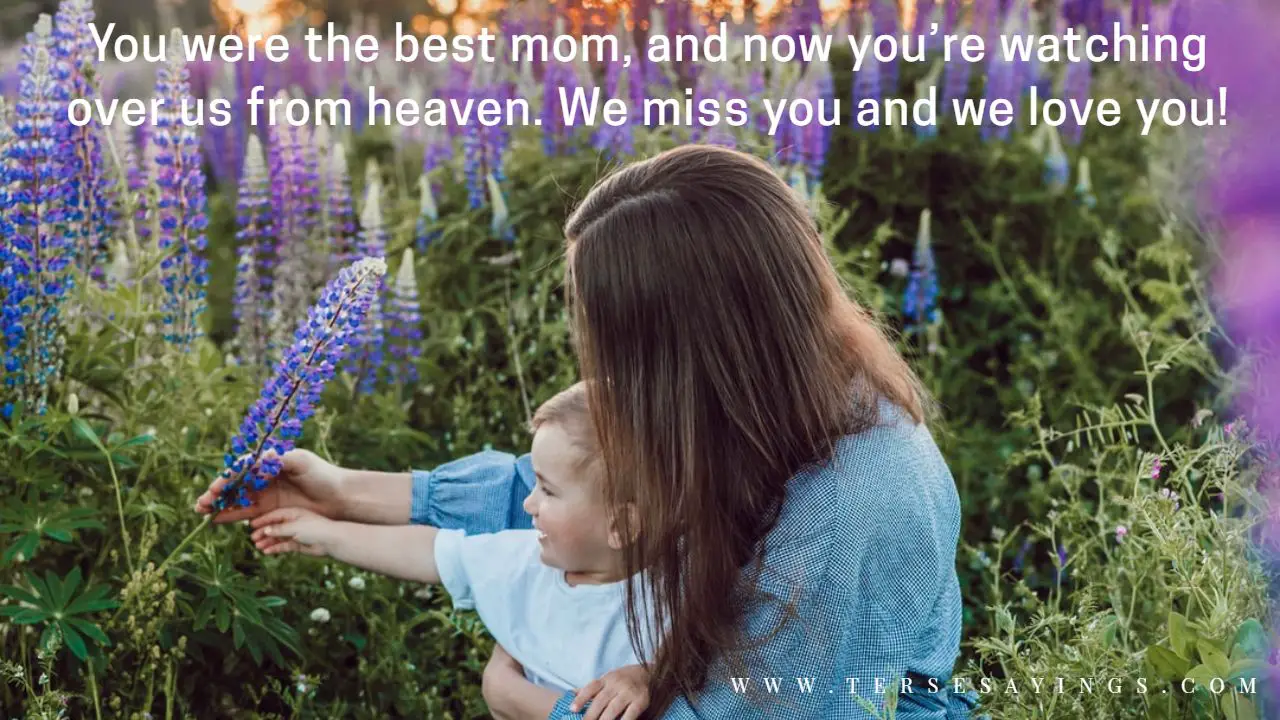 My mother was the type of person that made everyone's life around her better. I never realized how much until you died… My heart is filled with pain and despair, why did God take such an amazing person from our world? I wish there were words to express my sorrow for your loss. Until we meet again I will continue to love and cherish the memories we shared tog this life.
My mom was my best friend. I loved her more than I could ever put into words. She was kind, funny, stubborn, strong, unforgivingly honest, and just perfect. She was amazing at all that she did and she brought happiness to everyone around her. I will never be able to see your smiling face or hear your voice or feel your warm embrace again. But it makes me happy to know you are out there, looking down on us and watching over us with loving eyes.
I'm sorry. So sorry mom. I wish I could take back the pain I have given you. I wish I could erase my mistakes so you never have to suffer through the repercussions of it your entire life. You are so precious to me, my love for you runs so deep. It feels like a piece of my soul has been torn away with your death. It feels like a piece of my heart has been ripped out of my chest, leaving an empty hole where it used to beat.
     You may like : Most Popular 80+ Stepmother Quotes to Show Your Love and Special Bond
Mom, I know you are in Heaven watching over us with that beautiful smile of yours, I just wish you were here to watch Liam with me. You are my heart, with you gone I feel like half of me is missing. I love talking to you every night and asking what you want for dinner, getting your acceptance, and hearing your voice that is music to my ears. It tears me up inside knowing that you are gone and that we will never get to see each other ever again.
I just wanted to say that I love you and I miss you so much, mom. I wish you could tell me how life is on the other side, but we will see each other again someday. It's never a day that goes by that I don't think of you and wonder if you are doing ok. But I know you are and it makes me smile, and I am so thankful for my wonderful memories and time with you.
Your voice still echoes in my ear, your beautiful face still haunts my eyes. I have never been so sad, all this pain is unbearable. I love you mommy and always will until we meet again…
You were the best mom, and now you're watching over us from heaven. We miss you and we love you!
She was not just my mother, she was my best friend and confidant. I love and miss her so much. I feel her near me and talk to her every day. But no matter how long she's been gone, I still feel this empty hole in my heart. Without her here I do not know what to do or where to turn. She was the only person that understood me. She knew all my secrets, well almost all of them!
My mom and I were so close and we talked on the phone almost every day. After she passed away I would let my mind wander and think of things we had talked about. Sometimes, however, I find myself having conversations with her in my head. It comforts me to know that even if she can't be here, she is still with me, just not physically. She has always been such a big part of my life and even though she's gone, I'll always love her.
I miss you, my mum. I love you. You were the most amazing mum in the world. My heart aches without your presence. I feel like a piece is missing, but I guess it has always been my soul that was missing.
I Miss You Mom Quotes from Daughter Long Distance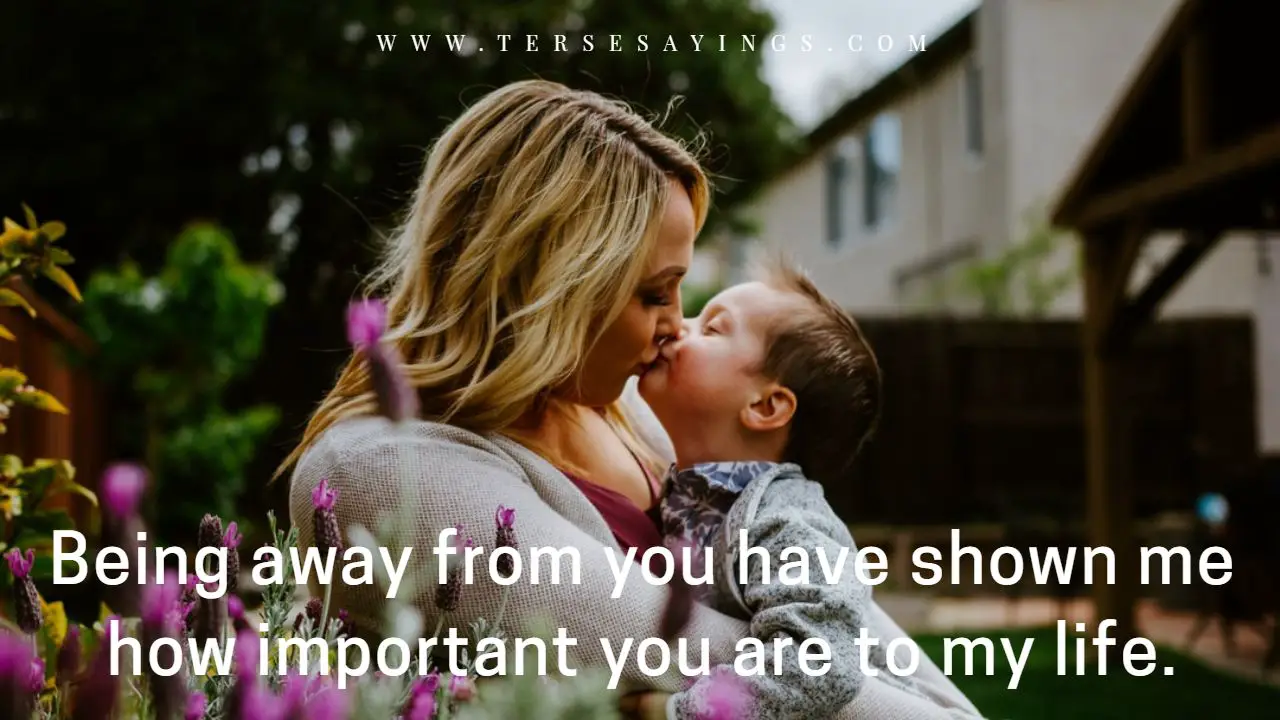 Being away from my mom is harder than anything I have had to handle.
Not living near my mom has taken a part of my heart.
There's nothing like being near enough to your mom to feel her embrace when you need it most.
I miss having you near me when I am happy and when I need someone to hold me.
Mom, there's nothing like your embrace when I need a loving touch.
Even though we are far apart, Mom, I know that you hold me in your heart.
There is no distance far enough to make me feel like I am ever without you.
Being away from you have shown me how important you are to my life.
Not seeing you every day has made a huge impact on me and I can't wait to spend time with you again.
There's nothing so wonderful as a lazy afternoon spent in the company of your mother.
     Also Read : Funny Mother-In-Law Birthday Quotes
Not being able to hear your mother's voice when you are sad and you need her the most is the biggest tragedy in life.
There are few things lonelier than a celebration without your mother.
When death has separated mother and child, then there is a sadness that can't be overcome.
Missing a mother who has died is something every child will carry with them to the grave.
The death of a mother is a pain that never goes away.