We should all pay attention when women speak. The valuable women quotes to strengthen and empower women are collected here. They use a variety of quotes, from cheerful to gentle. Some of these are encouraging strong woman quotes, while others are exhortations to action. But they're all wise words from illustrious women. And they'll all stick with you long after you've finished reading them.
Women should be honored for their outstanding accomplishments, services to society, and unparalleled bravery. Women continue to succeed and outperform the chances even though gender inequality in every field. To help you feel empowered, motivated, and inspired to continue the battle, we've compiled the strong women quotes from women about strength.
We are inspired to be brave, to dream large, and to accept ourselves and one another by these powerful women and the wisdom they provide. So be ready for some inspirational female quotes! before you start this, you must go through this article first: The Best 50+ Warrior Woman Quotes to Help Them Develop Confidence Themselves.
Valuable Women Quotes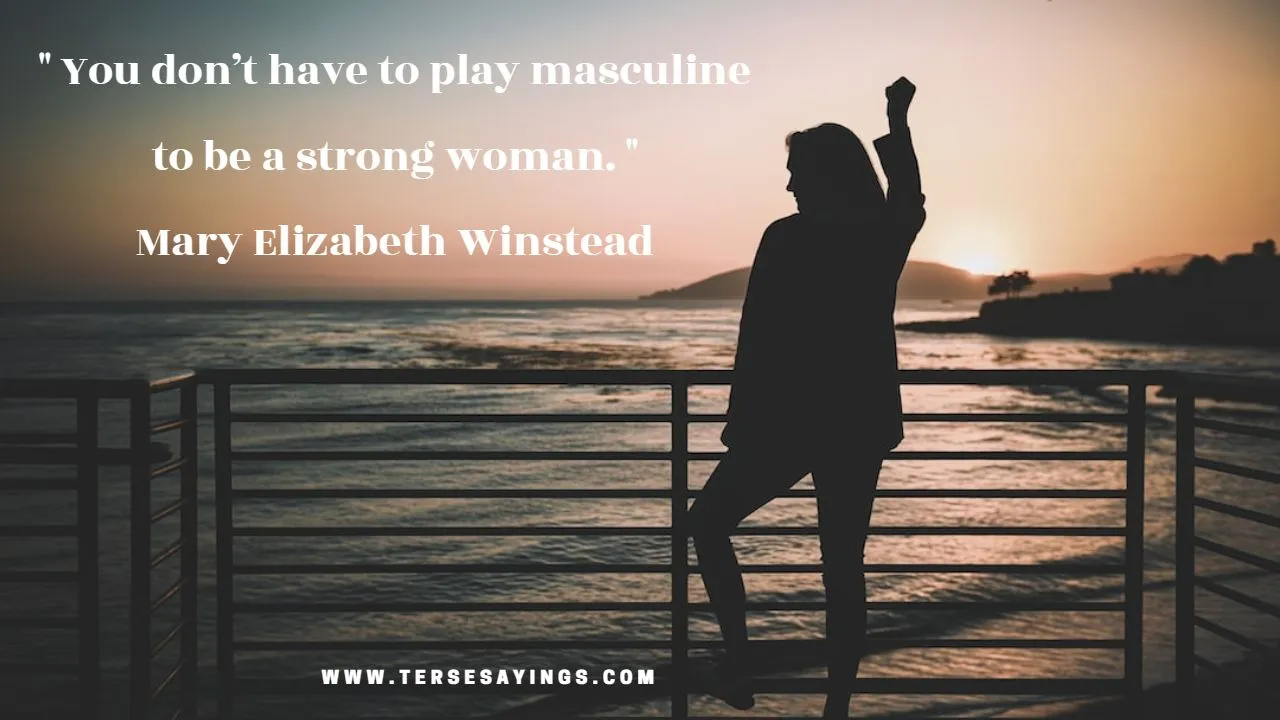 Females are the most beautiful, gorgeous creatures in the whole world. And I think that we are gorgeous no matter what size we are. —Alicia Keys
A woman with a voice is, by definition, a strong woman. But the search to find that voice can be remarkably difficult. —Melinda Gates
You don't have to play masculine to be a strong woman. —Mary Elizabeth Winstead
Women are like teabags. We don't know our true strength until we are in hot water. —Eleanor Roosevelt
I have chosen to no longer be apologetic for my femaleness and my femininity. And I want to be respected in all of my femaleness because I deserve to be. —Chimamanda Ngozi Adichie
I say if I'm beautiful. I say if I'm strong. You will not determine my story—I will. —Amy Schumer
I always wanted to be a femme fatale. Even when I was a young girl, I never really wanted to be a girl. I wanted to be a woman. —Diane Von Furstenberg
Click here to read: Best 70+ Warrior Women Of God Quotes from Strength
A strong woman is a woman determined to do something others are determined not be done. —Marge Piercy
Think like a queen. A queen is not afraid to fail. Failure is another stepping stone to greatness. —Oprah
We need women who are so strong they can be gentle, so educated they can be humble, so fierce they can be compassionate, so passionate they can be rational, and so disciplined they can be free. —Kavita Ramdas
Women must try to do things as men have tried. When they fail, their failure must be but a challenge to others. —Amelia Earhart
Above all, be the heroine of your life, not the victim. —Nora Ephron
Once you figure out what respect tastes like, it tastes better than attention. —P!nk
Women are leaders everywhere you look—from the CEO who runs a Fortune 500 company to the housewife who raises her children and heads her household. Our country was built by strong women, and we will continue to break down walls and defy stereotypes. —Nancy Pelosi
I believe in being strong when everything seems to be going wrong. I believe that happy girls are the prettiest girls. —Audrey Hepburn's
Inspirational Women Quotes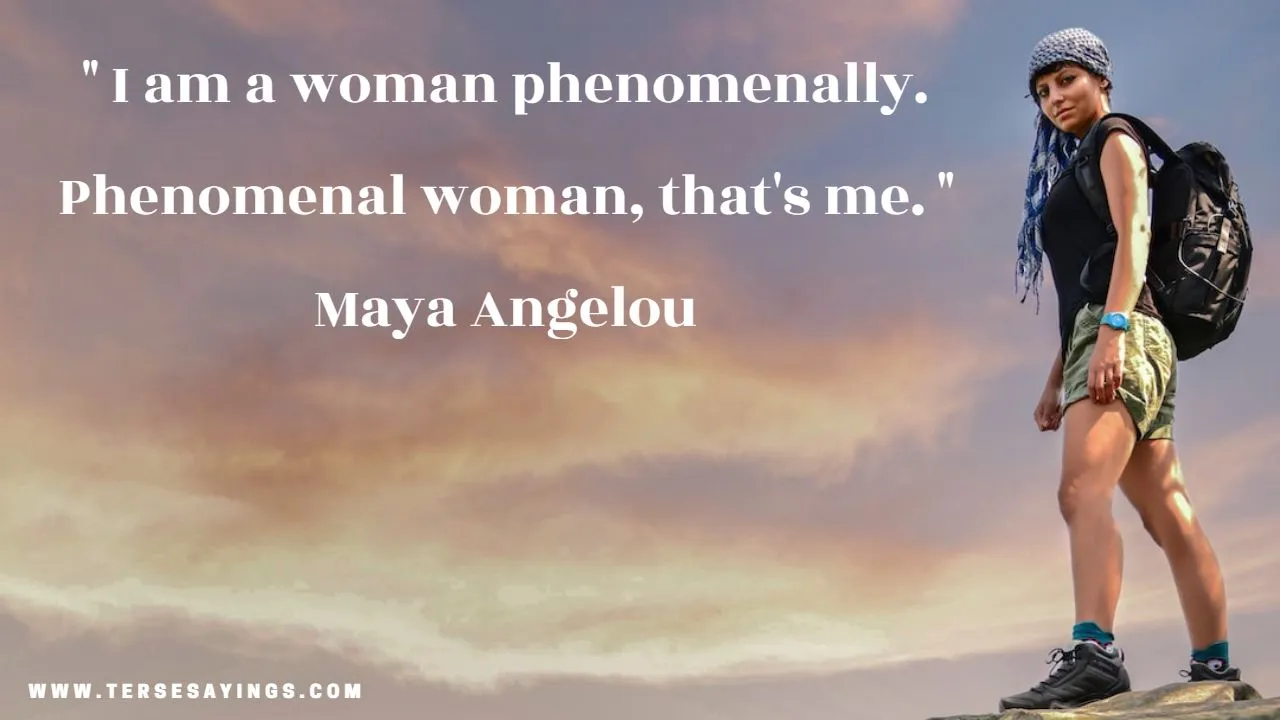 I think the truth of the matter is, people who end up as 'first' don't actually set out to be first. They set out to do something they love and it just so happens that they are the first to do it. – Condoleezza Rice
I am a woman phenomenally. Phenomenal woman, that's me. —Maya Angelou
Whatever women do they must do twice as well as men to be thought half as good. Luckily, this is not difficult. —Charlotte Whitton
In the future, there will be no female leaders. There will just be leaders. —Sheryl Sandberg
Figure out who are you separate from your family. Find who you are in this world and what you need to feel good alone. I think that's the most important thing in life. Find a sense of self. With that, you can do anything else. —Angelina Jolie
Don't hold back because you think it's unladylike. We shouldn't be shamed out of our anger. We should be using it. Using it to make a change in our own lives and using it to make a change in the lives around us. —Jessica Valenti
There's something special about a woman who dominates in a man's world. It takes a certain grace, strength, intelligence, fearlessness, and nerve to never take no for an answer. —Rihanna
Also check out: 60+ Motivational Prayer Warrior Woman Quotes
I just love bossy women. I could be around them all day. To me, bossy is not a pejorative term at all. It means somebody's passionate and engaged and ambitious and doesn't mind learning. —Amy Poehler
If you want something said, ask a man. If you want something done, ask a woman. – Margaret Thatcher
A strong woman understands that gifts such as logic, decisiveness, and strength are just as feminine as intuition and emotional connection. She values and uses all of her gifts. —Nancy Rathburn
My mother told me to be a lady. And for her, that meant being your own person, being independent. —Ruth Bader Ginsburg
Women are always saying, 'We can do anything that men can do.' But men should be saying, 'We can do anything that women can do.' —Gloria Steinem
I am not free while any woman is unfree, even when her shackles are very different from my own. —Audre Lorde
There is no limit to what we, as women, can accomplish. —Michelle Obama
Call me whatever you want. It's not going to stop me from trying to do the right thing. Because it doesn't just affect me, it affects all the other women who are in this with me, and it affects all the other men who are in this with me, too. —Emma Watson
Woman Empowerment Quotes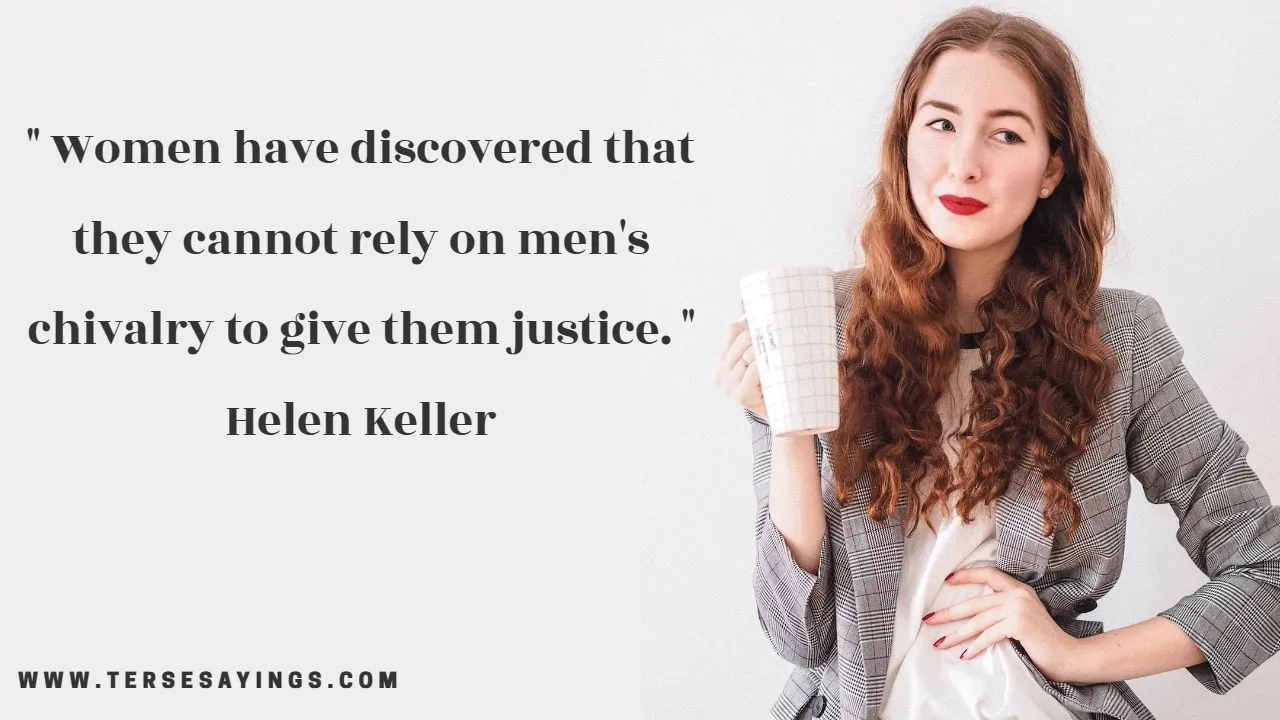 A really strong woman accepts the war she went through and is ennobled by her scars. —Carly Simon
A woman is a full circle. Within her is the power to create, nurture and transform. —Diane Mariechild
Women have discovered that they cannot rely on men's chivalry to give them justice. —Helen Keller
The beauty of being a feminist is that you get to be whatever you want. And that's the point. —Shonda Rhimes
Some people think that you have to be the loudest voice in the room to make a difference. That is just not true. Often, the best thing we can do is turn down the volume. When the sound is quieter, you can actually hear what someone else is saying. And that can make a world of difference. —Nikki Haley
If fighting for women's health care and paid family leave and equal pay is playing the women's card, then deal me in. —Hillary Clinton
Women that believe in each other can survive anything. Women who believe in each other create armies that will win kingdoms and wars. —Nikita Gill
I can do anything when I am in a tutu. —Misty Copeland
You must read: Most Popular 50+ Warrior Woman Quotes Images
We need to get women to the point where they aren't apologizing. It's time to take ownership of our success. —Tori Burch
One of the best things that ever happened to me is that I'm a woman. That is the way all females should feel. —Marilyn Monroe
I've always wanted to be a woman who isn't afraid to tell her story. —Andra day
What I want young women and girls to know is: You are powerful and your voice matters. You're going to walk into many rooms where you may be the only one who looks like you or who has had the experiences you've had. So, you use that voice and be strong. —Kamala Harris
I've often thought it unfair that women are expected to stay at home when there's a fight to be won. If a woman has the strength to bear a child, she can swing a sword as well as any man. —Karen Hawkins
There are no hopeless situations; there are only men who have grown hopeless about them. —Clare Boothe Luce
Be a first-rate version of yourself, not a second-rate version of someone else. – Judy Garland.
Strong Women Quotes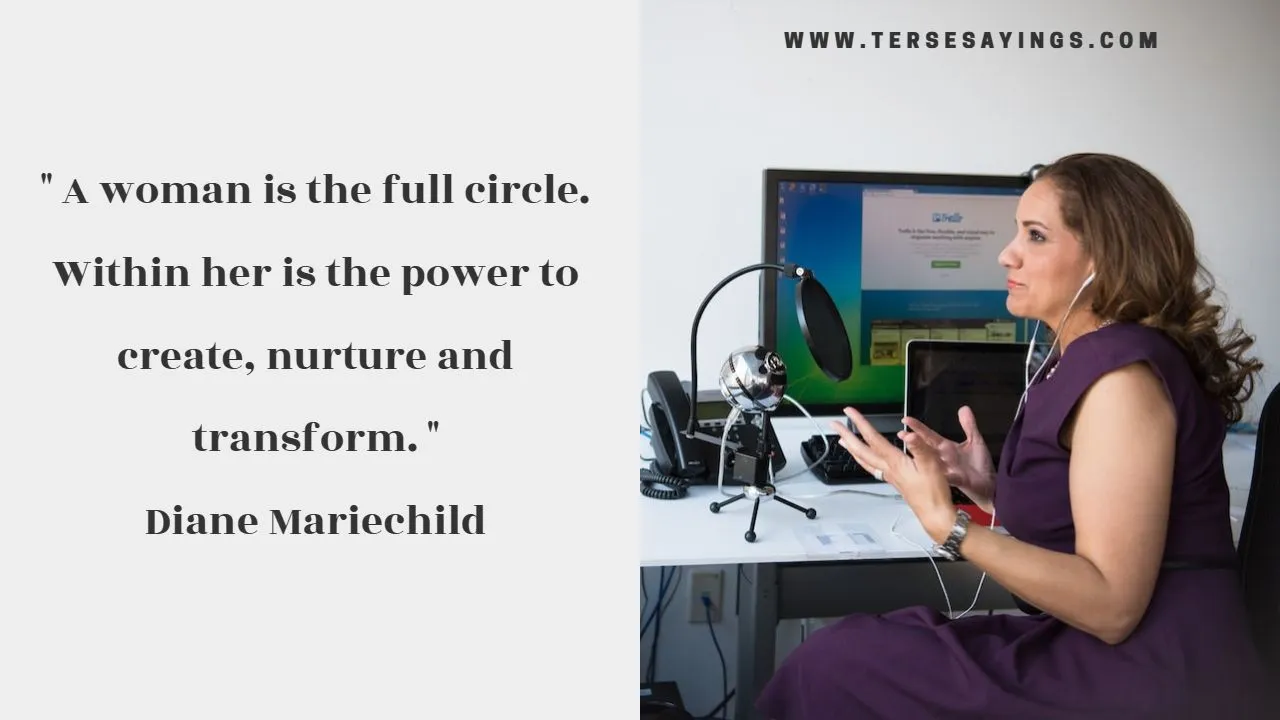 Anyone can hide. Facing up to things, and working through them, that's what makes you strong. – Sarah Dessen.
I hate to hear you talk about all women as if they were fine ladies instead of rational creatures. None of us want to be in calm waters all our lives. – Jane Austen.
What you do makes a difference, and you have to decide what kind of difference you want to make. – Jane Goodall.
It is not the hand that rocks the cradle that rules the world; it is the woman that holds the keys to the kingdom. -Shannon L. Alder.
I would venture to guess that anon, who wrote so many poems without signing them, was often a woman. – Virginia Woolf.
As a woman, I have no country. As a woman, I want no country. As a woman, my country is the whole world. – Virginia Woolf.
We delight in the beauty of the butterfly, but rarely admit the changes it has gone through to achieve that beauty. – Maya Angelou.
You must read: 60+ Short Warrior Woman Quotes to Motivate You
Here's to strong women. May we know them, we may be them, may we raise them. – Stacey Bendet.
She is water; powerful enough to drown you, soft enough to cleanse you, deep enough to save you. – Adrian Michael.
The strongest action for a woman is to love herself. Be herself and shine amongst those who never believed she could. – Unknown*.
We all move forward when we recognize how resilient and striking the women around us are – Rupi Kaur.
A good woman is like a tea bag. You never know how strong she is until she gets in hot water. – Eleanor Roosevelt.
Don't be the girl who fell. Be the girl who got back up. – Jenette Stanley.
And these blessings, no gift equals the gentle, trusting love and companionship of a good woman. – Elbert Hubbard.
Her damaged petals are what made her more beautiful than all of the other flowers. – A.J. Lawless.
Do not tame the wolf inside you just because you've met someone who doesn't have the courage to handle you. – Belle Estreller.
Don't forget to read: Best 82 + Braveheart Quote From the film The Epic Warrior